During the COVID-19 pandemic, quizzes have been a great way to pass the time with family and friends, both with those within your household, and with those who live far away, using video-sharing technology. At NorthLink Ferries we love the islands we serve, so we've gathered a selection of quiz questions about the Shetland islands for you to try!
A selection of quiz questions about the Shetland islands
We also have a range of Orkney-inspired quiz questions and hope you enjoy trying these too.
We hope you have fun on your way to becoming the Northern Isles quiz champion amongst your family and friends!
Questions
What is the name of Scotland's most northerly castle?
On which Shetland island is Scotland's most complete surviving Iron Age broch?
Where is Shetland can you throw a stone from the North Sea to the Atlantic?
What is the name of the Viking fire festival that takes place on the last Tuesday of January?
Who is the author of the crime books which inspired the 'Shetland' TV series?
What is the name of the distinctive knitwear style from Shetland?
Which NorthLink freight boat is named after an uninhabited Shetland island?
What are Da Drongs?
Which town was Shetland's capital before Lerwick?
What is a puffling?
Which group of islands are located 24 miles east of the Shetland Mainland?
What was the landscape at Eshaness created by?
How is St Ninian's Isle joined to the Shetland Mainland?
Unlike most other ponies and horses, Shetland Ponies can remain outdoors during winter. True or False?
What is the White Wife of Queyon in Yell?
Which Shetland Airport has a runway which crosses the A970 road?
What is the tallest hill in Shetland?
What are the Northern Lights called in Shetland?
What was the 'Shetland Bus'?
What is located at Hay's Dock in Lerwick?
In which Shetland island is the village of Symbister?
Which gallery has a name which means 'my spiritual home' in Shetland dialect?
To the nearest thousand years, how long was Jarlshof occupied?
Which island is only a seven minute ferry journey from Lerwick?
What does the Shetland word Peerie mean?
What broch is located on the outskirts of Lerwick?
What is reestit mutton?
What instrument is most commonly associated with traditional Shetland music?
Shetland has the highest density of which furry semi-aquatic mammal in Europe?
What is Simmer Dim?
Answers
Muness Castle in Unst.
Mousa.
Mavis Grind, Brae.
Up Helly Aa.
Ann Cleeves.
Fair Isle.
MV Hildasay.
Sea stacks in the North of Shetland.
Scalloway.
A baby puffin.
Out Skerries.
A volcano and the sea.
By a sand spit or tombolo.
True.
The figurehead and memorial to a sunken ship.
Sumburgh Airport.
Ronas Hill.
The Mirrie Dancers.
A wartime operation between Shetland and Norway.
Shetland Museum & Archives.
Whalsay.
Bonhoga Gallery.
4,000 years.
Bressay.
Small.
Clickimin Broch.
Salted and dried lamb.
The fiddle or violin.
Otters.
The period at midsummer when it never really gets dark.

By
Magnus Dixon
Orkney and Shetland enthusiast, family man, loves walks, likes animals, terrible at sports, dire taste in music, adores audiobooks and films, eats a little too much for his own good.
Pin it!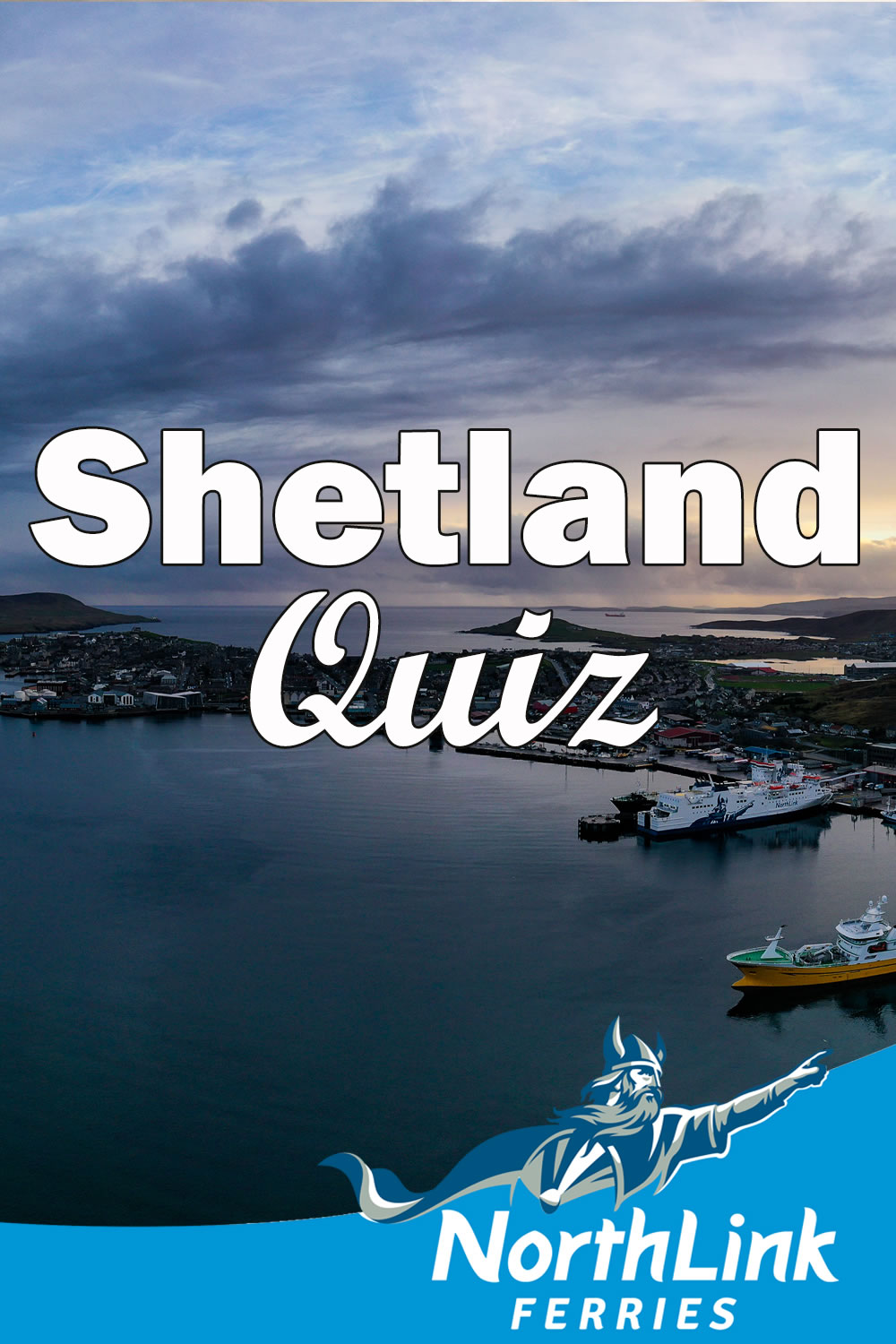 Header image: MV Hjaltland docked in the Lerwick in the Shetland islands photo © Copyright Nick McCaffrey