A warm welcome at the Old Haa Museum
One of the jewels in Shetland's crown is the Old Haa Museum in Yell. Visiting this historic building is like stepping back in time, and you can easily spend a few hours browsing the local artefacts, which paint a vivid picture of life in Shetland in the past.
It's a museum with lots of lovely extras added on! At the Old Haa Museum you'll find local history exhibits, a tearoom, gallery, shop and garden.
We spoke to Rena Nisbet, Chair of the Old Haa Trust about all there is to see in this wonderful museum.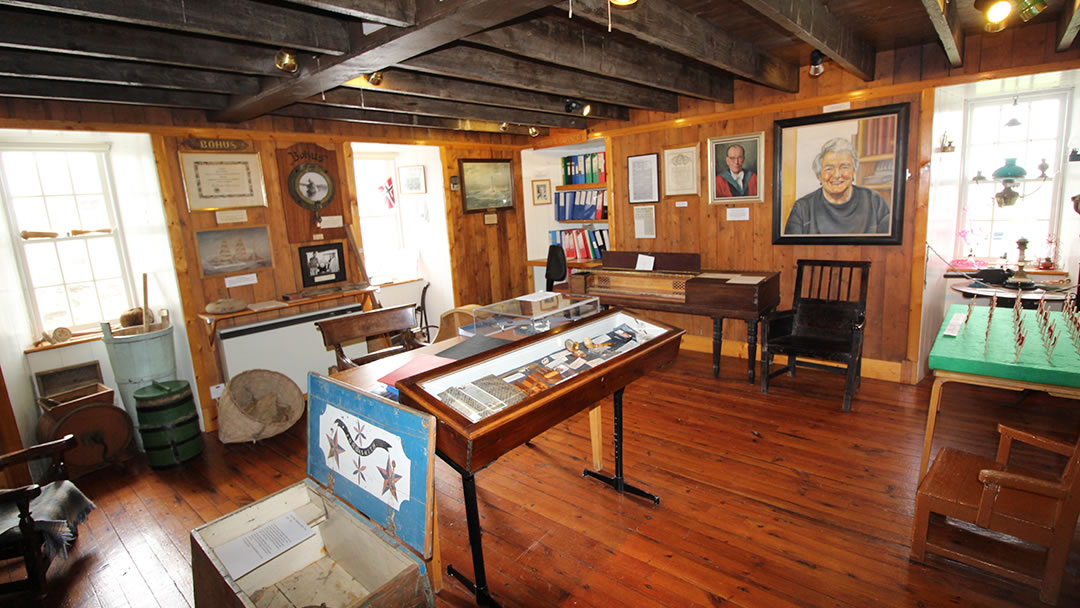 Q. Can you tell us how the Old Haa Museum began?
A. The Old Haa of Brough, Burravoe is a notable listed building in Yell, and it came on the market in the early 1980s.
There was a public meeting to decide whether a group could be formed to create a museum and people were elected to a committee. The Shetland Amenity Trust bought the building and then in 1984 they handed it over to the Old Haa Trust. The Trust was formed at that time to run the Old Haa as a museum for the people of Yell.
The Old Haa Trust is in charge of running the museum and they are the owners at the moment.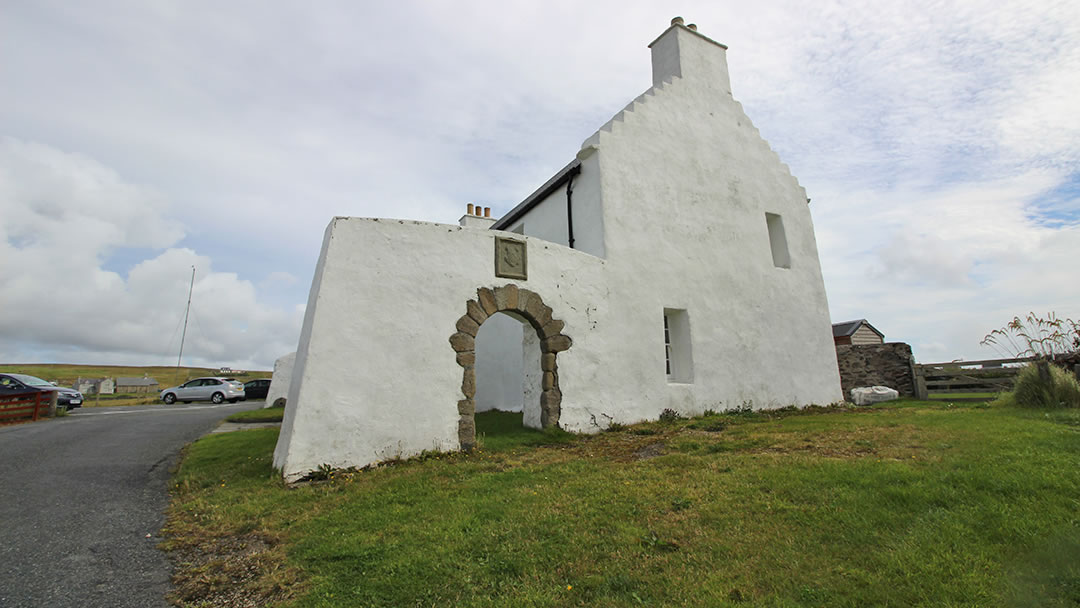 Q. What is the story behind the name of the Old Haa Museum?
A. The Old Haa was a building that was built in 1672 by Robert Tyrie who was a merchant and Laird in Burravoe. Over the years various merchants and Hanseatic Traders and their families lived in it.
As the building was a laird's house it was known as a 'Haa'.
It is quite a notable building because it's three stories high, stone built and it has got two arches on the outside. I don't think there's any other house in Shetland that has arches outside.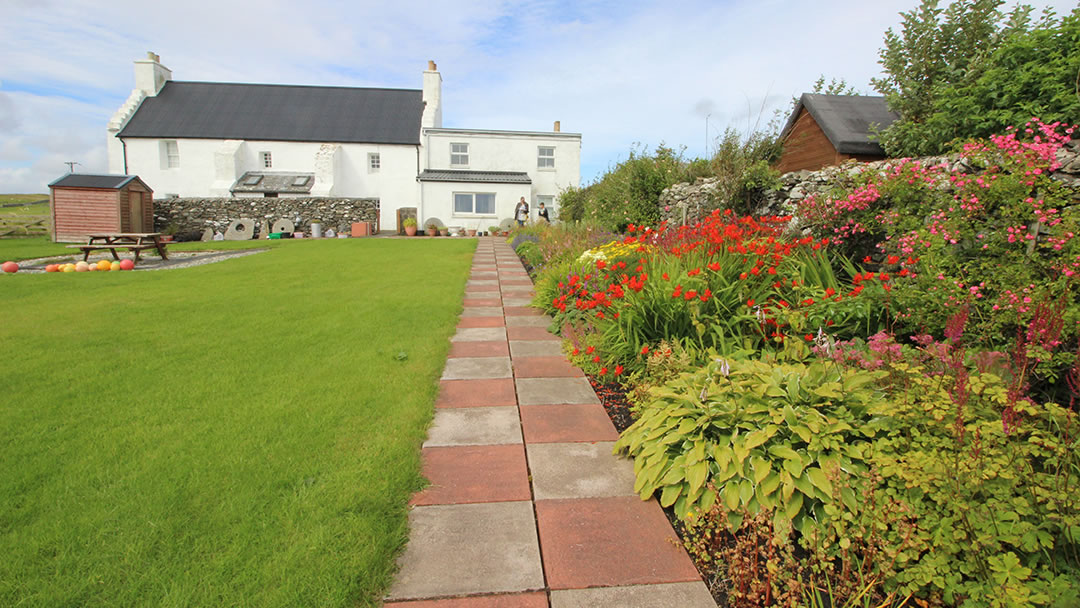 Q. What can visitors expect to see when they visit the Old Haa Museum?
A. Well – it's a museum with lots of lovely extras added on!
When people come in they'll find a local history room on the lower floor, and a history room on the first floor. There's also a natural history room on the first floor which has things like a whale's jawbone and also items brought back by whalers from South Georgia. Anything to do with natural history can be found in that room.
On the ground floor beside the local history room there is the tearoom and then if you go through the tearoom it leads to a gallery. We have art and craft exhibitions in the gallery which rotate every three weeks throughout the summer.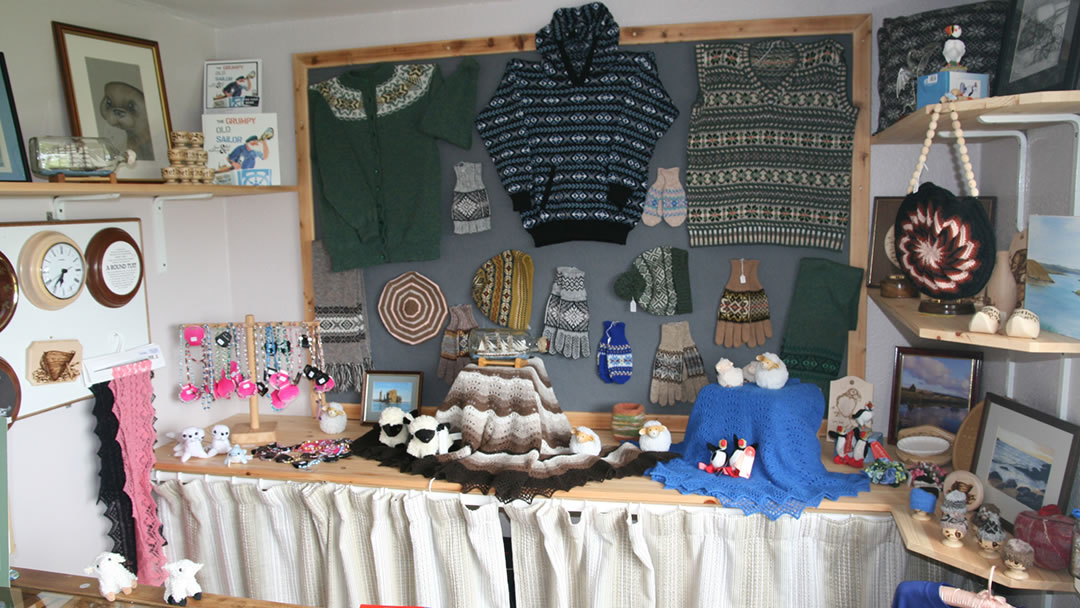 There is also a small shop off the gallery. There was once a Smiddy next door; this was bought and incorporated into the museum; and the shop and gallery are in here.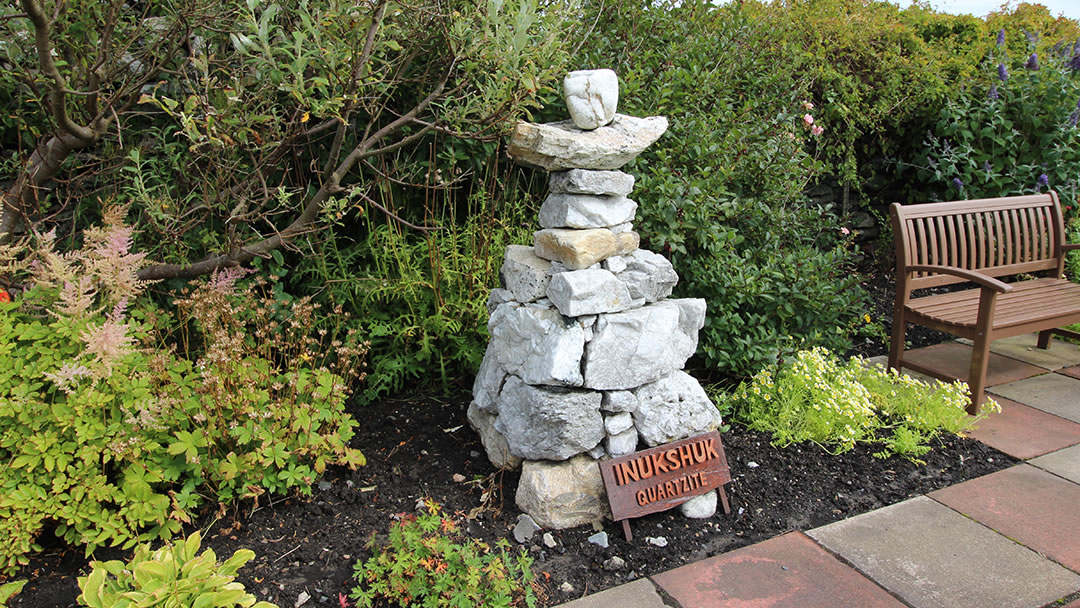 Then at the back of the Old Haa there is a large walled garden. The garden is full of lovely flowers but you'll also find Inuksuit Statues in there. These statues are made from Yell rocks; the island is part of the Shetland geological park.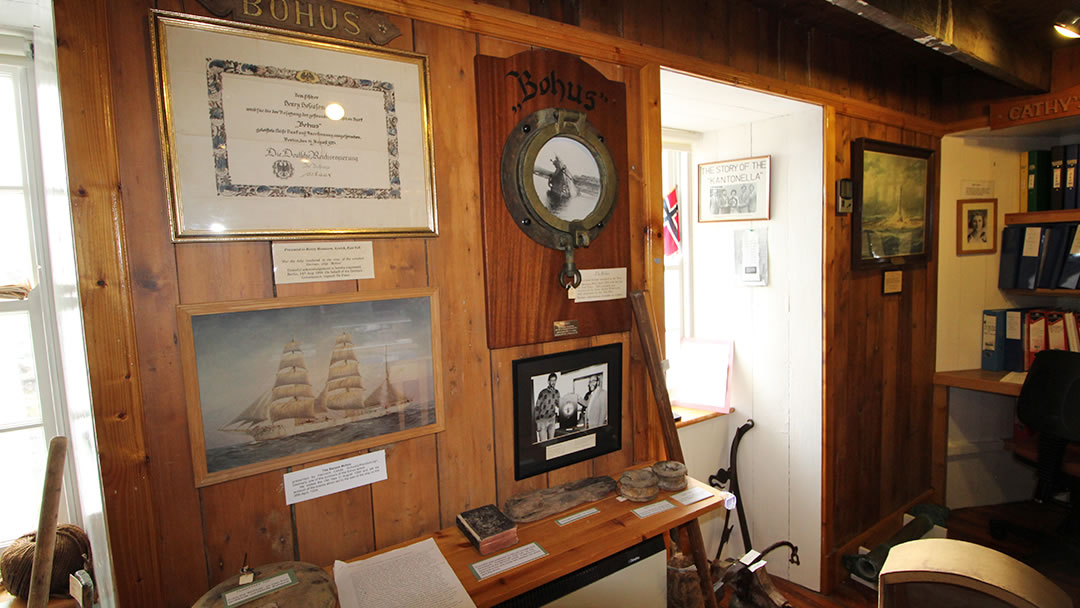 Q. What are some of the other subjects and stories covered by the artefacts found in the Old Haa?
A. Several artefacts on display relate to tragic incidents which happened in Yell. Outside the Old Haa is a propeller blade from a Catalina which crashed on a hillside in January 1942. 7 of the crew died, but 3 survived the crash. A model of a Catalina is on display inside and the men's stories are available to read.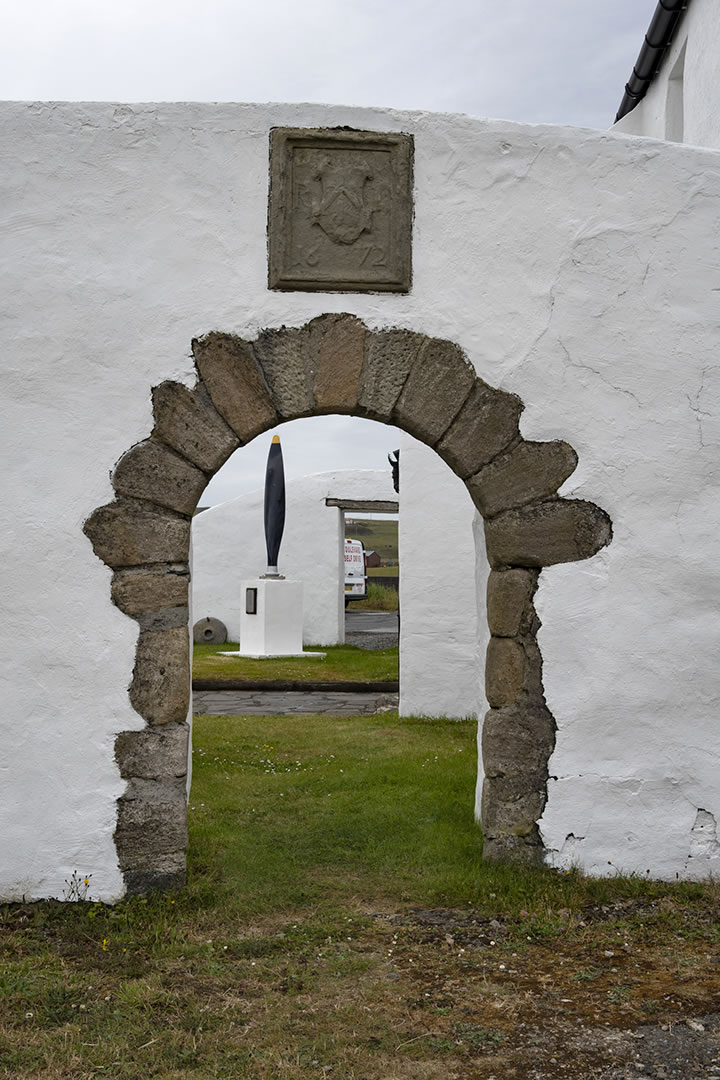 There are numerous artefacts, pictures and paintings relating to the German training ship the 'Bohus' wrecked at East Yell in 1924. This includes a document from the German government thanking one of the rescuers and an account by one of the survivors given when he visited in the 1980's.
Other artefacts relate to a rescue from the 'Jackdaw' in North Yell and to the loss of the 'Kantonella' when young Norwegians escaping Nazi occupation drowned when their boat wrecked at East Yell.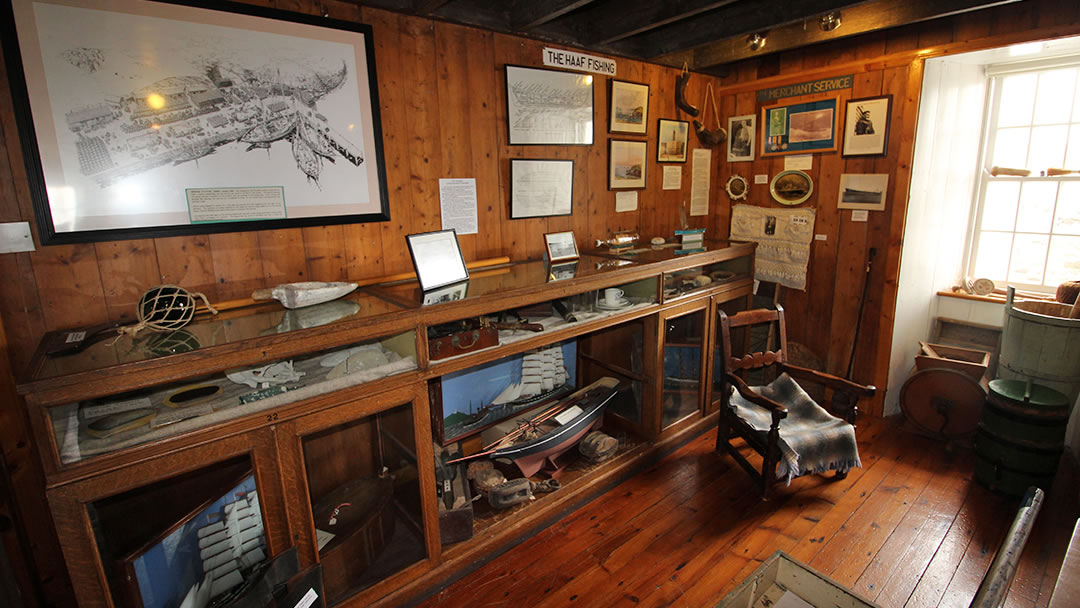 Q. What would you say is the most popular exhibit at the museum at the moment?
A. For the past three weeks we have had a Wool Week exhibition focussing on Shetland knitting, lace and sheep. This has been really popular with both local people and people visiting for wool week. It just closed on Sunday.
Over the summer many people have visited to look at our fishing and factories exhibition. This drew a lot of the local men, who were coming in to look at the photographs on display of fishing boats from the past. We also had some lovely photographs in the natural history room taken by a local photographer called Ryan Nisbet.
We also had on display a project involving museums across Orkney and Shetland just for this summer, called "New Connections Across the Northern Isles" which looked at aspects of the rich maritime heritage of Shetland and Orkney.
All our exhibitions I would say are popular!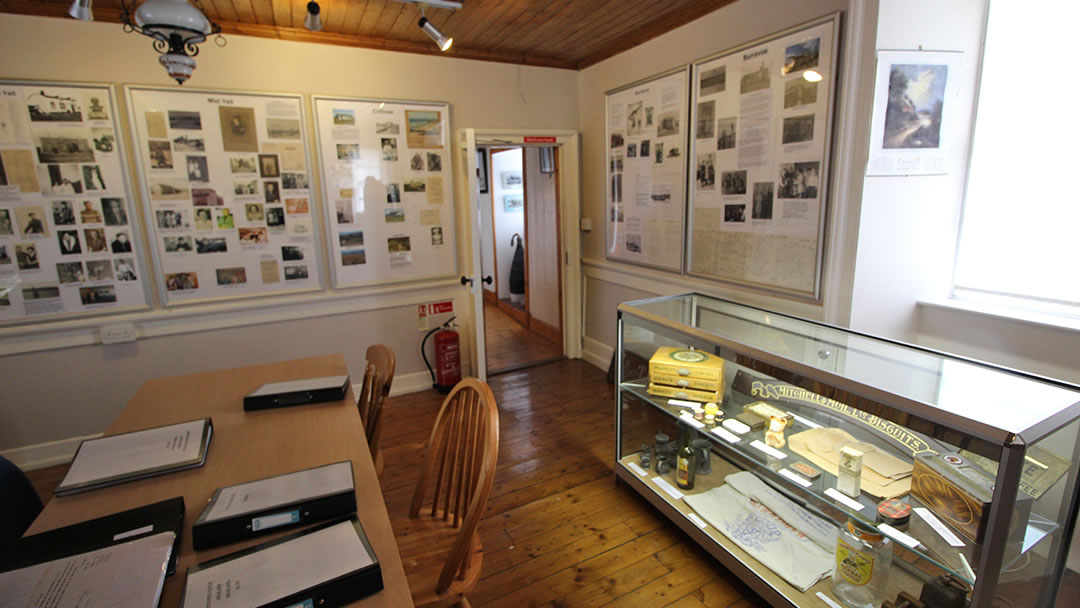 Q. Do you have a favourite item on display in the Old Haa Museum?
A. There are certain things that you always like a lot – I love the painting of the Earl of Zetland leaving Burravoe by Adam Robson in the tearoom. We also have a very old piano which was partly paid for by Sir Walter Scott – that's lovely. My other favourite is probably the garden.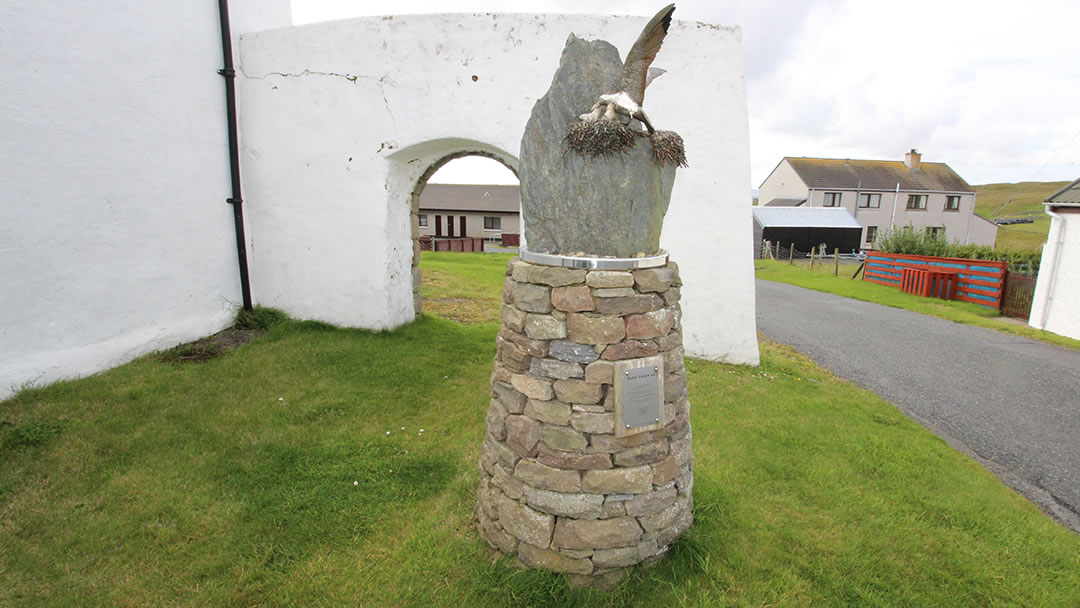 Q. There's a memorial outside the museum for Bobby Tulloch. Could you tell us a little bit about him?
A. Bobby Tulloch was born in Aywick on the eastern side of Yell. He had various different jobs over the years but he was always very interested in wildlife and birds. However in the 1960s he became the RSPB representative for Shetland. Bobby Tulloch was catapulted to fame when he discovered snowy owls nesting on the island of Fetlar in 1967. This discovery appeared on all the news bulletins; and the snowy owls nested there for several years.
Bobby was a really good photographer who toured all over Britain giving talks about the birds, wildlife and flowers of Shetland. He was also an excellent speaker who seemed to fill halls wherever he went to talk.
We are delighted to have a memorial to Bobby Tulloch at the Old Haa Museum; he was always interested in the Old Haa and visited often. After he died, the Old Haa Trust received his collection of slides and photographs. If you visit our website and click on the link to the Bobby Tulloch website, you can see all of his photographs there.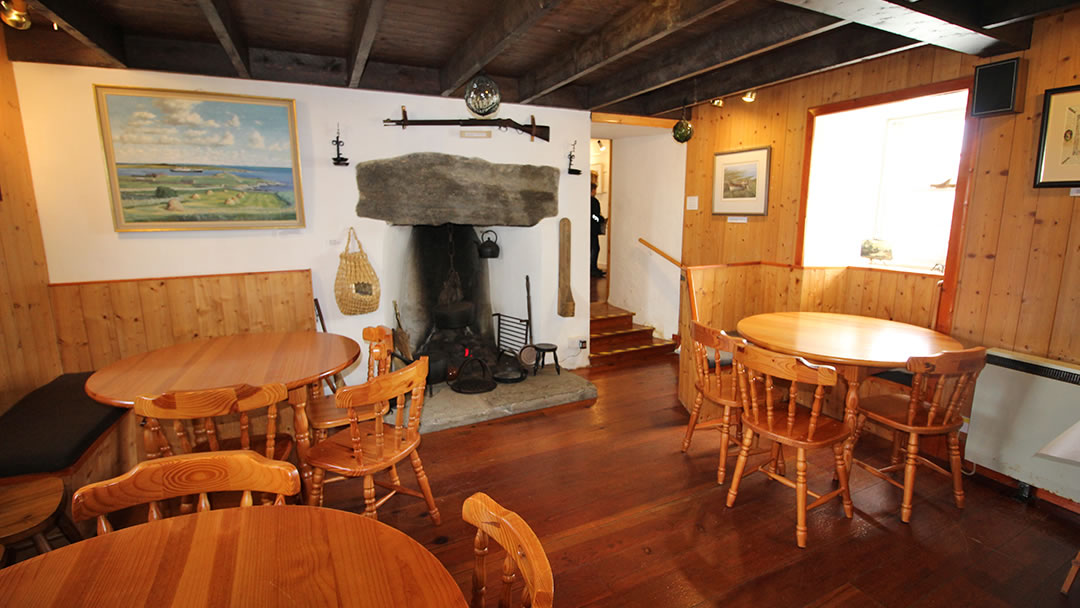 Q. The tearoom at the Old Haa looks super; what inspired you to create such a lovely space?
A. Well, it's a very friendly relaxed place and the tearoom is there to encourage visitors to come along. There are all sorts of different sponges and home-bakes available, as well as soft drinks, hot chocolate, teas and coffees. We also try to cater for people who need gluten free products.
Having a tearoom means that local people come back regularly over the season and get a chance to look at our changing exhibitions. Then on fine days visitors can take items from the tearoom out and sit in our garden – so it's not just somewhere to stay dry on a rainy day!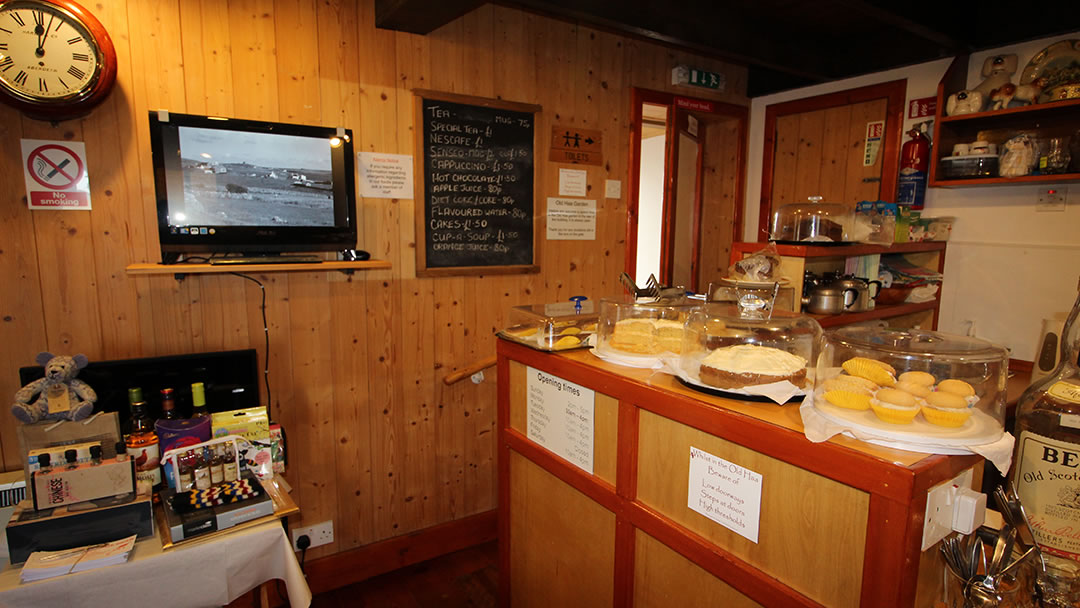 Q. What was the nicest feedback you've received whilst working at the museum?
A. We've received such a lot of nice feedback about the Old Haa Museum. This year I was quite struck when one visitor, who I think might have been Spanish, told me as they were leaving that they thought that the tearoom was really cosy. I thought that was really nice!
Q. Can you tell us what's next for the Old Haa museum?
A. We are busy planning for next year's exhibitions right now but they haven't been finalised yet. We will also be producing a new brochure soon. Over the winter we also assess the items that have been very kindly donated to us.
In December we have an AGM; trustees are elected for five years, and at this AGM new trustees will be elected to carry the Old Haa Museum forward for the next five years.
The Old Haa Museum is open from April to September and admission is free. To see opening hours, make a donation, or find out the latest news, please visit https://www.oldhaa.com/

By
Hannah Richards
A University graduate from New Zealand with strong ties to Orkney and the East Coast of Scotland. Hannah enjoys discovering new places and is looking forward to travelling around Europe. She has great appreciation for history, music and art.
Pin it!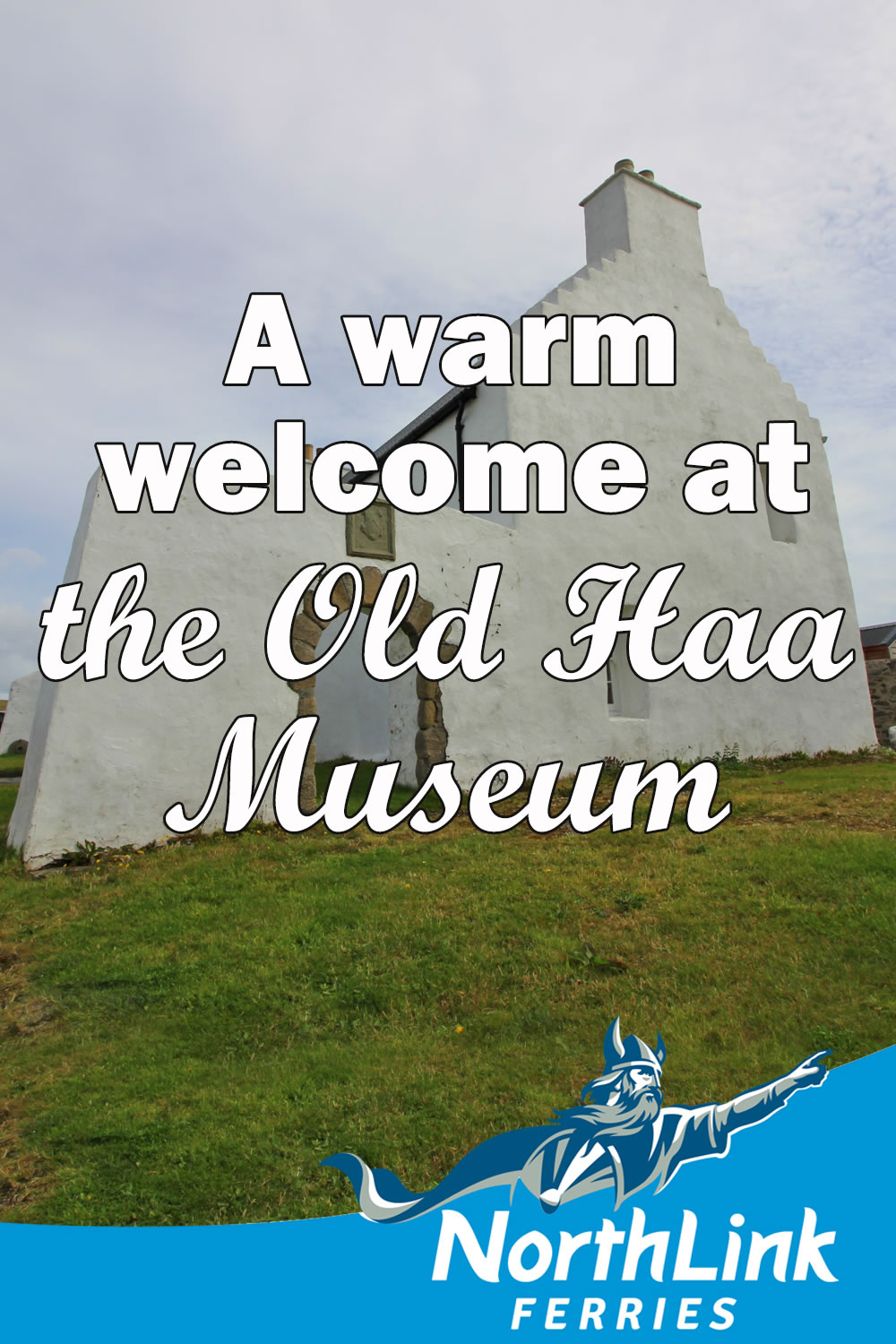 Header image: The Old Haa Museum of Burravoe, Yell in Shetland © Copyright Charles Tait