The Story of the White Wife of Otterswick
On the East side of the Shetland island of Yell, at the Ness of Queyon, near Otterswick is a solemn sight – a white statue of a lady looking out across the bay, with a Bible held to her chest.
The story of the statue, known as the White Wife, or Da Wooden Wife, is a sad one. She is the reconstructed figurehead of the Bohus, a German sail training vessel which sank at the Ness of Queyon in 1924, with a crew of 39, many of them young cadets, and the loss of 4 lives.
The statue is signposted from the road to Queyon and there's a footpath leading down to where she stands, a short distance away from the cliff edge. It's a good place to see seals and occasionally otters. Out in the bay you may see common porpoises chasing shoals of surface-feeding fish.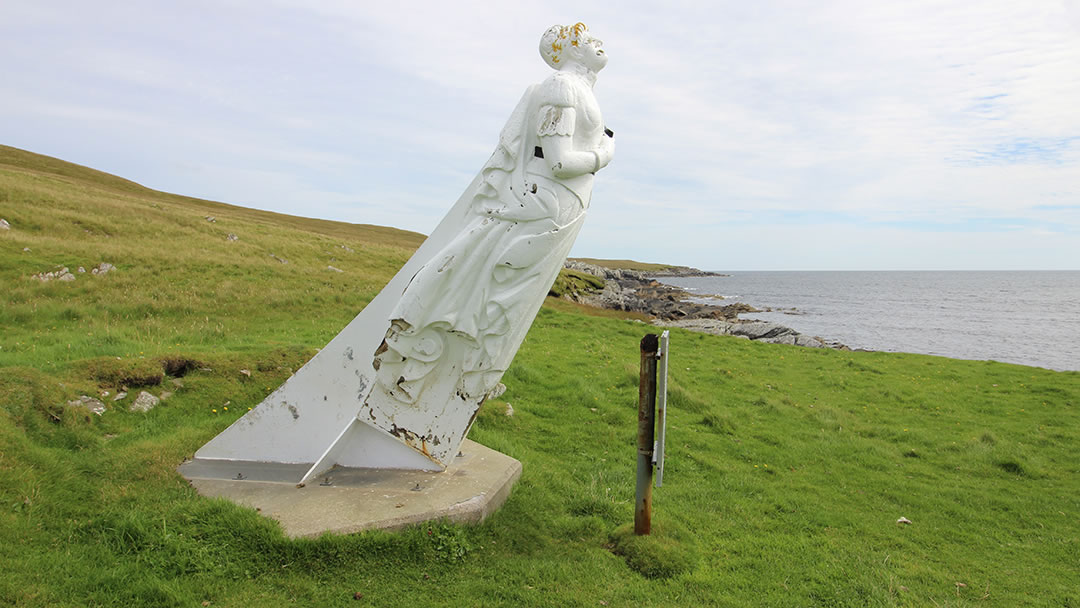 The story of the statue, known as the White Wife, or Da Wooden Wife, is a sad one. She is the reconstructed figurehead of the Bohus, a German sail training vessel which sank at the Ness of Queyon in 1924, with a crew of 39, many of them young cadets, and the loss of 4 lives.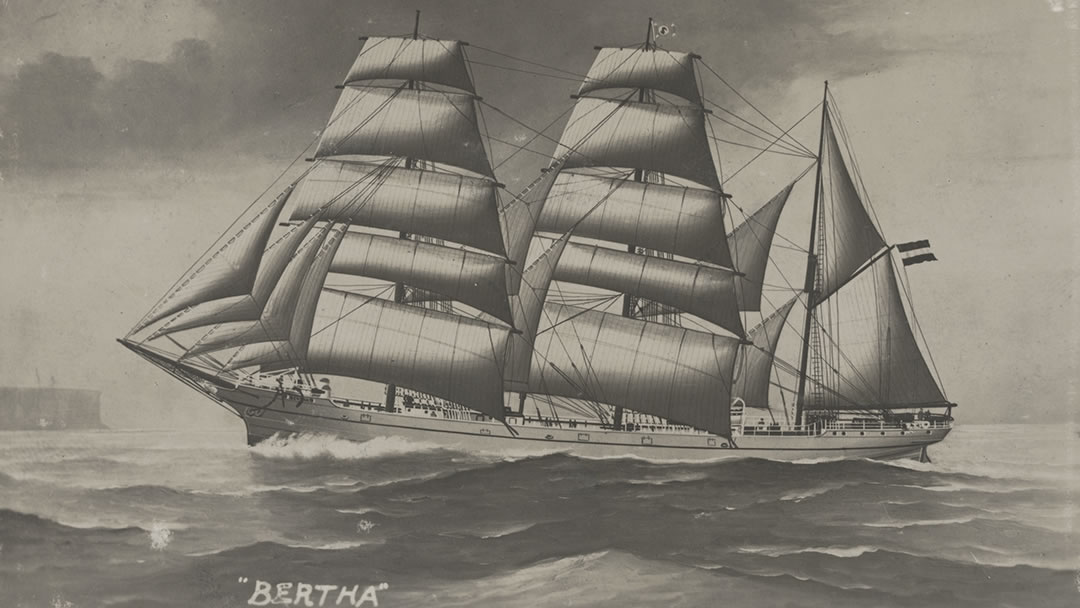 Bohus was a German iron barque (a type of sailing vessel with three or more masts), which was originally called Bertha and was built in 1892 by Grangemouth Dockyard Co., Alloa for Joh. H. Soost, Hamburg. The ship was named after the eldest daughter of owner Joh. H. Soost, a Scottish girl born in Grangemouth of German parents, and the figurehead represents her also.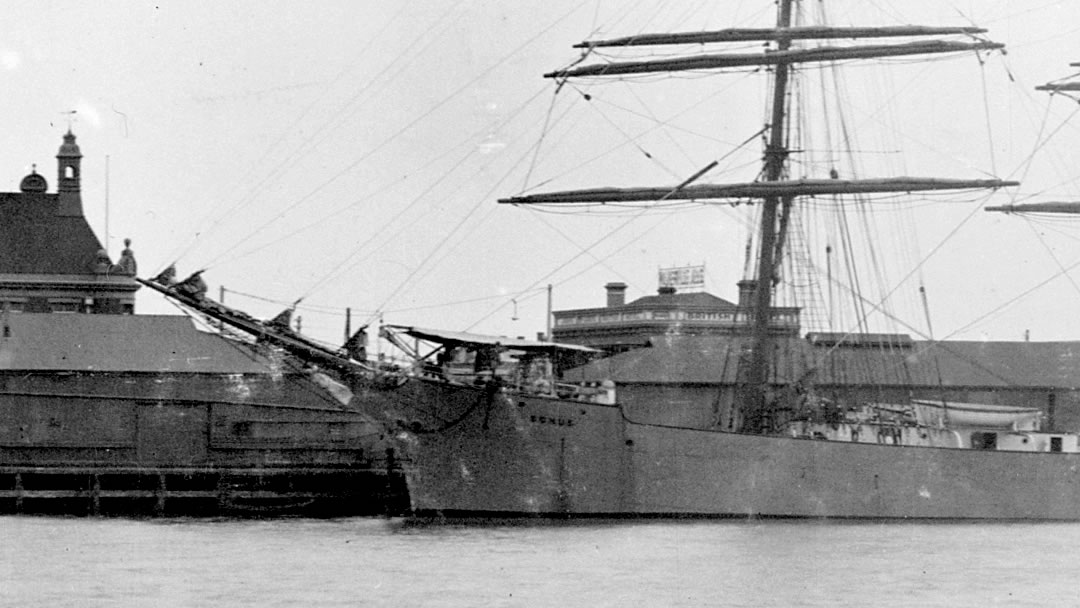 Bertha changed hands several times in her lifetime. She was sold in 1899 to H.H. Schmidt, Hamburg and up until she was sold again in 1912 she had many long distance runs, from Lizard Point, Cornwall to Seattle, Lizard Point to Sydney, Australia and from Sydney to Falmouth, Cornwall.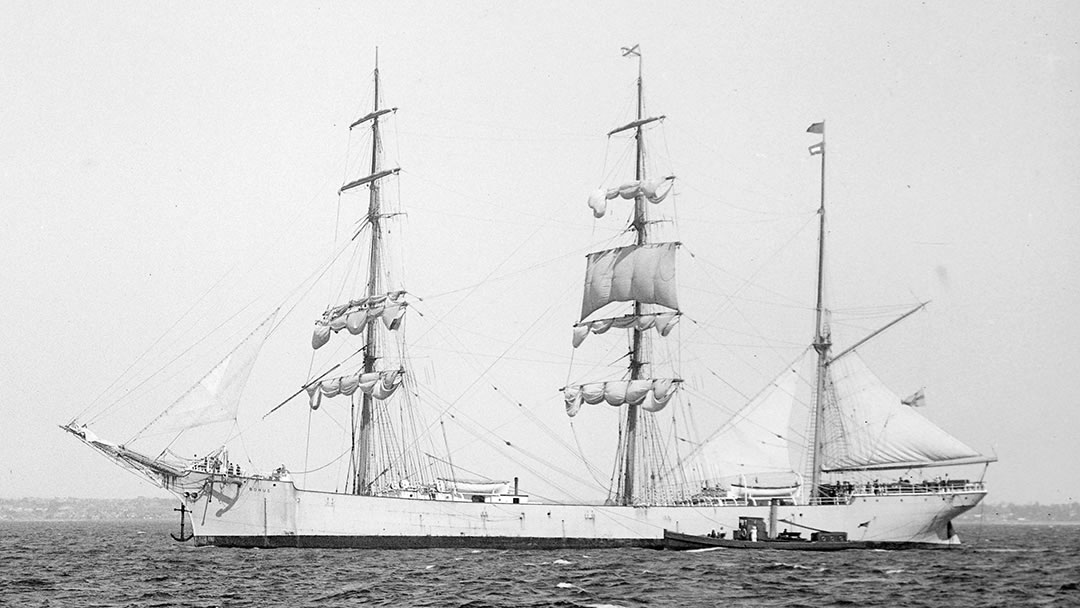 In 1912 Bertha was sold to O.A. Färdig, Nystad and began a life sailing mostly in the Baltic Sea, in Swedish and Finnish waters. She was sold in 1915 to Korsnäs Sågverks AB, Gefle, in March 1917 to Emil Löfgren, Stockholm and then sold in April 1917 to Förnyade Ångfartygs AB Viking, Gothenburg, where she was renamed Bohus.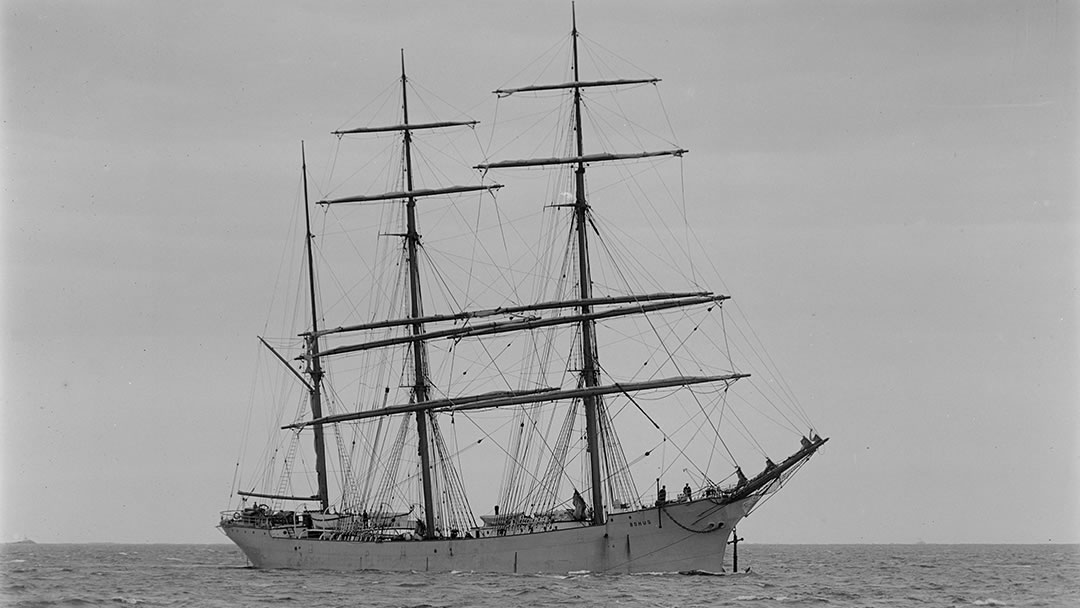 In 1921 Bohus was transferred to Rederi AB Transatlantic, Gothenburg and then finally in January 1924 she was sold to Adler Reederei AG (Dönitz, Witt & Co.), Hamburg to be used as a sail training school ship and trader.
On 23rd April 1924, Bohus set sail in ballast with a crew of 38 (plus 1 stowaway) on her final voyage, from Goteborg to Taltal in Chile. Unfortunately, the skipper, Captain Hugo Ferdinand Blume made a navigational error which set her 60 miles off course. He mistook the Out Skerries light for that of the Fair Isle lighthouse, and was then caught in a terrific storm off Otterswick, Yell on 26th April 1924. The ship was dashed broadside on a rocky spur called The Point of the Hatt. Within half an hour, most of the ship had broken up.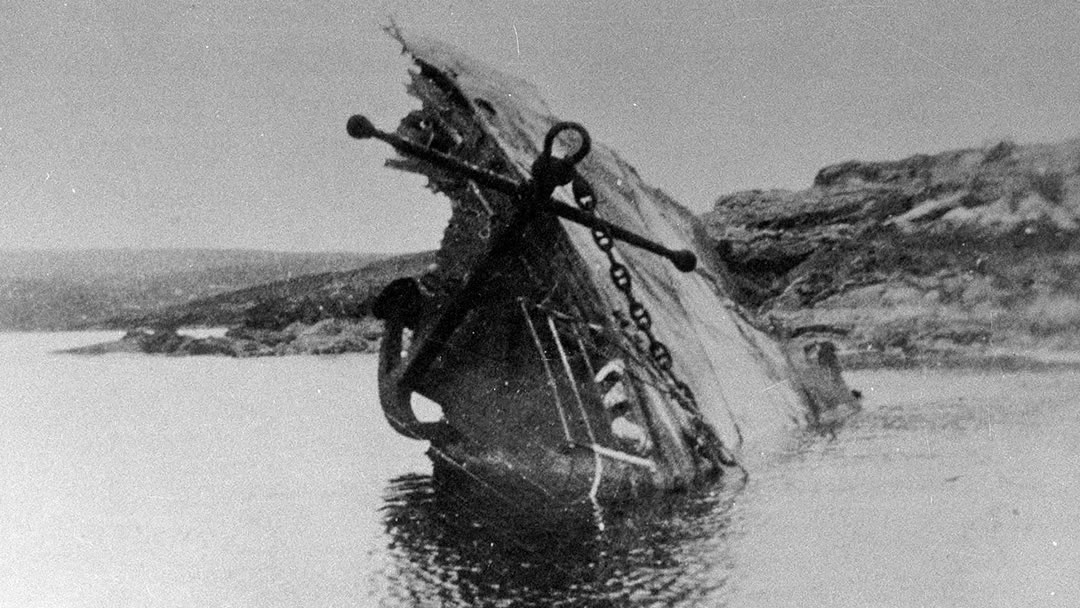 Those of the crew who could swim struggled ashore. Those who could not stayed with the doomed vessel. A large crowd of East Yell men gathered on the shore but they could not help until they got a line on board Bohus.
Two men were noted for saving lives that day. One man, Willie Thomson of Wirliegarth (known as "Shootin Willie" for his marksmanship), was an ex-sailing ship seaman and had expertise in throwing a heavy line. After a number of unsuccessful attempts, he managed to throw a line into the gale from slippery rocks which landed on board Bohus. Thereafter the men of Yell were able to get many crew members ashore.
Another man, a 23 year old cadet on Bohus known as "Tom" Eberth (full name Josef Anton Eberth), managed to save four of his shipmates from the sea before being swept away himself.
The surviving crewmen were taken into homes at Aywick and Otterswick. The four men that perished were;
Josef Anton Eberth, who was the brave cadet mentioned above;
Reddig, a sailmaker, who became trapped between the hull and rocks;
Doring, a steward, jumped overboard and hit his head on the bulwark of the ship;
Joost or Gustav Droger; a cook who was suffering from malaria and jumped into the sea.
The dead were buried in Mid Yell cemetery, and there is a black marble slab, set in stone from nearby Hascosay Island, to commemorate them.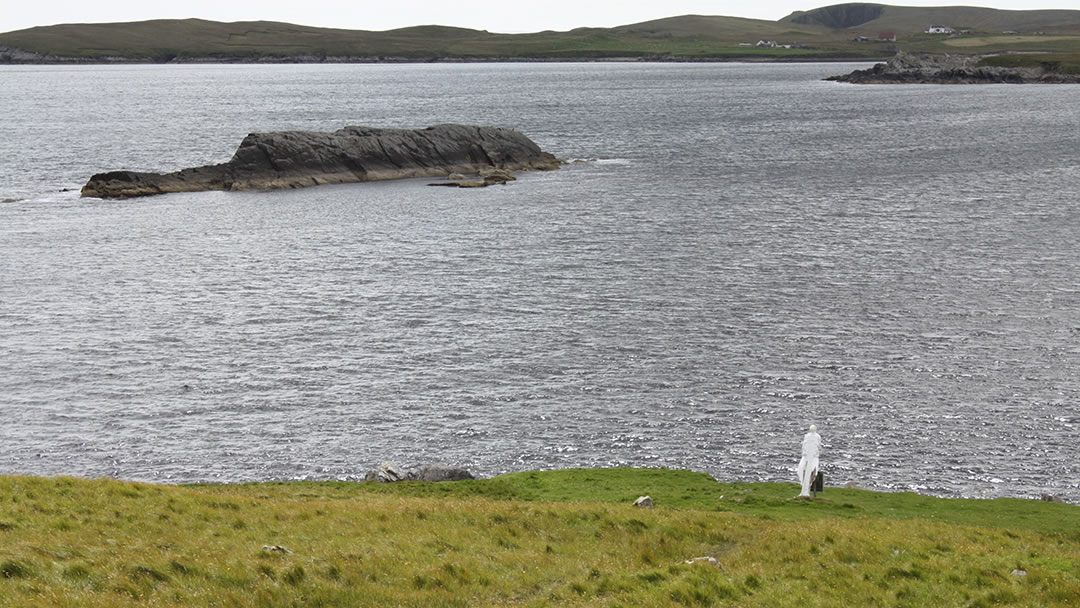 In September that year, the figurehead of Bohus came ashore some distance from the wreck. It was in remarkably good condition despite missing an arm. It was erected on the shore above the wreck site as a memorial to the Bohus. Over the years the folk of East Yell regularly painted her and she became known as The White Wife (though Otterwick folk spoke of Da Wooden Wife).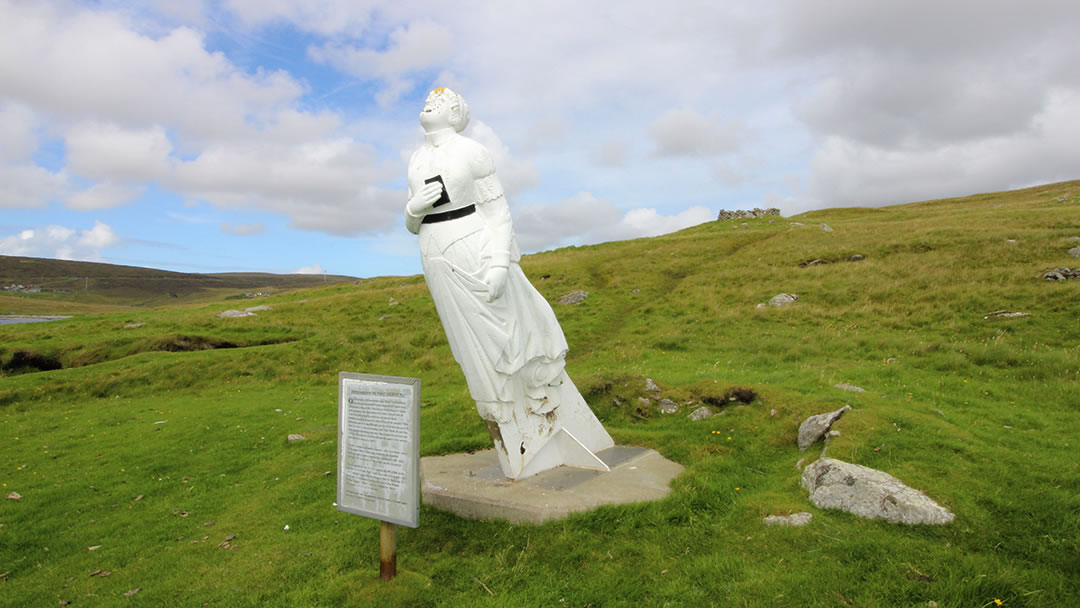 In 1986, after years of exposure to the Shetland weather, a complete restoration was carried out by Charlie Grant and the Shetland Amenity Trust. The restored figurehead was unveiled in a ceremony on 22nd April 1989. For the occasion, Radio Shetland interviewed Charlie Grant and Henri Cehak, who was a 17 year old cadet on Bohus during her final voyage, and was the last surviving sailor.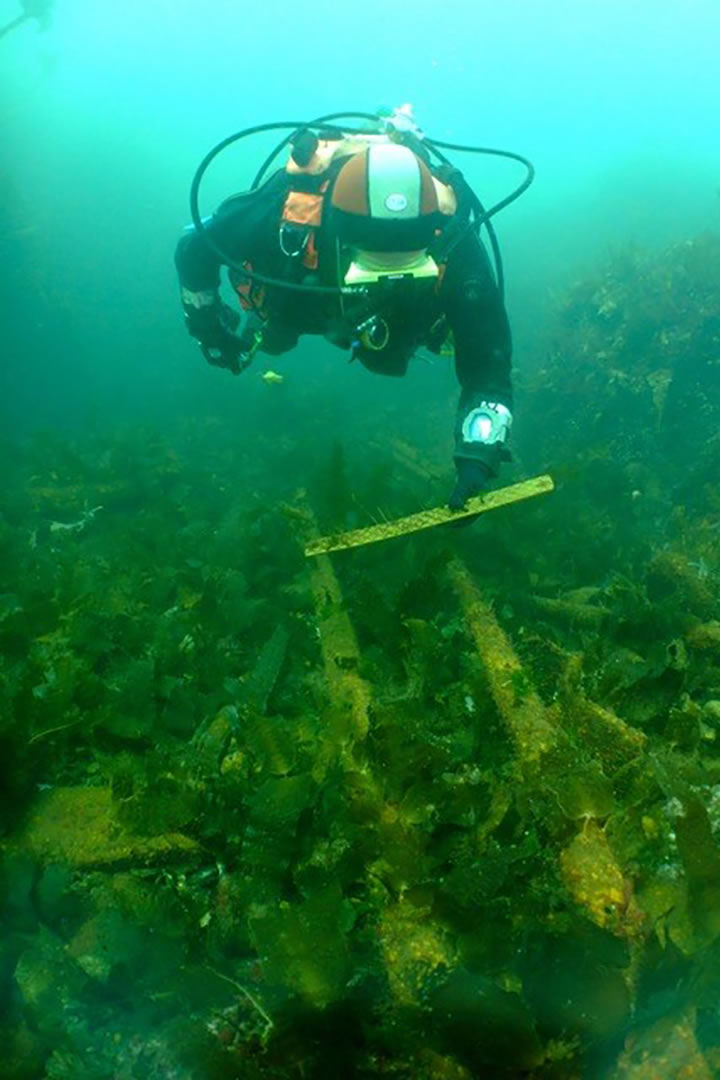 Remains of the Bohus can still be found in Yell. Though the wreck has broken up completely, the iron ribs, deck winches, wooden spars and brass fittings survive in the waters of the Ness of Queyon, at depths of between 10 and 15m. The excellent picture above were taken by Richard Booth of the Tyneside 114 British Sub Aqua Club who dived there in 2008. Recovered wood from the vessel was used in homes around Yell. The bell from the Bohus, the name board and portholes can be seen in the Shetland Museum, Lerwick and in the excellent Old Haa Museum, Burravoe, Yell.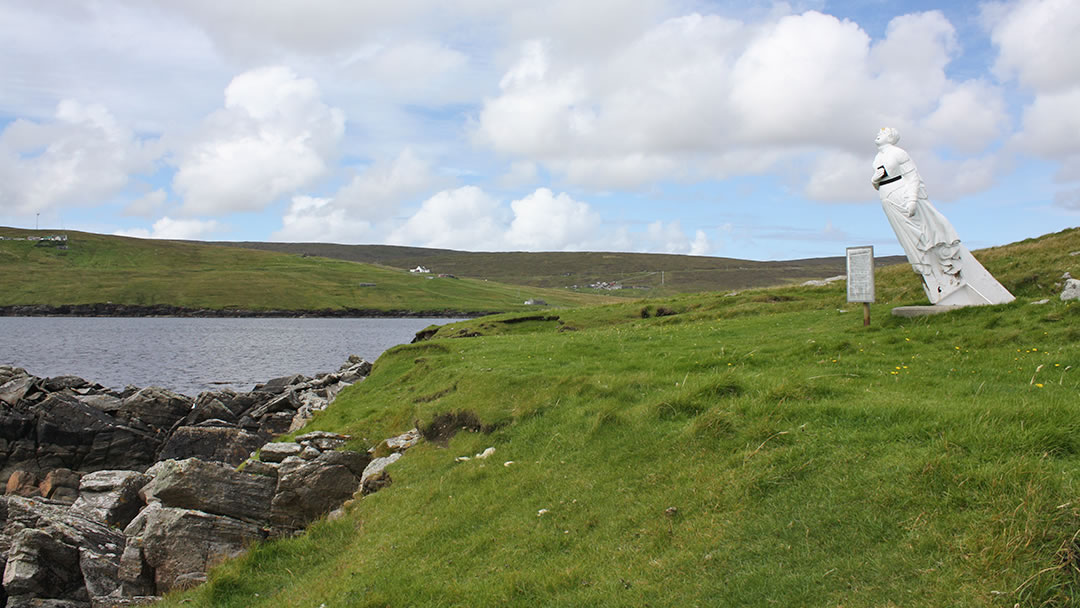 For more information, read the superb book about the sinking of Bohus called "Wrestlers with the troubled sea" by Louis Johnson, now out of print, but available in Shetland Library. Some of Johnson's forebearers helped with the rescue. There is also a wealth of information available in the Old Haa Museum in Yell!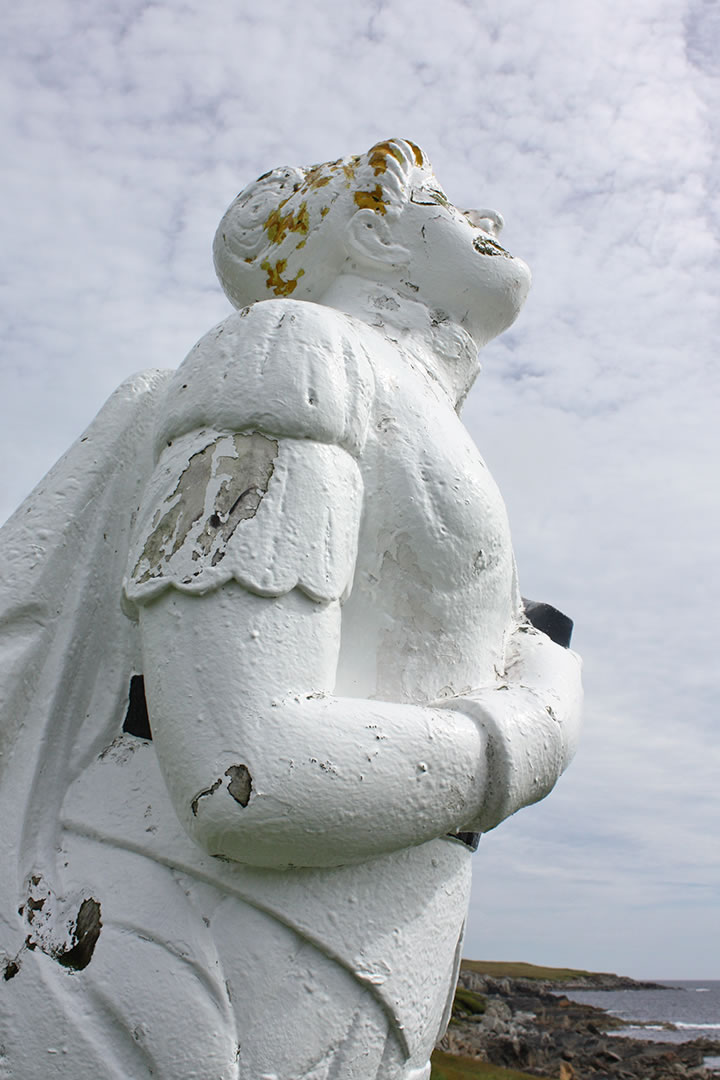 By
Magnus Dixon
Orkney and Shetland enthusiast, family man, loves walks, likes animals, terrible at sports, dire taste in music, adores audiobooks and films, eats a little too much for his own good.
Pin it!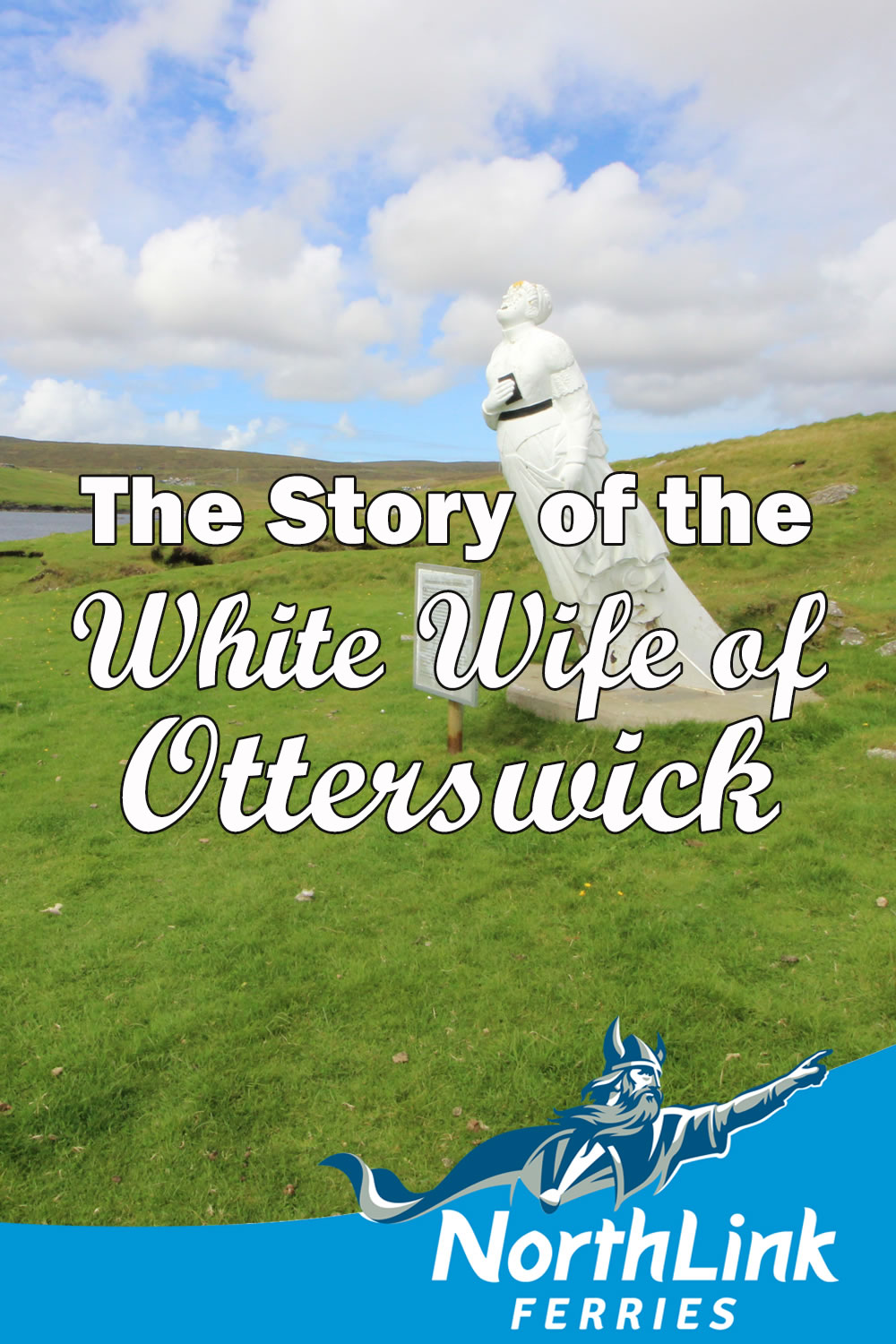 Header image: The White Wife of Queyon, Yell in Shetland photo © Copyright Victoria Dixon