One of the first impressions a visitor to Shetland will have is of the striking coastal scenery! As we've been enjoying stunning warm weather this summer, we thought we'd display a list of the ten best – most beautiful, peaceful, atmospheric, and fun – beaches to visit in Shetland!

Meal Beach – Meal beach is a lovely southward facing beach with deep sand and a perfect slope into the water for paddling. It's a popular beach which can be found on West Burra, one of the islands (linked to the mainland by a bridge) south of Scalloway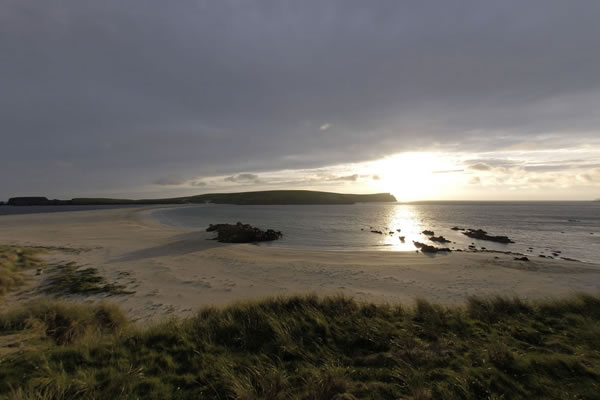 St Ninian's Ayre – Perhaps the most famous on this list; this beach is a sand tombolo, which links the mainland to St Ninian's Isle. The sea laps in at both sides of this beach. St Ninian's Isle is found in the south of Shetland near Bigton.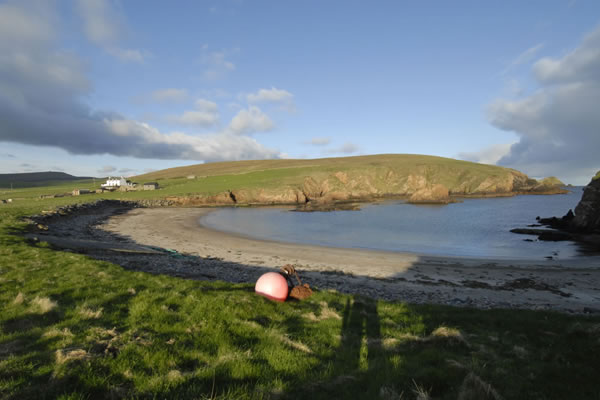 Spiggie Beach – Located in the south west of Shetland, Spiggie beach is a popular picnic spot. It has crystal-clear seawater and the shore line was once covered with fishing yoals. In the early 20th Century a steamer travelled from Leith to Shetland and visitors would disembark at Spiggie Beach.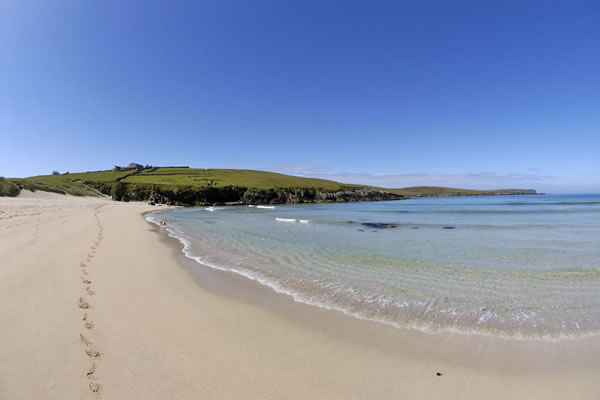 Sands of Breckon – Located in North Yell, the Sands of Breckon is a lovely sheltered beach facing the Atlantic. It's a peaceful and beautiful place to visit.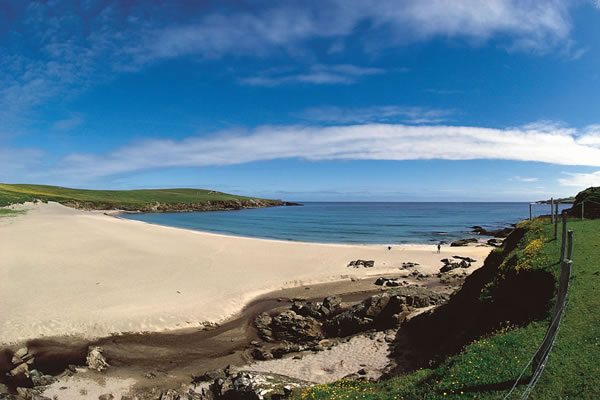 Skaw Beach – This sheltered sandy beach in the far north of the island of Unst is Britain's most northerly beach! It's a lovely one too, with fine soft sand!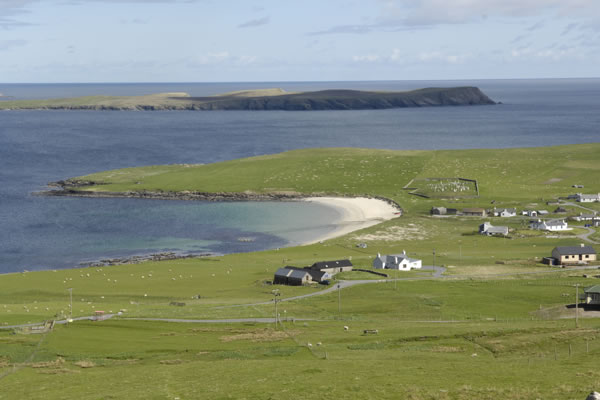 Levenwick Beach – Located in the south mainland, 17 miles from Lerwick, Levenwick Beach is a peaceful sandy bay with great rockpools for children to play in!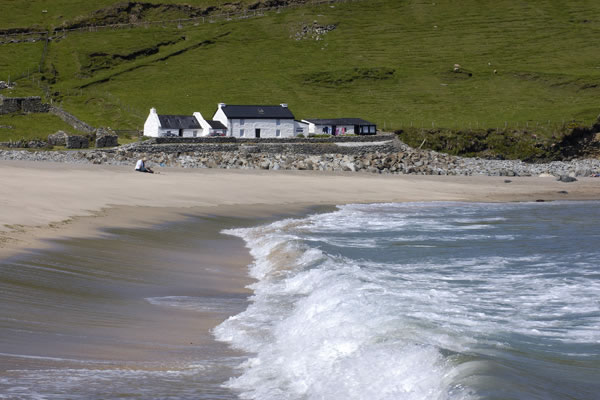 Norwick – Norwick is an attractive little bay in the far north of the island of Unst. Partly pebble and partly sandy, this beach is colourful with wildflowers and often has boats drawn up on the sand. It is one of the most photographed and painted beaches on this list!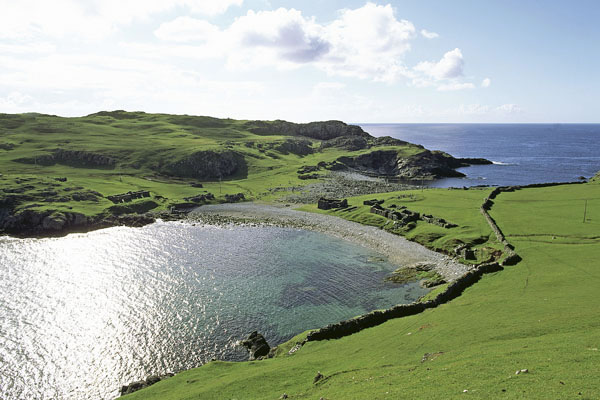 Fethaland – Fethaland is located at the north tip of Shetland's mainland and was once one of the busiest of the Shetland haaf fishing stations. The catch was once dried on this lovely pebble beach. The surrounding coastal scenery at Fethaland is quite amazing too! You can find out more about Fethaland and Haaf fishing here – http://www.northlinkferries.co.uk/your-holiday/guide-to-shetland/shetland-in-january-2014/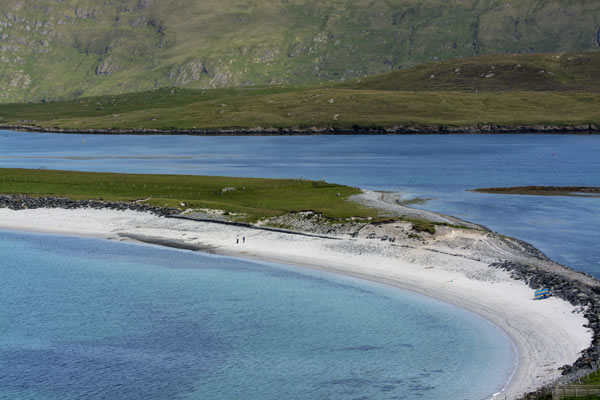 Banna Minn – Banna Minn is a quite simply stunning beach on West Burra. Head for Papil and then down on to Banna Minn Beach. You'll see the curve of the beach from afar. The beach, and an impossibly thin sliver of land behind it are all that join the two southern parts of the island together! Banna Minn is particularly popular with photographers!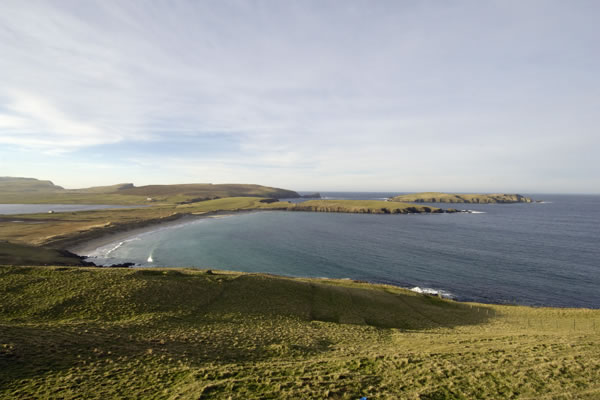 Scousburgh Sands – Close to Spiggie Beach in the south west of Shetland, this beach is a Wide stretch of gleaming white sand with a turquoise-coloured sea. It's a lovely beach and behind the dunes lies the Loch of Spiggie, which is a great fishing loch!
Honourable mentions go to Sand Voe on North Roe, Maywick beach, Tresta beach, Westing beach, Dale of Walls, Cumlewick beach and Grutness beach. Contact us if you have any other reccommendations!

By
Magnus Dixon
Orkney and Shetland enthusiast, family man, loves walks, likes animals, terrible at sports, dire taste in music, great taste in films and tv, eats a little too much for his own good.