Having lived just outside of Aberdeen my whole life, I like to think there are not many places in the city that I haven't visited or seen. However, when someone recently mentioned Greyhope Bay to me – I was shocked as I had never heard of it.
Greyhope Bay is consistently recorded as the best place to spot Bottlenose dolphins from land in the UK
Greyhope Bay is a short 10-minute drive from the NorthLink Ferries terminal and is a large promontory located on the southern-side of Aberdeen Harbour. So, on a beautiful morning, my dad and I decided to pay a visit to Greyhope Bay and see what there was to explore. He had never heard of it either, so it was a first for us both!
When we arrived, I was surprised at how quickly the area switched from a bustling city into a beautiful and tranquil coastline. One minute we were driving through a busy industrial area and the next we had entered a remote coastal road with spectacular views overlooking the harbour.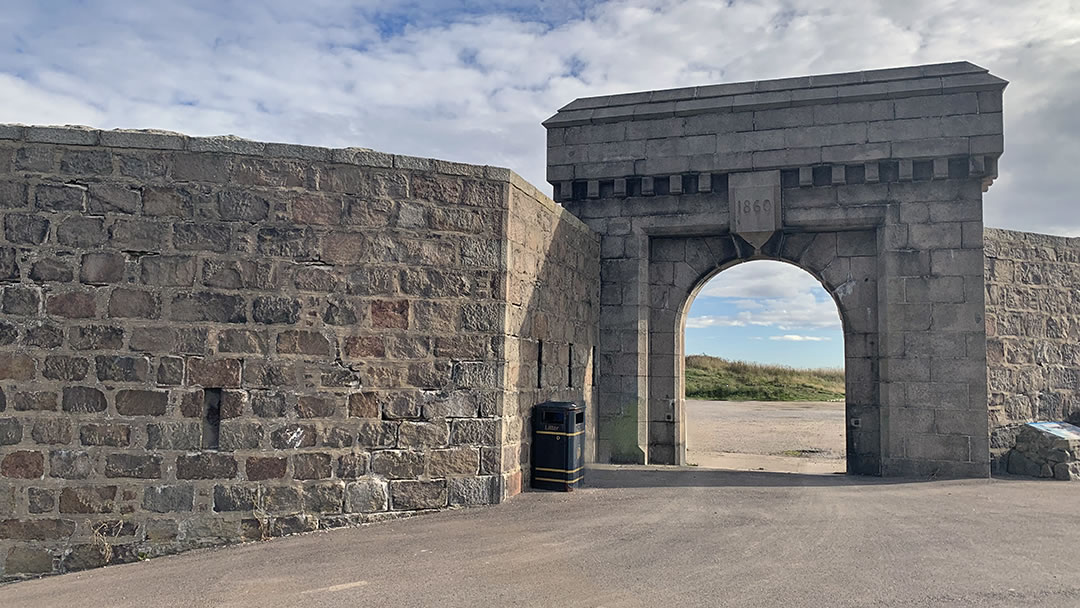 Torry Battery
We parked the car in the car park and started our exploration at Torry Battery which towered impressively over the car park as it sat on top of a hill. Torry Battery was one of several measures taken throughout history to protect Aberdeen's port and trade connections. The site is steeped in over 150 years of military history!
The city's first fortifications were built in Sandness (today called Pocra Quay) on the north side of the harbour. A large blockhouse was erected in 1497 to house the city's guns and artillery. Throughout the 1500s, this site served as Aberdeen's primary defensive position as it was located where any invading army would land. The blockhouse would protect the city from numerous warships and armies that were encroaching, as well as against pirates and merchant ships which were feared to be carrying disease.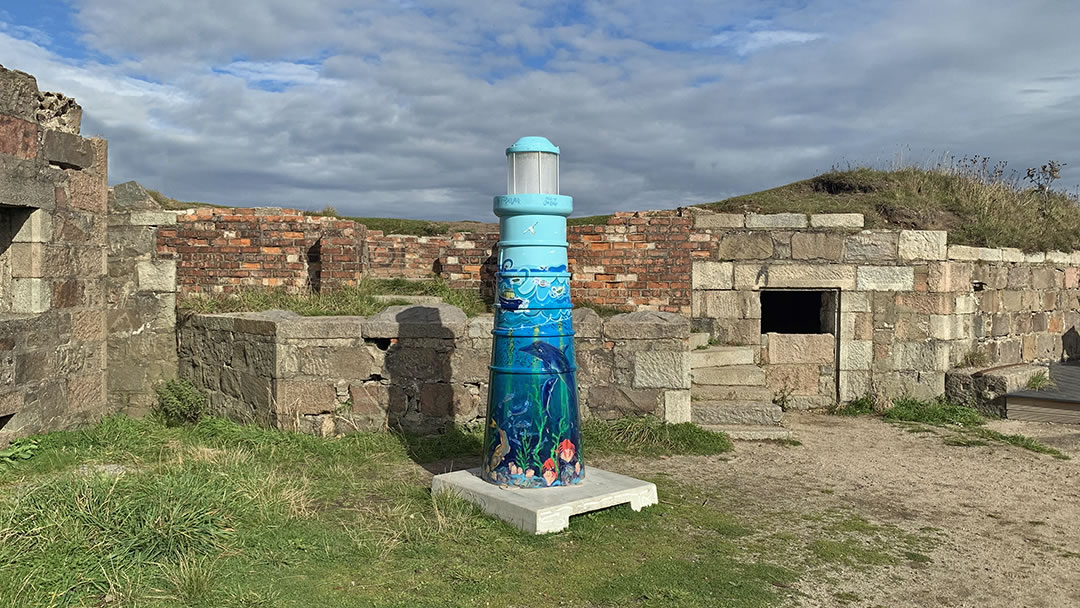 In 1780, a battery was built to the north of Footdee, serving as the blockhouse's replacement (which was fully dismantled in the 19th century). To operate the cannons, fifteen trained personnel were required here! By 1806, the new battery had deteriorated significantly and discussions to create a new network of fortifications to protect the harbour began.
The War Department purchased land in Torry and began the construction of Torry Battery in 1858, which was completed in 1860. Up until the 1950s, Torry Battery remained in operation. Even today, the site still plays a significant role in the coastal scenery of Aberdeen.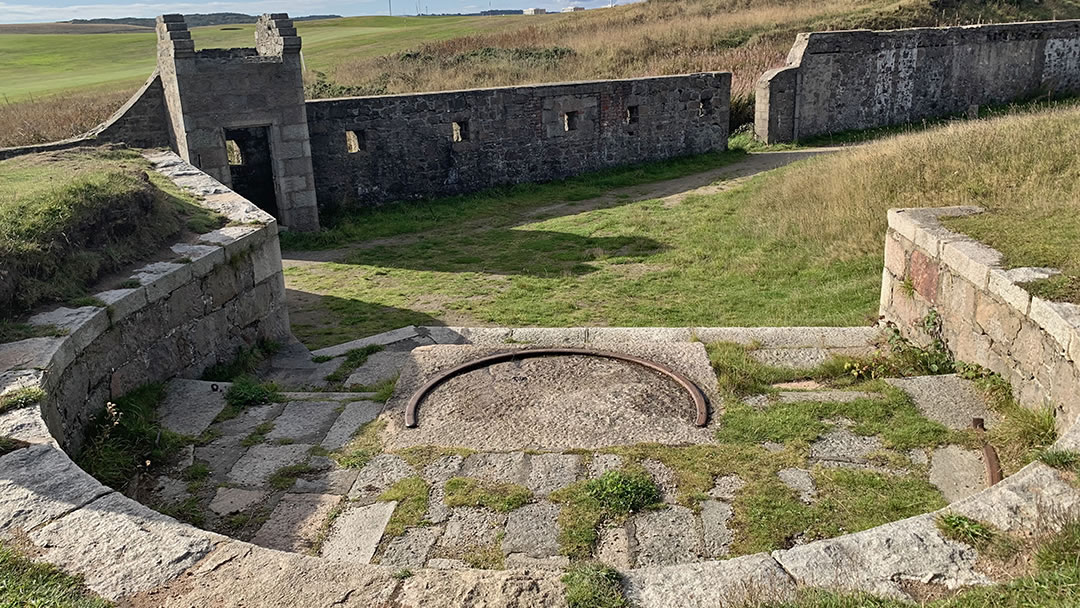 The artillery battery, which now sits in a ruinous state, is a very thought-provoking place to explore. It was interesting to imagine what it must have been like for the soldiers stationed here. It was interesting to discover the structural remains of watch towers, lookouts and gun emplacements, and piece together the purpose of each area. The larger guns here would have had a firing range as far as Newburgh – over 10 miles away!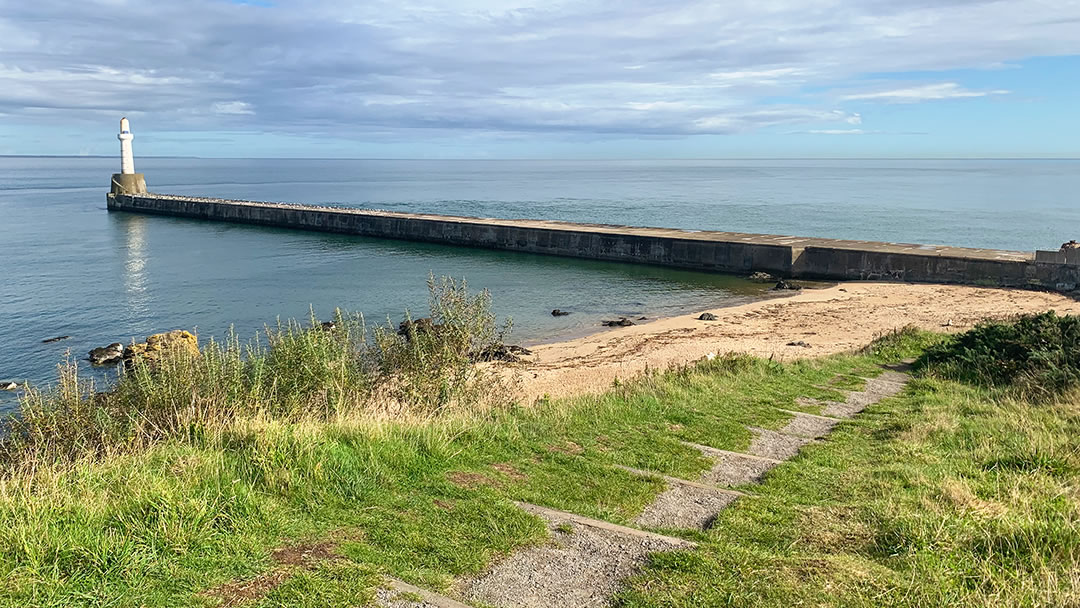 The Beach
After finishing our exploration of the battery, we continued to meander along the coastal road whilst admiring the breathtaking views of Aberdeen Harbour and the North Sea. We came across the stairway that led us down to the lovely little beach below.
Greyhope Bay is one of the top locations in north-east Scotland to spot wildlife, so I was hopeful to see some incredible species while i was here. It was gorgeous day with surprisingly no wind! This meant the sea was very still – and I knew this could increase my likelihood to spot some marine life.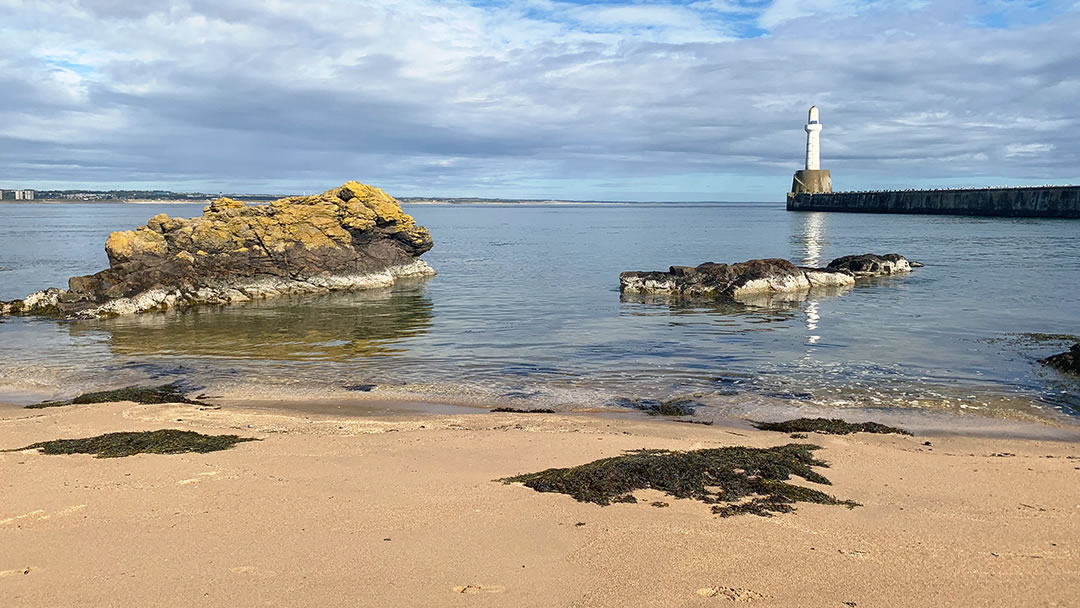 As I strolled along the beach, I kept a close look out to sea in case I saw a dolphin or porpoise. You can only imagine my excitement when I caught sight of a dolphin surfacing and playing in the harbour entrance. Unfortunately, the photos I took didn't do any justice, but this didn't diminish my joy of seeing them for myself!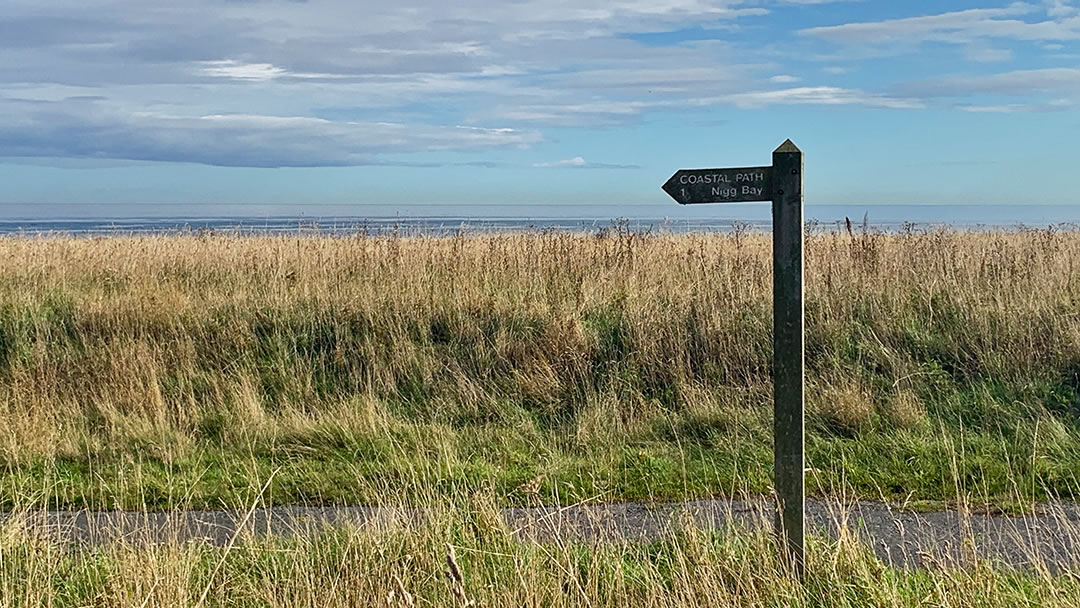 We followed the steep path back up to the coastal road and continued walking toward the lighthouse that towered in the distance. The flat tarred road was gentle to walk along with only the occasional car driving past. There was also a lovely coastal path which followed the cliff edge.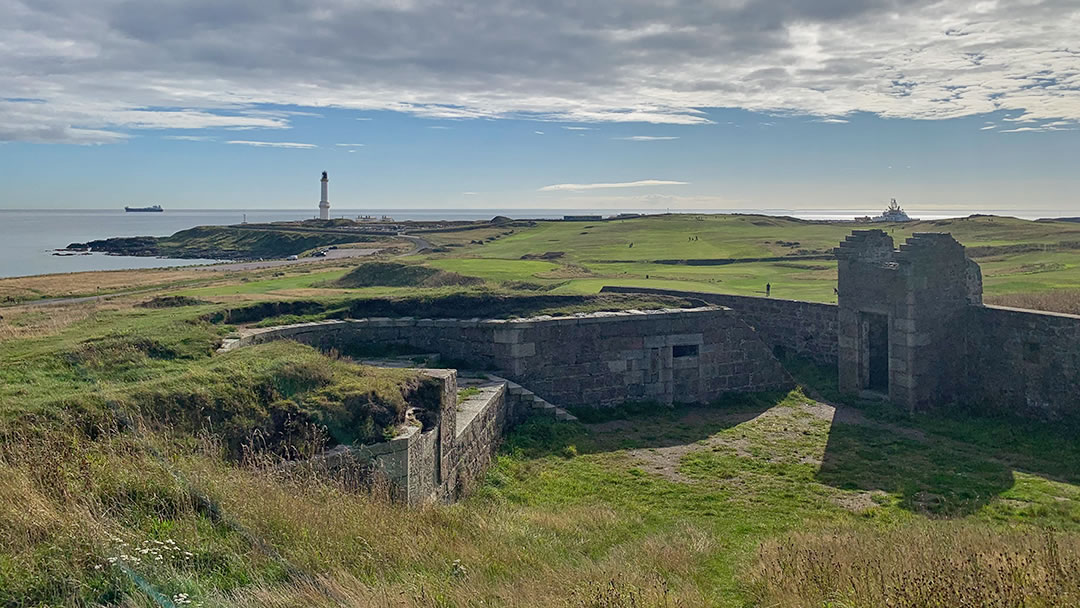 The road runs alongside Balnagask Golf Course where we viewed many golfers enjoying the beautiful – and for once peaceful – day. My dad and I both agreed it would be very tough going to play here on a blustery day, as it is completely exposed to the often-strong North Sea winds.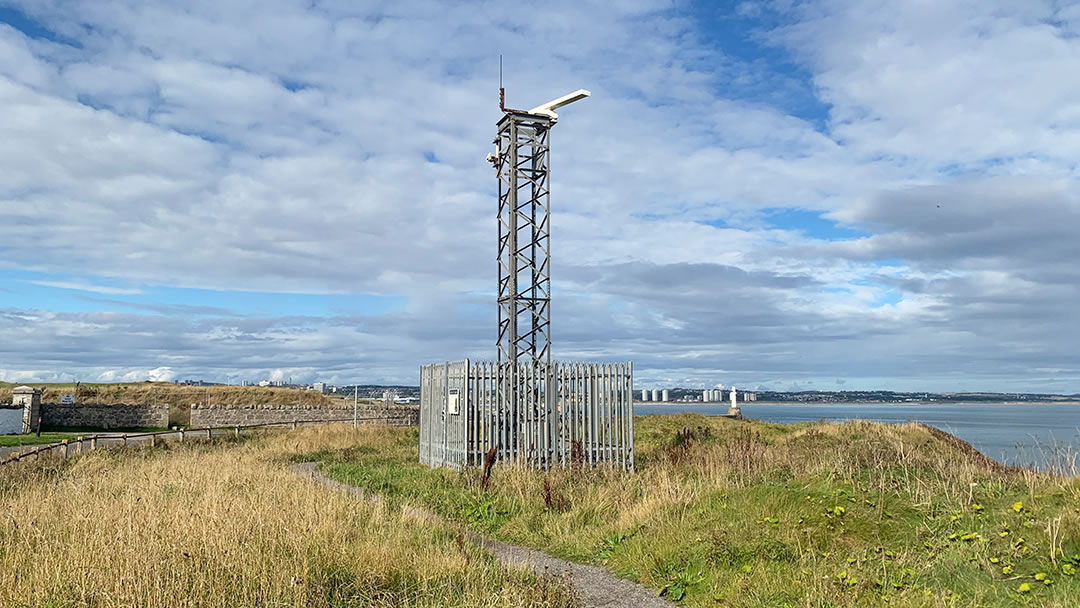 Girdle Ness Radar Station
On the approach to Girdle Ness Lighthouse, we came across an interesting looking structure which we soon discovered to be Girdle Ness Radar Station. Officers at the Marine Operations Centre in Footdee use this radar to track and manage the 25,000 annual vessel movements that occur in Aberdeen Harbour. This station contributes to provide a thorough picture of the area's maritime traffic.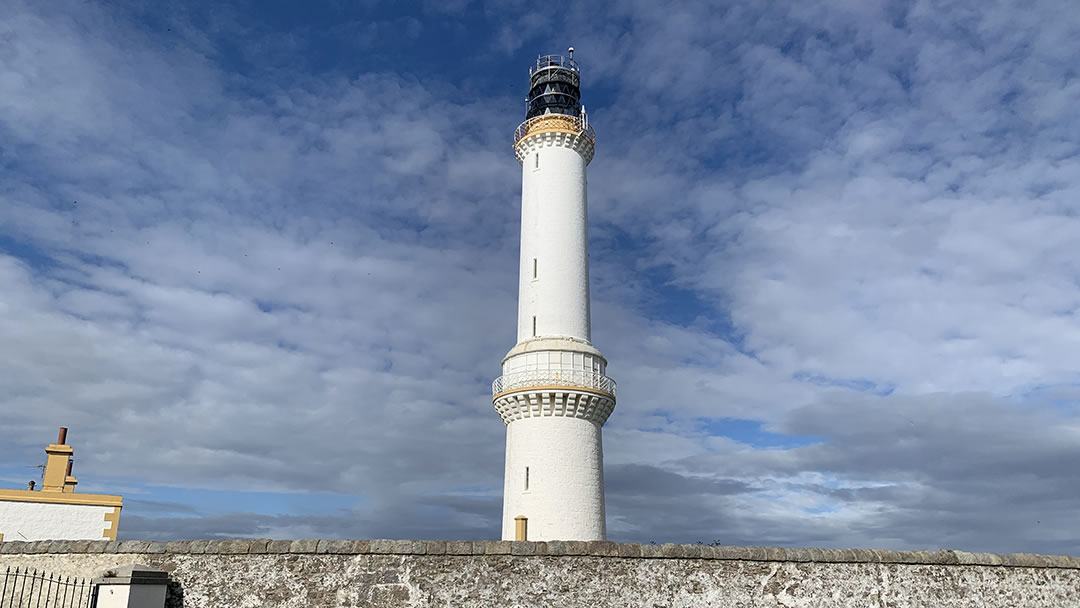 Girdle Ness Lighthouse
Designed by renowned lighthouse architect Robert Louis Stevenson and built by James Gibb, Girdle Ness Lighthouse was constructed in 1833. The 121-feet-tall lighthouse has 182 stairs leading to the top of it. The cutting-edge, ground-breaking design of Girdle Ness Lighthouse boasted a twin light – one above the other! Its light could be seen up to 22 nautical miles away. The lighthouse became fully automated in 1991.
The lighthouse was built as result of the sinking of a whaling ship in 1813. Of the 45 crew members on board, just 2 survived. The shipmaster subsequently asked that a light be installed at Girdle Ness to prevent this incident from reoccurring.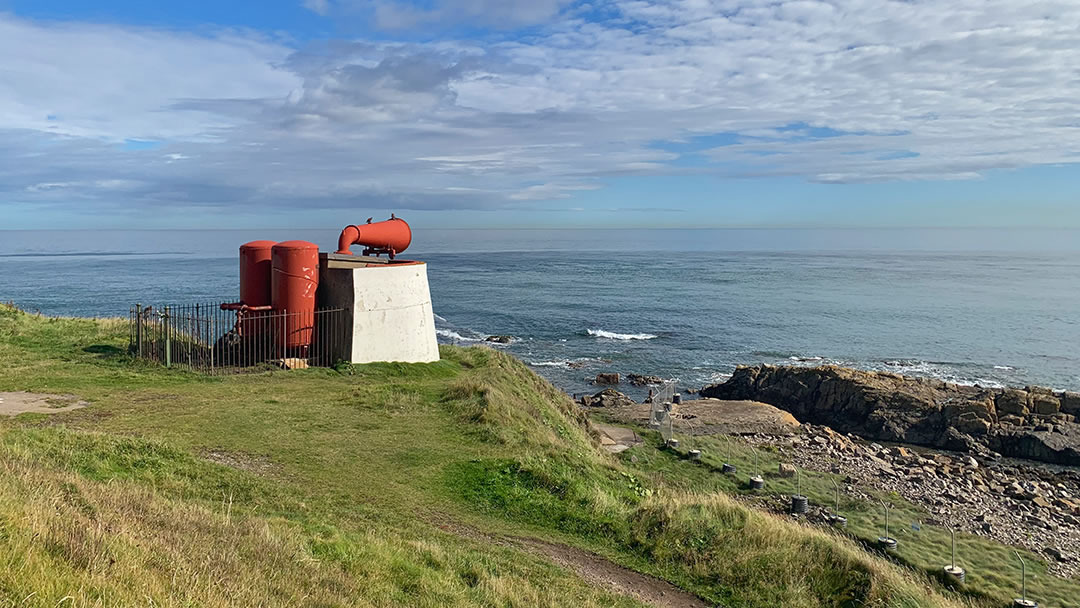 'Torry Coo' Foghorn
Another structure I didn't anticipate seeing was a massive foghorn. The foghorn, which was constructed in 1902 to replace an older foghorn, remained in use until 1987. The foghorn was only used when visibility was less than five nautical miles. It could also be heard up to twenty miles away! As the foghorn made a cow-like sound, it coined the nickname 'the Torry Coo'.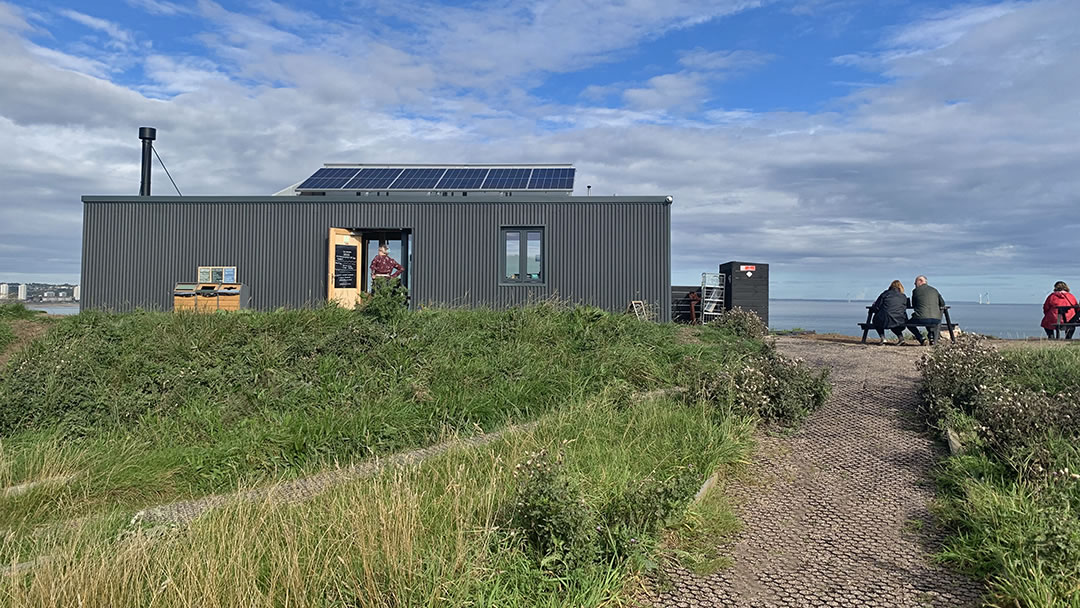 The Greyhope Bay Centre and Café
To finish our visit, we stopped by the Liberty Kitchen Café which has been built within a renovated shipping container. With both vegetarian and vegan friendly options, the café serves a delicious array of cakes and coffees produced from local ingredients and suppliers. The café is open Wednesday to Sunday from 10am to 4pm.
With uninterrupted panoramic views of the coast and harbour, the café arguably offers the best views in the entire city! There are picnic benches dotted around for visitors to sit, enjoy their coffee and appreciate the wonderful landscape.
---
I had a great time exploring Greyhope Bay, and I couldn't recommend it enough to anyone who hasn't been here before. It is astounding how serene and tranquil this location is considering there is a busy city on its doorstep!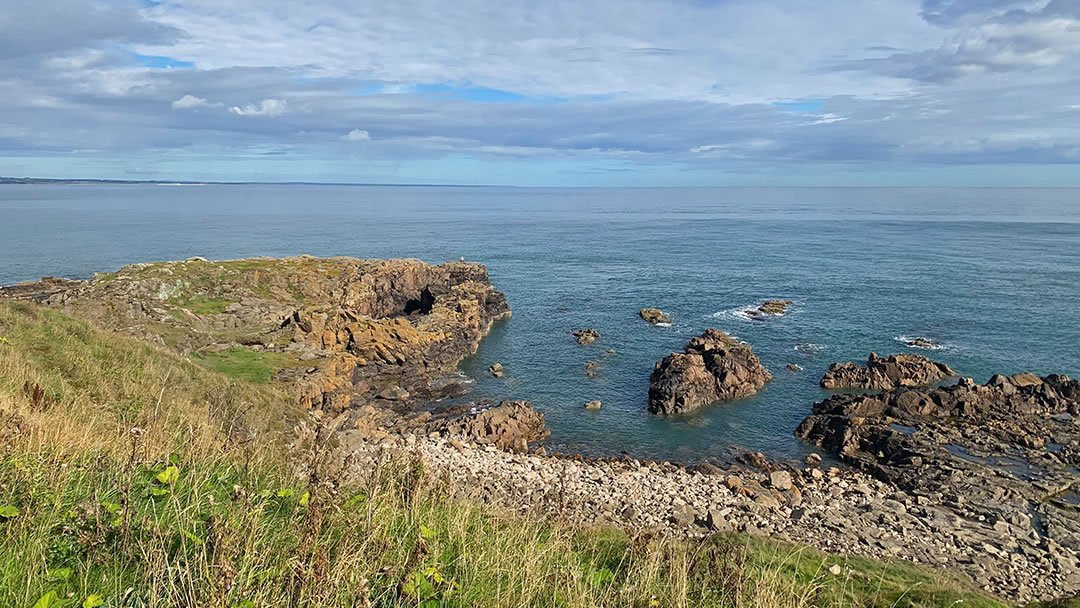 Moreover, Greyhope Bay is a magnificent area to spend a few hours and it is also completely free to visit!
Whilst the facilities at Greyhope Bay were still in development, we spoke to Dr Fiona McIntyre – the managing director of this initiative. Read our interview with her here to learn more about her involvement in this project.
To find out more about this vibrant destination, visit https://www.greyhopebay.com/.

By
Amy Leith
A marketing student born and raised in Aberdeen with an admiration of the Scottish isles, desire to travel and see the world, a superior taste in music, enjoys cooking and socialising with family and friends.
Pin it!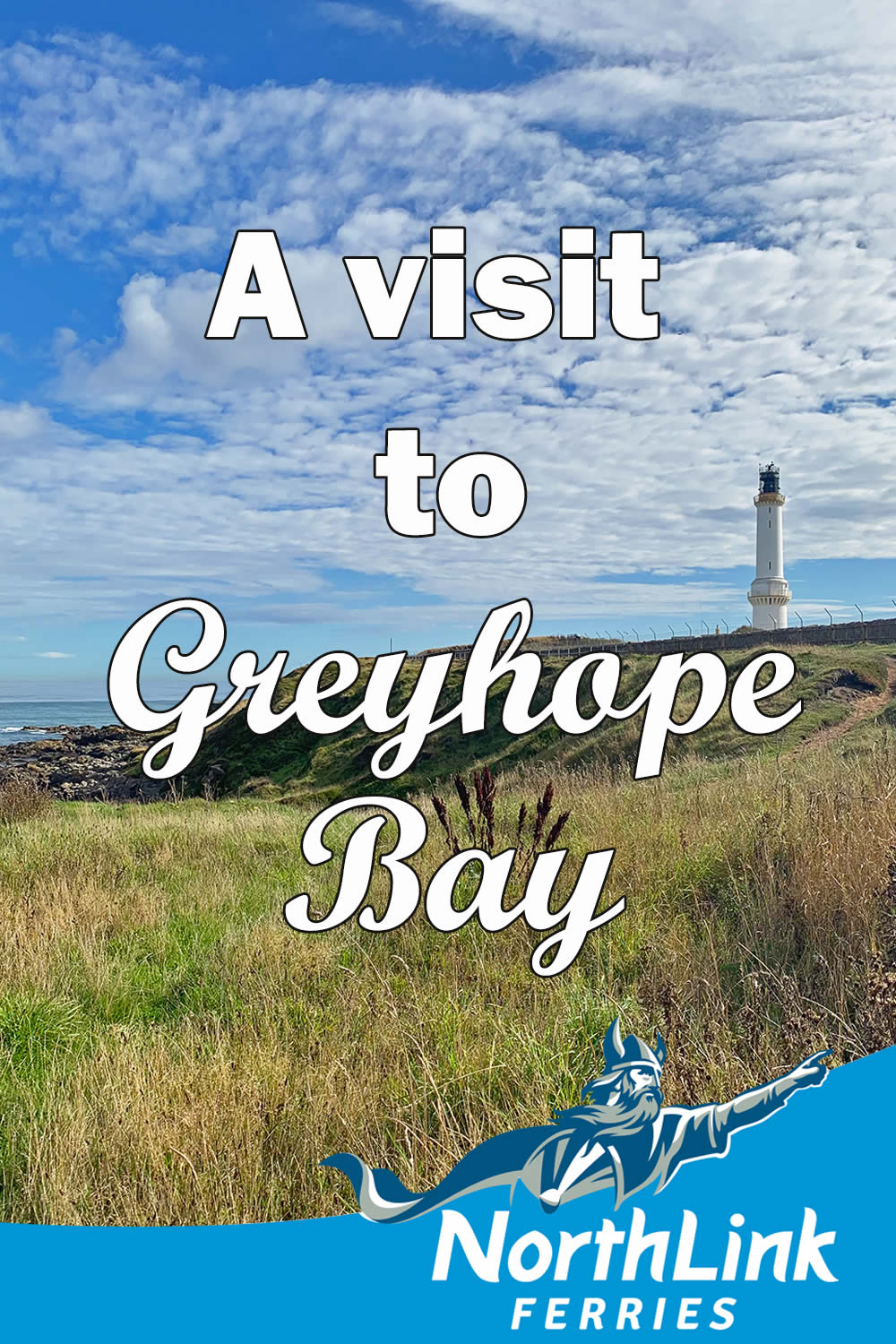 Header image: The Greyhope Bay Centre overlooking the harbour photo © Copyright Amy Leith