The best walks in and around Aberdeen
Aberdeen and its surrounding area are home to countless beautiful and distinctive locations to go out and explore. One of the finest ways to experience all that Aberdeenshire has to offer is by walking.
Scotland is home to 282 Munros – a mountain that is over 3,000 feet tall.
Whether you're an experienced hiker aiming to climb a staggering Munro or a novice looking for an easy woodland trail to wander with your dog – Aberdeenshire has something to suit every age and ability.
Here is a list of the best walks in and around Aberdeen. We hope you enjoy discovering Scotland's great outdoors!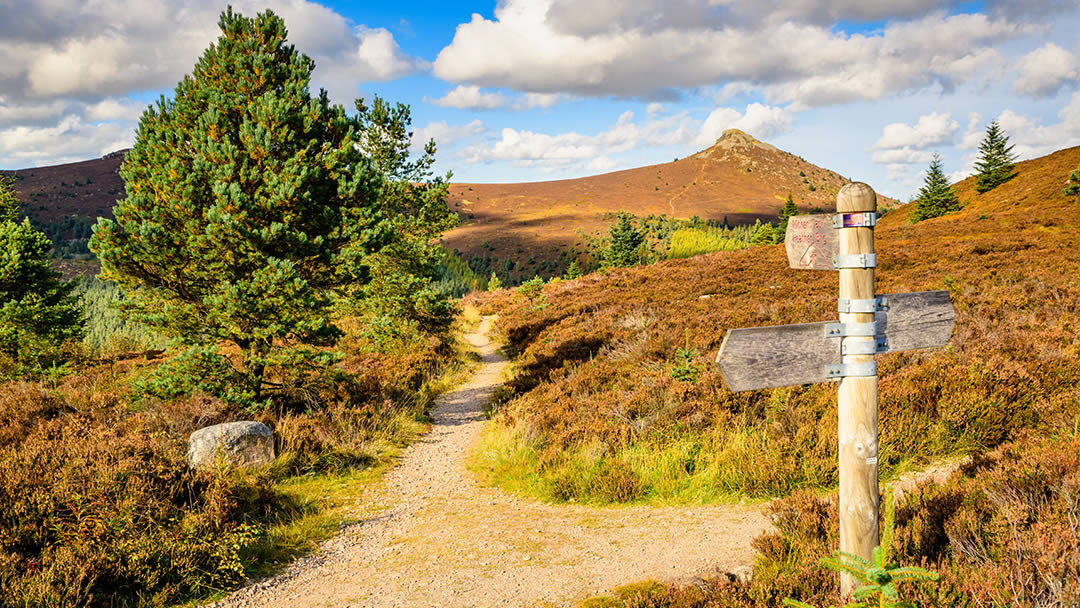 Bennachie
In Inverurie, there is a well-recognised group of hills called Bennachie with several peaks for climbers to tackle. The tallest peak is Oxen Craig at 528-meters, but the most popular summit is Mither Tap which is 10-meters shorter.
On arrival, you can find a Visitor Centre which provides information boards on the various waymarked trails. These paths lead you up the hill and throughout the surrounding woodland which is home to an amazing diversity of wildlife. Look out and see if you can spot any red squirrels, cuckoos, or roe deer!
There are 3 marked routes for walkers to follow which vary in length and difficulty to suit all abilities. The Discovery Trail is the shortest route taking about half an hour to complete and is a leisurely walk through the woods. With a gentle incline and no obstructions, this route is great for little kids and is considered an easy walk.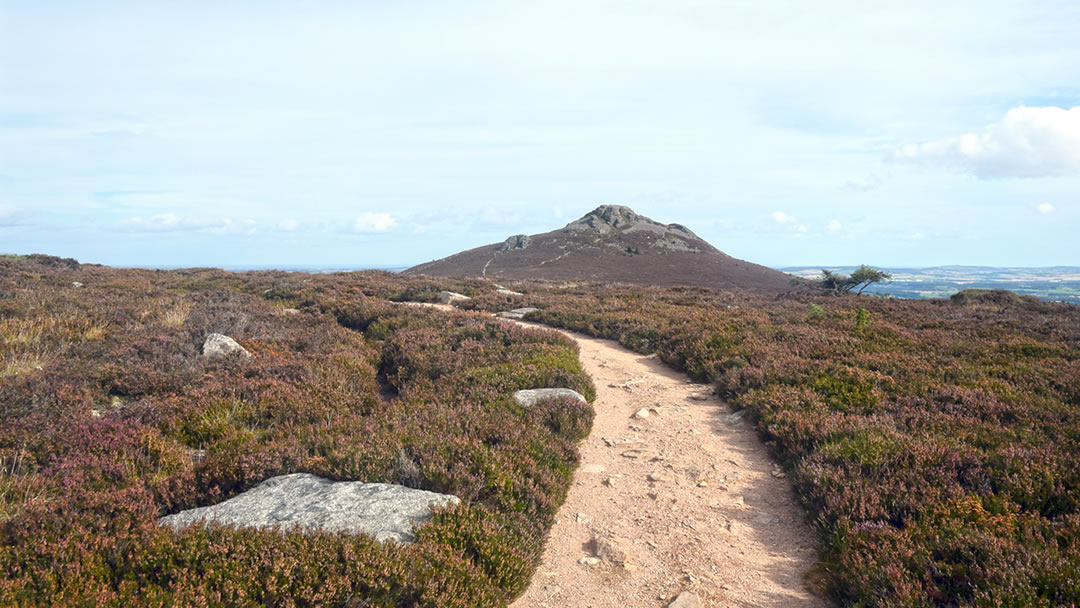 The Mither Tap Trail focuses on the climb to the rocky summit and is considered a strenuous walk. However, the spectacular panoramic views seen from the top are well worth the ascent!
The Colony Trail is considered a moderate walk and takes just over an hour to complete. This trail leads through beautiful open forests and takes you past the archaeological remains of the Bennachie colonists. This path features some short and steep sections with steps and uneven, rocky areas.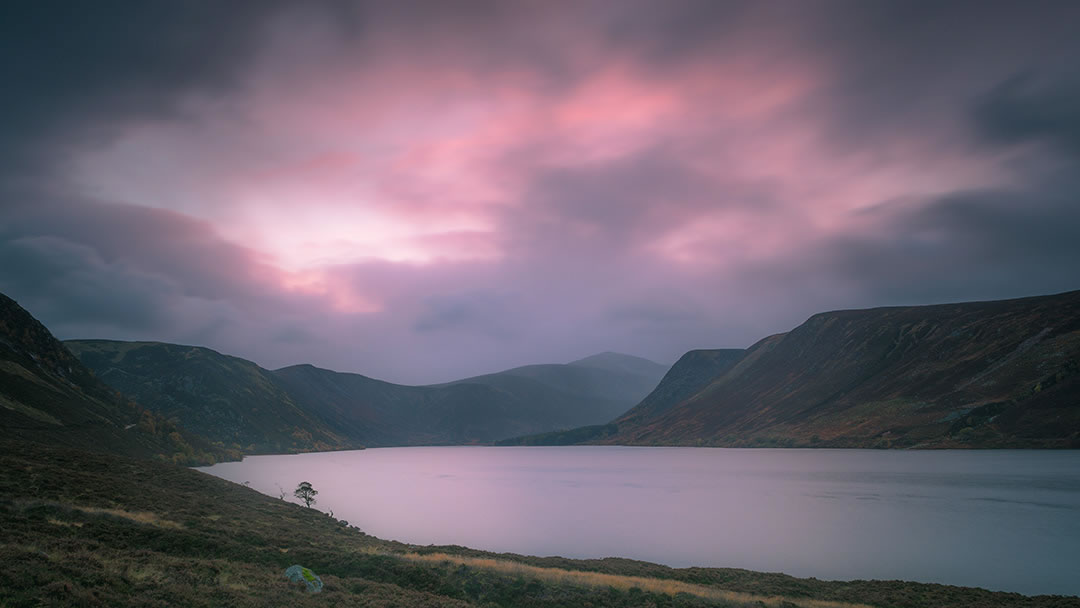 Loch Muick
Lock Muick is a freshwater loch found on the Balmoral estate near Ballater. This beautiful walk leads you around the loch on a 12.7km loop and takes around 3 hours to complete.
With a mostly flat terrain and gorgeous scenery, it is easy to understand why this location is such a popular walking destination. If you're lucky enough, you may be able to spot some incredible wildlife here including grouse, deer, rabbits, and many species of bird!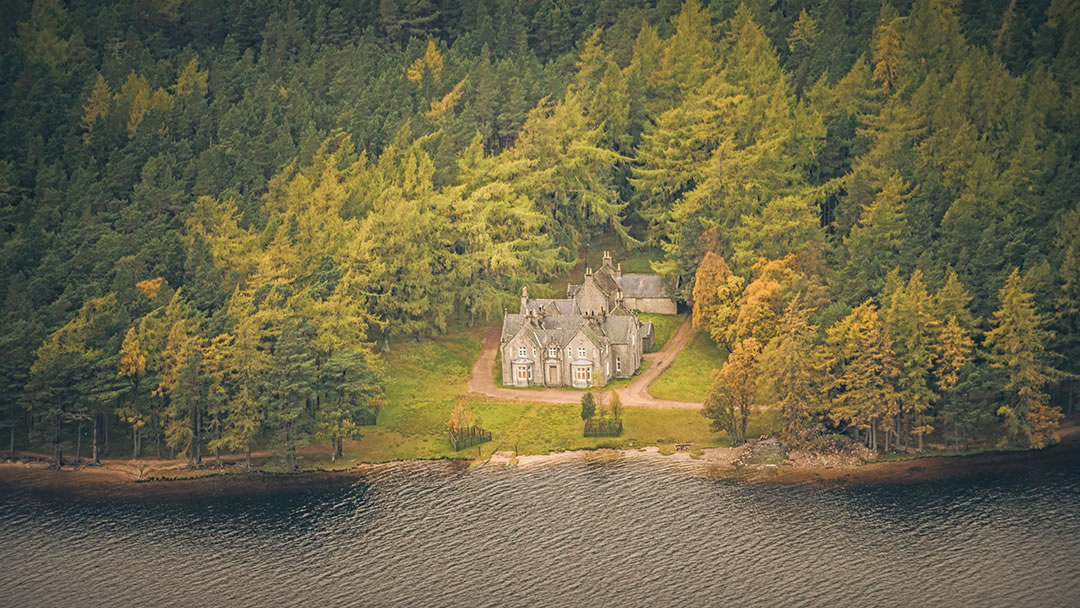 On the west side of the loch, the path will take you past Glas-allt-Sheil – a royal hunting lodge built for Queen Victoria in 1868. The house was nicknamed 'Widow's house' by Victoria as it became her retreat following the death of her husband Prince Albert.
If you are feeling adventurous, why not tackle one of Scotland's 282 Munros – a mountain that is at least 3,000 feet tall. Loch Muick lies at the bottom of Lochnagar which towers over the lake at 1155-meters. There are signposted paths on the circuit that will direct you up the mountain. This climb takes roughly 6-7 hours to complete.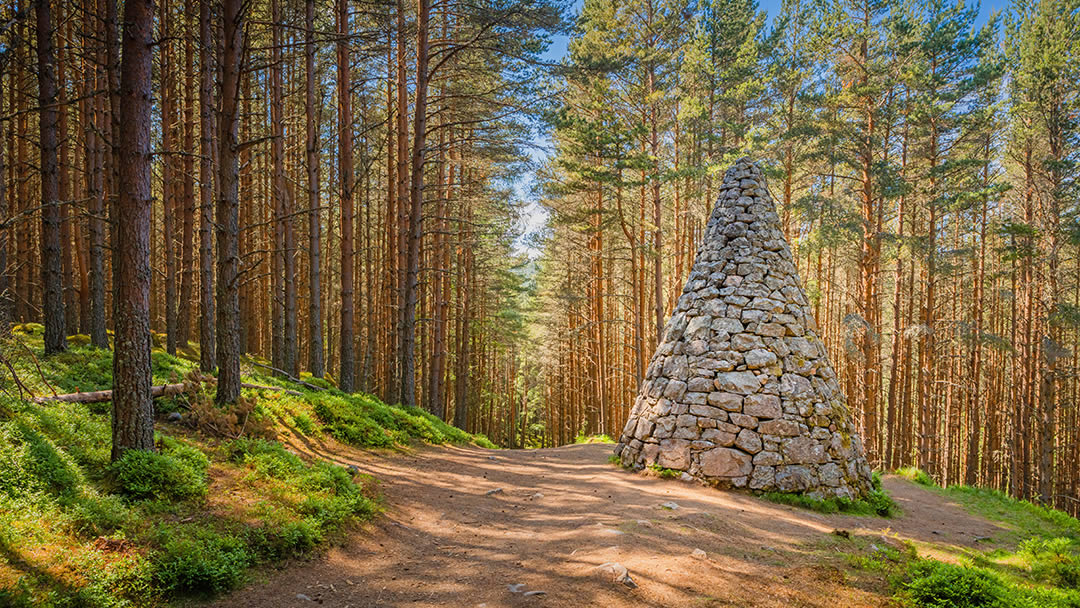 Balmoral Cairns
The Balmoral estate is home to 11 historical cairns – a carefully arranged stack of stones that is constructed for a specific purpose, such as a memorial.
All but one of these cairns were created by Queen Victoria to commemorate significant life events within the royal family. The newest cairn was constructed in 2012 to celebrate Queen Elizabeth II's Diamond Jubilee.
There are two available routes to access these cairns: a direct path to Prince Albert's cairn and a full circular path of all the Balmoral cairns. Although it is important to note that the circular route is closed while the Queen is in residence at Balmoral Castle during August and September.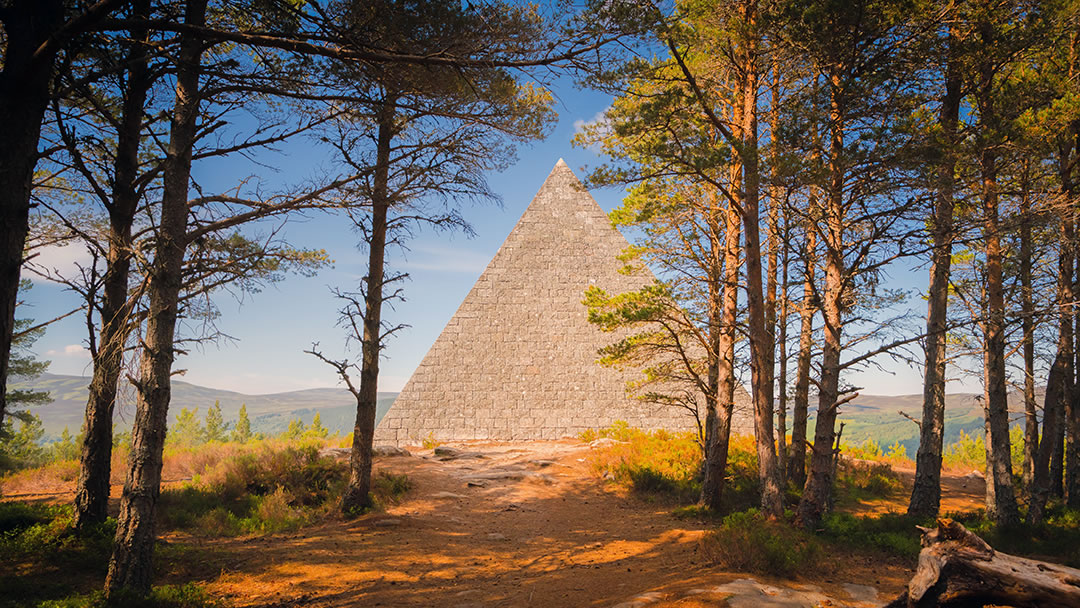 Prince Albert's Cairn is arguably the most remarkable of them all as it is a large four-sided pyramid – something you don't expect to find in Scotland! This location of this monument also shows beautiful views of the Scottish countryside.
This structure was erected in 1862 after the death of Queen Victoria's beloved husband, Prince Albert. This cairn is the biggest and most noticeable of the estate's cairns and was made to honour and celebrate Albert's life.
The direct walk to Prince Albert's cairn takes around 30 minutes to complete. This woodland trail is fairly steep and can be quite muddy in places, so appropriate footwear is advised. The longer, circular route is around 9.5km and takes roughly 2.5 hours to complete.
Stonehaven Coastal Walk
The picturesque seaside town of Stonehaven is a 20-minute drive south of Aberdeen. This route takes you along the coast from the town centre to the spectacular medieval ruins of Dunnottar Castle. With a distance of 5km, this coastal trail takes roughly 1.5 hours to complete.
This walk showcases magnificent scenery of the North Sea and its dramatic rocky cliffside. There is a wealth of wildlife found on this route if you have a keen eye. Dolphins and grey seals are often viewed here as well as many bird species who nest in the cliff shelves.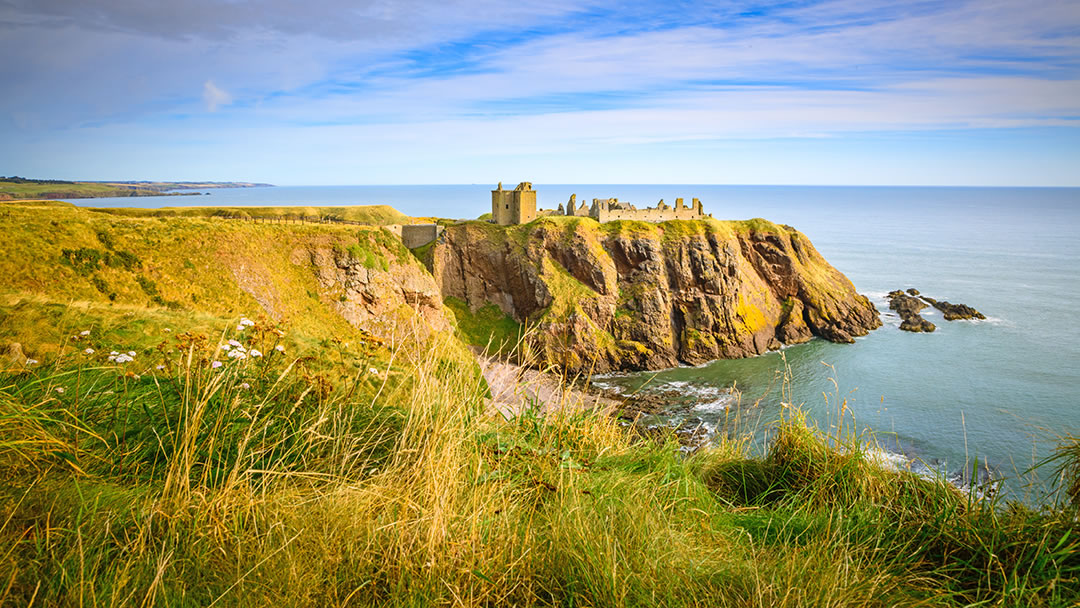 Dunnottar Castle is well worth a visit if you have never been before. This historical fortress sits on a rocky peninsula and was built in 1392. There is an admission fee which is £9.50 for adults and is £4.50 for children aged between 5 and 15 years old. If you would like to find out more about different castles in Aberdeenshire, visit https://www.northlinkferries.co.uk/aberdeen-blog/castles-in-aberdeen/
A note-worthy spot on this trail is the Stonehaven War Memorial which is 15-minutes from the town centre. The monument was built in 1923 and remembers the lives of those who died during the first and second World Wars.
Once you have made it back to Stonehaven, why not reward yourself? We recommend visiting Aunty Bettys on the promenade for a refreshing and delicious ice cream.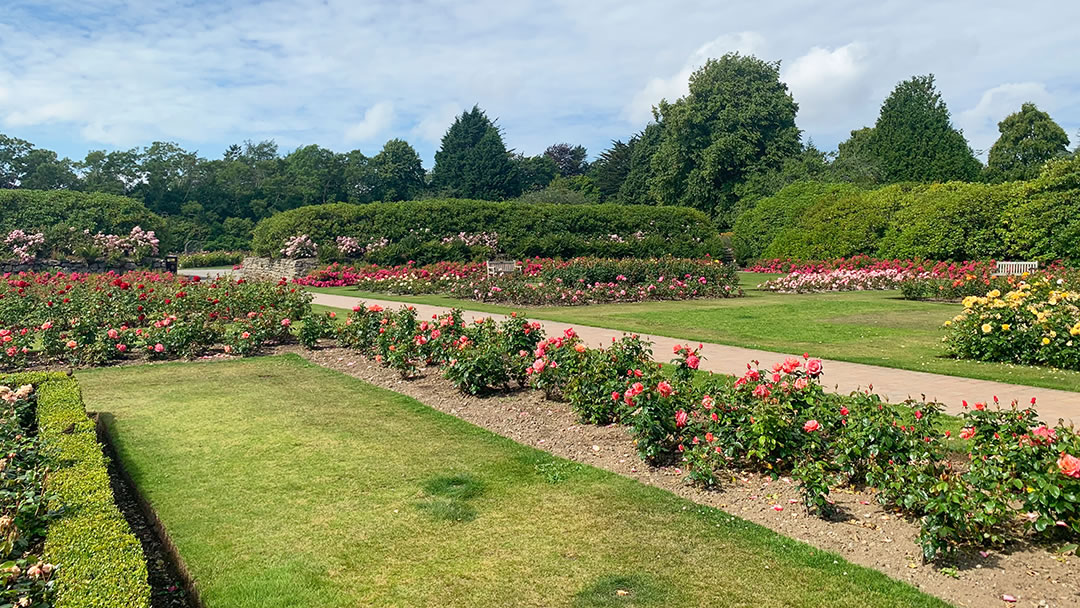 Hazlehead Park
Hazlehead park is a quick 15-minute drive from the NorthLink Ferries terminal and lies on the outskirts of Aberdeen. This space was formerly a hunting forest until King Robert the Bruce gifted the area to the city in 1319 – making this park one of the oldest historic sites in the city.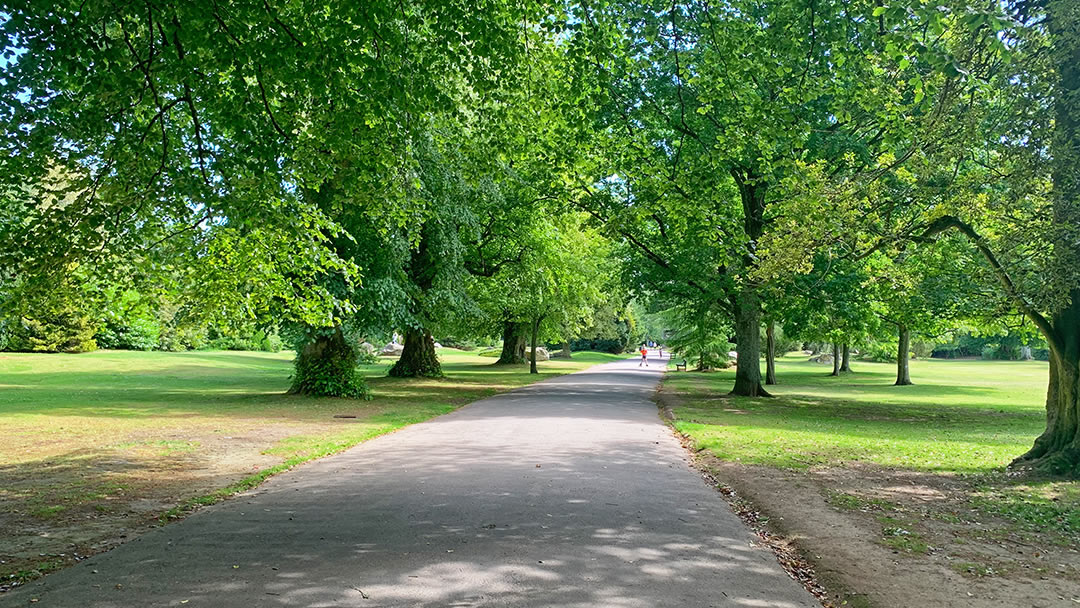 There are 3 marked trails to take you through the surrounding woodland. The red route is the longest at 6km which will take around 1.5 hours to complete. The purple route is 5km long which takes roughly 1 hour and 15 minutes to complete. Lastly, the blue route is 4km long and takes about 1 hour to complete.
These walks are all generally flat making them great for all ages to enjoy. More information on the routes can be found here: https://www.aberdeencity.gov.uk/services/leisure-culture-and-parks/parks-and-gardens/hazlehead-park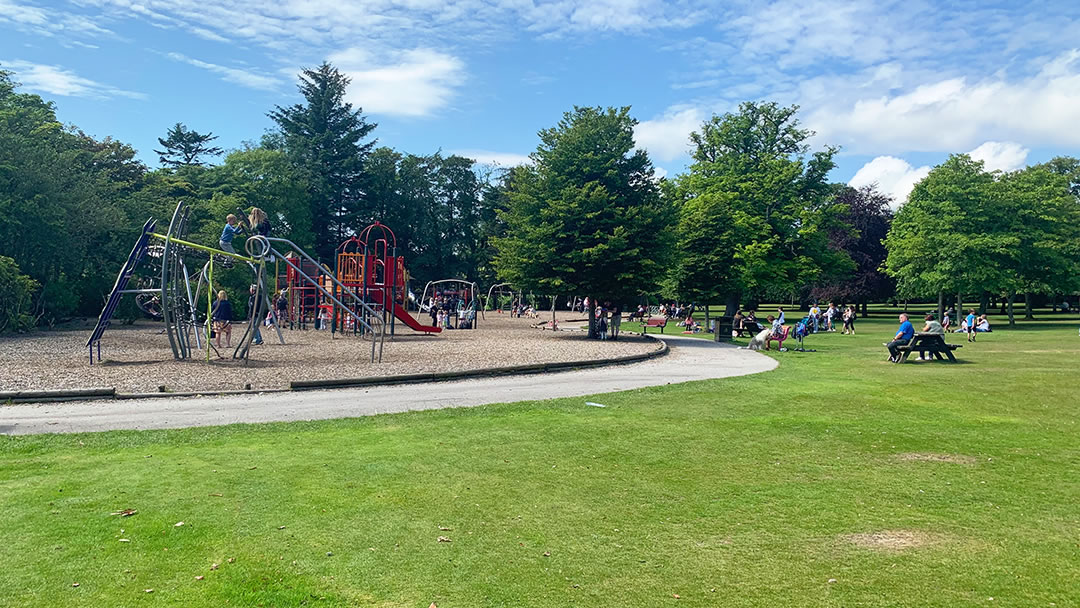 This fantastic park is the perfect place for a fun family day out with many attractions that kids will love! There is a maze, Pets' Corner (a mini zoo), a large playground and so much more for them to explore.
In the heart of the park, there is a café and a kiosk which serves a variety of food and drinks. This is a great place to grab a coffee or a quick bite to eat after your walk.
To find out more about other great parks in Aberdeen, visit: https://www.northlinkferries.co.uk/aberdeen-blog/parks-and-gardens-of-aberdeen/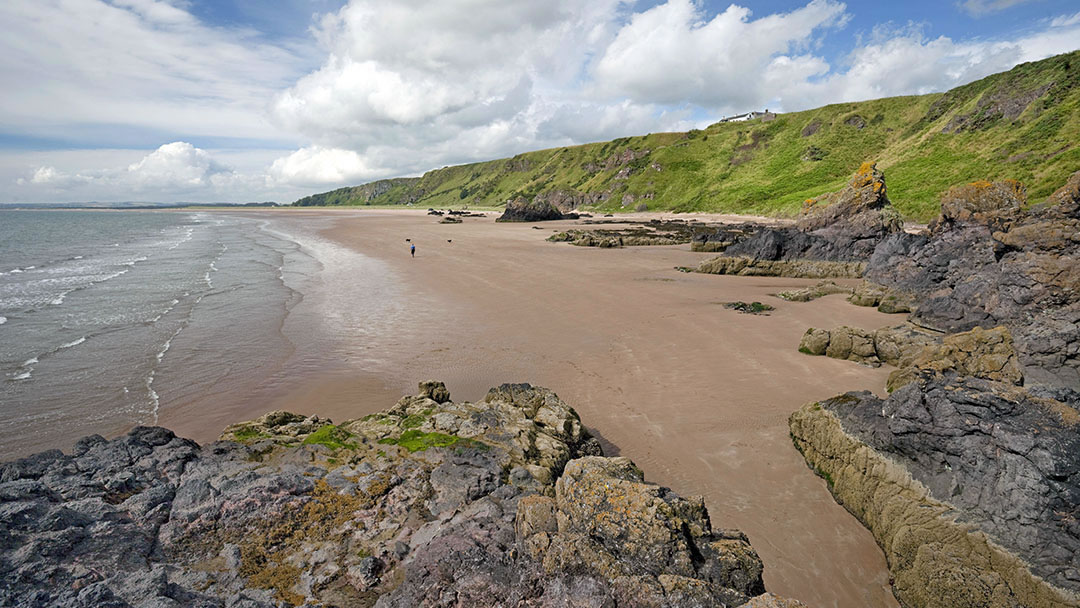 St Cyrus National Nature Reserve
Aberdeenshire is home to many beautiful locations however, we think that St Cyrus National Nature Reserve – near Montrose – is particularly special. According to Visit Scotland, St Cyrus is one of Britain's richest and most varied nature reserves!
St Cyrus is situated on the coast and has a beautiful golden beach surrounded by towering volcanic cliffs. From sand-dunes to flowering grasslands, this location has so much beautiful scenery to take in.
There is an extraordinary amount of wildlife to try and spot whilst visiting here. Dolphins, whales, or porpoises can be spotted out at sea, with seals being found closer to the shore. There are also a huge variety of birds and insects found here year-round.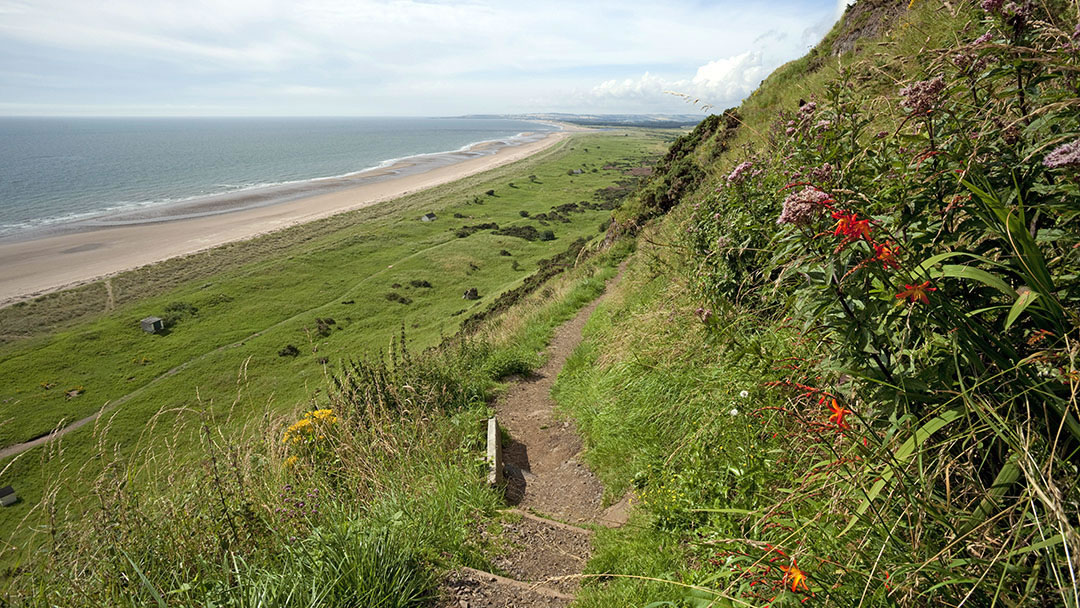 Visitors can explore St Cyrus using one of its four waymarked trails. Each route has information boards sharing details about the flora, fauna, and interesting history of the area.
The Beach trail (1.2km) is a quick climb up to the sand dunes with a beautiful view overlooking the beach. The Tyrie trail (1.6km) takes you past a variety of specialised plants and wildlife that have evolved to survive the area's harsh conditions.
The Estuary walk (2.4km) is an easy walk that leads to an estuary bird hide where you may observe lots of birds including buzzards or swans – in summer, keep an eye out for butterflies also. Lastly, The Floo'ery Meads (3.2km) is a summer trail open from May to October which takes you through a delightful flowery meadow.
---
We hope you have enjoyed reading about the best walks in and around Aberdeen. Hopefully, this has given you both inspiration and the motivation to explore Scotland's great outdoors!

By
Amy Leith
A marketing student born and raised in Aberdeen with an admiration of the Scottish isles, desire to travel and see the world, a superior taste in music, enjoys cooking and socialising with family and friends.
Pin it!