Island in Focus: North Ronaldsay
We're not going to beat around the bush – we love North Ronaldsay. The northernmost of Orkney's islands, North Ronaldsay is 36 miles from Kirkwall and feels very remote. The ferry from Kirkwall, run by Orkney Ferries, takes 2 hours and 40 minutes to get there.
We visited Linklet Bay and found the beach filled with over 200 seals hauled up and sunbathing. The scene was like something from a David Attenborough nature film. When they sensed our presence they flip-flopped back into the sea with a thunderous noise!
The island is 3 miles long and is low lying – the highest point is 23m above sea level. North Ronaldsay has a population of 72 and the population is aging, though there are efforts by the community to attract younger residents. If you walk along the roads in North Ronaldsay you'll find that you very rarely have to step to the side to let cars past. Bikes are available to hire (one has a baby seat) from the North Ronaldsay Trust.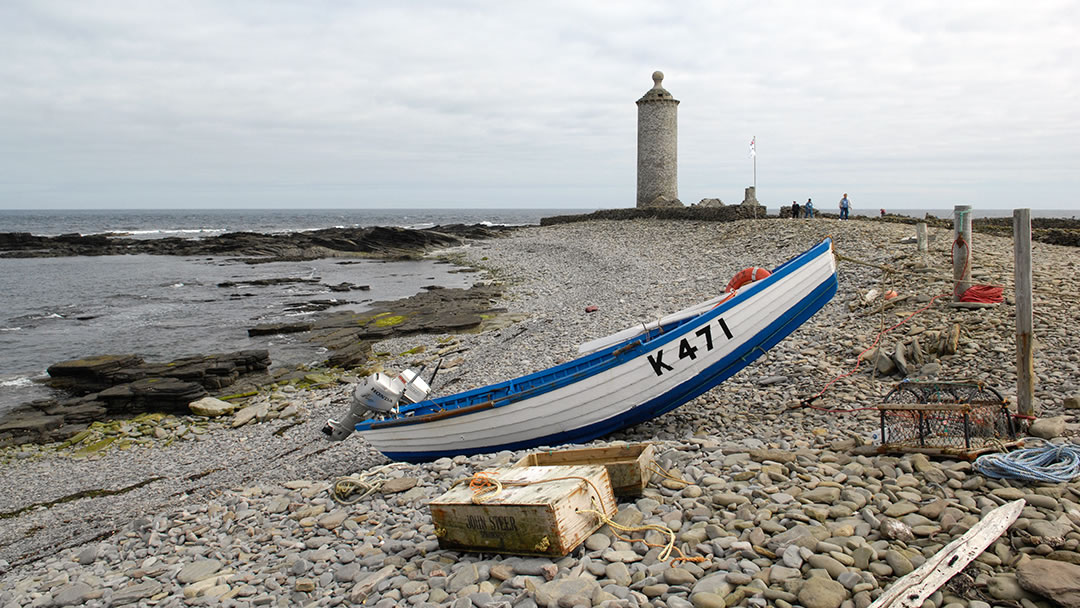 Until recent times with the development of sonar and air travel, North Ronaldsay, with it's dangerous currents and rocky shore, was a very difficult place to visit. As a result some of the ancient traditions have lasted here the longest. The old Orkney language Norn survived until the 20th century and old words can still be heard. There is also a strong community spirit in North Ronaldsay. Family and friends with a North Ronaldsay connection always return for Harvest Home and Burns Supper.
If you're still undecided about visiting, please note that the Loganair offer a reduced airfare for visitors who spend a night on North Ronaldsay.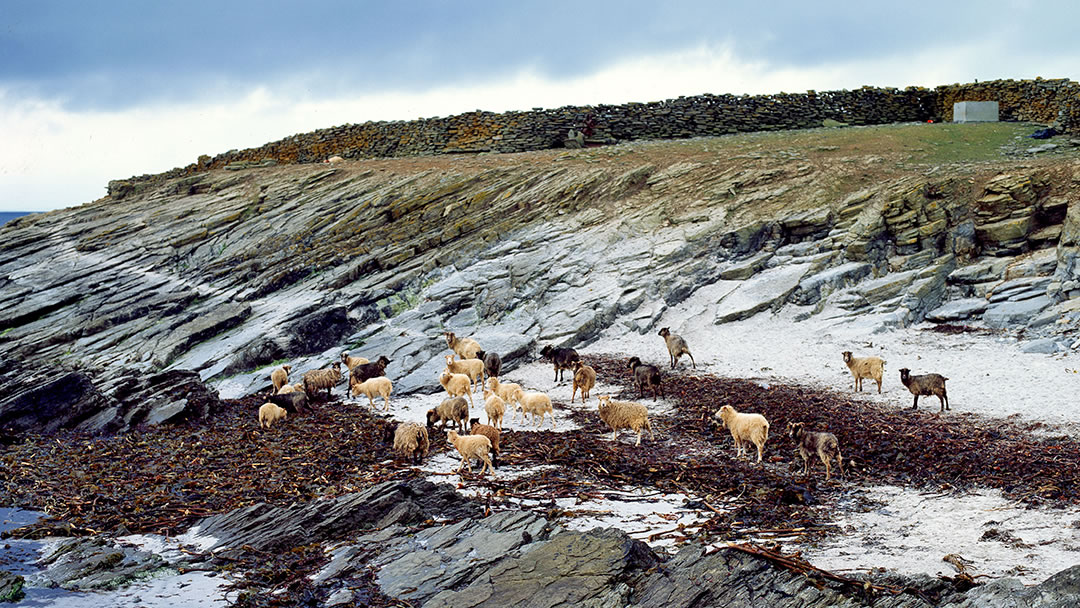 Sheep Dyke
The main industries on North Ronaldsay are crofting and sheep farming. North Ronaldsay's most unique feature is the sheep dyke around the island. This keeps the communal sheep herd off the fertile land, and they eat seaweed instead of grass!
These sheep are among the last remnants of native British Sheep. Elsewhere, they were replaced by improved breeds from Europe. Their meat is a delicacy, lean and rich in minerals from their diet. The sheep's outer fleece is rough, but the inner wool is soft as cashmere. Visitors to North Ronaldsay often leave with a warm jumper or hat.
The dry-stone sheep dyke is 1.5 metres high and extends 19km around the island. It is sometimes damaged by winter storms.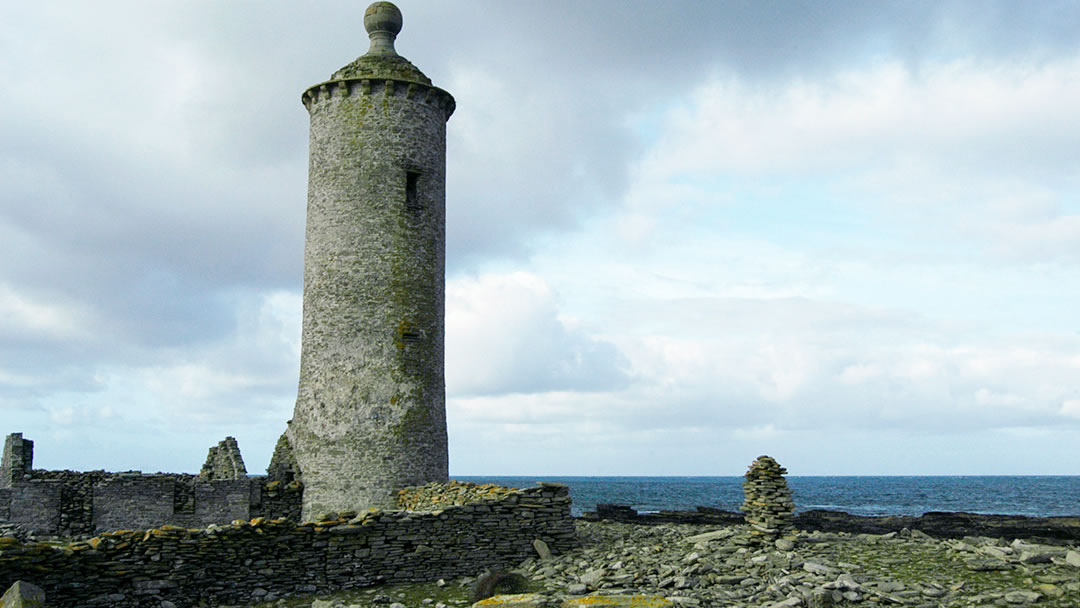 Old Beacon
In terms of coasts, North Ronaldsay is divided into two – the south and east sides have sandy bays. However, the west and north of the island is very rocky. As North Ronaldsay is low lying and surrounded with stormy waters, it has a history of being a graveyard for ships.
The Old Beacon was built at Kirk Taing in 1789. One of the builders was Robert Stevenson, the grandfather of the Treasure Island author. Unfortunately more ships were lost, as they mistook the low light of the Old Beacon to be another ship safely at anchor. After the revolving light at Sanday's Start Point Lighthouse was lit in 1806, the Old Beacon's light was extinguished and the top was replaced by a lovely stone ball.
The Old Beacon was featured in the BBC's Restoration programme in 2006.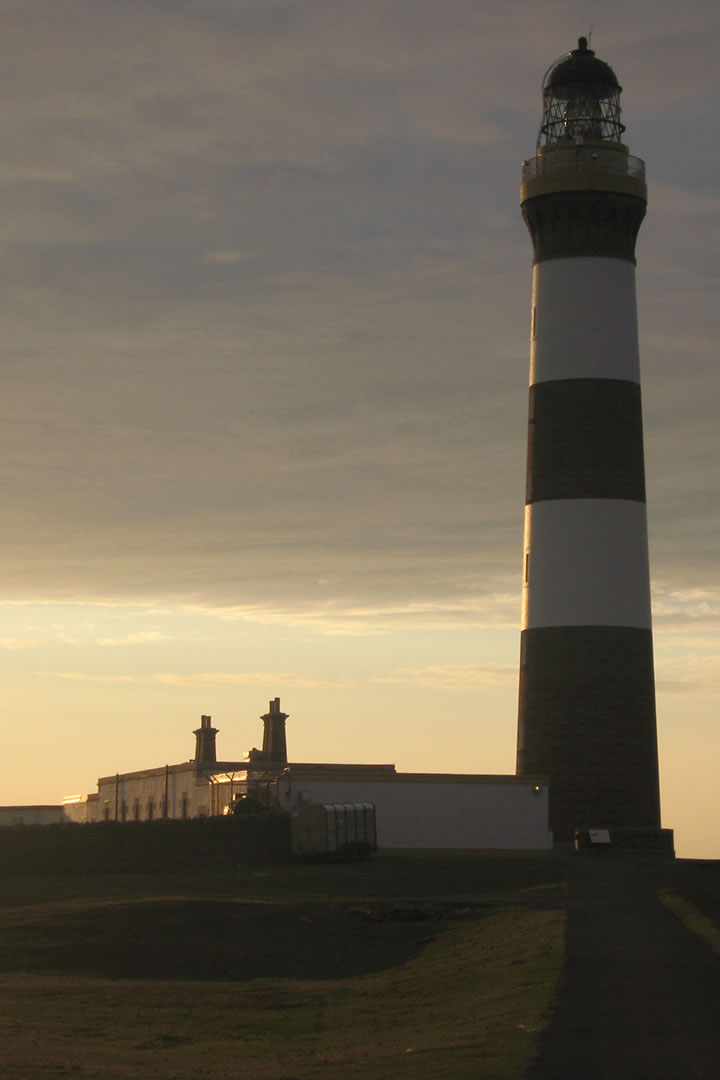 New Lighthouse
The new Lighthouse was built in 1854. It is notable that on North Ronaldsay something built 150 years ago is still described as new! At 109 feet the New Lighthouse is the UK's tallest land-based lighthouse. It has a revolving light and is the twin of the Start Point Lighthouse on Sanday. It has horizontal stripes (the Start Point lighthouse has vertical stripes).
The lighthouse keeper's houses situated below are self-catering holiday houses, and there is a Woollen Mill, café, and shop there also. In the summer months there are guided tours of the lighthouse. Though his wife and daughter enjoyed this immensely, this writer does not have a head for heights and did not enjoy his tour of the lighthouse!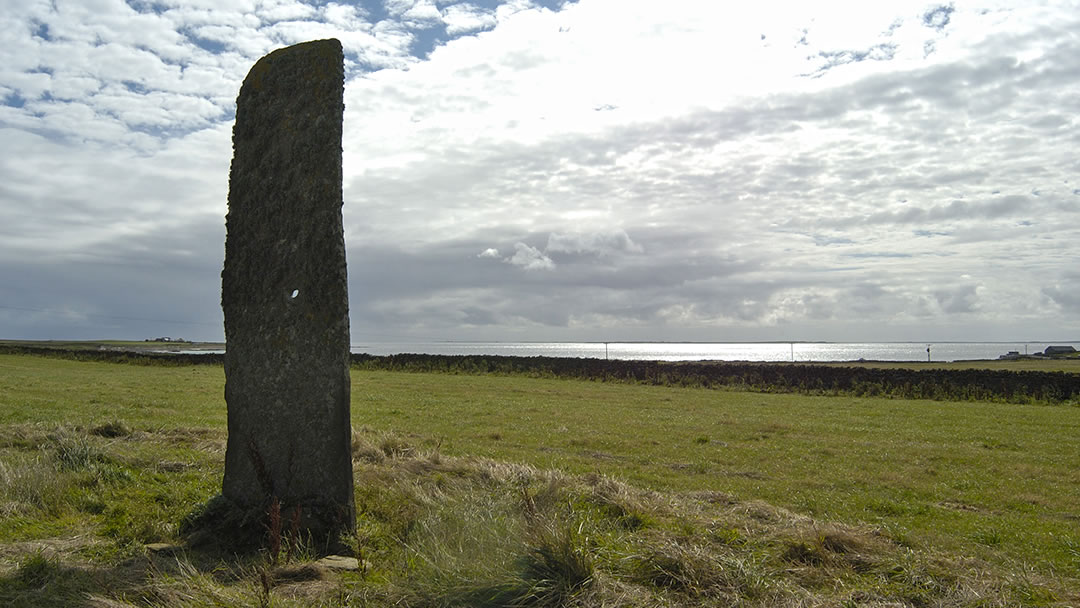 The Stan Stone
The Odin Stone used to be one of the Standing Stones of Stenness. It had a hole in it, and Orcadians journeyed to Stenness to clasp hands through the hole and swear the Odin Oath – an unbreakable vow for sealing romances and agreements. This all came to an end in 1814 when the grumpy landowner knocked this stone down, and others, in protest at the large number of people crossing his farmland. There were several attempts to burn down the landowner's house thereafter!
The Stan Stone at the south end of North Ronaldsay is a curious echo of the Odin Stone – it is 13 feet high and three feet wide and has a hole in it, but not much bigger than a finger. It has been suggested that the stone was once part of a larger stone circle. At the end of the 18th century it was still used for an old North Ronaldsay New Year custom – islanders would gather around it and sing on 1st January. These days it stands alone in a lovely field of wildflowers.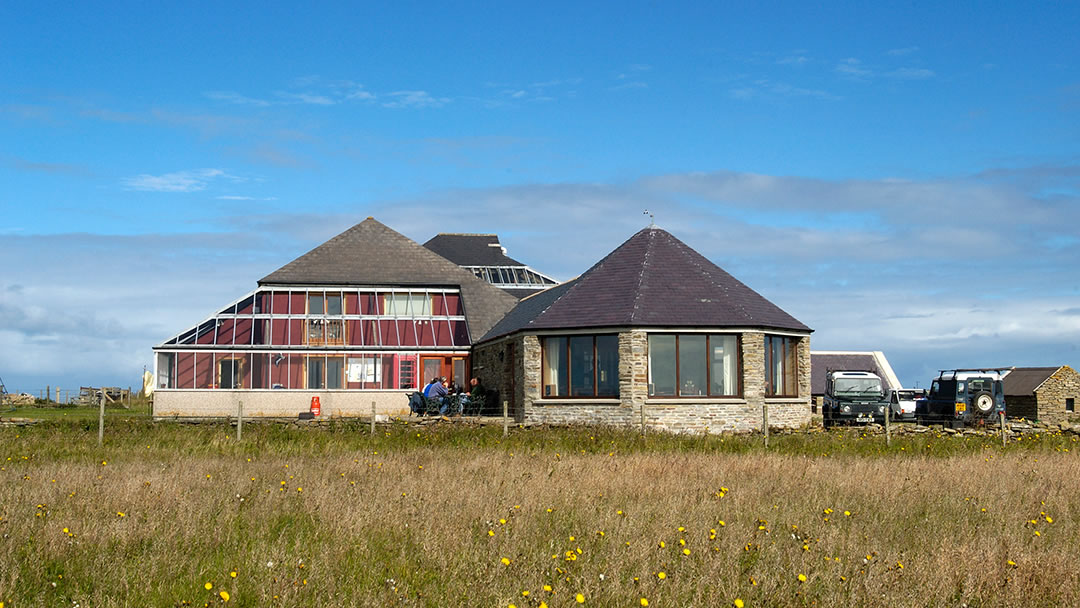 North Ronaldsay Bird Observatory
As birds migrate over the North Sea they often land upon North Ronaldsay. The island is often the first landfall that birds see. Its exposed position and rich wildlife habitat has made it a superb place to observe and study birds. We particularly recommend visiting in Spring and Autumn when rarities are often seen.
The North Ronaldsay Bird Observatory was established in 1987 around this. It has comfortable accommodation, including a guest house, a hostel and a camping area. It is available to all visitors to the island, whether you're interested in birds or not. There are other accommodation options available on North Ronaldsay, but as of 2014, the North Ronaldsay Bird Observatory is the only shop selling groceries in the island.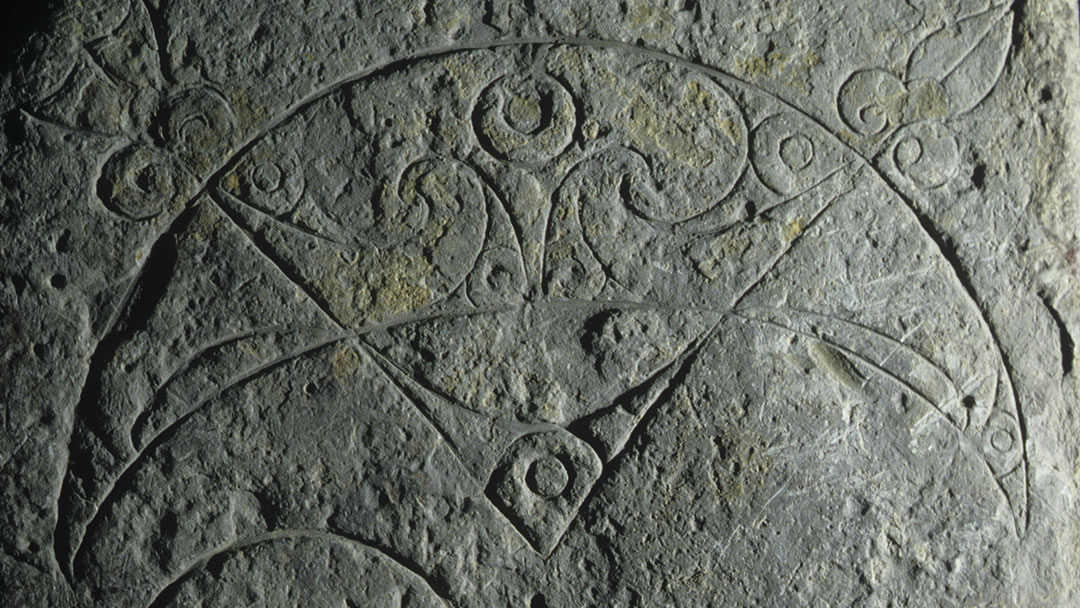 The Broch of Burrian
Located at Strom Ness on the southernmost tip of North Ronaldsay, around the bay from the pier where the ferry lands, is the impressive Broch of Burrian. The Broch tower was the centre piece of an extensive Iron Age and Norse settlement, and it was inhabited until 800AD.
Now under threat of erosion from the sea, the broch was a treasure trove of ancient artifacts when it was excavated in the 1880s, including two Ox bones inscribed with Pictish symbols, an Ogam stone, a Celtic bell and fine bone combs and tools. The most significant find was the Pictish Burrian Cross carving which often appears in modern Orkney jewellery. It is displayed in the National Museum of Scotland.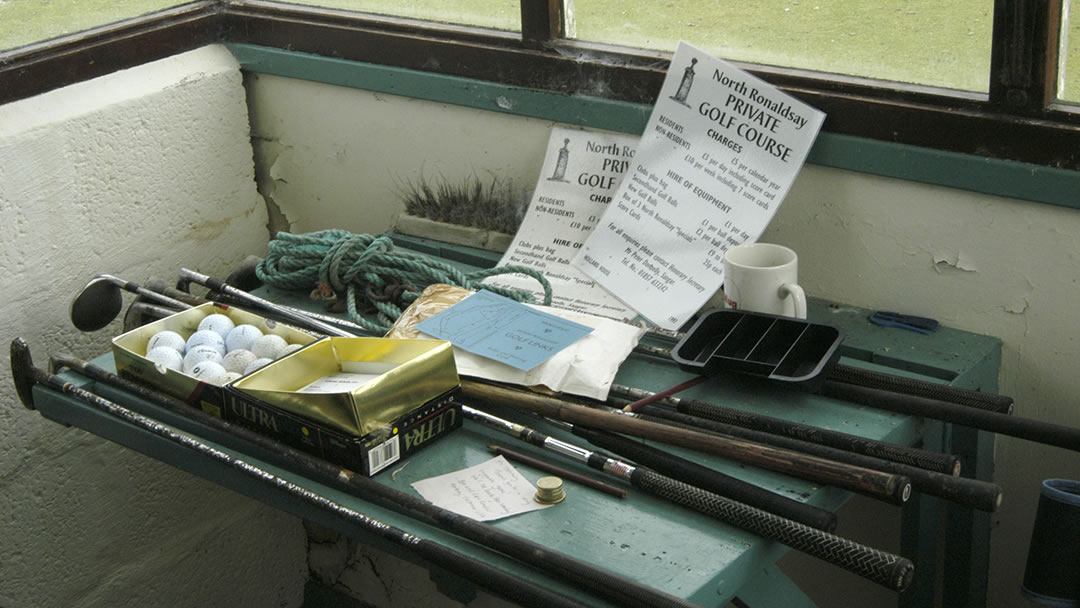 North Ronaldsay Golf Course
For the golf enthusiast you'll find a nine-hole course on the links facing Linklet Bay. This was created in 1890, and you don't need to remember your club or ball, as these can be borrowed from the club hut pictured. The course is rugged and challenging (there's lots of sheep poo, and many of the holes are missing flags – only poles are left) but more than makes up for it with a beautiful sea view.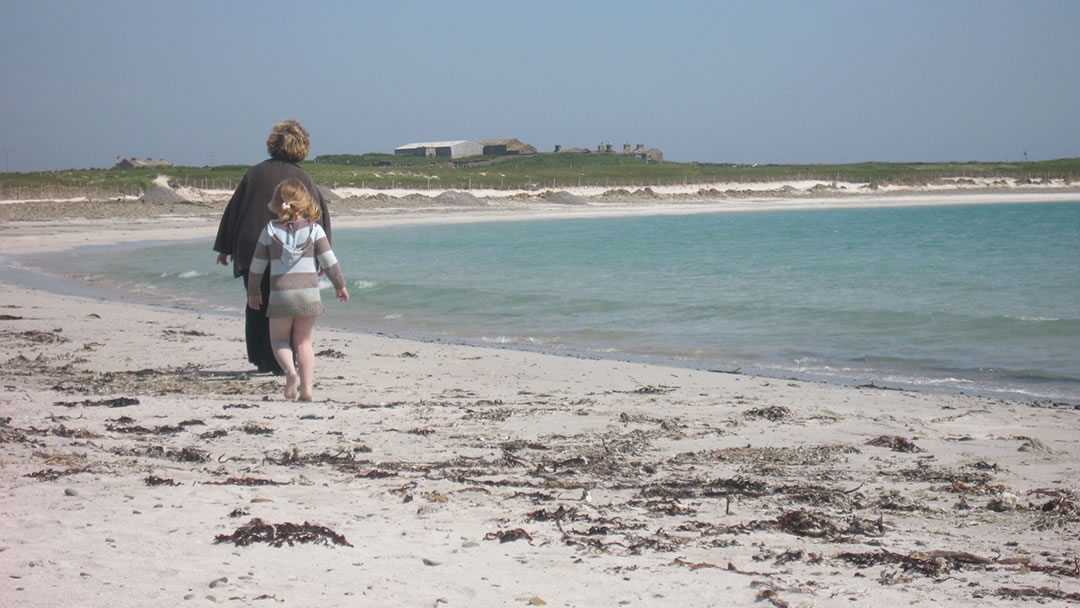 Beaches
North Ronaldsay has some lovely sandy, unspoilt beaches. We'd heartily recommend Linklet Bay and South Bay, with their soft white sand, on a sunny day. On this writer's first visit to North Ronaldsay we visited Linklet Bay and found the beach filled with over 200 seals hauled up and sunbathing. The scene was like something from a David Attenborough nature film. We watched them for a while until a few sensed our presence. Then the 200 seals flip-flopped back into the sea with a thunderous noise!

By
Magnus Dixon
Orkney and Shetland enthusiast, family man, loves walks, likes animals, terrible at sports, dire taste in music, adores audiobooks and films, eats a little too much for his own good.
Pin it!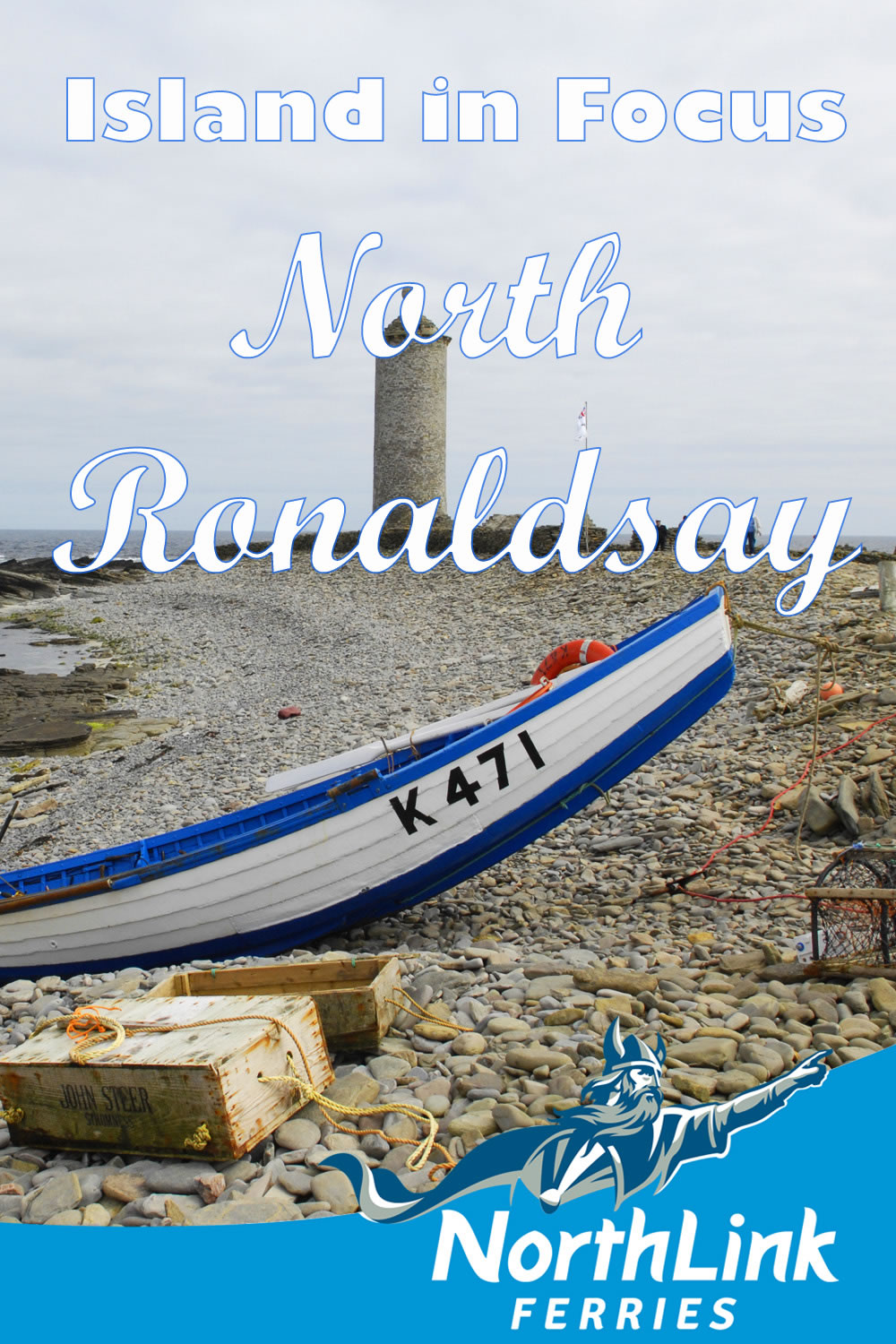 Header image: North Ronaldsay sheep on the shore photo © Copyright Victoria Dixon