Shetland, unlike the rest of Scotland, is not known for its castles and grand houses, in fact, there are only two substantial castles and one smaller castle-like ruin in Shetland. Shetland's castles make up less than one per cent of Scotland's castles.
Both Scalloway and Muness now stand as roofless ruins, representing a period of tyrannical and cruel rule in Shetland. It is little wonder that there was no real effort to save either of these grand buildings from falling into rack and ruin.
Despite this, Shetland's castles carry fascinating stories about oppression, tyrannical rule and feud – all the great ingredients for any castle tale.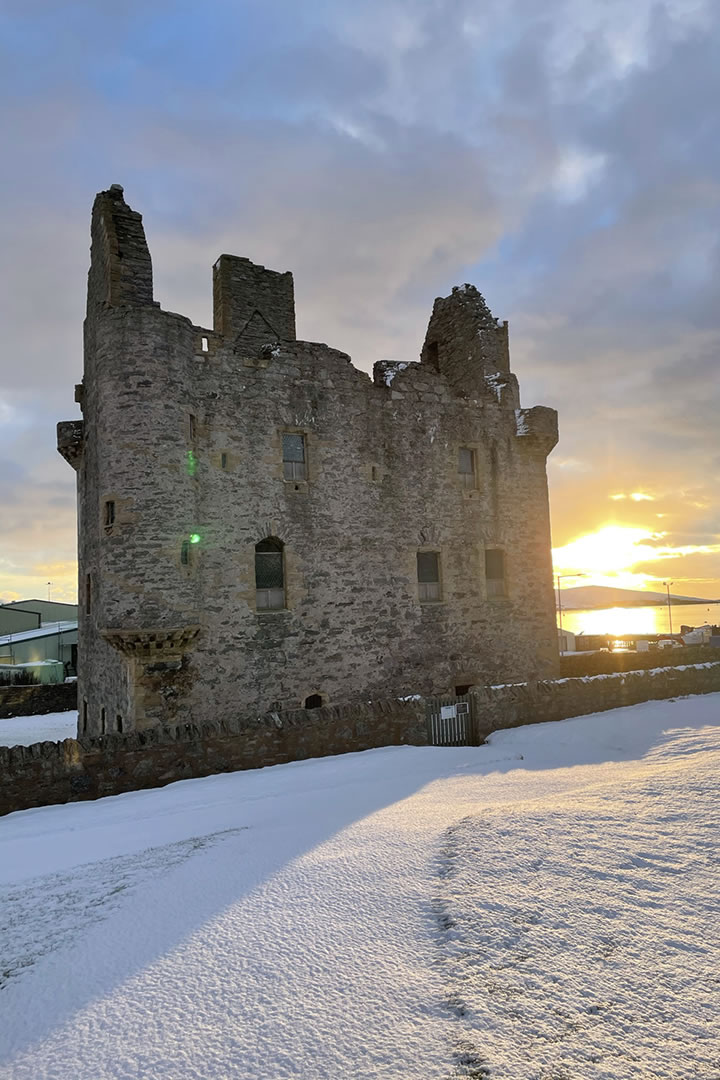 Scalloway Castle
Scalloway Castle is the best-known castle in Shetland, and the most impressive, with its imposing silhouette dominating the skyline of the village of Scalloway. Standing as a roofless ruin, this dominating building was completed around 1600 by the tyrant, Earl Patrick Stewart – one of the most notorious characters in Shetland and Orkney's history.
Built from locally quarried limestone, and imported Eday (Orkney) sandstone, Earl Patrick, known as 'Black pattie' used forced labour to build his castle which was completed in 1600. For those familiar with, or visiting Orkney, Patrick was also responsible for the Earl's Palace in Kirkwall, and his father, Robert, built the Earl's Palace in Birsay.
These buildings, along with Muness Castle in Unst (which we will come to) represent the Scottish Tower House style and nothing like it had been seen before – or since – in Shetland, or Orkney. Folklore tells us that to build the castle, Patrick mixed eggs, blood and human hair with the mortar. The claim may be true as organic material and shells were commonly used in making mortar at this time.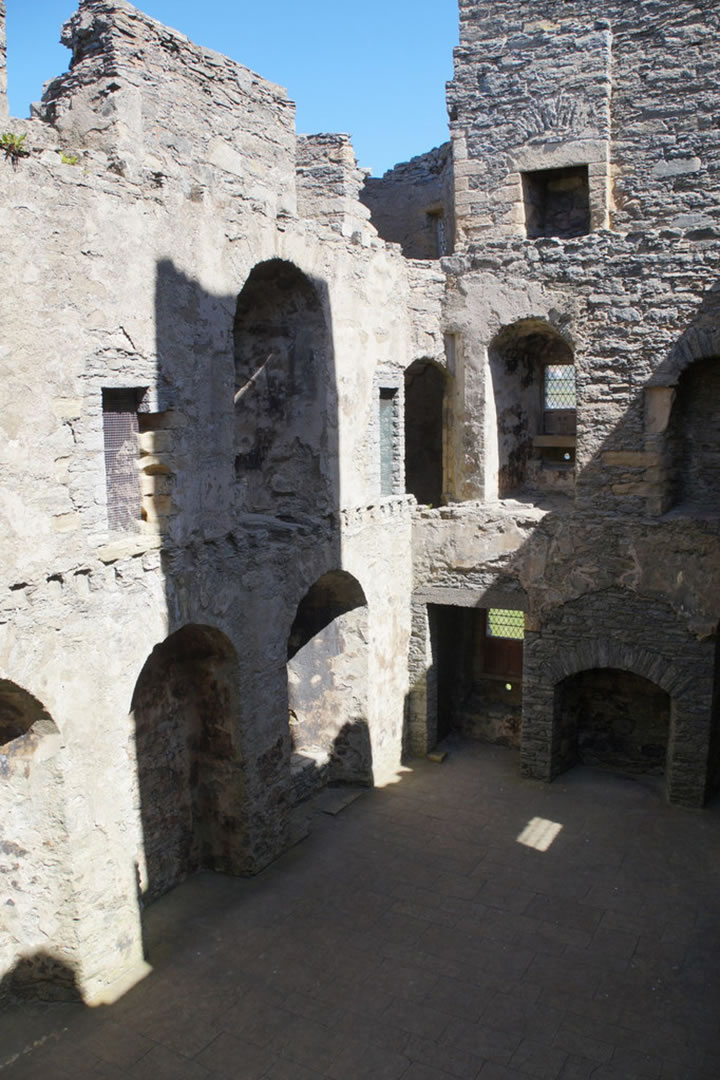 The castle was the administrative seat of power in Shetland from about 1600 where rule of the islands was conveyed from the previously used Law Ting Holm, a few miles away in Tingwall. Throughout the 17th century, the nearby Gallow Hill, under which Scalloway sits, was the site where those convicted of witchcraft were burnt at the stake following trial and execution. For a large part of the 17th century, many women, and several men, were tried and executed for witchcraft. More often than not they were merely ordinary women – and men – who were perhaps wise or familiar with alternative medicines.
The downfall of Earl Patrick Stewart can't be attributed to the long-suffering pleas for freedom from tyranny from the everyday Shetlanders who had endured so much at the hands of their Lord, but rather, to the landowning classes who resented the aggressive and heavy-handed approach Patrick took to rule. He made himself a very unpopular man among all – rich and poor – by raising taxes and demanding more and more from an already overstretched society.
Patrick was no diplomat, and he was known to quarrel violently with anyone who opposed him – even those closest to him. He was a man with mounting debts who, in response to these, increased taxes on the people. From the 1590s, not long after Patrick succeeded his father in 1593, word of his ill-treatment filtered back to Edinburgh and, soon, the allegations against him became too outrageous for the King to ignore.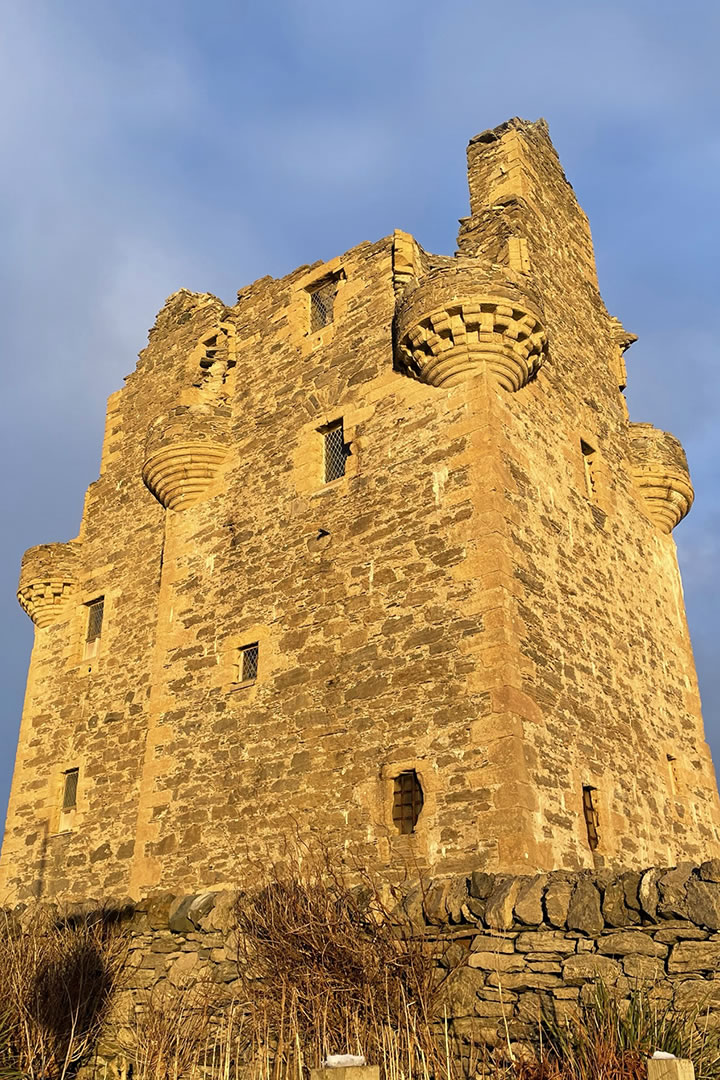 In 1609, unable to ignore the dictatorial nature of Patrick's rule, a party of men were sent north to capture him and bring him back to Edinburgh for trial. It's often said that he was discovered hiding in the castle – the smell of his pipe smoke giving away his location, however, how substantiated these claims were is anybody's guess!
He was arrested at the Scalloway Castle and taken to Edinburgh and, later, held in Dumbarton Castle where he made futile attempts, until 1614, to secure a release.
Patrick was tried and executed for treason on 6th February 1615. He was given the royal treatment and was beheaded by the maiden in Edinburgh. It's also said that the execution was delayed because Patrick had to be given time to be able to recite the Lord's Prayer which he was unable to recall from memory.
Ironically, the engraving above the castle door states:
The house whose foundation is rock will stand
But will perish, if built upon shifting sand.
It wasn't long before Scalloway Castle stood abandoned, fifteen years after it was completed, its Lord beheaded.
Whatever the truth, and however we depict fact from myth, the Scalloway Castle today stands as testament to a man who has certainly gone down in the history of Shetland and Orkney as one of the most tyrannical rulers of all time.
Muness Castle, Unst
Muness Castle is Britain's most northerly castle, tucked away on the island of Unst, and has a strong connection to the Scalloway Castle. Both date to around the same time, with Muness achieving completion two years before Scalloway in 1598.
Built by Laurence Bruce of Cultmalindie (Perthshire), an uncle to our infamous villain, Earl Patrick Stewart, and brother to Earl Robert (Patrick's father). Earl Robert had a strong royal connection as an illegitimate half brother to Mary Queen of Scots.
Laurence, appointed tax collector (or Sheriff) in Shetland around 1571, went on to build his grand castle in Unst and, like at Scalloway Castle, the inscription above the door is hauntingly telling:
Listen you to know this building
Who began
Laurence Bruce he was
That worthy man
Who earnestly his heirs and offspring prays
To help and not to hurt this work always.
Perhaps not an accurate description of Laurence, as the tax collector was a much-feared and equally hated man – viewed, like Patrick and Robert as an oppressor on the islands. Bruce was in fact investigated at one time by the Privy Council for oppressing the people, however, other stories do paint in a more favourable light – and he was certainly less-detested than Earl Patrick.
Muness is arguably far grander, or at least more comfortable, than Scalloway, however Laurence never got to enjoy it fully as he died in 1617. Despite Laurence wishing that the castle would represent his great legacy, it was attacked and razed by privateers in 1627, a mere 29 years after it was started.
It also faced attack from his own nephew Patrick who, in a great rage – to which he was prone to – sacked his own house in Sumburgh (now the Laird's house at Jarlshof) before heading north to ransack Muness Castle. Perhaps his mood lifted on the long journey north but, whatever the reason, a shot was never fired and Patrick returned to Scalloway peacefully.
Both Scalloway and Muness were designed by architect Andrew Crawford, who is buried in the Tingwall graveyard, just a few miles from Scalloway. Crawford was clearly an incredibly skilled architect and there are no other comparable buildings like these in Shetland. Stylistically drawing inspiration from the Scottish tower houses of this period, both castles would have been an impressive and dominating sight on the skyline.
Both Scalloway and Muness now stand as roofless ruins, representing a period of tyrannical and cruel rule in Shetland. It is little wonder that there was no real effort to save either of these grand buildings from falling into rack and ruin. For those who had endured the suffering under the Stewart Earls, this was a time to be forgotten, not enshrined.
Today Scalloway Castle and Muness Castle are cared for and managed by Historic Scotland and visitors can go inside, free of charge. (Please note that Scalloway castle is closed in 2023 for essential maintenance, but Scalloway Museum has interpretation panels outside the castle walls).
Castle Holm, Whiteness (also known as Black's Castle)
Our last castle, and I use the term very loosely as you will struggle to pinpoint this structure, is located on a small inaccessible holm (or island) on the Strom Loch, close to Whiteness. It's the oldest of Shetland's castles, by a long shot, and dates to the 12th century. Very little is known about the castle and its dimensions are small (just a few metres wide and high).
What is interesting about this castle is that it was built during a period of Norse rule in Shetland, and it is this Scandinavian connection, and the fact that the islands only came under Scottish rule in the 15th century, that probably explains why there are so few castles in Shetland compared to the rest of Scotland.
Pin it!