There are a great many cracking museums to visit in Shetland, but we particularly recommend the Shetland Museum, Scalloway Museum, tangwick Haa Museum and Sumburgh Head Lighthouse Visitor's Centre – read on to find out some fascinating facts about each!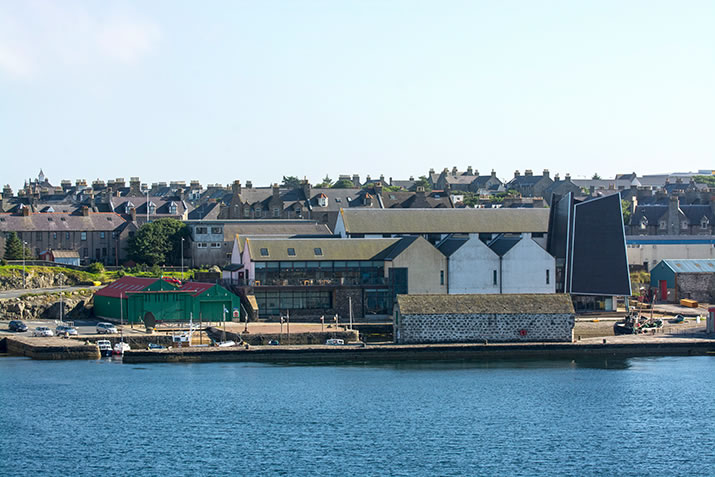 Shetland Museum
The Shetland Museum is located on the waterfront of Lerwick in a remarkable building (opened in 2007) which has two distinctive 'sails'. The ground floor concentrates on the history of Shetland up till 1800, and the first floor has exhibits from 1800 to the present day. The building is tied together by an amazing display of boats from the past hanging from the ceiling! The dock outside also has boats as floating exhibits. The Shetland Museum is a super place to find out about the history and culture of Shetland in one building.
We love the folklore section of the museum – especially the trowie knowe (where Shetland's trowies or trolls live) – enter at your peril!
The first floor exhibition has a great dress-up box (pictured below) for children that really brings history to life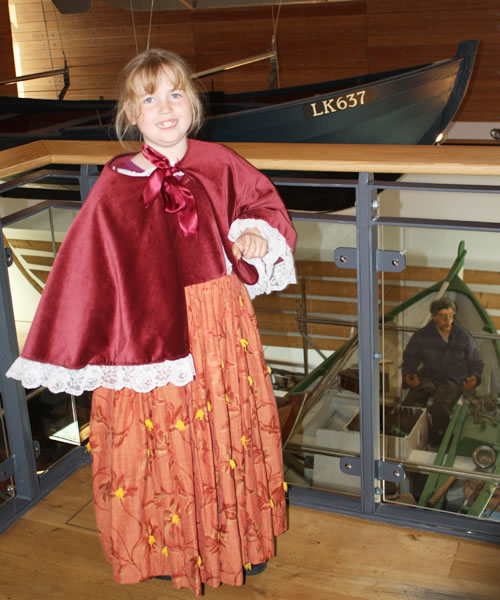 Shetland Museum has fabulous events for young visitors (Mootie Moosecraft activities) and for older visitors (Dus Du Mind reminiscing sessions)
There's a great gift shop at Shetland Museum and a superb cafe in the Hay's Dock Café Restaurant.
Art exhibitions can also be seen Da Gadderie – a lower exhibition hall in the museum – our what's on guide details exhibitions every month
Entrance to the Shetland Museum is free and the museum is open from Monday to Saturday, from 1000 to 1600 and on Sunday from 1200 to 1700.
Find out more about the Shetland Museum here.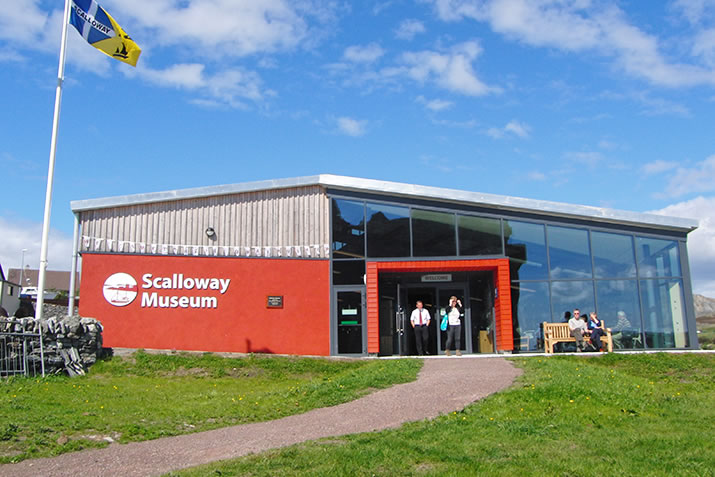 Scalloway Museum
Scalloway Museum moved from a smaller building to its current larger premises, an old knitwear factory, in 2011, and has benefitted greatly! Located beside Scalloway Castle, the
building has exhibits about the Castle, about the amazing wartime Shetland bus operation, and much more about life in Scalloway, which was once Shetland's capital! There is a great
children's play area and a cafe selling hot and cold drinks and locally-baked cakes and biscuits.
The Shetland Bus story – when Shetland fishing boats delivered supplies to occupied Norway and brought back refugees during WW2 is excellently documented in the Scalloway Museum.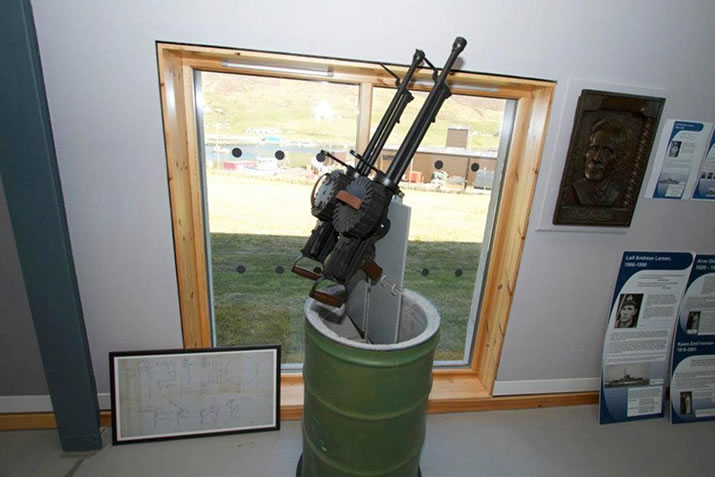 Other areas covered include Ancient Scalloway, The Viking period, The Boom Years of the Fisheries, Folklore and the people of Scalloway.
We particularly enjoyed the replica wheelhouse and having a go of steering a "ship" and checking the instruments.
There's a great Geology section which displays the a selection of the rocks and stones that can be found in Shetland.
The cafe is a lovely place to sit and has stunning views of Scalloway Castle!
Scalloway Museum is open from May to September between 1100 and 1600, Monday to Saturday and 1400 to 1600 on Sundays. There is a small entry fee.
Find out more about the Scalloway Museum here.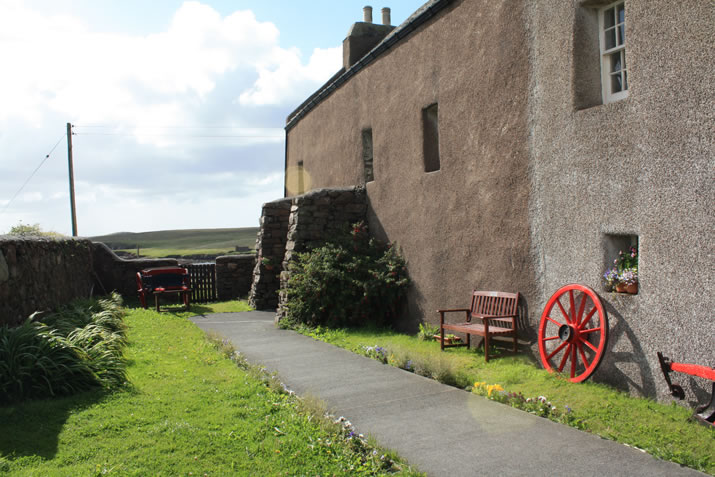 Tangwick Haa Museum
Tangwick Haa Museum is a lovely friendly museum in a large 17th century house in the North of Shetland, only three miles from the cliffs of Eshaness. A Haa is the house of a laird or landowner. Tangwick Haa Museum is full of fascinating artefacts documenting life in Northmavine through the years and it is perfect to work in a visit with a trip to see
the amazing cliffs of Eshaness.
We particularly liked the peat fire, the old baskets and the old photographs in the downstairs section of Tangwick Haa Museum, as well as the Lairds room upstairs.
For those searching for their roots, local parish records are available to view on microfilm (with free biscuits and coffee to help with the search!)
Children will enjoy looking at the shells and unusual rocks on display (pictured below) upstairs.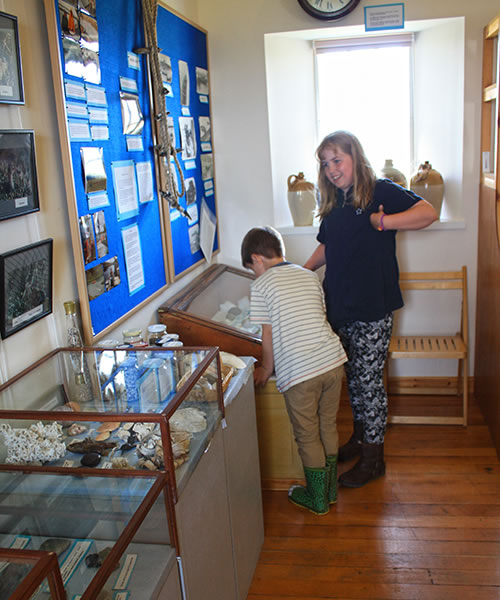 There are a large variety of souvenirs, hand made gifts and postcards on sale at Tangwick Haa.
Tangwick Haa Museum also has a lovely garden with tables where you can bring a picnic on a sunny day!
Entrance to the Tangwick Haa Museum is free but donation are welcomed. The museum is open from 17th April to 30th of September, between 1100 and 1700.
Find out more about the Tangwick Haa Museum here.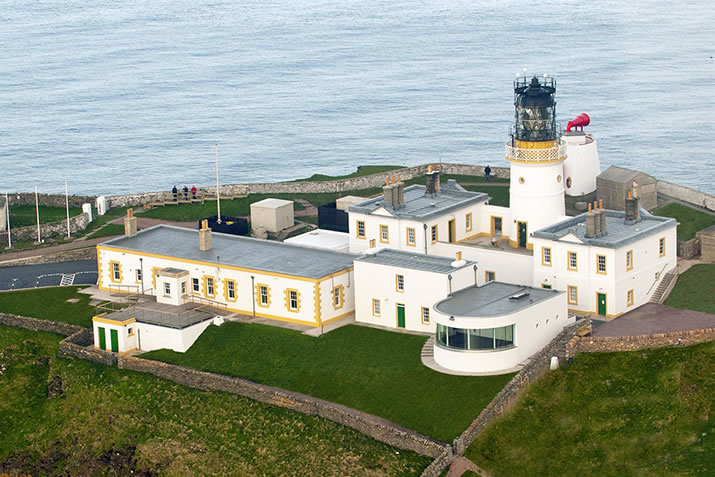 Sumburgh Head Lighthouse Visitor Centre
A new visitor's centre opened in 2014, the Sumburgh Head Lighthouse Visitor Centre and Nature Reserve is very impressive. Sumburgh Head, located at the very south of Shetland has long been noted as a great spot to view seabirds, dolphins, and whales. The visitor's centre now has a great viewing room, as well as exhibitions explaining the Shetland marine ecosystem and exhibits about Sumburgh lighthouse (and lighthouse keepers) from the past. Children will enjoy sounding the foghorn!
Visit between May and July and you'll see puffins on the cliffs. The cliff edge is fenced off and safe for children.
The colourful display (pictured below) documenting Shetland's marine environment is particularly interesting and explains why Sumburgh is a haven for wildlife.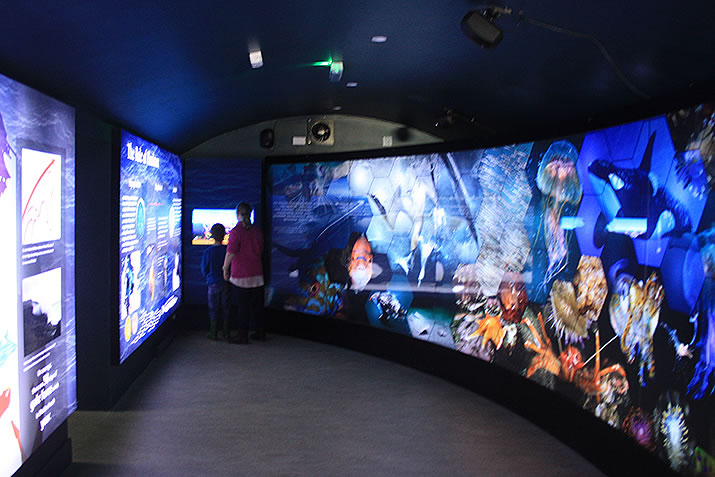 Children will enjoy measuring themselves up against a killer whale's fin and touching the scale models of whales.
We particularly liked the exhibitions about life as lighthouse keeper and the characteristics required to take on such a role!
There's a great gift shop at Sumburgh Head which is right next to the foghorn exhibition – prepare for strange noises as you browse!
Sumburgh Head Lighthouse Visitor Centre is open daily from April to October between 1100 and 1730. There is a small entry fee, but the ticket can be reused for the whole year.
Find out more about the Sumburgh Head Lighthouse here.

By
Magnus Dixon
Orkney and Shetland enthusiast, family man, loves walks, likes animals, terrible at sports, dire taste in music, great taste in films and tv, eats a little too much for his own good.