Twelve terrific places to see in Nesting
During your time in Shetland, we'd recommend you take a day out of your itinerary to explore Nesting. To reach east-facing Nesting you'll need to travel ten miles north of Lerwick on the main A970 road. This road leads north straight through the spine of Shetland, but by turning onto the B9075 after the Loch of Girlsta and taking 'the Nesting loop', you'll set forth on a scenic coastal road from Catfirth to Laxo.
The coastal scenery at Neap is extremely impressive, and nearby Hog Island and Staney Hog are tiny islets close to the mainland. On Hog Island there are the remains of an Iron Age fort and an ancient building known as Egil's House. In Shetland, the word 'hog' is not associated with pigs but with sheep. It is the word for a young ram.
Along the coastal road in South Nesting there is a green landscape of voes, lochs and hamlets. Dark wild moorland lies inland and to the north. In the fields there are sheep, Shetland ponies, and ancient field systems. Out to sea there are numerous sheltered small isles. In Nesting you will find country shops filled with goods, halls that serve Sunday teas, and otters and seals to be spotted.
One could spend hours venturing down the side roads in Nesting and marvelling at the views.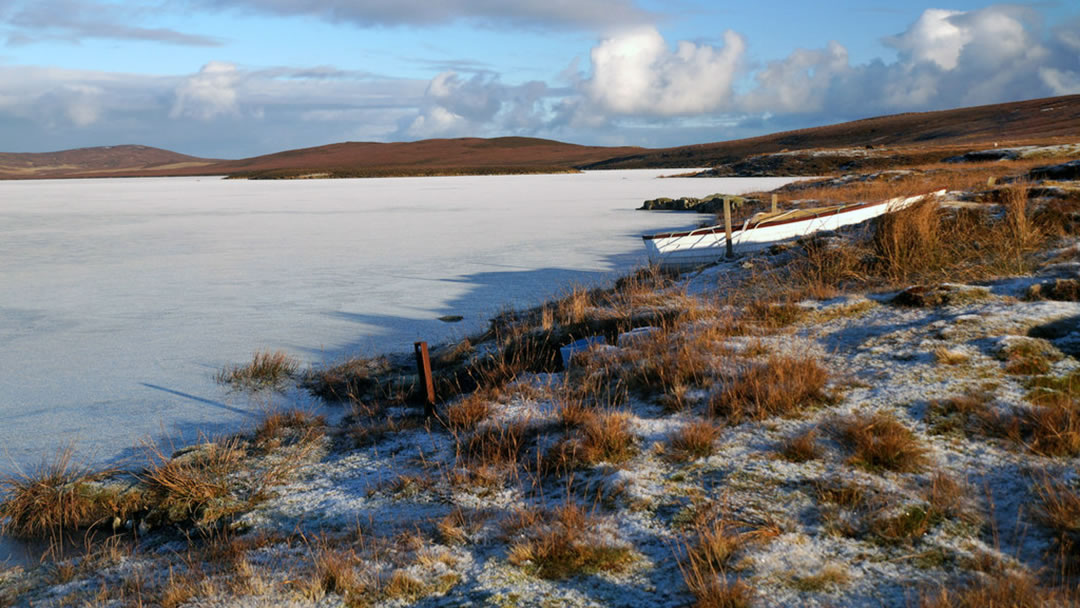 1. The Loch of Girlsta
Just before the Nesting turn-off, the deepest fresh-water loch in Shetland (20m deep in some places) has stories of its own. The Loch of Girlsta contains brown trout and Scotland's most northerly population of Arctic Char. These are thought to have been stranded here when the glaciers melted at the end of the last Ice Age. All Artic Char from Girlsta must be released after they are caught.
The Loch of Girlsta was named after a Viking princess, Geirhilda. In 868AD, one winter's day when the Shetland islands were salted with snow, Geirhilda ventured in her skates onto the ice-covered loch and never returned. She had fallen through the ice and drowned. Her grave is said to be on the holm at the south end of loch.
At the time, her father, Hrafna-Flóki Vilgerðarson was looking for a land discovered in the north. His family had been accompanying him on the trip when Geirhilda met her fate in Shetland. He continued on nonetheless and it is said that Hrafna-Flóki used three ravens to find his way to the new land. The first glimpse he had was of a large fjord full of ice, and so Hrafna-Flóki named the new land Iceland.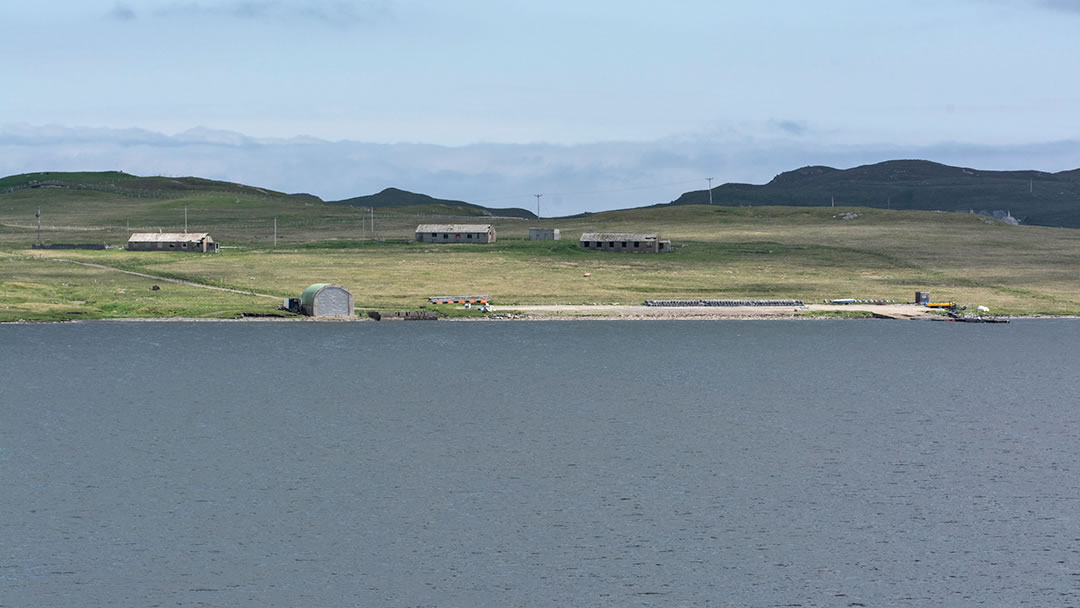 2. Catfirth
The start of the road through Nesting cuts close by the tranquil waters of Catfirth. The entrance to this voe is partially blocked off by an island called Little Holm. This sheltered anchorage was used as a seaplane base towards the end of the First World War. Catfirth was where the first flight to Shetland landed in June 1918.
The seaplanes that few out of Catfirth were Felixstowe F3s (pictured below) and Porte Babies and their job was to hunt German submarines. Though buildings, slipways and roads were built, and can still be seen here, the arrival of Britain's most northerly seaplane base brought other changes to the area. The influx of 450 personnel more than trebled South Nesting's population and some airmen ended up marrying local girls.
The seaplane base at Catfirth was not entirely successful though. It was small and exposed (which made taking off and landing only viable in certain wind conditions). The base was closed in 1919 and Sullom Voe was used instead during WW2.
The blue waters of Catfirth are great for angling and around Catfirth, Vassa Voe and Laxo, there are little streams and lochs where you may see otters if you watch quietly downwind. Many birds can be seen here, as can orca on occasion. Here are the relics of the woodland which covered Shetland thousands of years ago.
Catfirth Haa, which is now a ruin, was the birthplace of Shetland poet James Stout Angus. He lived for 93 years between 1830 and 1923, and composed the first original poem, 'Eels' (1877), written in the Shetland dialect.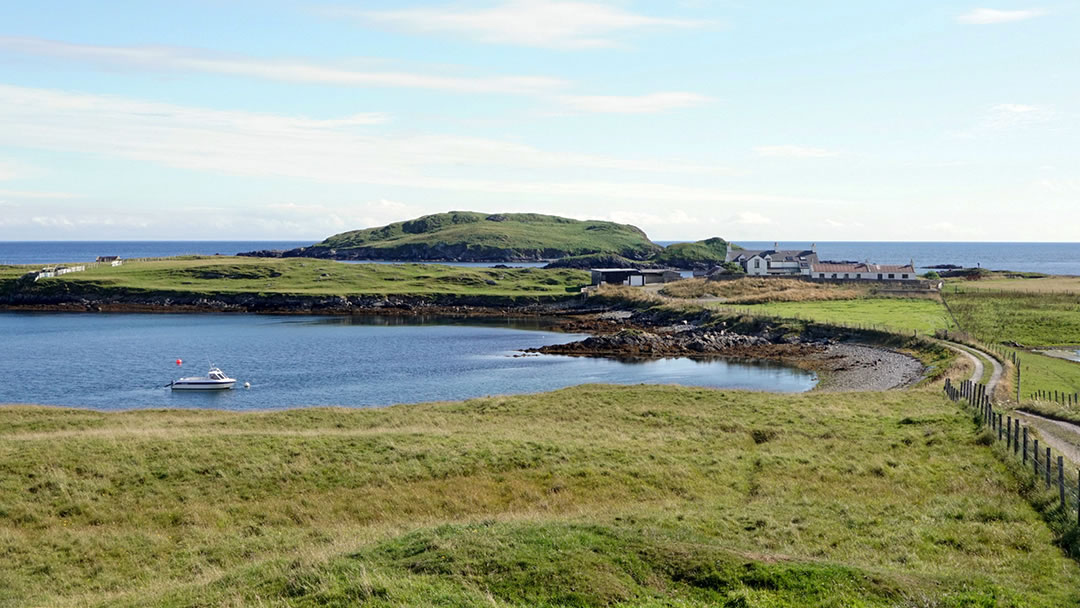 3. Gletness
Also worth seeing in Nesting are the Isles of Gletness, which are very picturesque. To reach them you'll need to take a meandering road through the beautiful green low landscape, which turns wilder the closer to the coast you go!
As you reach the shore you'll see, like a school of whales, a group of small islands and skerries rising out of the sparkling water. The biggest islands are the North and South Isles of Gletness, but none are taller than 33m. This is a charming corner of Shetland, well worth exploring on foot, and we've included it in one of our Shetland Hidden Gems guides. The area inspired a lovely Shetland waltz called Da Isles o' Gletness by John Barclay which you can find on YouTube.
Around Gletness there are pebble beaches, a Shetland Pony stud, and ancient houses and burial cairns.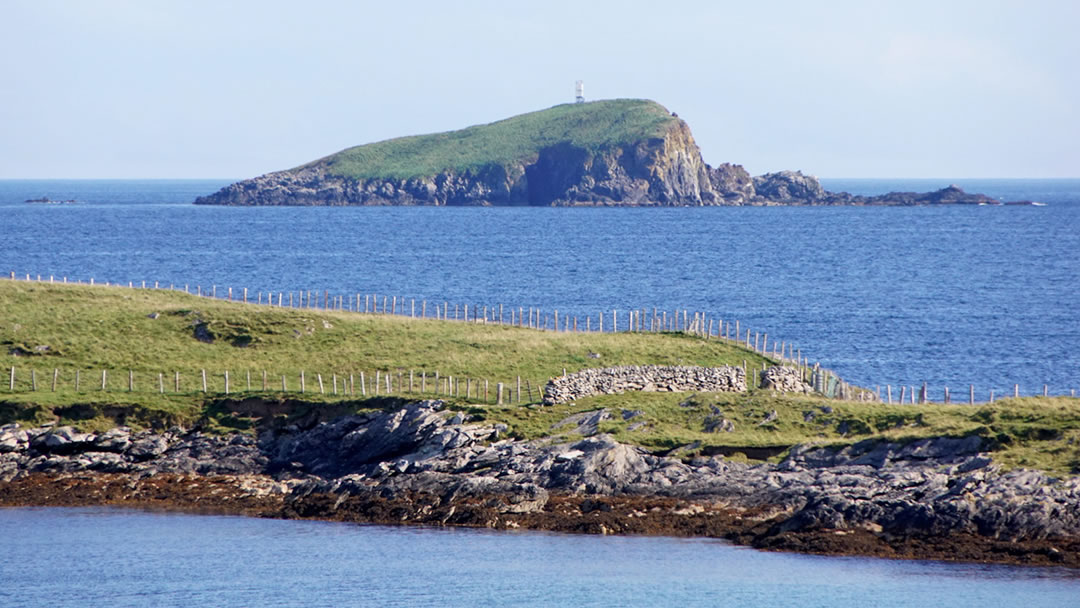 4. The Moul of Eswick
The road rises to the Moul of Eswick through an odd lumpy landscape like a wild sea. As with Gletness, the coast is located at the end of another winding road. You'll need to park your car to proceed, but a walk to the lighthouse at the Flaak is very rewarding. The coastal scenery is impressive and there's a wonderful view to be had of Whalsay, Bressay, Noss and even the Out Skerries. The small lighthouse is relatively new as the previous one collapsed into the sea in 1994! These waters contain dangerous reefs, and another light can be seen 1 and a half miles out to sea, situated on top of the dramatic island called the Hoo Stack (pictured above).
There are a few tree plantations around Eswick, and its easterly location makes the area enticing for unusual feathered visitors! Seals are hauled up on the quiet shore all year round.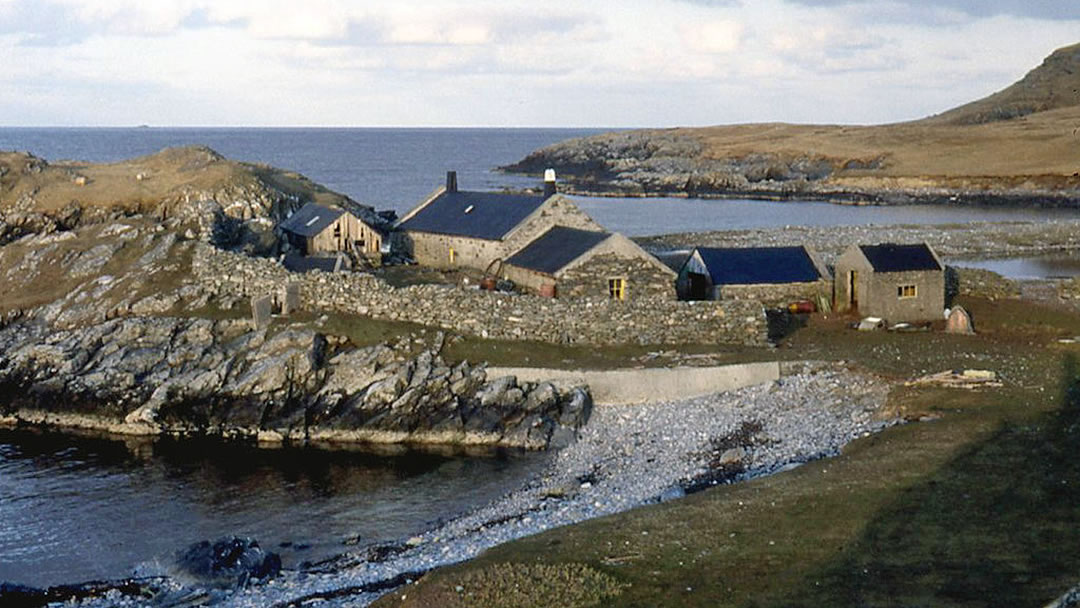 5. Ling Ness
One of our favourite places in Nesting is Ling Ness. This circular piece of land is attached to the north coast of Eswick by a thin strip, appearing on the map like a balloon on a string. For a fine adventure, walk to Ling Ness to see the loch which is hemmed in from the sea by shingle, and the lovely beach here. The best sight though is man-made – an amazing house situated precariously close to the sea. This is an achingly beautiful place.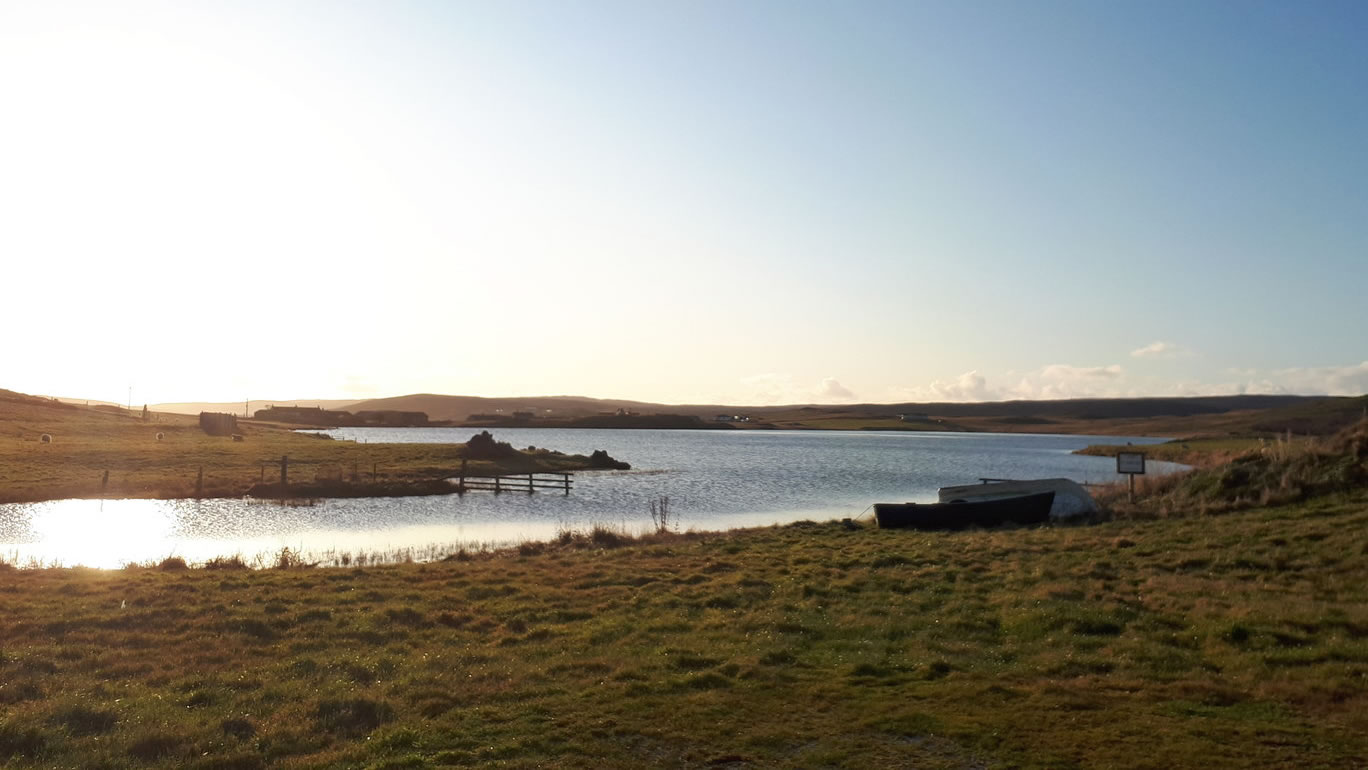 6. Loch of Benston
Keen fly-fishermen can be found lingering on the glimmering Loch of Benston. Here large brown trout can be caught and over the years, some catches have weighed in at over 6lbs! Fishing can be done by boat or from the shore. For a comprehensive guide to fishing at the Loch of Benston and elsewhere in Shetland (nearby Loch of Skellister is good also), make sure to check the Shetland Anglers Association website.
Birdwatchers will also delight in a visit to the Loch of Benston. The loch is very attractive to waders, swans and other noteworthy waterfowl.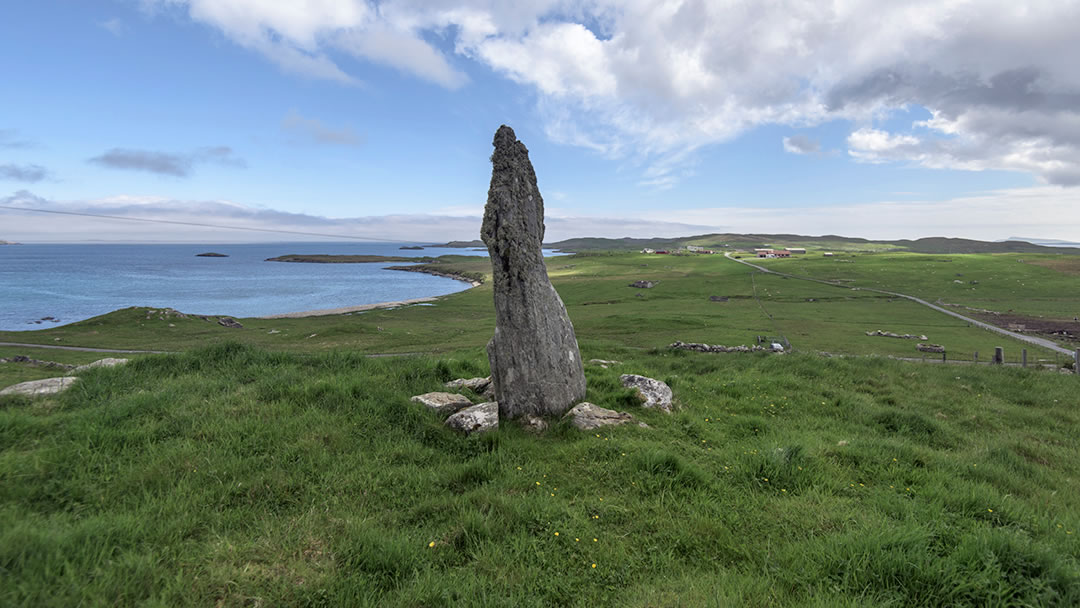 7. Skellister Standing Stone
On the hill above the Skellister junction you'll see a dramatic 3m high prehistoric standing stone known locally as the Auld Wife. It has an odd, stooped shape which is well worth the short climb to see up close. The standing stone is made of sandstone veined with quartz. From this fine vantage point, cairns, burnt mounds and a broch can be discovered below.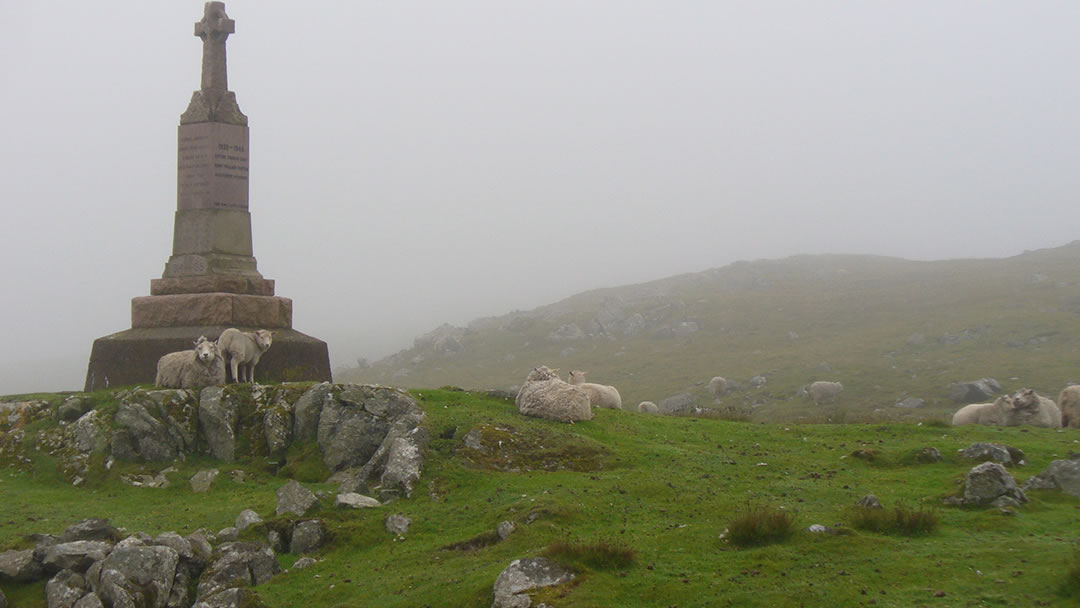 8. Brettabister and Neap
All though Nesting there are clumps of houses, and the road to Brettabister hugs the coast passing many along the way. Inland there are steep and rocky hills.
At Brettabister a tall war memorial stands solemnly on a rocky corner. It contains the names of North Nesting men who were killed in the First World War (11) and the Second World War (3). This loss must have been devastating to the small community.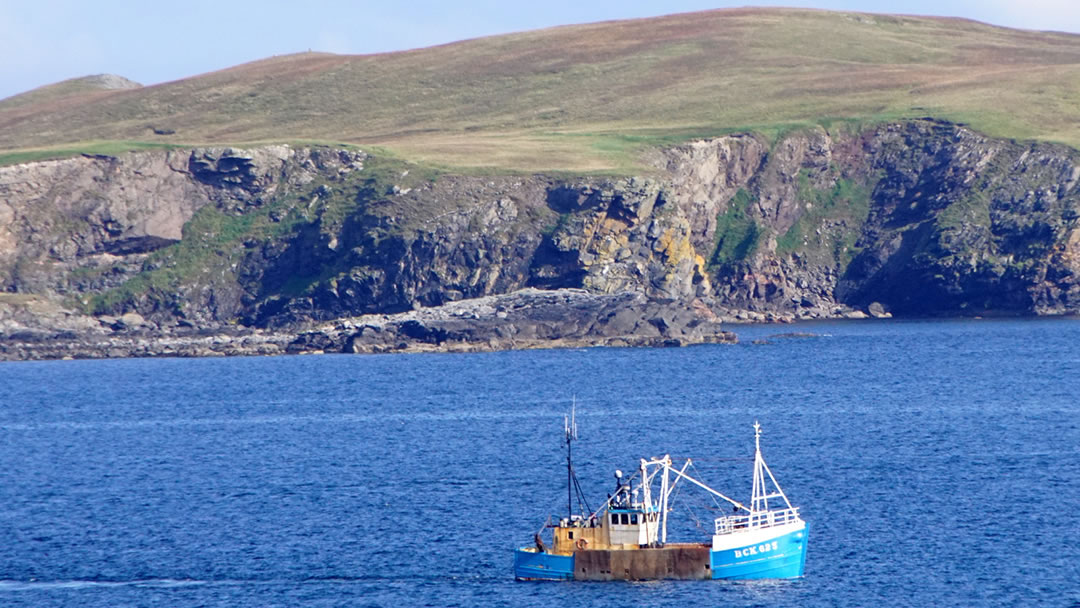 From here a lonely side road leads to the headland at Neap. The name Nesting comes from the Old Norse 'Nes' meaning point, and 'ping' or 'ting' which means assembly or meeting. In Norse times, important meetings were held at Neap. The Norse leaders met within the ruins of an Iron Age broch on one of the most easterly points of Nesting.
Neap has a distinctive cliff (pictured above), and the name here comes from the Old Norse words gnípa and gnúpr. This word accurately describes a distinctive height on the coast with a steep front.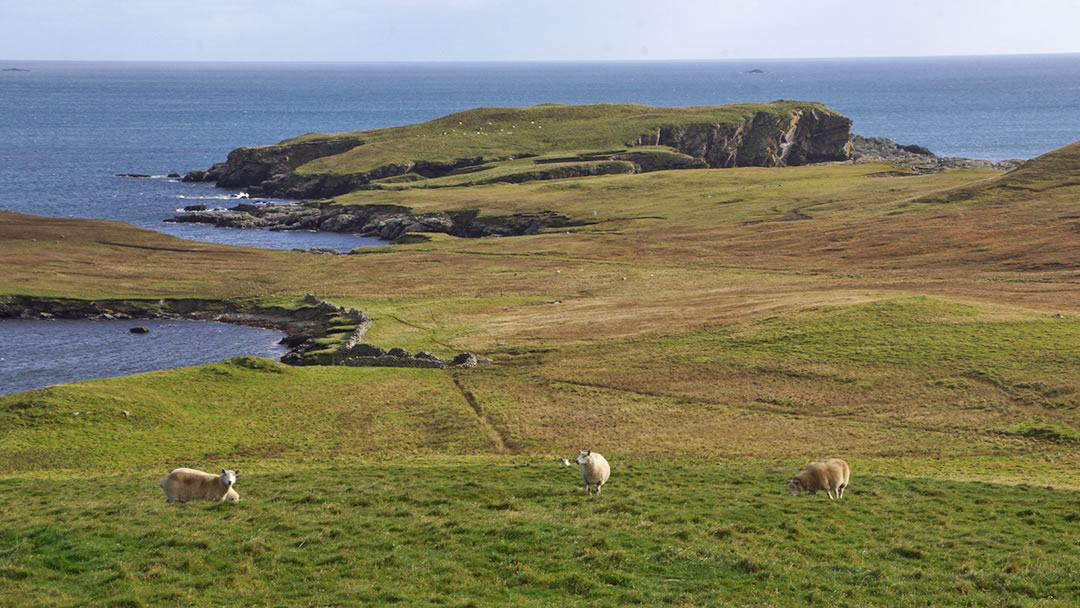 9. Hog Island
The coastal scenery at Neap is extremely impressive, and nearby Hog Island and Staney Hog are tiny islets close to the mainland. Closest to the mainland is much larger, green Hog Island and a short hop from that is rocky Staney Hog.
Though there are only short distances of water between the mainland and each island, the churning channels between are much too deep to wade across. Both are interesting islands, cut into odd shapes by the sea, and have impressive caves and arches. On Hog Island there are the remains of an Iron Age fort and an ancient building known as Egil's House. In Shetland, the word 'hog' is not associated with pigs but with sheep. It is the word for a young ram.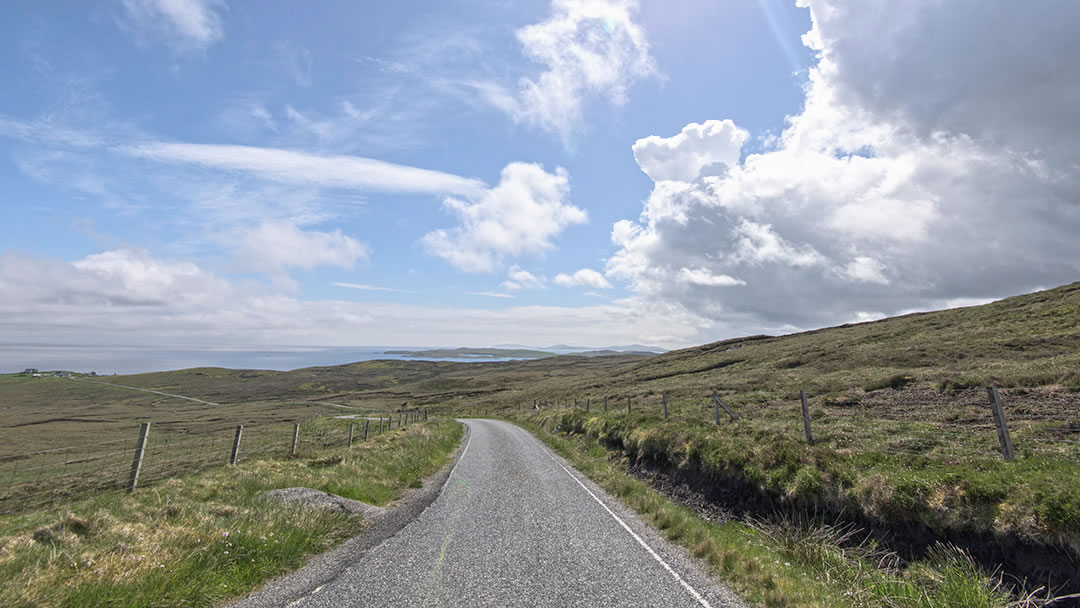 10. Kirk Ward
Back on the B9075, after Brettabister, the road begins to climb a steep hill called Kirk Ward. This 91m hill marks the divide between South and North Nesting. To the south the land is green, and to the north the land is visibly browner, a sprawl of heather.
For one of the finest views in the islands, walk further inland to a 151m tall peak called Bow Field. A watchtower was built in the First World War. Curtains of rain out at sea, nearby islands, and a fine panorama of Nesting can be seen. Red grouse and mountain hares are often spotted up here too!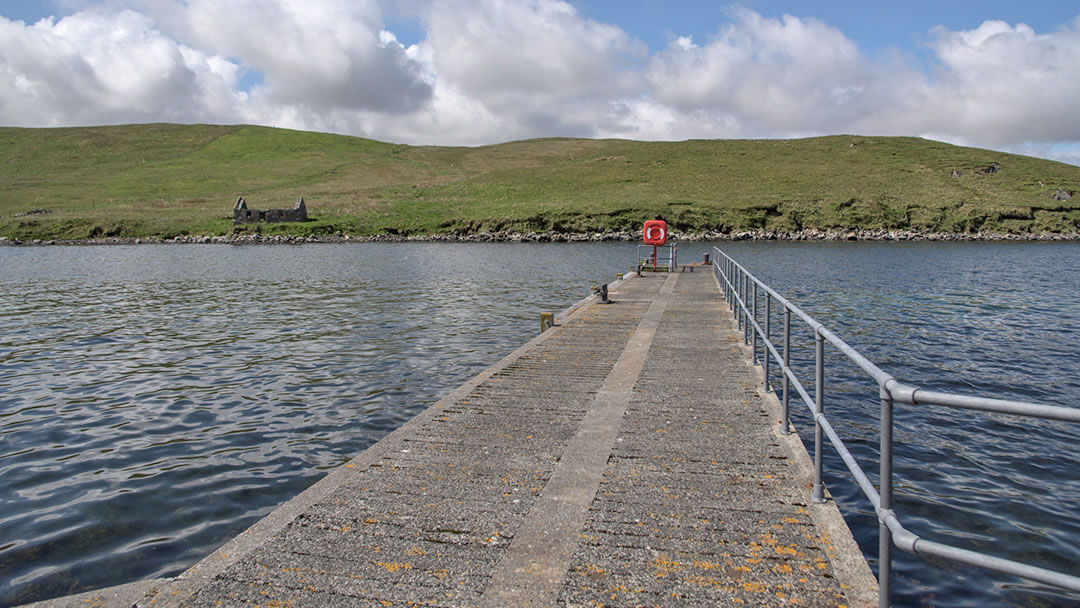 11. Billister
Following a road sign to Laxfirth and travelling through that hamlet will take you to another interesting Nesting place. In Billister there is a pier at Quoys which was once the terminal for the ferry to Whalsay. With narrow roads and not a lot of space for waiting vehicles, it is easy to see why the pier at nearby Laxo took over this duty. It's a lovely peaceful spot though, with good sea trout fishing nearby. There are also fantastic views to Whalsay, a modern-day mussel farm and to Green Isle (so called because of its vivid colour).
Along the coast there is a granite quarry which supplied the stone for the Laird's house on Whalsay. Quoys was also the home to boatbuilder Dempster Laurenson (1802 – 1892). He left school to become a fisherman but, when aged just 15, he was shipwrecked on Out Skerries. Soon after Dempster Laurenson gave up the sea and began building boats. In his lifetime he built over 400!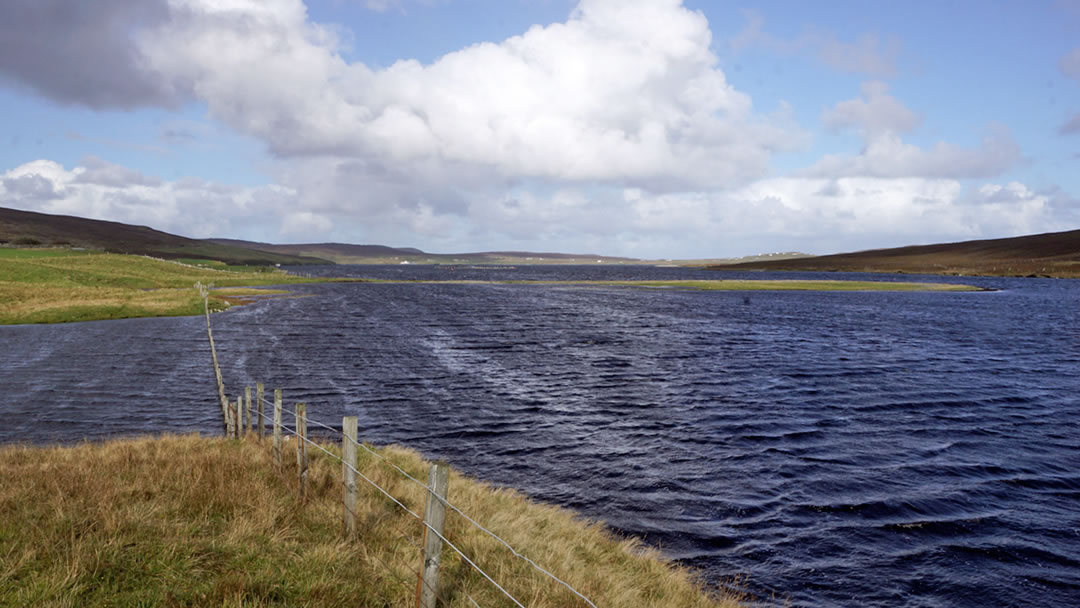 12. The Ayre of Dury
When journeying on the B9075 towards Laxo, it's easy to spot the Ayre of Dury near to the hamlet of Dury. Explorers will struggle to resist the urge to stop and take a look.
The Ayre of Dury is a low-lying island shaped like a comma, attached curling out of the south side of Dury Voe. The island is a shingle spit upon which grass is grown. As you stand on it, you will be surrounded on all sides by sea bright like a mirror. It is funny how satisfying it is to have a small island all to oneself!
As you approach the impressive salt flats at Laxo from the south, you will cross over a burn emptying itself into the voe (pictured above). As you do so, you leave Nesting and enter the district of Lunnasting. When reaching the B9071, either turn left to re-join the A970 at Voe or turn right to explore another wild and wonderful corner of Shetland.
We hope you enjoyed journeying with us on the warm, peaceful, and bright Nesting loop, a must-visit during your time in Shetland!
Boat on the shore of a frozen Loch of Girlsta photo, North Voe of Gletness, Nesting photo, Glet Ness and Hoo Stack photo, Loch of Benston, South Nesting photo, Hill of Neap, Nesting, from Brettabister photo, View to Hog Island from Neap, Kirkabister, Nesting photo and High tide at the head of Dury Voe, North Nesting photo © Mike Pennington, Remote house on Lingness photo © Alan Reid, War Memorial at Brettabister photo © Colin Smith and licensed for reuse under this Creative Commons Licence. Felixstowe F3 photo © Simon J Gunn, CC BY-SA 4.0, via Wikimedia Commons

By
Magnus Dixon
Orkney and Shetland enthusiast, family man, loves walks, likes animals, terrible at sports, dire taste in music, enjoys films and audiobooks, eats a little too much for his own good.
Pin it!