Long before I first travelled to Shetland I was captivated by a picture of Mousa Broch. Living in Orkney, seeing prehistoric buildings was nothing new, but seeing Mousa Broch was another thing entirely.
Despite the well worn paths there's a feeling of discovery and adventure; a sense of being the first people that the birds that live here have ever seen!
It was nearly completely intact. This tall Iron Age tower, shaped like an industrial chimney, had stood for over 2000 years. More amazing still, it could still be entered and visitors could even climb to the top.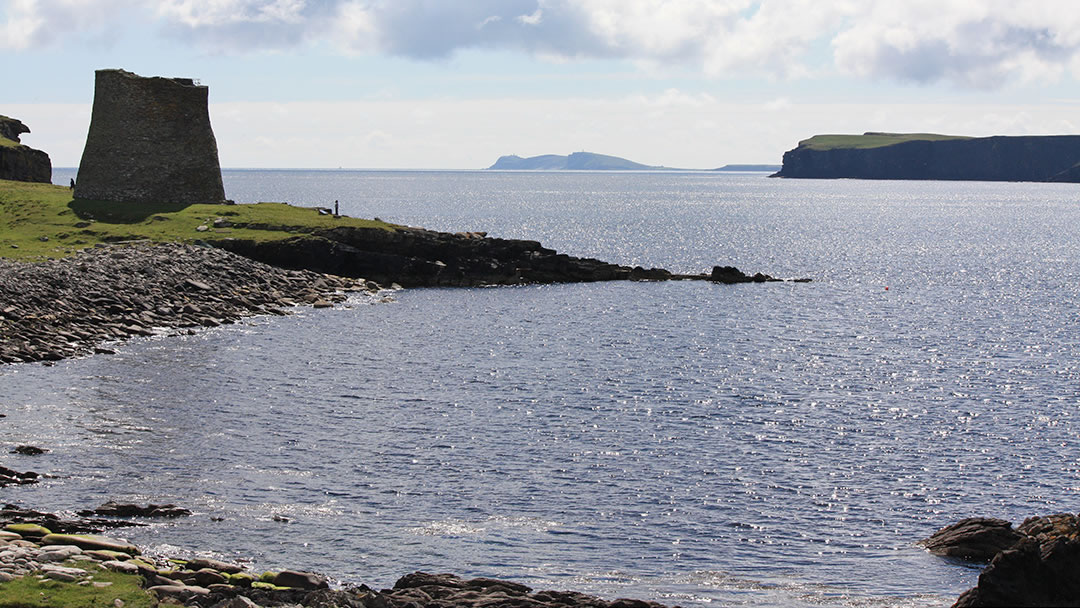 The first time I arrived in Shetland I jumped into my car and headed straight to the South Mainland to catch a glimpse of Mousa Broch. It's located on an uninhabited island a mile off the east coast of Mainland Shetland, and to see it close up, you need to take a ferry to Mousa between April and September. I did get a glimpse of Mousa from Sandwick on my first trip, but didn't see it close up until my fifth visit to Shetland.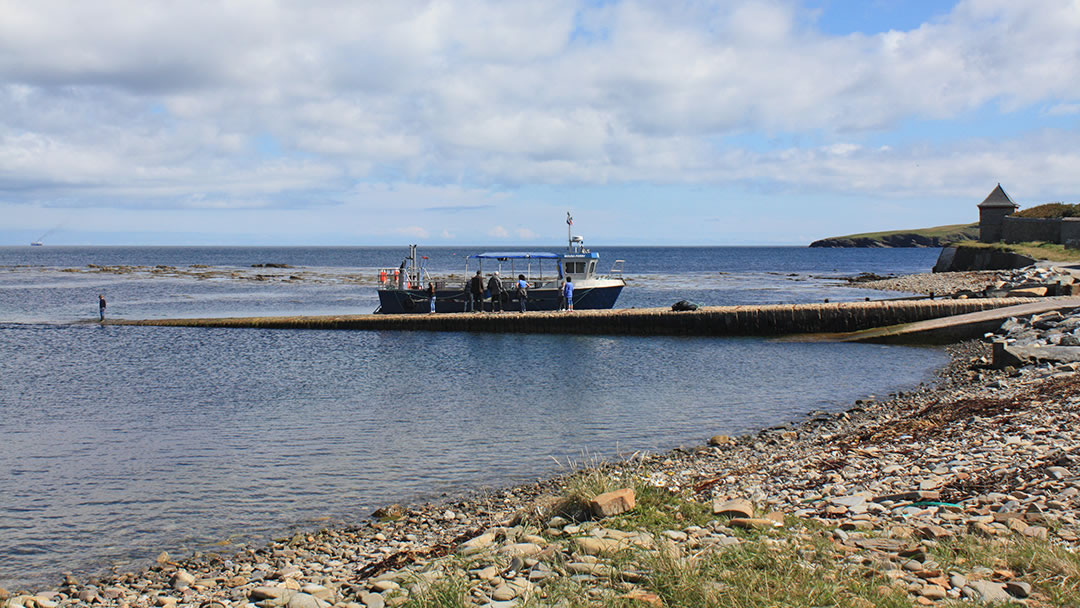 The day we chose luckily turned out to be very sunny, and we drove to the Mousa ferry at Sandsayre, Leebitton for 11:30. There were four of us – my wife, daughter, son and myself and we parked up and made our way to the slip.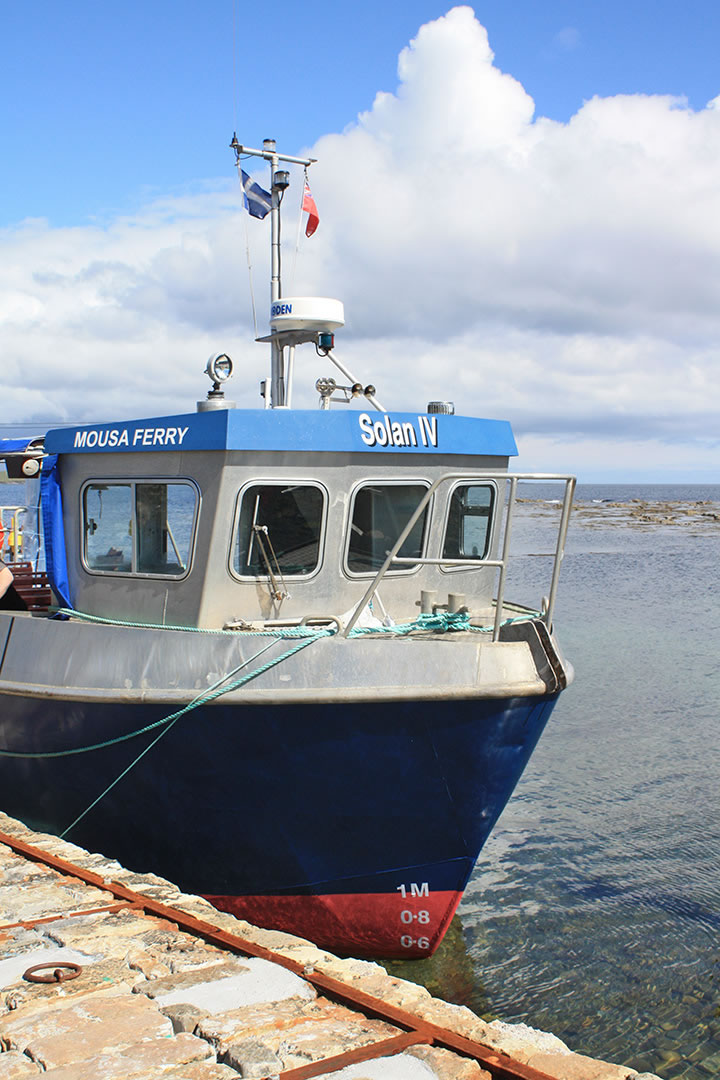 The Mousa ferry, Solan IV is a small vessel, but it holds plenty of folk – up to 60 passengers. We clambered on board and paid our fare. It's worth knowing that they can't accept card payments.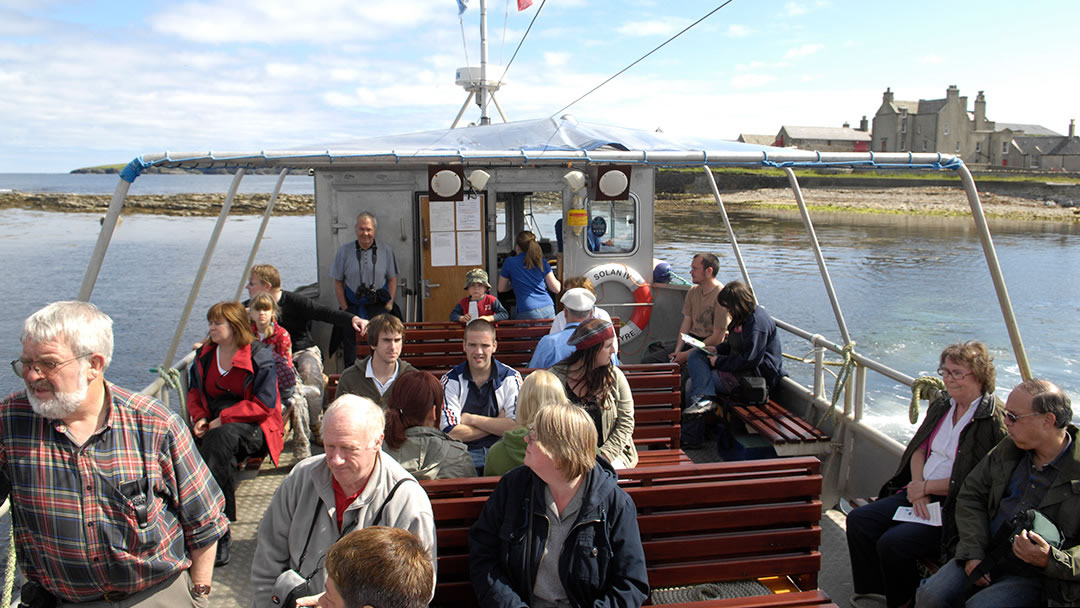 As the ferry chugged towards Mousa, excitement built as the Broch came closer into view. Ferry passengers have been known to spot harbour porpoises and seals – and sure enough, we were lucky enough to spot a seal!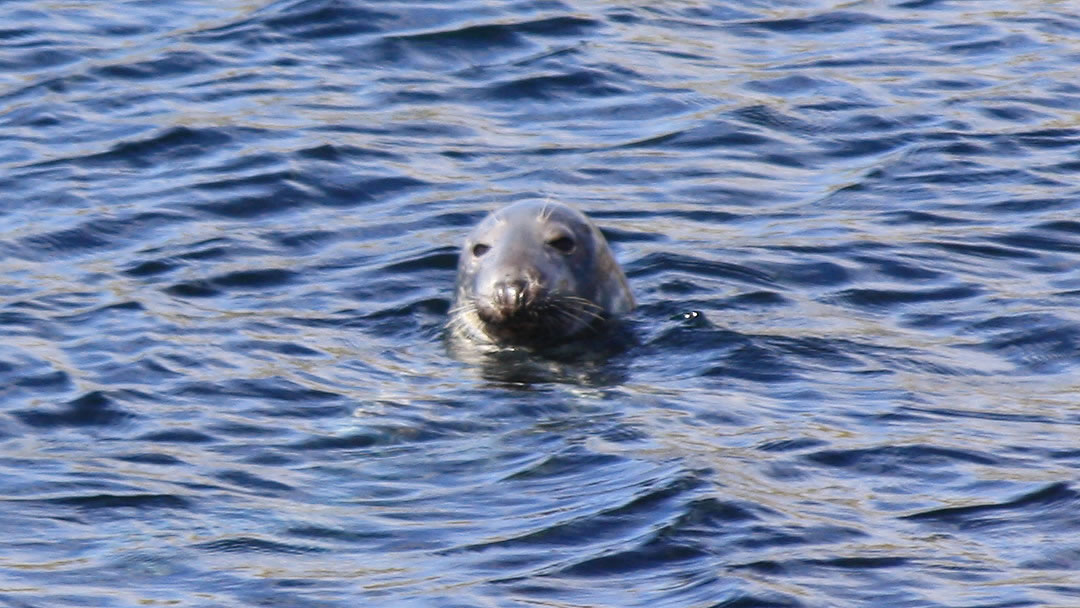 As we drew closer to the island of Mousa we also got a great view of a group of prehistoric buildings tucked away at Burraland back on the Mainland. Here there are the remains of a ruined Broch. At one stage, the Broch of Burraland and Mousa Broch would have stood together, at opposite sides of Mousa Sound.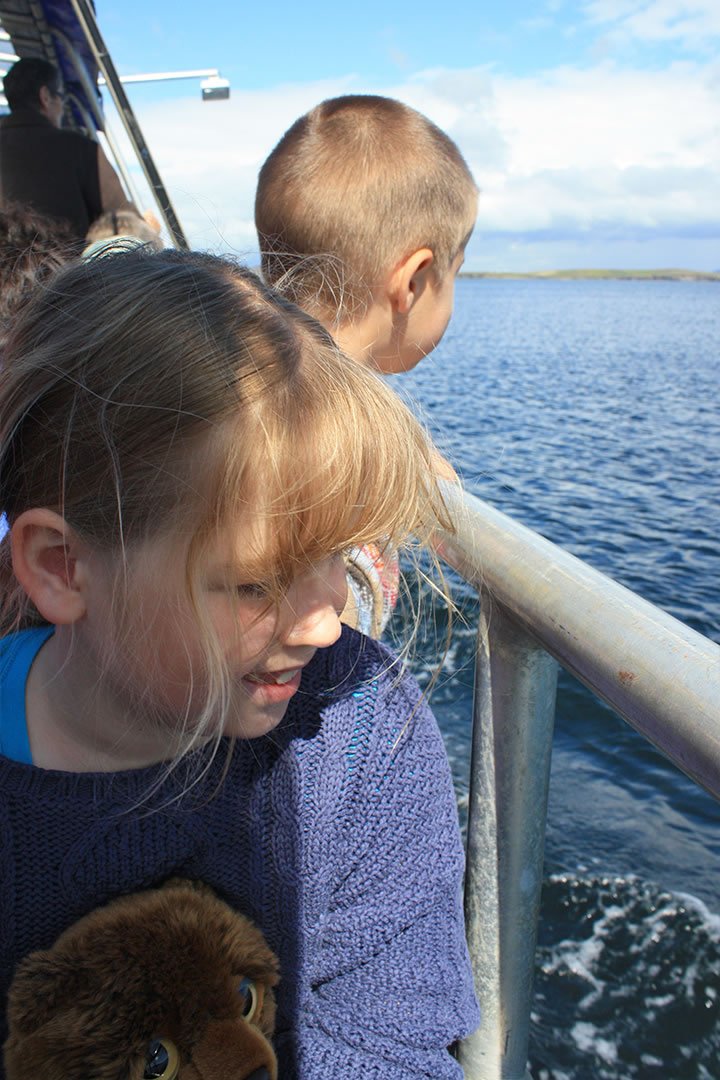 Fifteen minutes after departure, our group arrived on the island of Mousa, and we climbed onto a thin concrete pier, built through shoreside rocks. I've landed on uninhabited islands before – and it's an amazing feeling. Despite the well worn paths and building to store things for the ferry, there's a feeling of discovery and adventure; and a sense of being the first people that the birds that live here have ever seen! We were offered the chance of a guided walk around the island, but chose to take things at our own (slower) pace.
Mousa means "Mossy Island" in Old Norse, but it was grassy and green (with a rocky shore) from where I stood. It is 1.5 miles long and 1 mile wide. Though the island is uninhabited, Mousa was populated from the Bronze Age until mid-19th Century. The island is now a RSPB reserve and visitors are encouraged to follow the track above the shore to cause the least disturbance to the birdlife.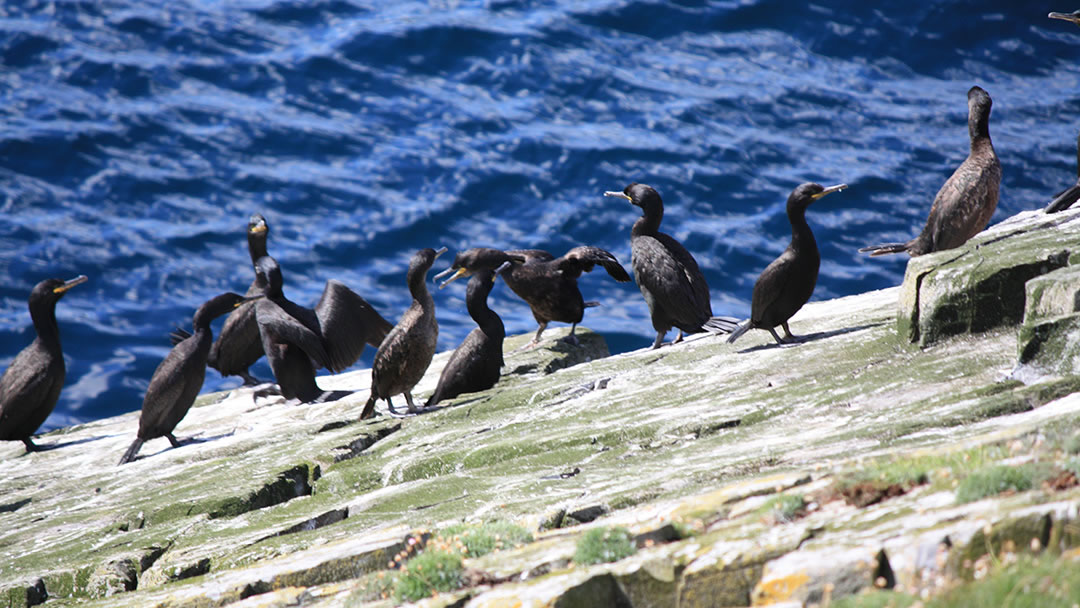 We walked southwards along the coast of Mousa and found a nice grassy picnic spot slightly off the track on the crest of a hill. It's important to take food and water with you as there are no facilities on the island! The hill looked downwards towards a rocky shore. Cormorants were on the rocks, stretching out their wings either to dry out or look magnificent; take your pick!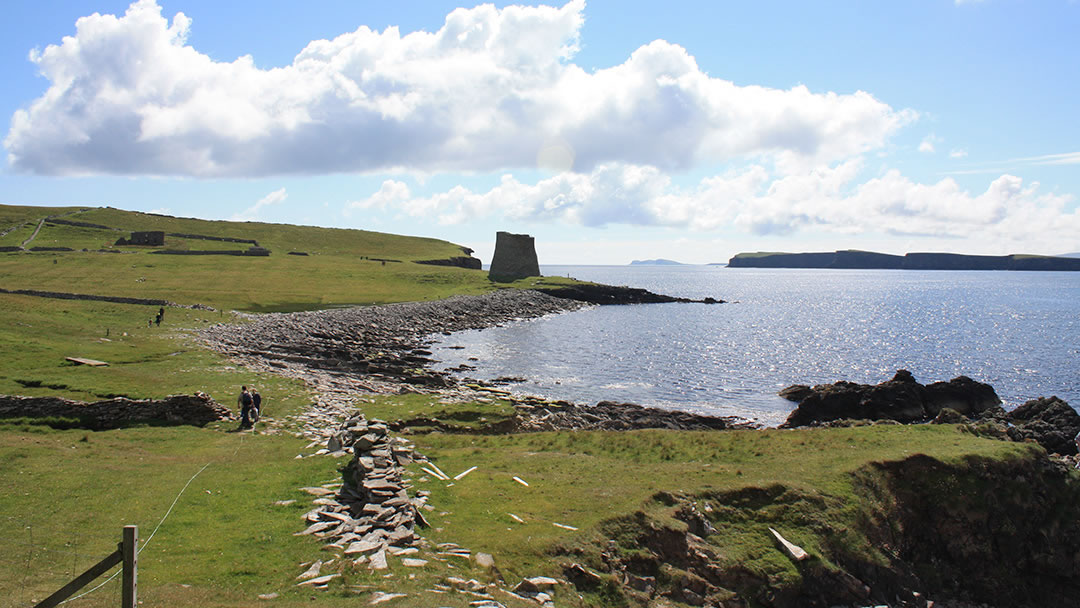 Once the picnic was finished and packed away (it's important to not leave litter on the island) we continued southwards, down the hill and over some duck boards towards the broch. The island of Mousa is inundated with birds called European storm-petrels. There are 6,800 breeding pairs there which represent 8% of the British population and 2.6% of the world population! Many of them nest within the walls of Mousa Broch and others nest under the stones of the beach below, so we were advised to not walk there.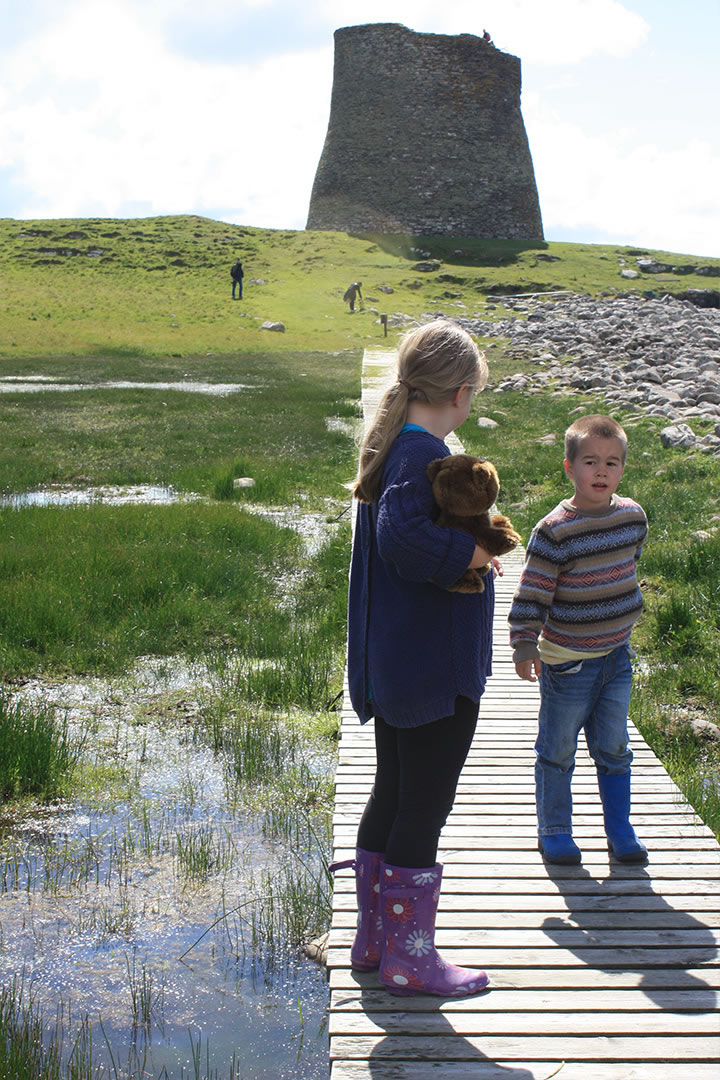 As we reached Mousa Broch I was struck with what an imposing building this must have been at one stage. Theories about Brochs change. In Orkney, Brochs like Gurness were surrounded by other dwellings, so it was supposed that a broch, with its thick walls, was like a castle keep; somewhere folk fled when there was trouble. More recent thoughts are that Brochs were status symbols. In total, 570 brochs were built throughout Scotland during the Iron Age.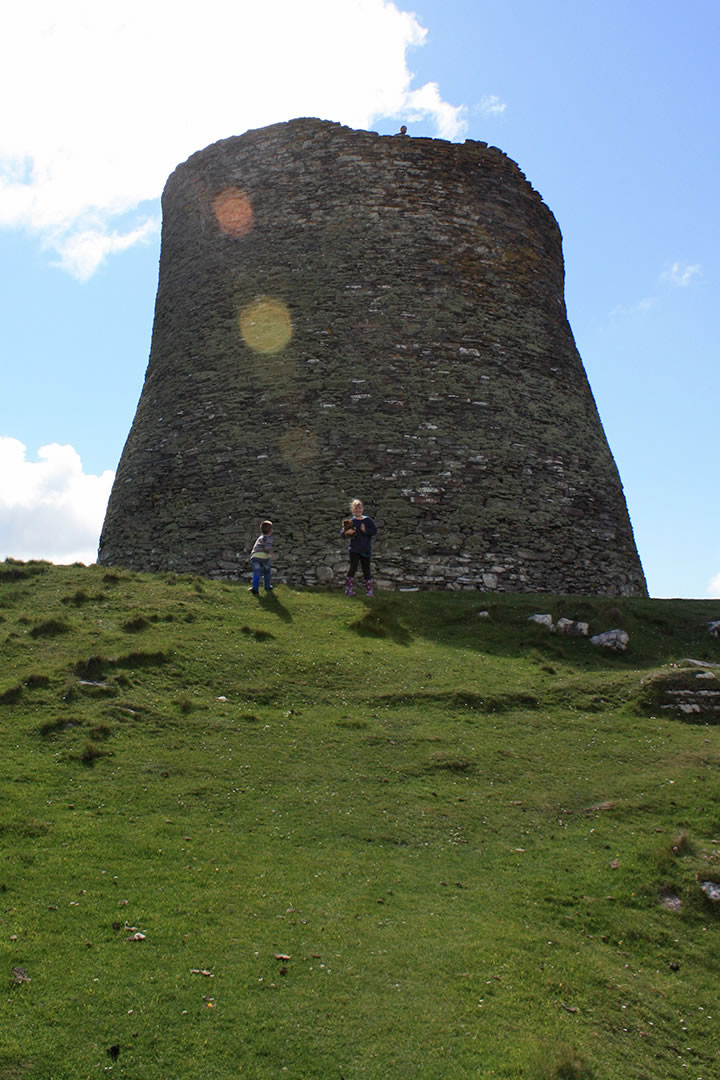 At Mousa there are no surrounding buildings. There are the ruins of a fishing station, croft-houses and dykes nearby, and it's quite impressive to think that the builders of these weren't tempted to use stone from the broch.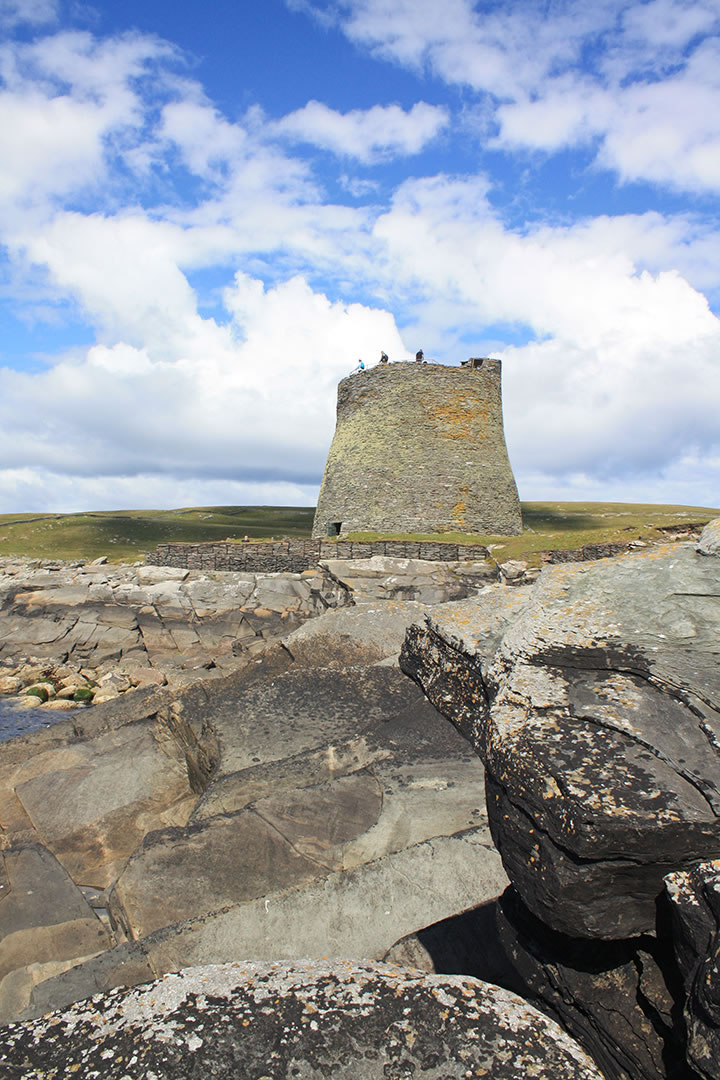 The Broch of Mousa is the finest preserved example of a broch in Europe because it has one of the thickest recorded walls, the smallest interior and a remote location! It stands at 13.3m high, has a base which is 15m in diameter, and an interior which is only 6m in diameter. The top is 12m in diameter. It is built with dry stone – no mortar was used.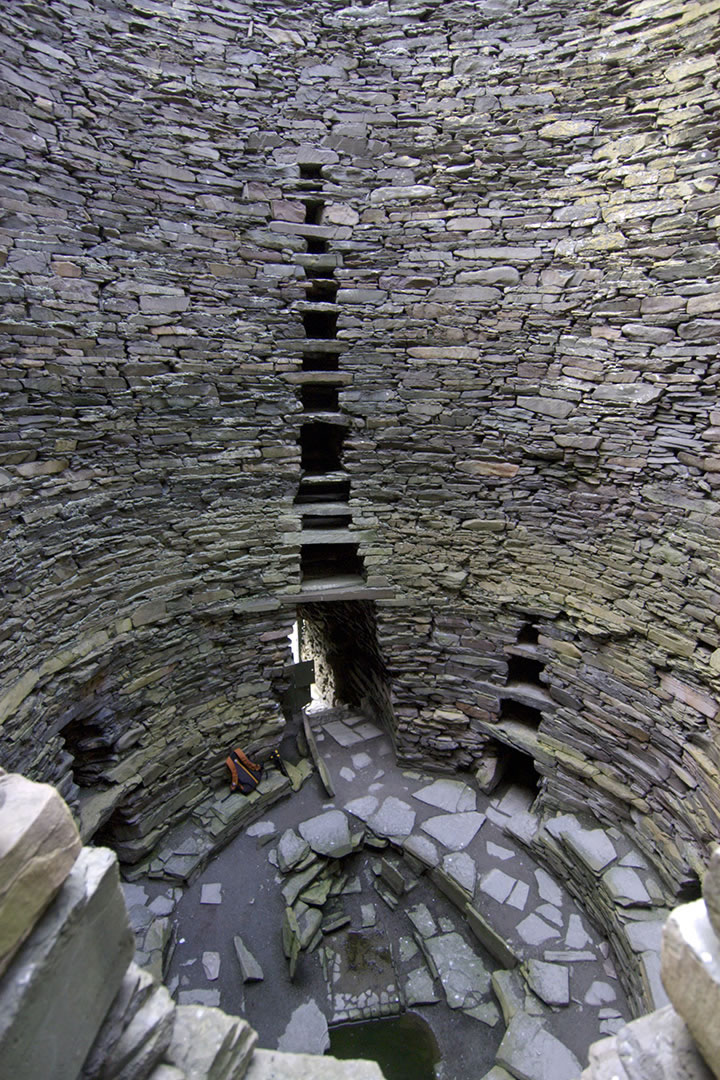 We entered the low doorway of Mousa Broch, and though I've visited other brochs, for the first time I got a real sense of what it must have been like living within one. Mousa Broch was built in 100BC and it was quite dark and dank inside, despite the open roof (which is covered by a wire mesh to prevent stones falling into the interior). In the past there were two wooden floors, evidenced by two scarcements (narrow lines of protruding stone) to support them.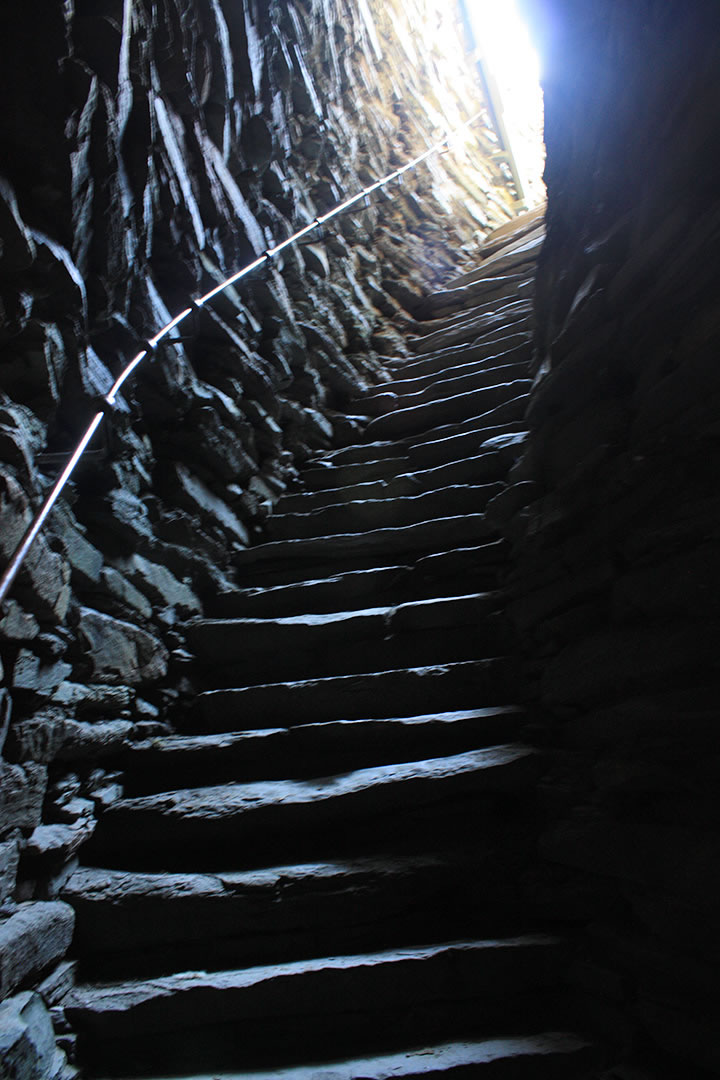 There is a winding staircase within the inner and outer walls of the broch and we climbed it. Thankfully there's a hand rail installed, which is good as there's a lot of coming and going on the staircase. Everyone on the Mousa Ferry eventually go to the Broch and though we arrived quite late there were still plenty of people keen to reach the top.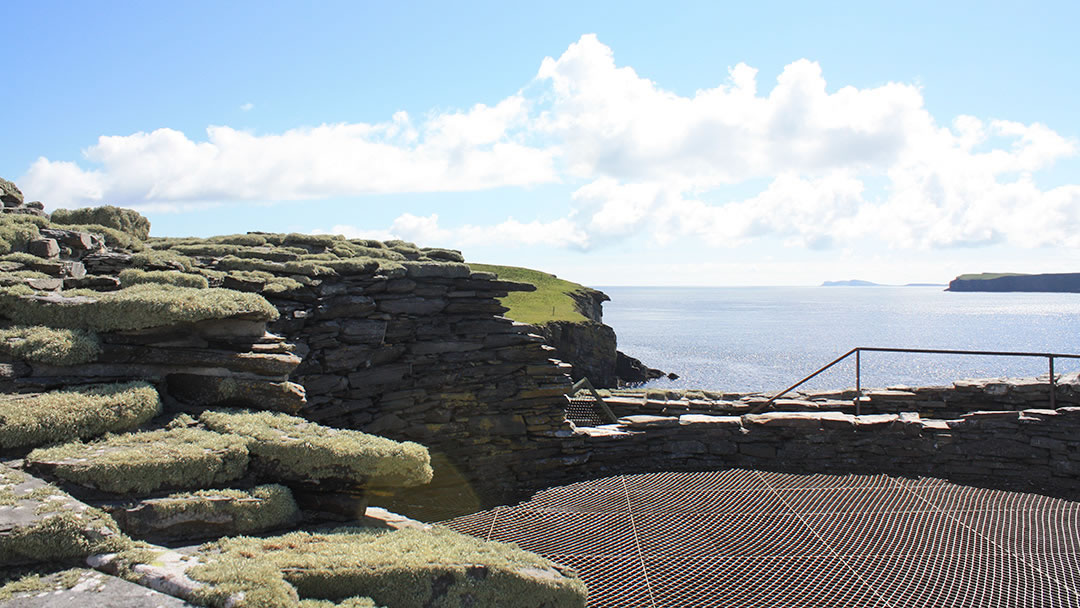 When we got to the top of Mousa broch we had an amazing view of the island and Mousa Sound. It was very safe, and I could have stayed there for a very long time, but being a nervous father I didn't enjoy having my children up so high!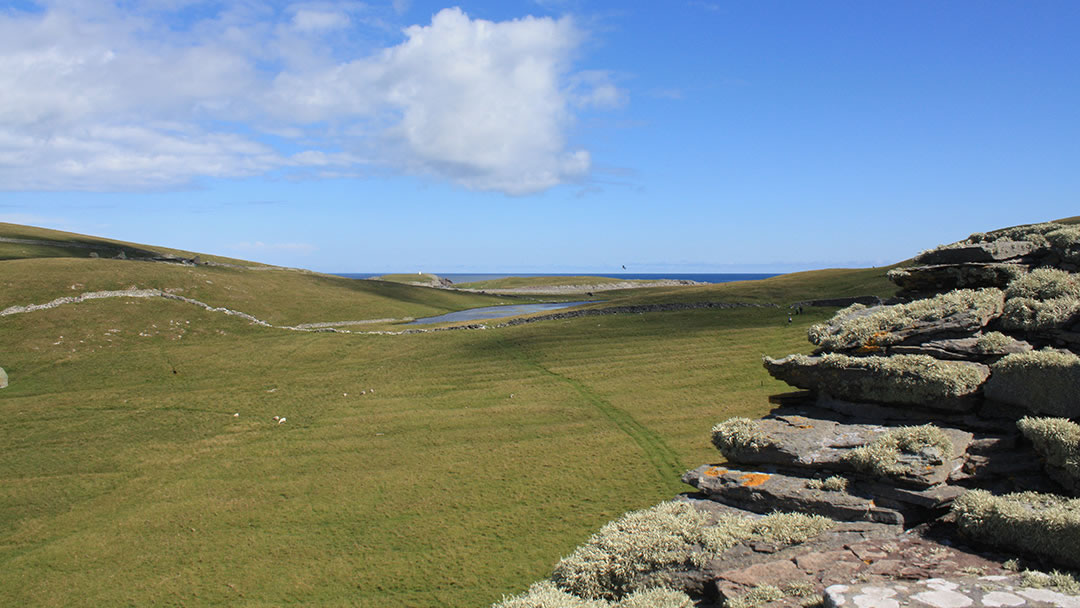 As we made our way down we tried to listen through the walls for the storm-petrels nesting inside. It is possible to glimpse the birds between the cracks in the stone. They make a noise which sounds like purring! There are summer twilight tours to Mousa where you can see them leaving their nests in search of food, and this is definitely something I would like to do.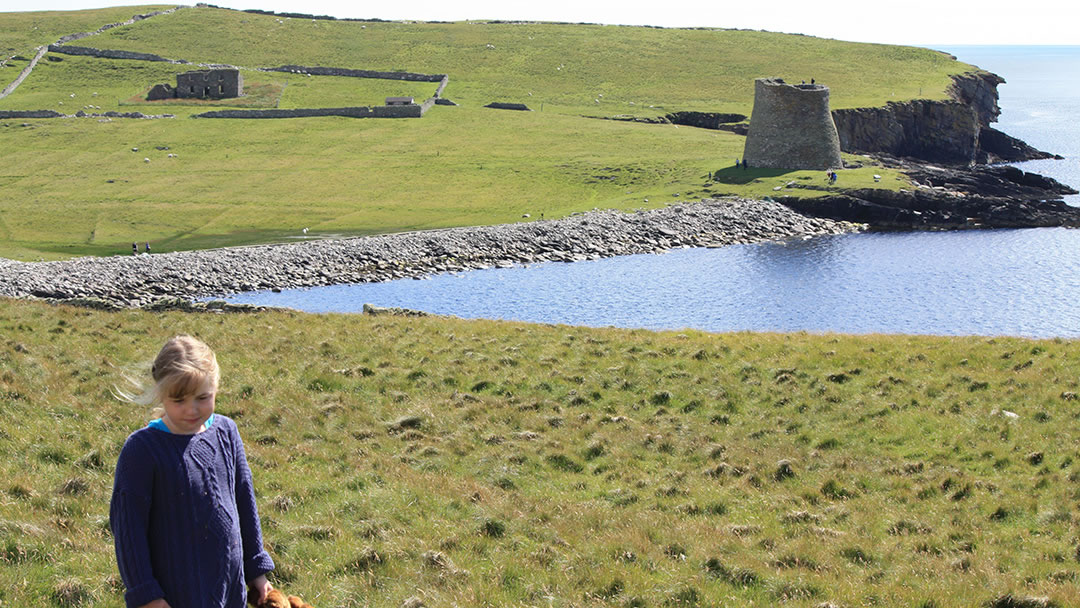 We made our way back to the boat with a brief stop at the croft-house. The lovely thing about Mousa is that the broch is only a 30 walk from the ferry – a manageable journey for young children (though not ideal for buggies as the terrain is quite rough). It's a perfect day trip for all the family. As we arrived back at the ferry we enjoyed the sight of Arctic terns fighting over a sand eel. This was a very impressive aerial display!
We climbed back on board the Mousa ferry along with the milling group of folk and left Mousa at 14:30. We were tired from our day baking under the sun, and were happy to enjoy a sea breeze on the way back to the mainland. We were delighted to have seen such an impressive archaeological treasure up close – and thoroughly recommend a visit for anyone spending a few days in Shetland!
Want to visit Mousa? Visit the Mousa Boat website at https://www.mousa.co.uk/

By
Magnus Dixon
Orkney and Shetland enthusiast, family man, loves walks, likes animals, terrible at sports, dire taste in music, adores audiobooks and films, eats a little too much for his own good.
Pin it!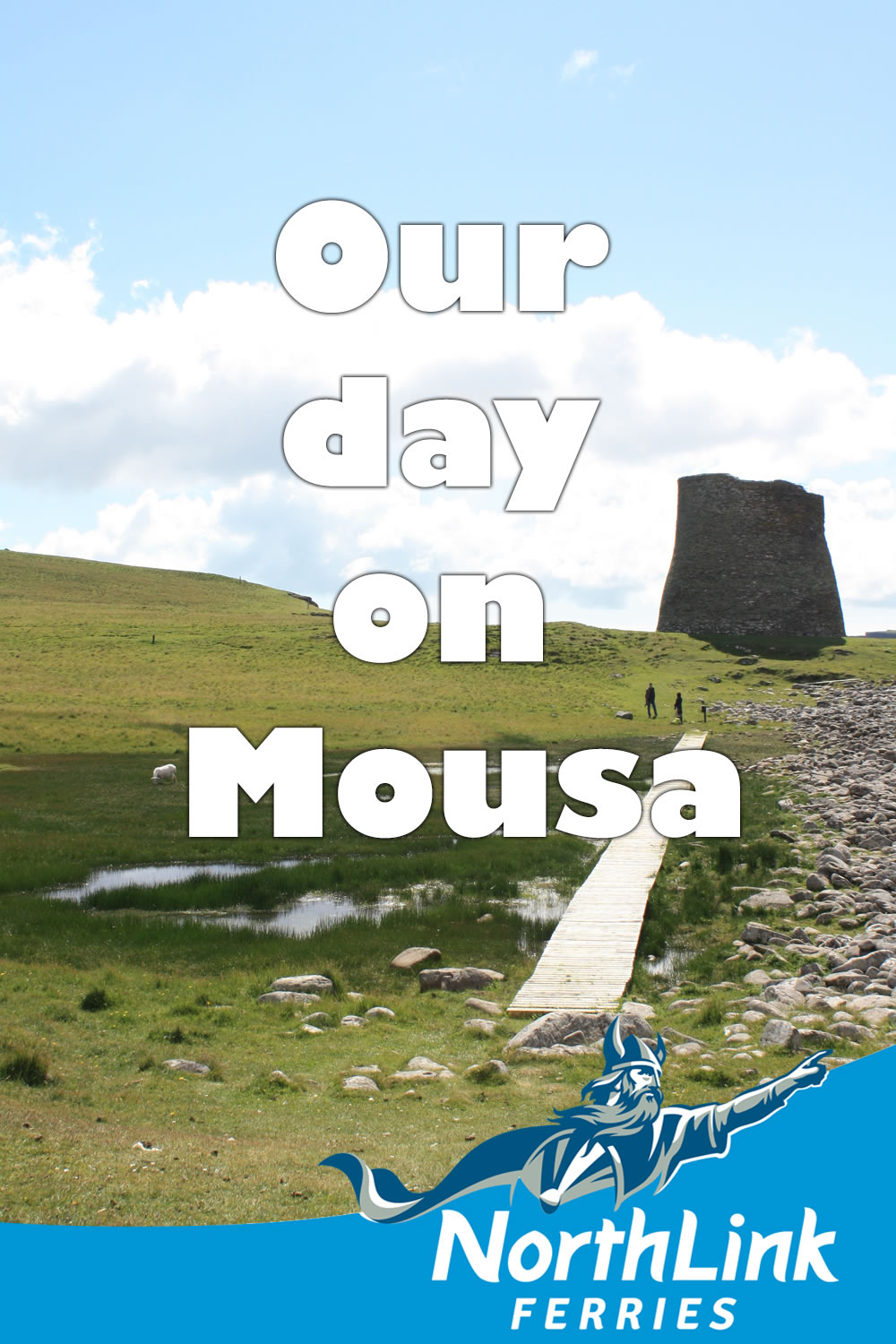 Header image: Mousa broch and beach in Shetland photo © Copyright Victoria Dixon