10 things you must experience in Shetland
Shetland is a group of around 100 islands situated halfway between Norway and mainland Scotland. This archipelago was named the Best in Europe by Lonely Planet in 2019 as one of Europe's finest travel destinations! It has miles of breath-taking shoreline, fascinating history and an abundance of wildlife.
Shetland is the ideal location to explore whether you are after adventure-fueled activities or a peaceful getaway.
Here are 10 things you must experience whilst visiting the Shetland Isles.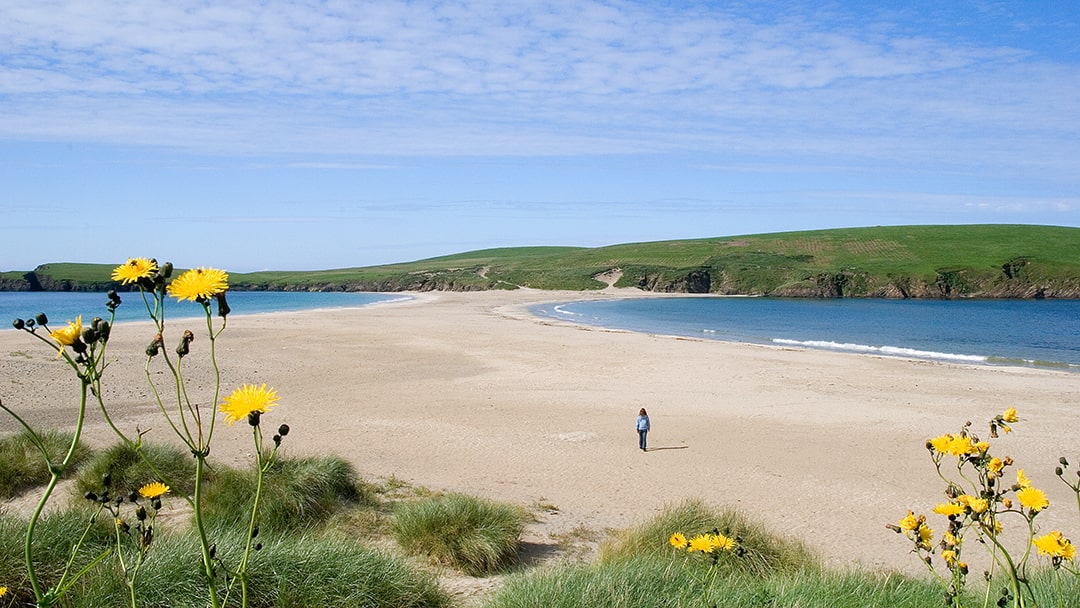 1. Wander along its beautiful beaches
Shetland's beaches come in all varieties. From lovely lengths of white sand and turquoise seas to boulder-strewn beaches surrounded by dramatic scenery. St Ninian's Isle is undoubtedly the most well-known beach in Shetland and is the largest active tombolo in Europe.
Meal Beach, a popular beach near West Burra, and Skaw Beach on Unst, are two beautiful white sand beaches. Whereas Lang Ayre, a gorgeous pink granite shingle beach, and the Hams of Muckle Roe, require a bit of walking to reach and provide greater geological drama with their towering and jagged cliff sides.
You'll enjoy the feeling the soft and salty sea air, hearing the waves, and feeling the sun on your skin. For more inspiration on what beaches to visit in Shetland, read our recommendations here.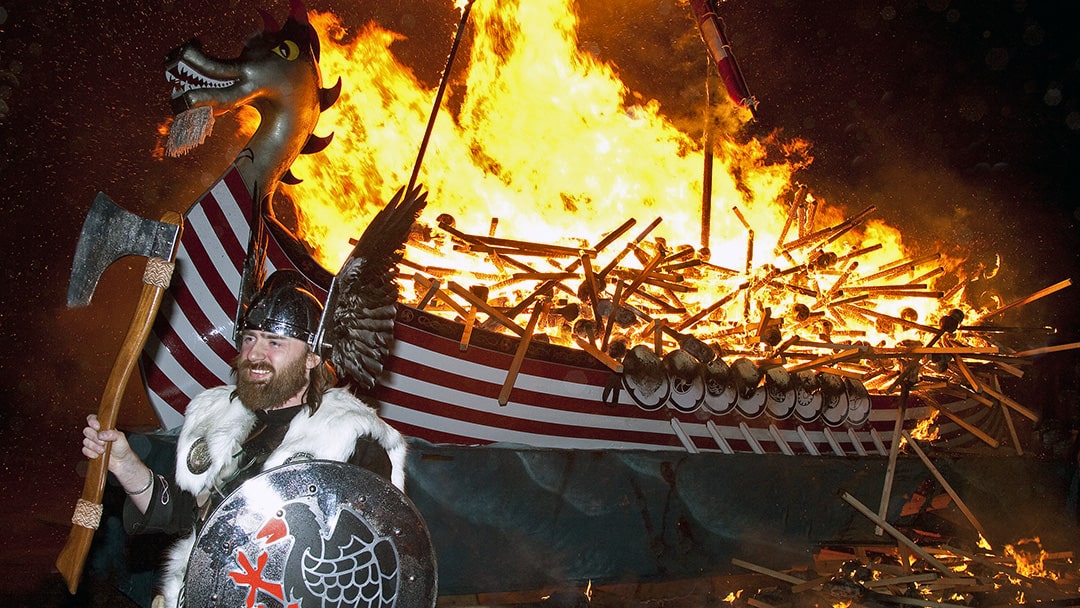 2. Feel the Viking Spirit
With its Norse-inspired place names, Shetland has a more pronounced Viking feeling in comparison to other places in the UK. Its strong Scandinavian influence is seen throughout the isles. From the ruinous settlements of Jarshof and Old Scatness, to the northern isle of Unst which has the largest concentration of rural Viking Longhouses in the world.
The greatest yearly fire celebration in Europe, known as 'Up Helly Aa', is celebrated during winter to honour their Viking past and culture. The event entails a series of marches and visitation during the day and in the evening, a torch-lit procession and galley burning led by a Jarl Squad. You'll be wowed as the streetlights are switched off and the dark streets become illuminated by the flaming torches. There's a sense of drama with the wild winds blowing, the smell of paraffin, the orange sparks from torches, and the Vikings marching. Witnessing the galley being set alight truly provides a once-in-a-lifetime type of experience.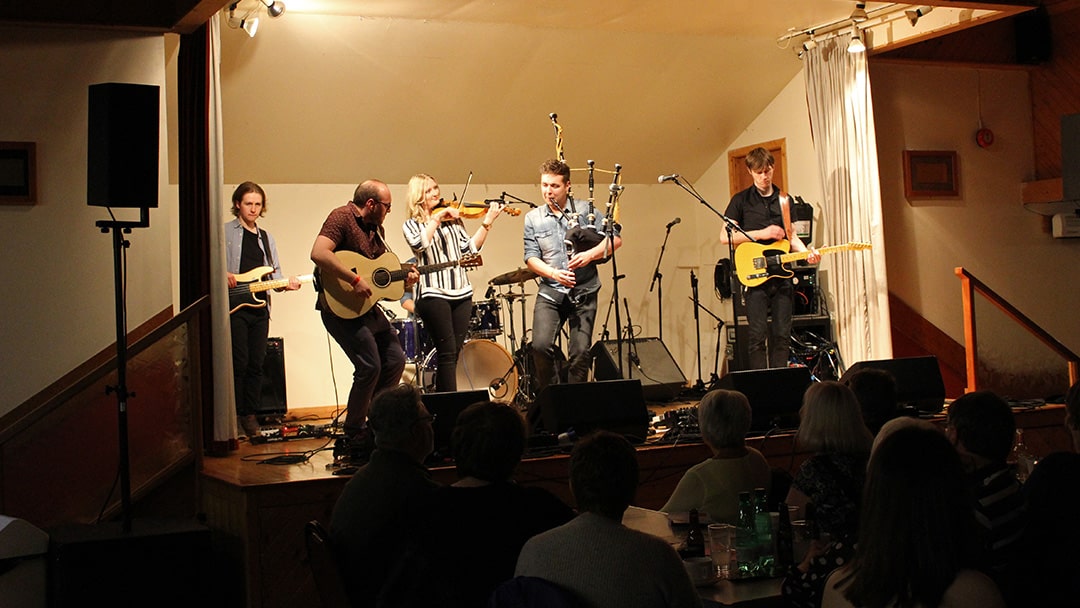 3. Listen to some local music
Shetland has a vibrant and lively music scene, which is very important to the island's culture. The fiddle, initially brought to the isles in the 1700s, is the primary instrument used in traditional Shetland music.
The Shetland Folk Festival, Shetland Accordion and Fiddle Festival, and Folk Frenzy are just a few of the musical events that occur throughout the year. Local bars often host live folk performances, and particularly during these festivals, spontaneous performances are not uncommon. You'll get caught up in the enchanting rhythms – a doctor may be required to stop your toes from tapping and get the tunes out of your head!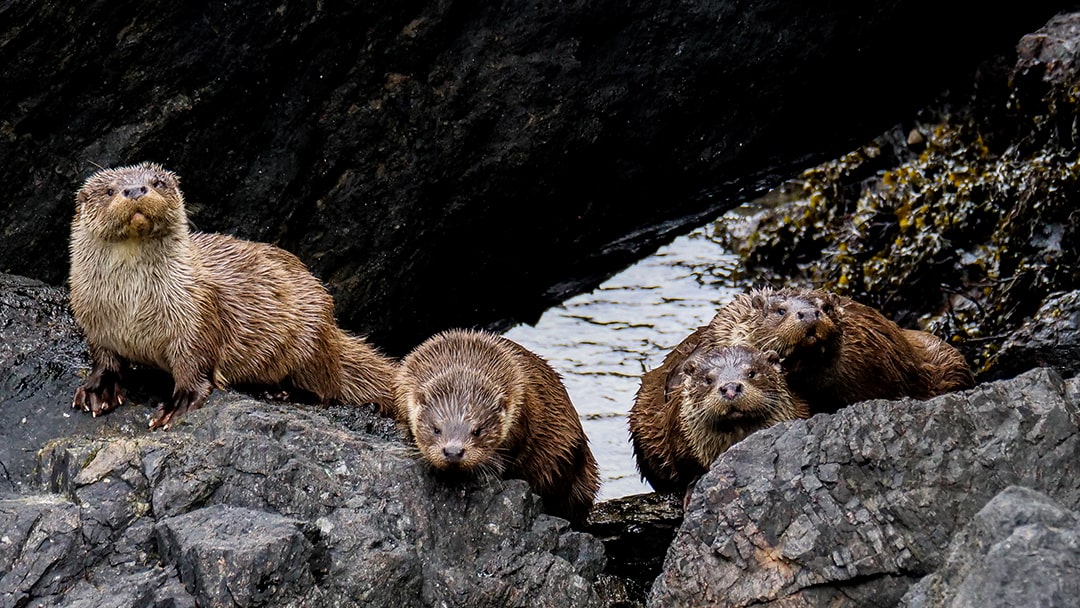 4. Spot wildlife from the coast
Shetland is practically bursting from the seams with wildlife! Due to its exceptional natural setting, the isles serve as the ideal habitat for numerous species. Shetland is one of the greatest spots in Britain to see marine life because of its surrounding deep seas. Orcas, dolphins and harbour porpoises are just a few of the amazing species that are frequently seen close to the shore.
Shetland is home to the highest density of otters in Europe which are frequently seen feeding along its coasts. Seals are also easy to spot and Lerwick Harbour is one of the best sites to see them. Nothing can match the excitement of seeing wildlife so close!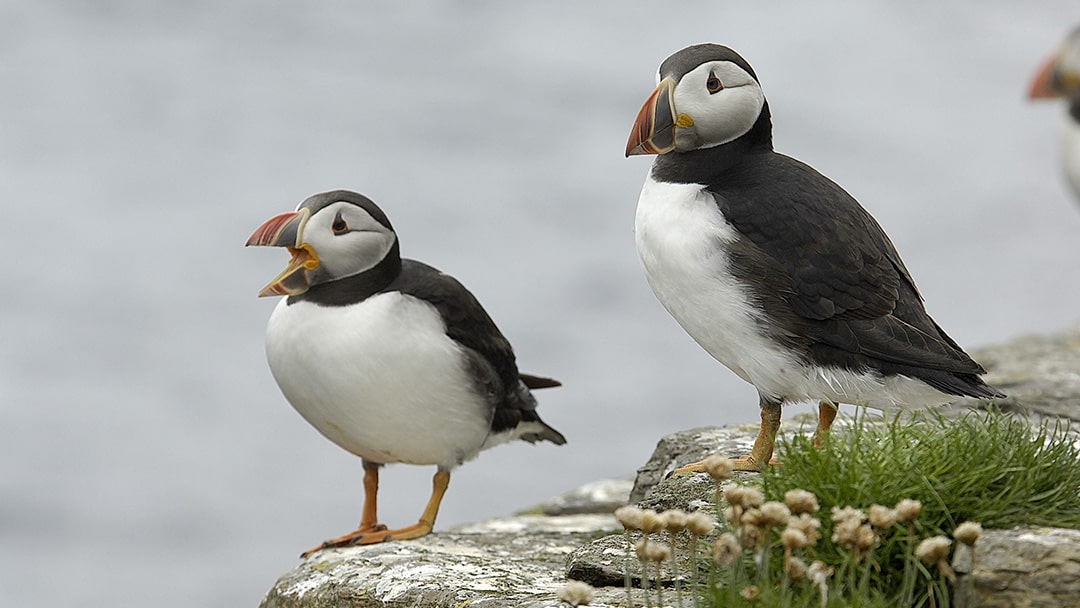 The magnificent coastal cliffs are home to over a million seabirds in the summer, making it a haven for birdwatchers! Red-throated divers, waders and redshanks are just a few of the species found here. The famous puffins (or tammy norries as they are known locally) are best viewed at Sumburgh Head, and we think you'll just fall in love with them!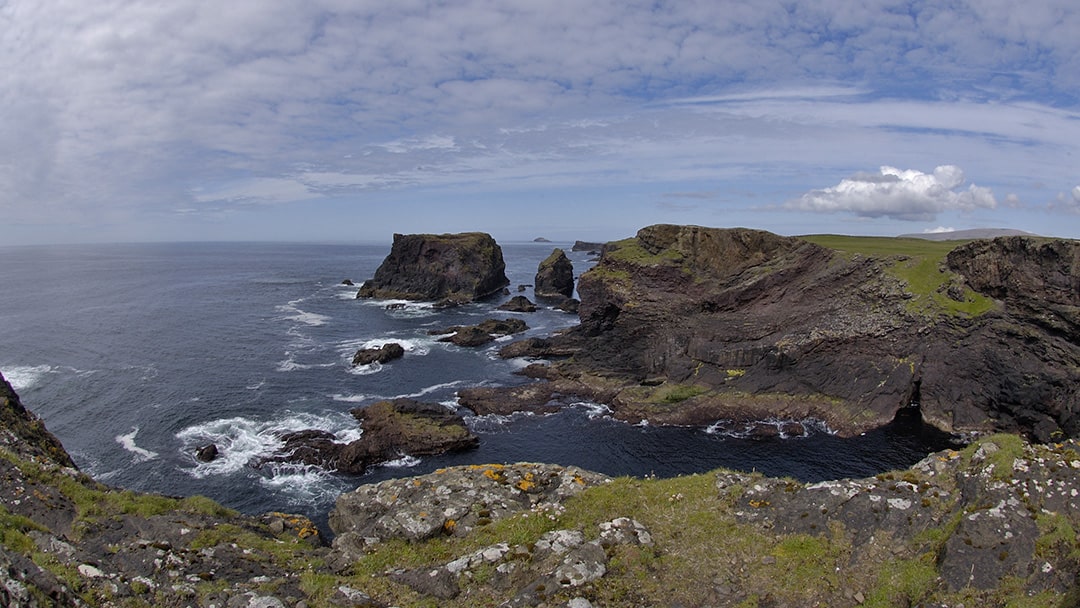 5. Explore its wonderful and dramatic coastline
This archipelago is home to some of the best walking routes in Europe. It has remarkable coastal scenery, serene inland lochs and beautiful heathery hills. Shetland has even received the status of UNESCO Global Geopark – one of only seven in the UK!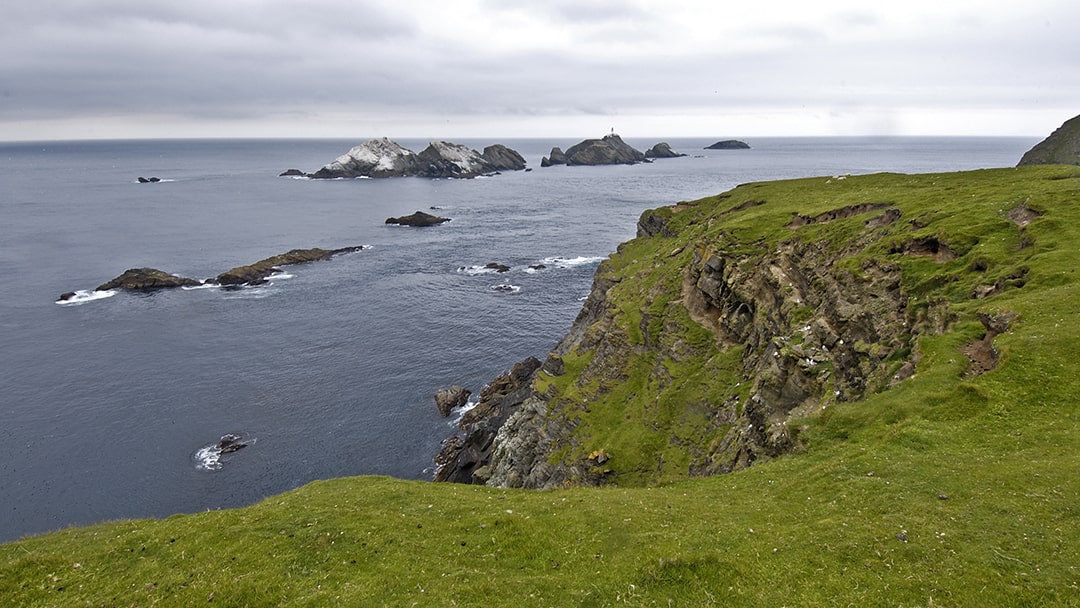 One spectacular location is Hermaness National Nature Reserve on the northern isle of Unst. It is a towering clifftop with breathtaking scenery and overlooks Muckle Flugga, Britain's most northerly point.
Eshaness is another must-see for visitors in terms of its beauty, geology, and archaeology. It has volcanic rock formations and spectacular features including Calder's Geo – said to be Britain's largest sea cave – and the Kirn o'Slettans – a blowhole that plunges vertically into the sea below. You'll return from a clifftop voyage with aching legs, full camera memory cards and a satisfied feeling!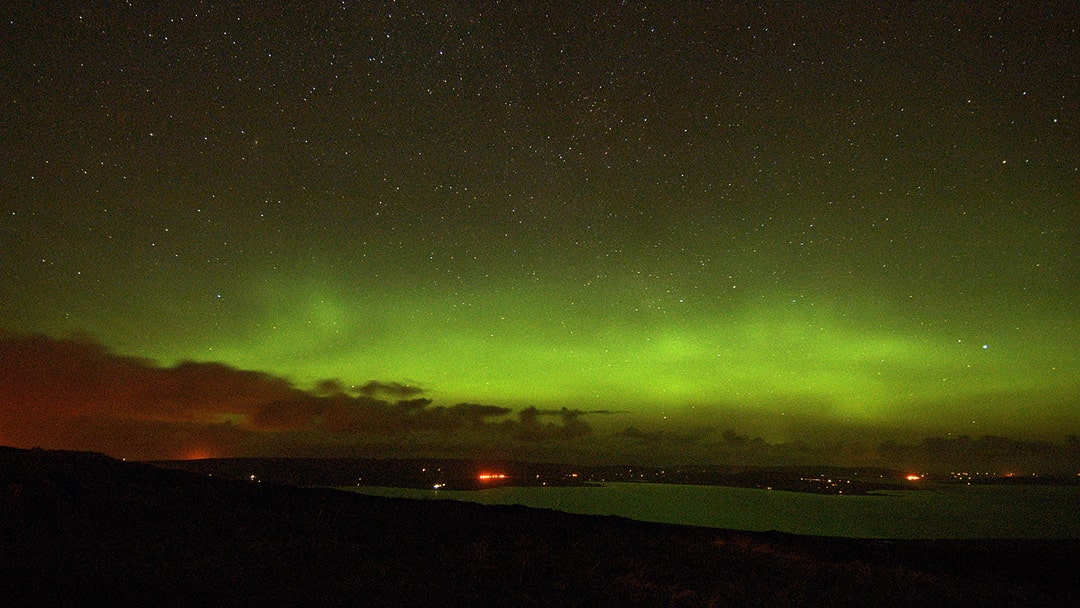 6. Look up to the skies
The term 'Simmer Dim' refers to the twilight around midnight in Shetland when the sun barely sets around midsummer. The sun descends below the horizon just long enough to turn the sunset into a sunrise. With up to 19 hours of daylight, you could even go for a game of midnight golf!
Even more amazing is its dark winter skies. Shetland is one of the best places to observe the Northern Lights as it's the UK's closest point to the North Pole. The experience of seeing the Northern Lights (known in Shetland as Mirrie Dancers) is truly magical as they are an incredible sight to see. They can shift around, becoming brighter and dimmer over a period of time, so stay for a while to enjoy the show! Make sure you warm up by a cosy fire when you return home afterwards!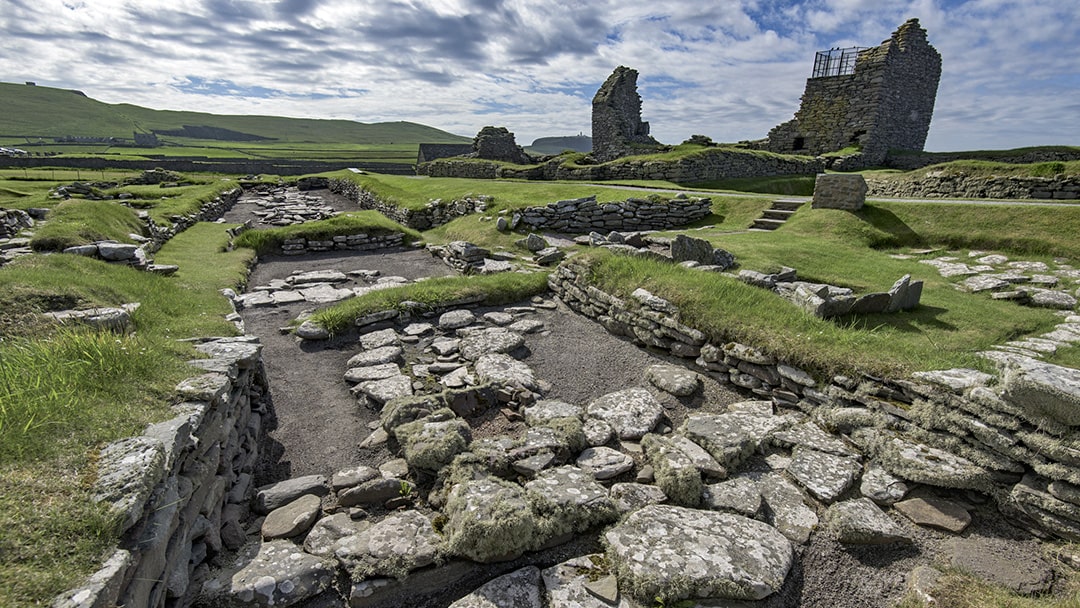 7. Uncover the island's ancient history
Some of Shetland's most popular historical sites offer an opportunity to explore around 5,000 years of human history. Shetland is rightfully most often linked with the Vikings, although its history extends far further back than this.
Some of Britain's best-preserved Iron Age ruin sites, including Clickimin Broch and Mousa Broch, are found in Shetland. You'll feel like a real-life adventurer exploring these! Shetland Museum and Archives is another fantastic place to learn about the entire history of the isles and the people who once lived here.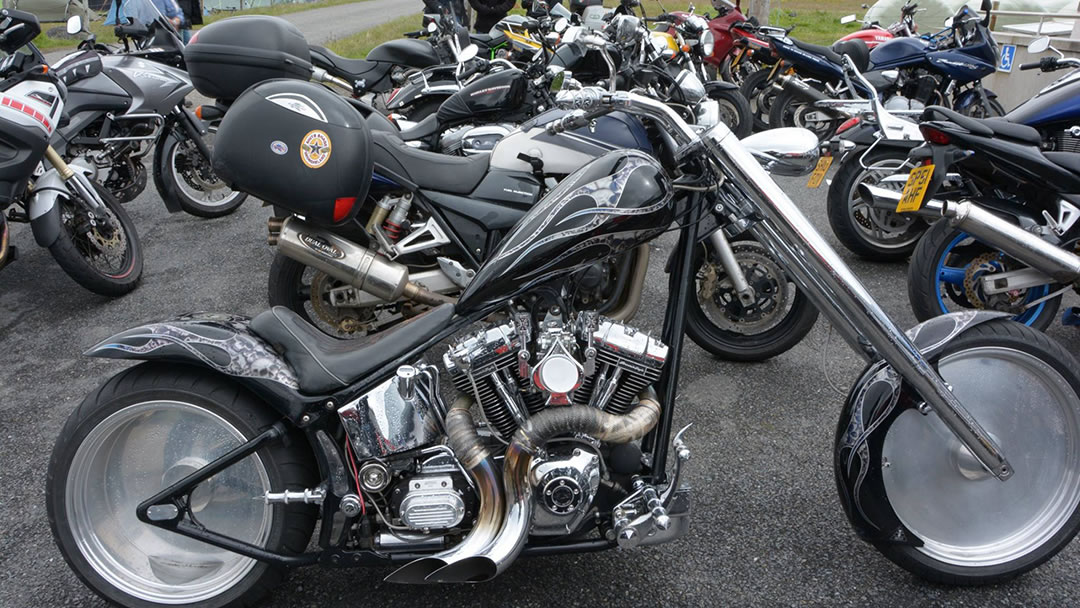 8. Take part in the island's festivals and events
The wide range of annual festivals and events taking place in Shetland that entice visitors to return year after year. From the Simmer Dim Motorcycle Rally to the Taste of Shetland Festival that commemorates the best of local produce – there is something for everyone to enjoy and take part in. It's a great way to meet local folk, and people with the same interests as yourself.
For more information about events and festivals in Shetland, read our guide here.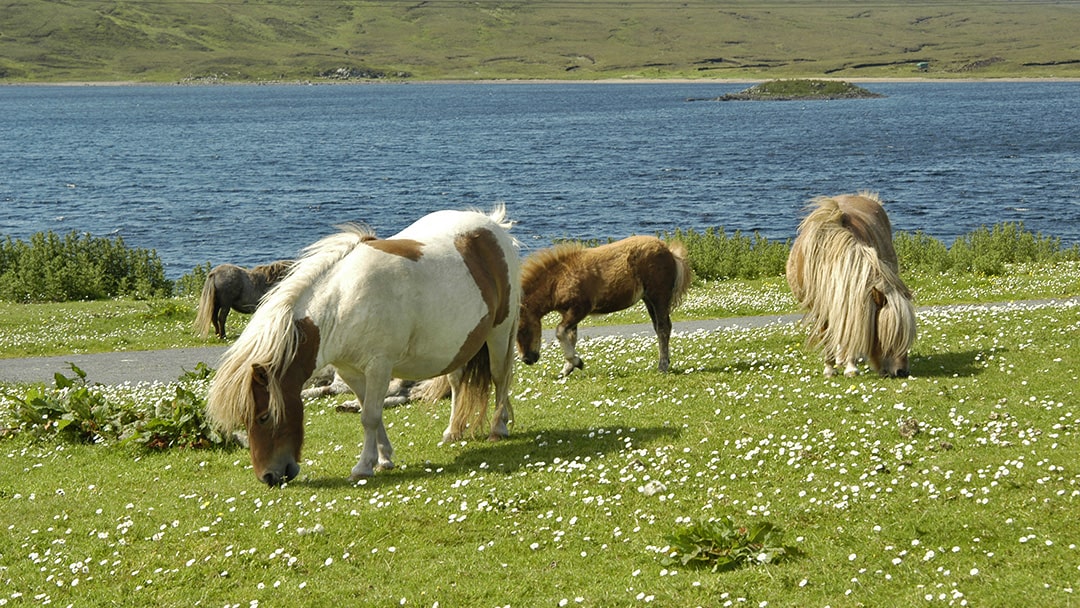 9. Get up close with a Shetland Pony
A trip to Shetland would not be complete without witnessing and petting a Shetland Pony. Shetland's famous miniature ponies can be found grazing by the side of the road, on the beaches, or on hillsides. They are usually very friendly and love a rub around the ears.
In Bridge-End Burra, there is a place called the Shetland Pony Experience. Guests can have a unique hands-on interaction with Shetland Ponies and create unforgettable memories. This experience sees visitors walking with a pony through coastal fields to a secluded beach, with ample photo opportunities.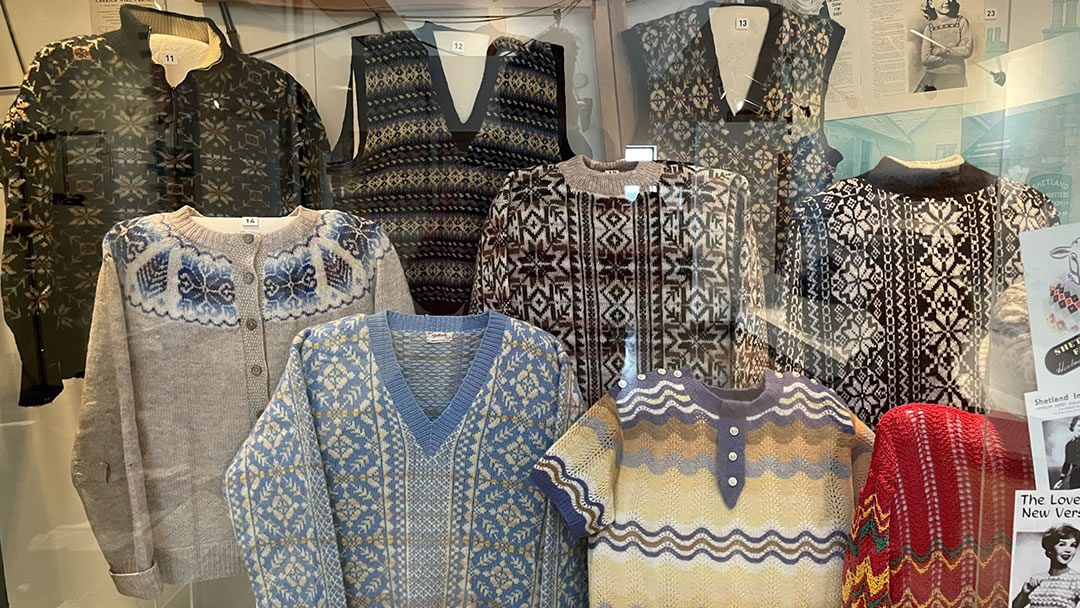 10. Discover the island's beautiful arts and crafts
Learn about the stunning arts and crafts produced on the islands and inspired by Shetland's dramatic landscape, tradition, and culture. Shetland Wool Week celebrates Shetland's native sheep and its craft producers that make the most of their surrounding resources. It's also a great event in which you might learn some new skills!
The Shetland Craft Trail connects independent artisans from modern art and handmade jewellery, to renowned renowned traditional Fair Isle knitwear. There are many wonderful places such as the Bonhoga Gallery and the Shetland Gallery, to appreciate and discover the incredible talent of local makers.
---
We hope our list of 10 things you must experience in Shetland gives you inspiration to travel and discover the true beauty of the isles.

By
Amy Leith
A marketing student born and raised in Aberdeen with an admiration of the Scottish isles, desire to travel and see the world, a superior taste in music, enjoys cooking and socialising with family and friends.
Pin it!