Why Caithness is a great holiday destination for children
The far North of Scotland is a lovely holiday destination. There's amazing scenery, superb wildlife and fantastic activities to undertake in Caithness (and Sutherland), but there's also some magnificent places to go and superb things to do for children – here are a few ideas!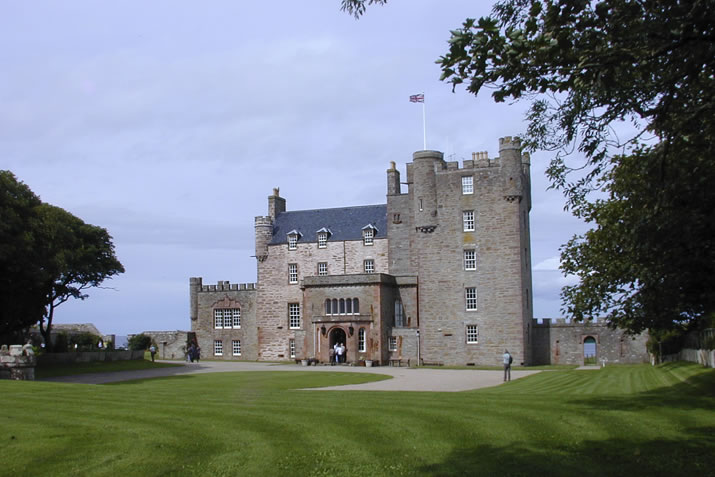 Go to the Castle of Mey and see the Animal Centre
When The Queen Mother bought the Castle of Mey as a holiday home in 1952, it was in a derelict state. However, since then it has been beautifully renovated and now has a Visitors Centre, Cafe, and Gardens which visitors can explore. The highlight of the visit for children will be the educational animal centre. Here you can meet Alice the donkey, pigs, sheep, chickens, ducks, geese, rabbits and more! Visitors can touch chicks, bottle-feed lambs or scratch the back of a piglet!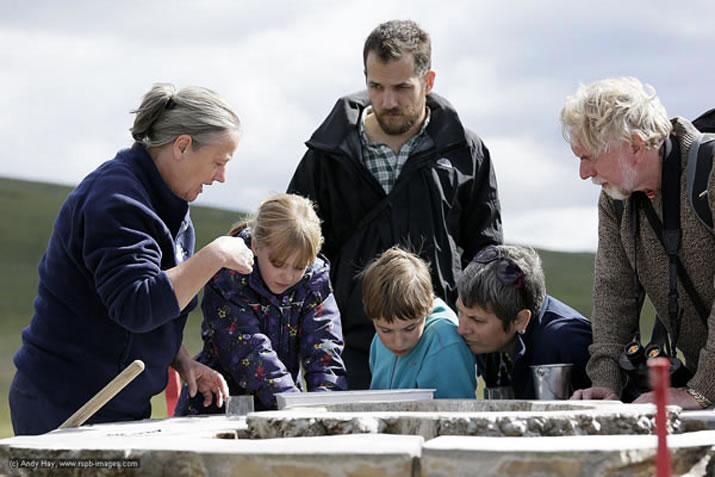 Visit Forsinard Nature Reserve
This beautiful peatland landscape has a Visitor's Centre with a great exhibition suitable for all ages with games, jigsaws and activities, located in the Forsinard railway station building. Children can find a Wildlife Explorer backpack which they can take out on the trail for free. The Dubh Lochan Trail itself is an easy walk across flagstones and amongst lochans. You'll see dragonflies, diving beetles and pond skaters, golden plovers, hen harriers and greenshanks, and some carnivorous insect-eating plants like sundew and butterwort! There are also guided walks available twice a week.
An observation tower has recently been built which provides a great view over the flat landscape of Forsinard. You may even see deer!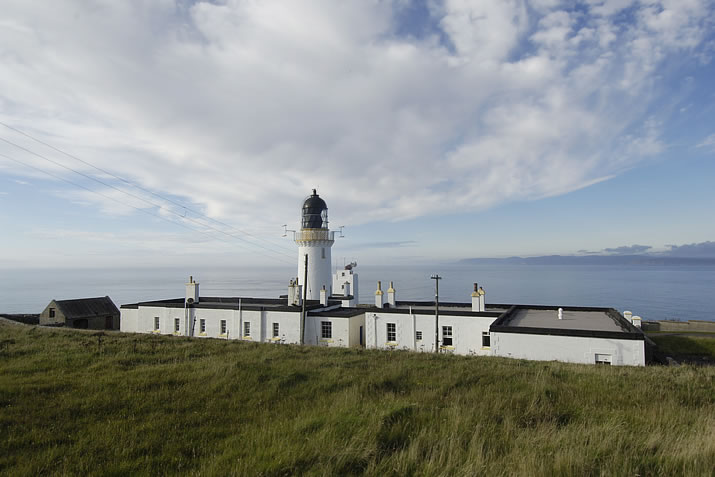 Reach the most Northerly point of the UK at Dunnet Head lighthouse
John O' Groats is often mistaken as the most northerly point of the UK. In truth it is one end of the longest distance between two points in Great Britain. John O Groats is in the furtherest north easterly point, and Land's End is on the furthest south westerly point, 876 miles apart. The actual most northerly point of the UK is Dunnet Head, and it's a great place to take kids. Although Dunnet Head lighthouse stands on a 300-foot high cliff that we wouldn't recommend children go near, there's a fabulous view point on the hill, away from the cliff. From there you can see from Duncansby Head to Cape Wrath, as well as Ben Klibreck, Ben Hope and the Orkney islands!
"John O Groats is in the furthest north easterly point, and Land's End is on the furthest south westerly point, 876 miles apart. The actual most northerly point of the UK is Dunnet Head"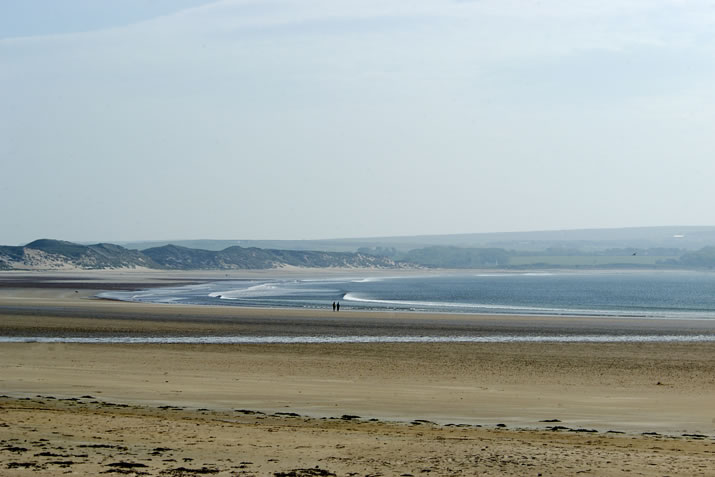 Find out about seabirds and sea creatures at the Seadrift Centre, Dunnet
While you're at Dunnet, make sure you visit the Seadrift Centre, located at the north end of Dunnet beach. Here you'll find brilliant hands-on displays focusing on plants, animals, birds and dolphins of the north. It's very much geared towards kids and there are plenty of activities available and magnificent views of wildlife from the centre itself. Whilst there, explore the sweeping and beautiful Dunnet Beach (pictured above)!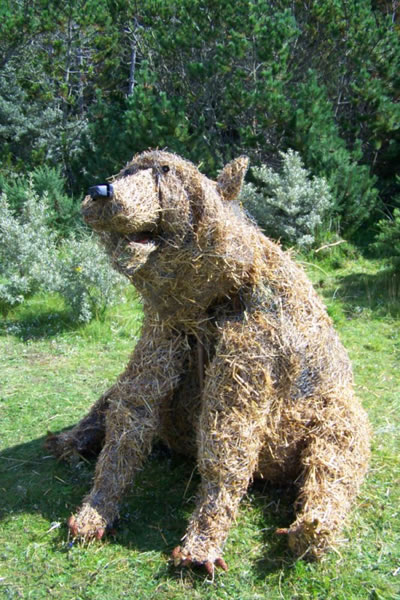 Take a walk in Dunnet forest
Just inland from Dunnet beach is Dunnet forest, which has a fabulous forest trail! Children will love exploring amongst the trees – they'll find a log hunt, a bird hide, carved animals, sculptures, totem poles and a massive xylophone made of wood. Check out the bear pictured above! There is a horse riding trail, a mountain bike trail, plenty of birds to spot and even some Roe Deer.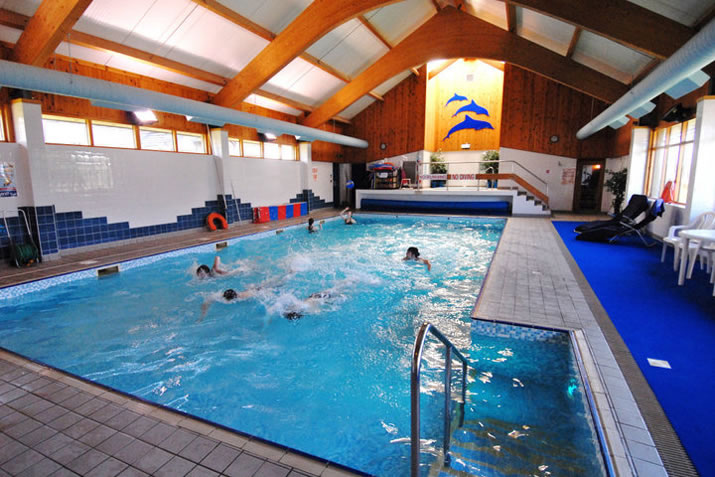 Visit a swimming pool and go zorbing!
There's a new attraction in the North Coast Leisure Pool, Bettyhill – zorbing! This involves being zipped into a giant inflatable transparent plastic ball, and walking on water! There are also some other great swimming pools to attend in Caithness and Sutherland. Both the Thurso and Wick swimming pools are good, and both are being renovated in the near future. Thurso has a lovely toddler pool, and both pools regularly throw out inflatables to keep children amused!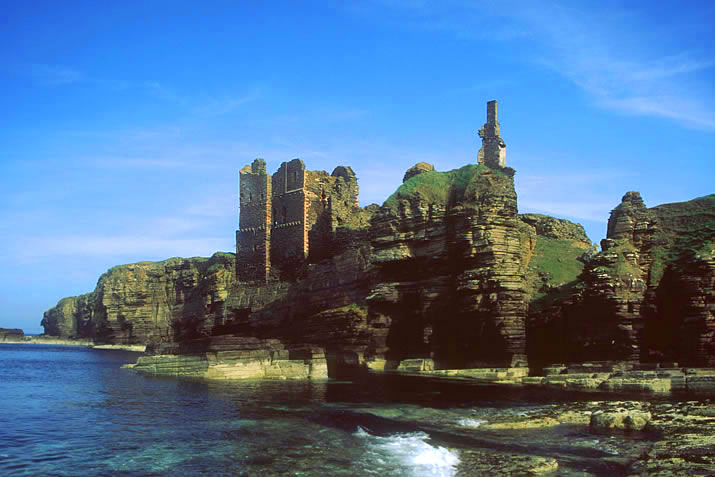 Go on a coastline boat tour
There are some great coastal boat tours available for all ages in Caithness. These are well worth taking as there are some amazing sights along this coast! One of the most impressive castles in Scotland, Castle Sinclair Girnigoe (pictured) near Wick, clings to the cliffside and is well worth seeing by boat. The Stacks of Duncansby are two dramatic spikes jutting from the sea to the north east. There are also seabirds, whales and cliffs to enjoy by boat tour!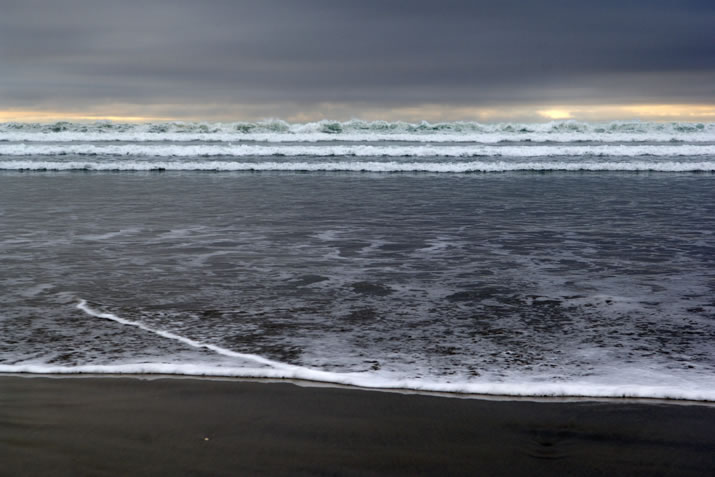 Try surfing with a taster session
The waves at Thurso and Caithness are famous amongst UK surfers, and if you want to learn, Caithness is a great place to be. Cafe Tempest in Thurso harbour is noted as a great place to hire surf gear, and it's a very fine cafe too! For beginners though, we'd recommend keeping an eye on The North Shore Surf Club Facebook page. The club are known to put on summer taster sessions which are highly recommended.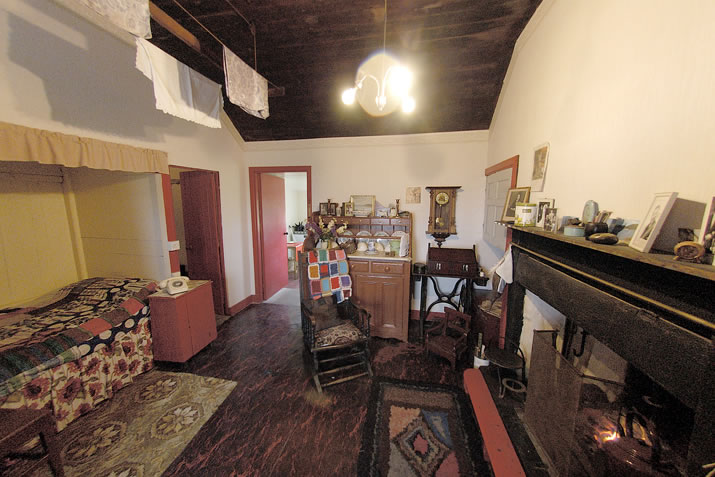 There's much more to see with children in Caithness
There are plenty of other places to go with children in Caithness and Sutherland. There are some fine play parks throughout the region – the newest was unveiled in May 2015 at Riverside, Wick. The Thurso Library is also a great place to try – there are regular reading groups for young children.
If your children like the idea of stepping into the past, Mary-Ann's Cottage in Dunnet (pictured above) is well worth a look. It's a traditional Caithness cottage that was built in 1850 and has remained almost unaltered. Traditional working practices remained the same, so visiting is a facinating glimpse into the past. There are many old tools to see and it's very hands on – the most modern addition to the cottage was a telephone! The Laidhay Croft Museum at Dunbeath is also popular and worth visiting!
"Smoo Cave in Durness is a huge cave carved by freshwater at the top and carved into a sea cave at the bottom. It can be accessed by footpath and has a waterfall and impressive pools"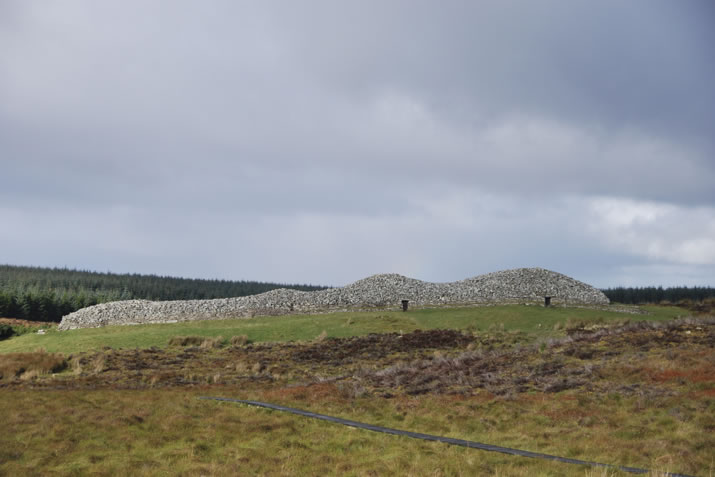 There are two other places adventurous children will love in Caithness and Sutherland. The first is the Grey Cairns of Camster (pictured above), near Watten. This is a large Neolithic burial chamber, similar to Maeshowe in Orkney but without the grass covering! You can simply pull the bolt on the gate, crawl in and explore. The second is Smoo Cave in Durness (pictured below). This is a huge cave carved by freshwater at the top and carved into a sea cave at the bottom. It can be accessed by footpath and has a waterfall and impressive pools! Boat tours of the inner cave are available during summer months!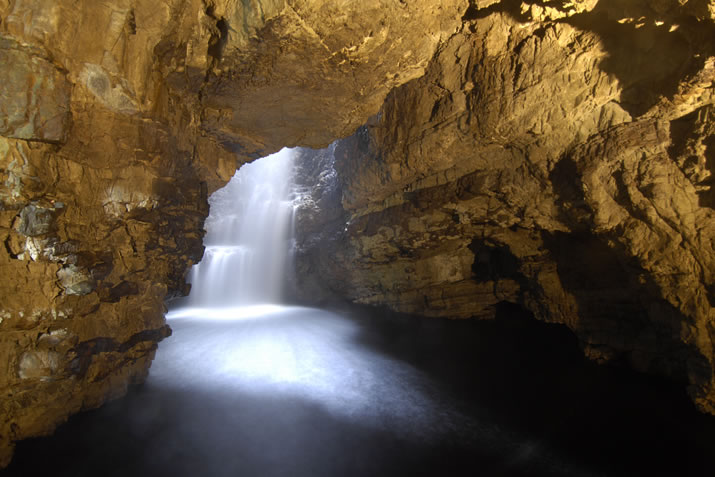 By
Magnus Dixon
Orkney and Shetland enthusiast, family man, loves walks, likes animals, terrible at sports, dire taste in music, adores audiobooks and films, eats a little too much for his own good.
Pin it!