3 days in Orkney – Day Two
Join travel writer – and Shetlander – Laurie Goodlad spend three days travelling around Orkney with her husband in Autumn. As a travel writer and Shetlander, she enjoyed noticing the differences and similarities between Orkney and Shetland. On her first day she explored Orkney's wartime and Viking history, whilst also sampling some delicious food and drink. On her second day in Orkney, she went further back in time!
One of the benefits of visiting smaller, less well-known chambered cairns such as Unstan and Cuween is that there are no admission fees and the sites are generally quieter as access is limited to cars only.
This blog post was written as part of a campaign with NorthLink Ferries and Destination Orkney, who manage Orkney.com – the go-to place for discovering more about the islands and all they offer.
Read about my first day in Orkney!
Read about my third day in Orkney!
---
Day two
The next day, and with rain threatening, we got out while it was still dry and made our way west to Skara Brae Prehistoric Village and Skaill House.
Orkney's history spans millennia, dating back to the Neolithic, for which Orkney has achieved World Heritage Status in recognition of its incredible Neolithic remains.
With UNESCO World Heritage Status, The Heart of Neolithic Orkney is undeniably one of Scotland's most incredible archaeological sites – if not the world. Made up of Skara Brae, the Ring of Brodgar, the Standing Stones of Stenness and Maeshowe, these fascinating sites are all within a stone's throw of each other and have forced archaeologists to rethink settlement patterns throughout Neolithic Britain.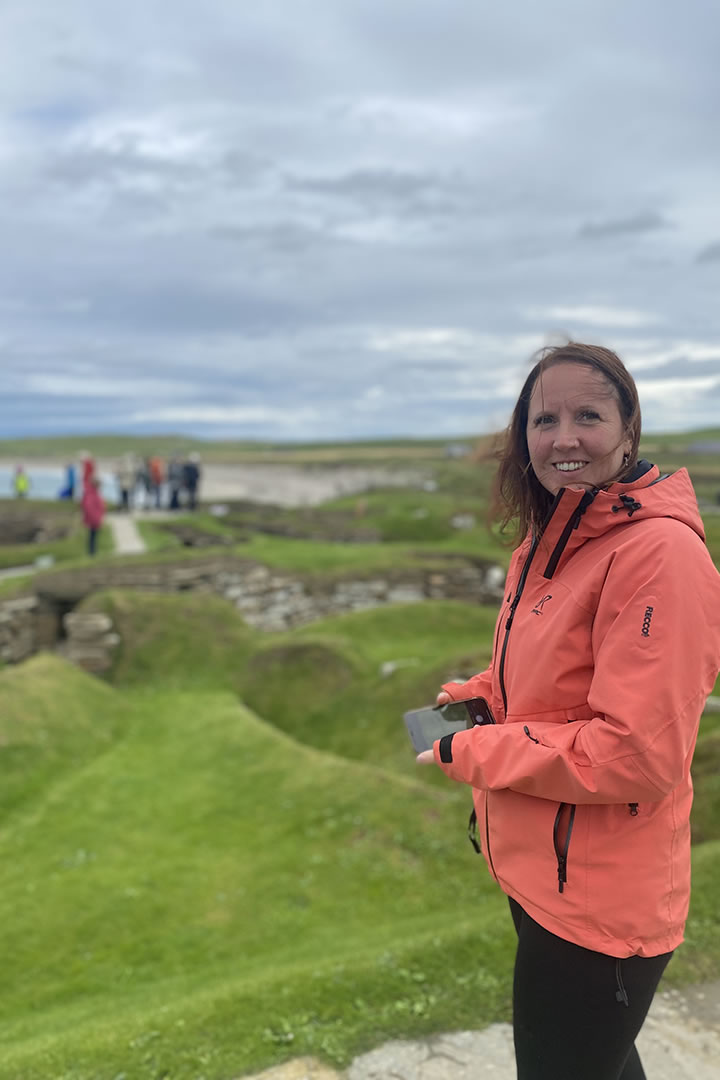 Skara Brae, overlooking the Bay of Skaill, was uncovered in the 1850s following winter storms, revealing a tantalising 5,000-year-old settlement. With stone-built furniture, a reconstructed house and a welcoming visitor's centre, Skara Brae is truly one of the world's wonders.
Next door, an entry ticket also allows access to the grand mansion of Skaill House, home of William Graham Watt, who unearthed the world-famous site at Skara Brae, and a succession of lairds who have all added to the house's rich history and collections. The rooms are thoughtfully styled to tell the story of the house and its inhabitants over generations.
Sticking to Orkney's Neolithic, we visited the Standing Stones of Stenness and Ring of Brodgar before heading off to explore some lesser-known sites.
The Ring of Brodgar and Standing Stones of Stenness are both huge prehistoric stone circles. The Standing Stones of Stenness are believed to be the oldest stone circle in the UK – even older than the famous and iconic Stone Henge – and are made of four stones up to six metres high.
Originally, the circle held 12 stones, although several no longer stand. Nearby, The Ring of Brodgar has captivated and inspired for generations. With 36 massive stones still standing, I wondered how and why Orkney's Neolithic population erected such a grand monument, a question archaeologists still struggle to answer today.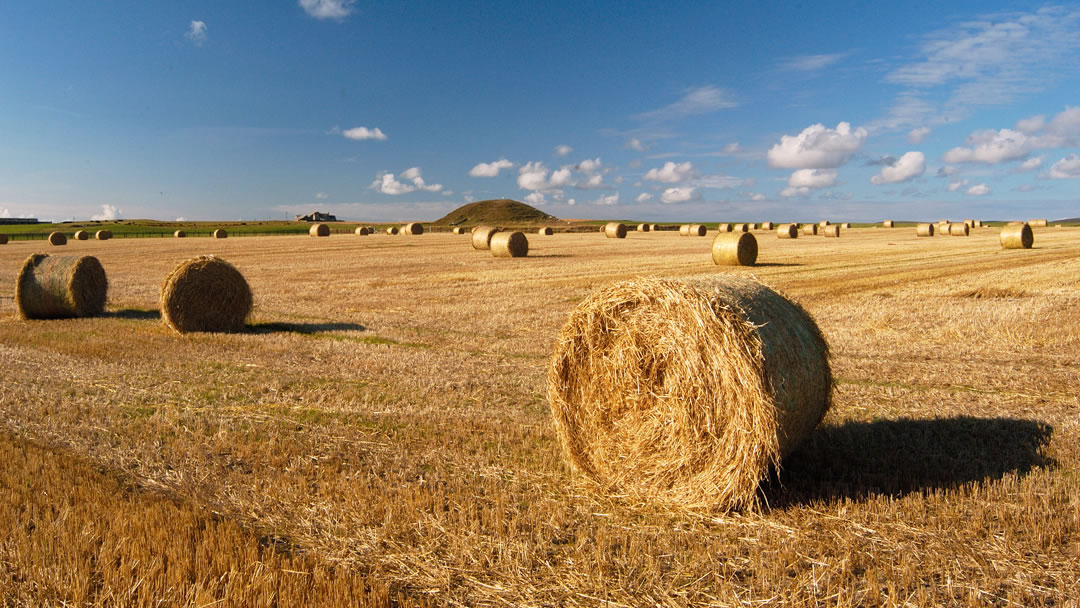 Maeshowe is an altogether different structure that stands from the surrounding flat farmland like a great green pimple. So prominent on the surrounding flat landscape, Maeshowe's impressive Neolithic chambered cairn and passage grave date to around 2,800 BC. Maeshowe is the largest and best-preserved example of a chambered cairn in Orkney. However, we opted to visit some of the smaller, less well-known chambered cairns as tickets to Maeshowe are sometimes as hard to get as the proverbial golden ticket.
We decided to visit Unstan Chambered Cairn, a few miles from Maes Howe and one of the few Orcadian cairns found to contain human remains.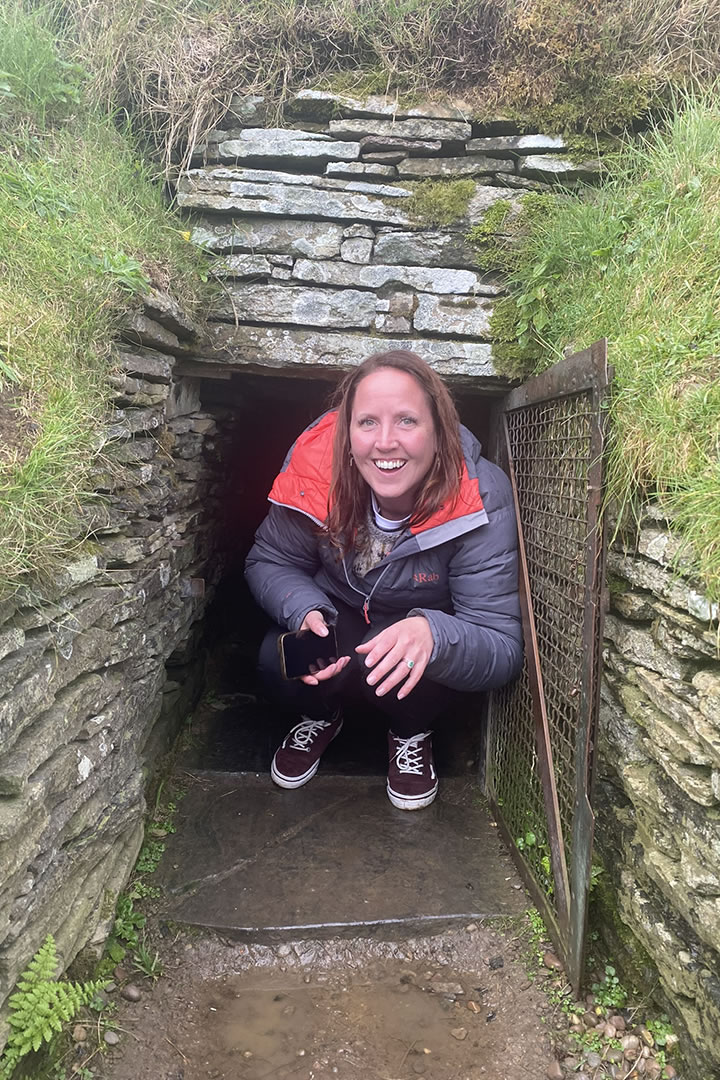 Afterwards, we walked up Cuween Hill to crawl into the tomb through the narrow 5-metre passageway. From here, we enjoyed fantastic views out to the islands of Grimbister and Damsay, islands that feature prominently in the later Viking sagas.
One of the benefits of visiting the cairns of Unstan and Cuween is that there are no admission fees and the sites are generally quieter as access is limited to cars only.
These great sites offered a tantalising glimpse into the life of Neolithic settlers some 5,000 years ago, and, although they continue to ask more questions than they answer, they certainly indicate that Orkney was an important centre of the Neolithic world.
Heading towards Tankerness and leaving the Heart of Neolithic Orkney behind, we visited Sheila Fleet's Kirk Gallery & Cafe, where an Orkney Platter filled our bellies, and Sheila's contagious passion and warmth filled our hearts.
Sheila has been creating Orkney-inspired jewellery for over 50 years. Her gallery and cafe offer a creative escape from the every day in the beautiful surrounds of the former parish kirk, lovingly renovated to mark the past and embrace the future.
Nods to the building's history are all around, and the kirk is still very much the centre of the community, with pews providing stylish seating, a central table holding 12 diners and the pulpit showcasing Sheila's collection of wedding and engagement rings.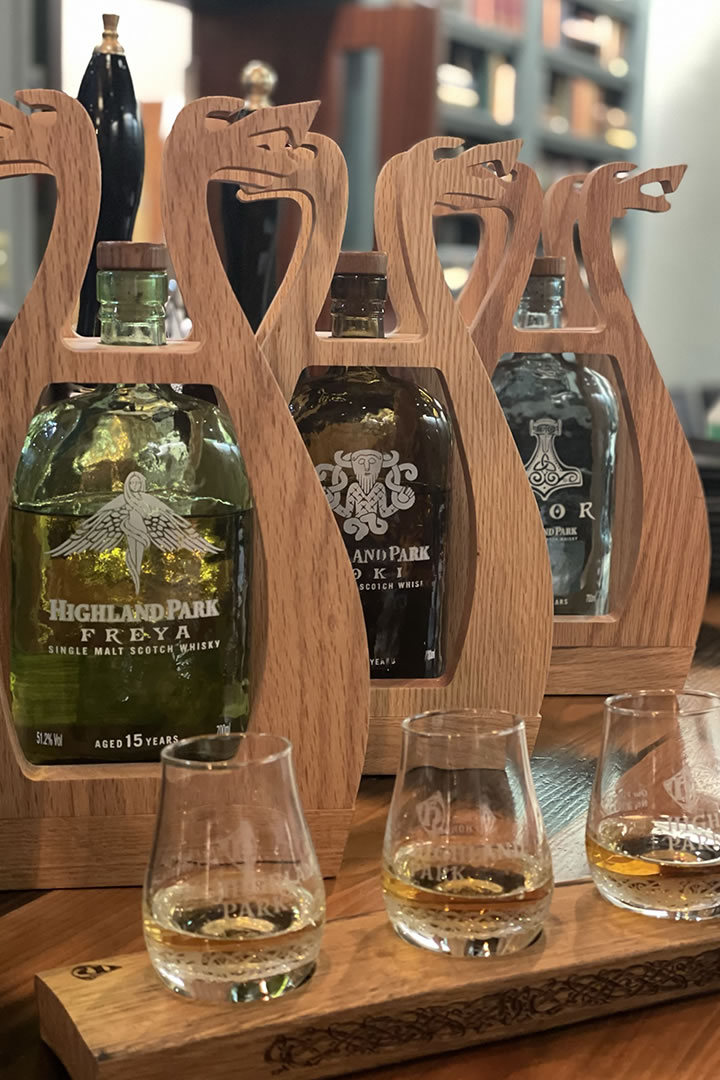 After an action-packed day, we were pleased to relax and unwind for an evening meal at Helgi's, where traditional pub collides with Viking past in a meeting of food and drink in the relaxing atmosphere of this little waterfront pub.
Following the Viking theme, we returned to our accommodation at the Kirkwall Hotel to sample Highland Park's Viking Legend series, including characters from Norse mythology; Thor, Loki, Freya and Odin. After these fiery legends, it was time for bed once more.
Read about my first day in Orkney!
Read about my third day in Orkney!
Pin it!