3 days in Orkney – Day Three
Laurie Goodlad, a travel writer and Shetlander spent three days in the Orkney Islands with her husband.
We arrived to a studio bathed in warm autumn light where Andrew expertly demonstrated how he throws bowls, jugs and pots. He made it look fiendishly easy – a testament to his skill born from a lifetime of working with clay.
On her first and second days she explored the Neolithic, Viking and wartime history of Orkney. On her third day, she visited many of the talented craft workers, took in some coastal scenery and sampled mouth-watering food and drink treats from Orkney. We hope her itinerary inspires your travels!
This blog post was written as part of a campaign with NorthLink Ferries and Destination Orkney, who manage Orkney.com – the go-to place for discovering more about the islands and all they offer.
Read about my first day in Orkney!
Read about my second day in Orkney!
---
Day Three
Day three and, surprisingly, without sore heads, it was time to hit the road again, this time to experience the best of Orkney's arts and crafts.
Our first stop was Fraser Anderson at Orkney Hand Crafted Furniture. Fraser started his business creating traditional straw-backed Orkney chairs following redundancy and, 19 years later, continues to go from strength to strength, driven by a deep love of this traditional craft. His passion for creating chairs, made in Orkney from start to finish, is infectious – so much so that we came away having ordered a unique chair to take home to Shetland.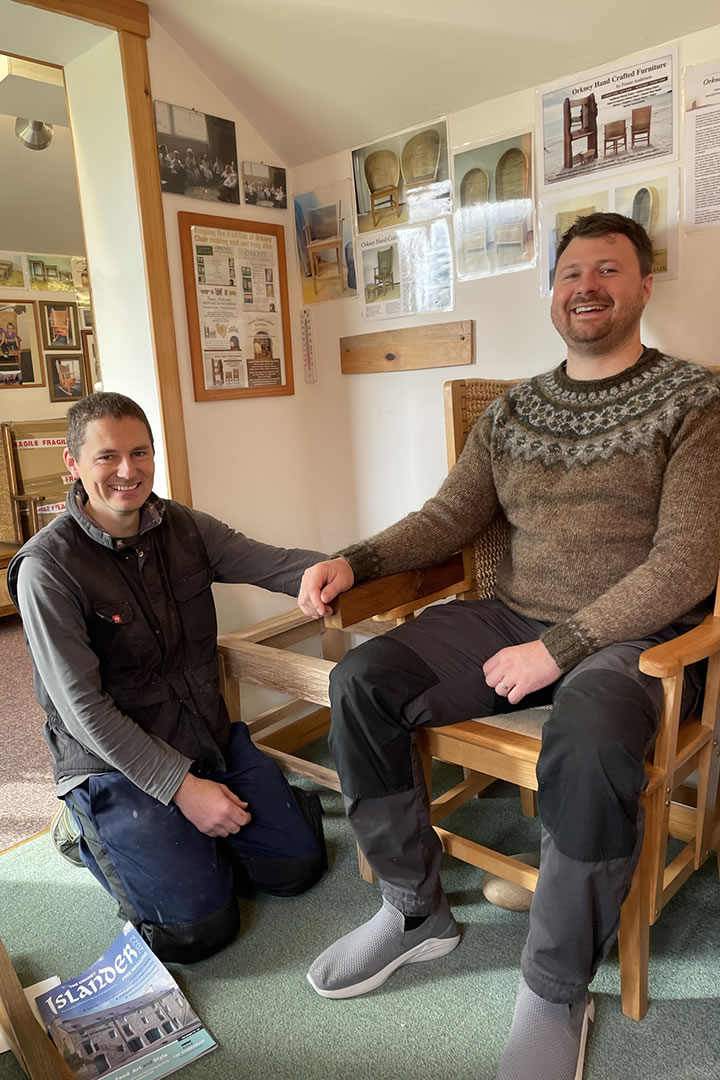 This tradition of creating iconic straw-backed chairs is synonymous with the island and reflects its rich heritage. For centuries, these were an integral part of the vernacular fabric of the home. Created using a wooden frame, the high-backed chair's defining feature is the handwoven oat-straw back constructed and teased into a curving shape by expert hands, offering snugness and warmth. The techniques involved in this process are highly skilled yet produce simple, functional, utilitarian furniture for everyday homes. The art of chairmaking is celebrated today for its unique design and incredible craftsmanship, but traditional chairmaking remains on the red list of endangered crafts.
After spending several hours with Fraser, my long-standing respect and admiration for the art of chairmaking has simply grown.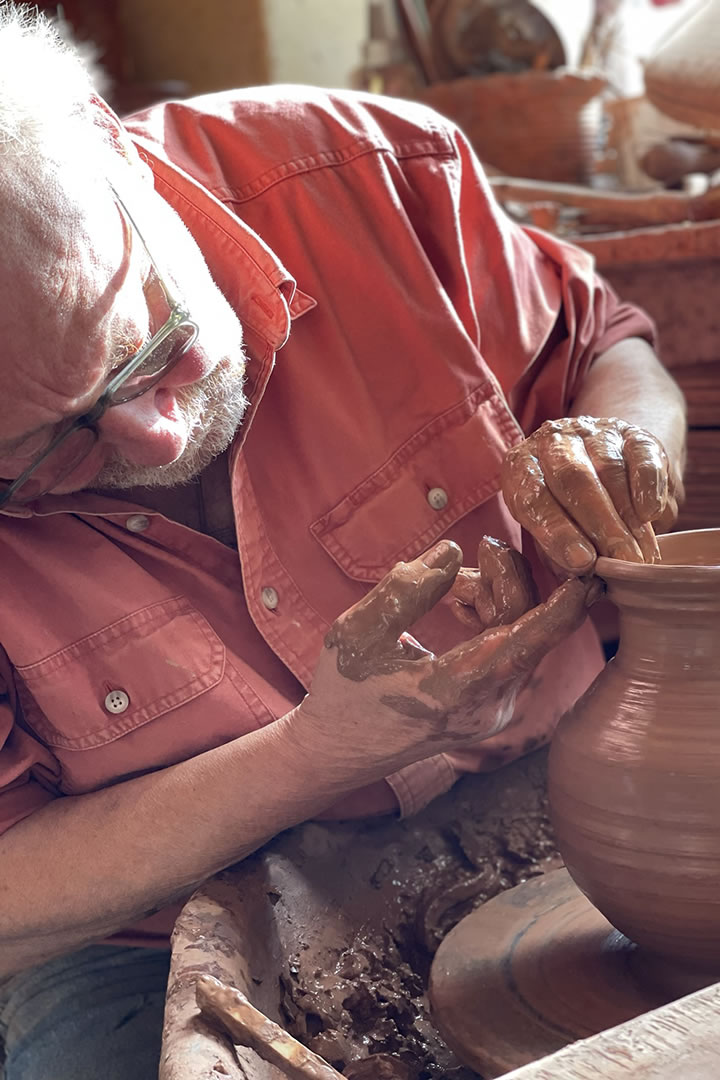 Hitting the road again, we headed 10 miles northwest to visit the studio and shop of the Harray Potter, where master potter Andrew Appleby works from the former school. We arrived to a studio bathed in warm autumn light where Andrew kindly agreed to throw a couple of pieces for us, and, in the space of a few minutes, he had expertly demonstrated how he throws bowls, jugs and pots. He made it look fiendishly easy – a testament to his skill born from a lifetime of working with clay.
No trip to this corner of Orkney would be complete without a trip to Eviedale Bakehouse's honesty bakery in the heart of Evie, which sells pastries, pizzas and – as we sampled – croissage rolls (think half croissant, half sausage roll, and mouthwateringly moreish).
Along the road towards Birsay, a pit stop at the Swannay Brewery was necessary to stock up on their signature award-winning beers.
Next we dropped in at the Yellowbird Gallery, where Jon Thompson showcases his incredible bronze birds, along with a selection of landscapes, bird paintings, prints and cards. His green bronze curlew stole my heart, but alas, I had to leave it in the gallery and add it to the memory bank of art that escaped my magpie-like grasps.
We then went a mile down the road to the incredible Barony Mill, Orkney's only working water mill, which has been making beremeal since 1873. There, miller Alister Harcus demonstrated the process of drying grain and turning it into their much-loved beremeal. Bere, an ancient form of barley tolerant to cooler climates and a short growing season, is perfect for the Northern Isles who grew it here for millennia. Barony Mill is the only remaining mill in the UK – possibly the world – that still produces traditional bere.
As we enjoyed tea and cake afterwards at Birsay Bay Tearoom overlooking Marwick Head and the Brough of Birsay, a tidal island containing a fascinating Viking site, accessible on either side of low tide, we made plans to do a couple of short walks to take in Orkney's beautiful seascapes and coastline.
Orkney itself is predominantly made up of layer-upon-layer of sandstone. This picture-perfect coastline was laid down millions of years ago during the Devonian period when Orkney was part of the freshwater Lake Orcadia. Today, the sheer cliffs, stacks and caves punctuating the western seaboard are a photographer and hiker's dream – particularly at sunset.
We hiked up to Marwick Head, an RSPB Nature Reserve, where a poignant tower – the Kitchener Memorial – commemorates the 737 men lost in 1916 when the HMS Hampshire hit a mine and sunk off the coast of Marwick Head. The ship was en route to Russia with Lord Kitchener, best known for his wartime recruitment posters, on board. There were only 12 survivors from this tragedy, with many of the victims now at rest in Hoy's Lyness Royal Naval Cemetery.
Finally, and with the sun low in the sky, we went to the famous Yesnaby Cliffs, where, with views across to the Old Man of Hoy, you can sit and watch as rolling waves come crashing in off the Atlantic.
Travelling back to Shetland on the boat at 11 pm, we had time for a final supper before checking in with NorthLink at Hatston Pier. We dined at the Lynnfield Hotel, where Malcolm and his team have created a menu which is a real celebration of Orcadian food and drink. Tucking into a fresh seafood platter, followed by North Ronaldsay lamb and a selection of Orkney cheeses, all washed down with (several) Orcadian gins, we reflected on our trip and how incredible it had been.
Orkney may only be a small island straddled between Shetland and Scotland, but it knows how to pack a punch; with world-famous archaeology, outstanding hospitality, show-stopping crafts and a food scene that would rival any hip and modern city, the people are welcoming and generous with their time and knowledge.
Perhaps it's an island thing, but I felt at home and humbled by the warmth and community we encountered; I only wish we'd had longer.
Read about my first day in Orkney!
Read about my second day in Orkney!
Pin it!