Why Orkney is a great holiday destination for children
Orkney is a brilliant holiday destination for families with children. These northern islands offer a natural and safe landscape, with a unique heritage, fascinating history, wildlife everywhere you turn, sunny days and delicious food and drink.
Your children will love an Orkney holiday, one that is unique, safe and full of lasting memories and one that begins and ends with an adventure in itself.
At NorthLink Ferries we think Orkney is a brilliant place to take children and here are a few reasons why!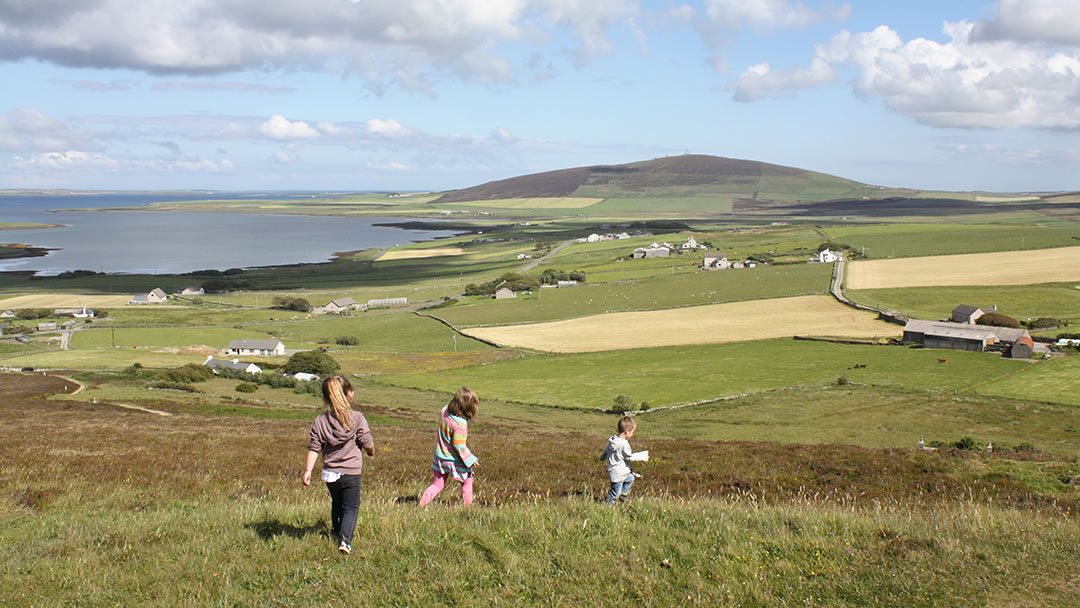 Run wild and free!
The 2015 Halifax Children's Quality of Life table ranked Orkney as the best place in the UK to bring up children. There's a number of reasons: small primary school classes and high school spending per pupil amongst them, but for visiting children the main reason will be safety to roam. There's a low crime rate and little traffic.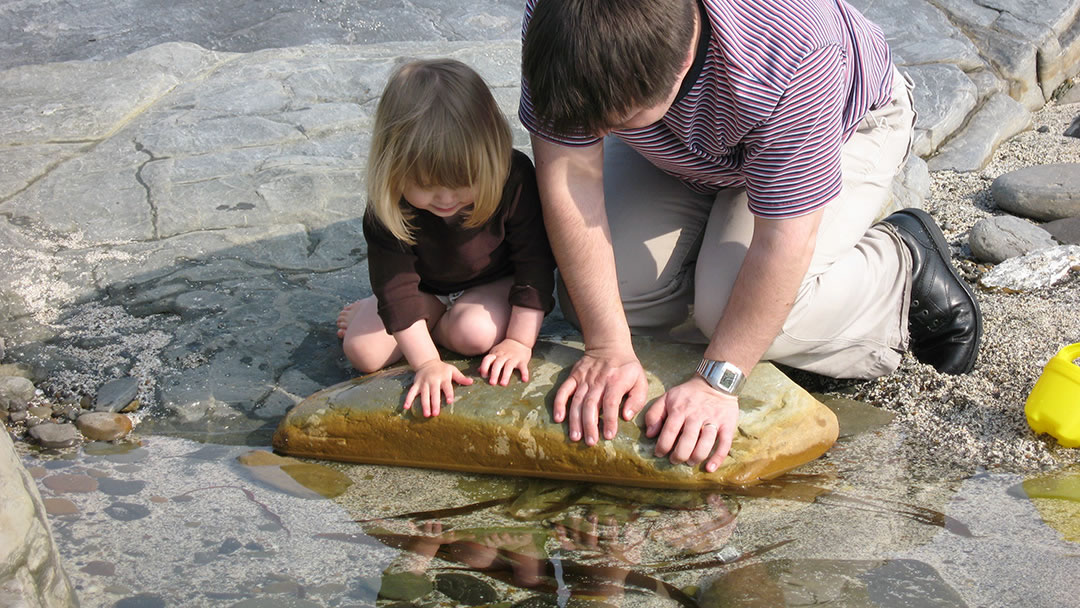 There are plenty of beautiful beaches to play on, where children can hunt for hermit crabs in the rockpools, make sandcastles, spot seals watching them from the water, and try to find an elusive groatie buckie shell (keep one in your purse and you'll never be poor!)
Orkney's main industry is agriculture, so children will delight in seeing fields full of sheep, cows and horses. There are farm museums where you can see how farms were run in the past – children will be enthralled by the sheep, hens and geese raming around! If you arrive early in August, you can go to an Agricultural Shows where children can see prize animals and climb onboard and 'drive' (stationary) tractors!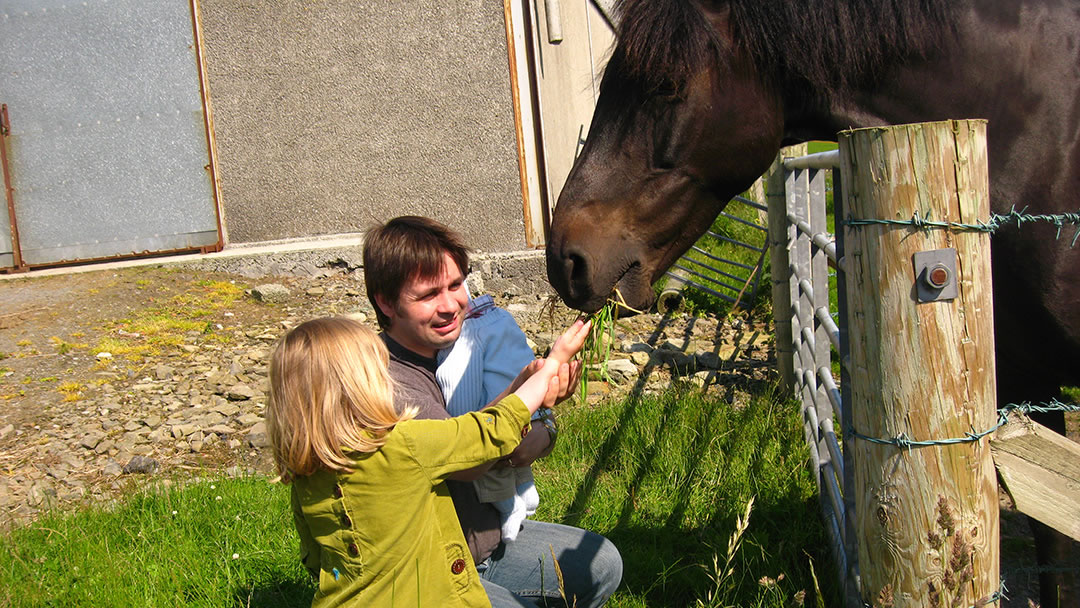 Finally, children will love seeing nature on their doorstep as they explore Orkney. They'll see seals basking on quiet shores, rabbits and hares running in the fields, swans and ducks on the lochs and they'll hear the haunting calls of birds through the air on the long summer nights. There will be unique experiences they'll not find elsewhere, such as watching the fishing boats in Stromness harbour or exploring a lighthouse! Your children will love running wild in Orkney and will come back with memories of brilliant moments when they came face to face with nature.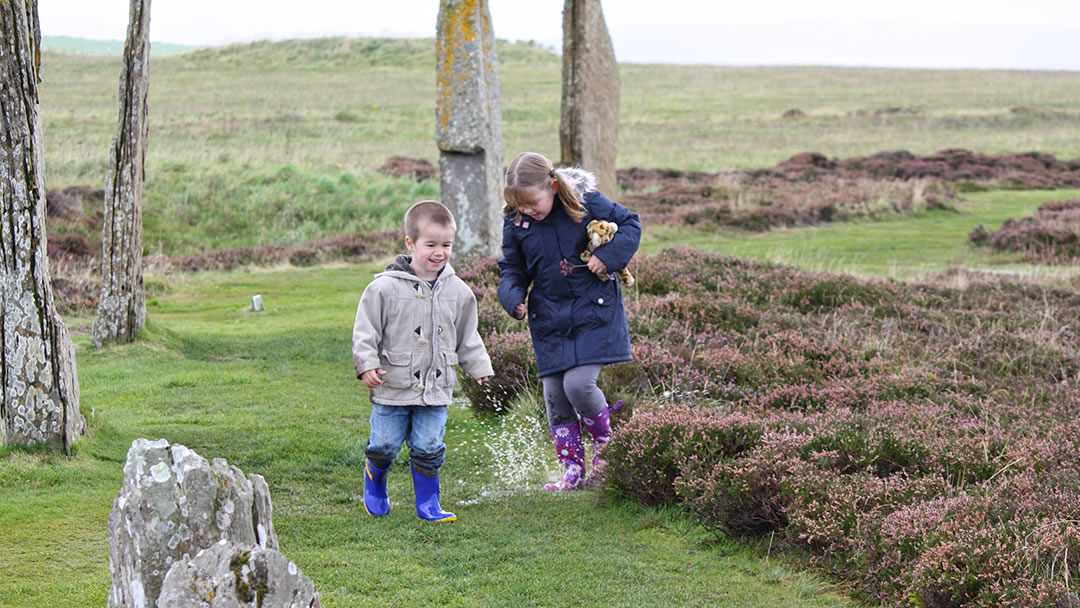 Get hands-on with History
Everywhere you go in Orkney history is visible in quite a dramatic way! Take children to the Ring of Brodgar (pictured above) and they'll enjoy wandering around and imagining what these Standing Stones were placed here for. The Neolithic village of Skara Brae is so well preserved that it's easy to imagine what life must have been like 5000 years ago – children will easily identify the beds, dressers and fireplaces here. In the Neolithic burial chamber of Maeshowe children will enjoy making out the drawings of dragons on the walls carved by Vikings! They will feel like real explorers entering the smaller burial chambers such as Unstane Cairn or the Dwarfie Stane with their torches! The Tomb of the Eagles is particularly popular – you must enter by lying flat on a trolley which is wheeled inside!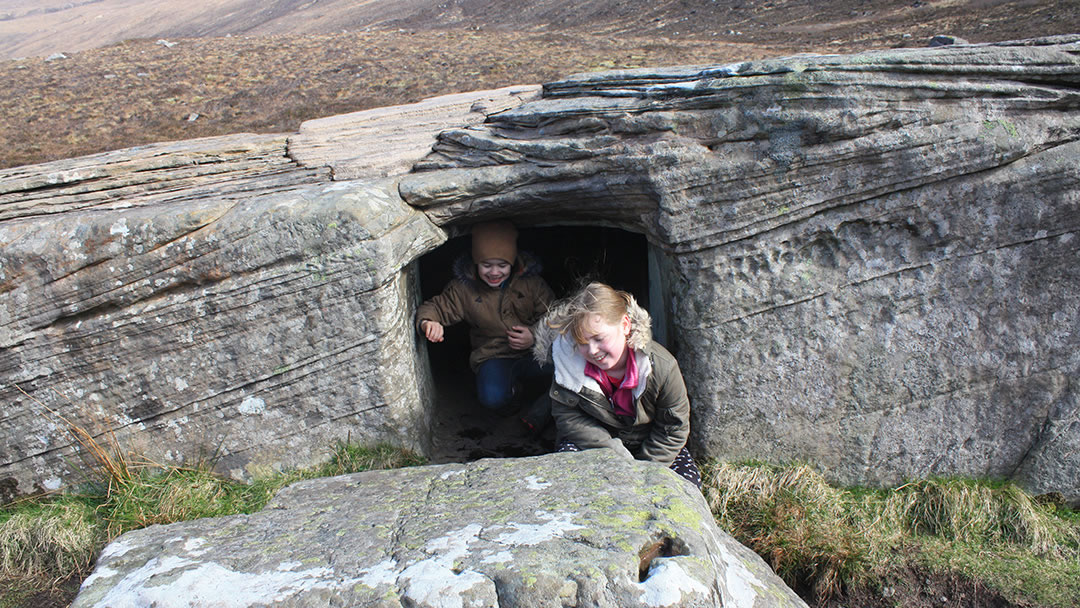 Orkney is rich with archaeological sites, but also has a fabulous tradition of folklore that was used to explain these mysterious objects. Children will delight in tales of giants (standing stones), trowies (trolls who lived in neolithic tombs) and selkies (seals that turn into people!)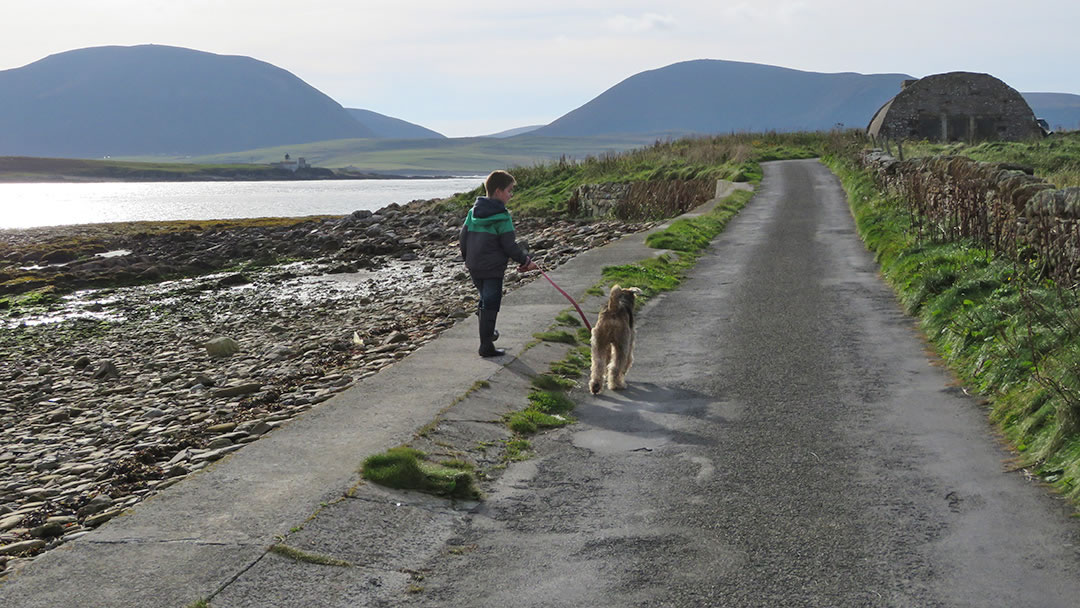 Wartime history is visible through the Orkney islands, and searchlights and gun emplacements are still visible on a shoreside walk, such as along the West shore of Stromness (pictured above).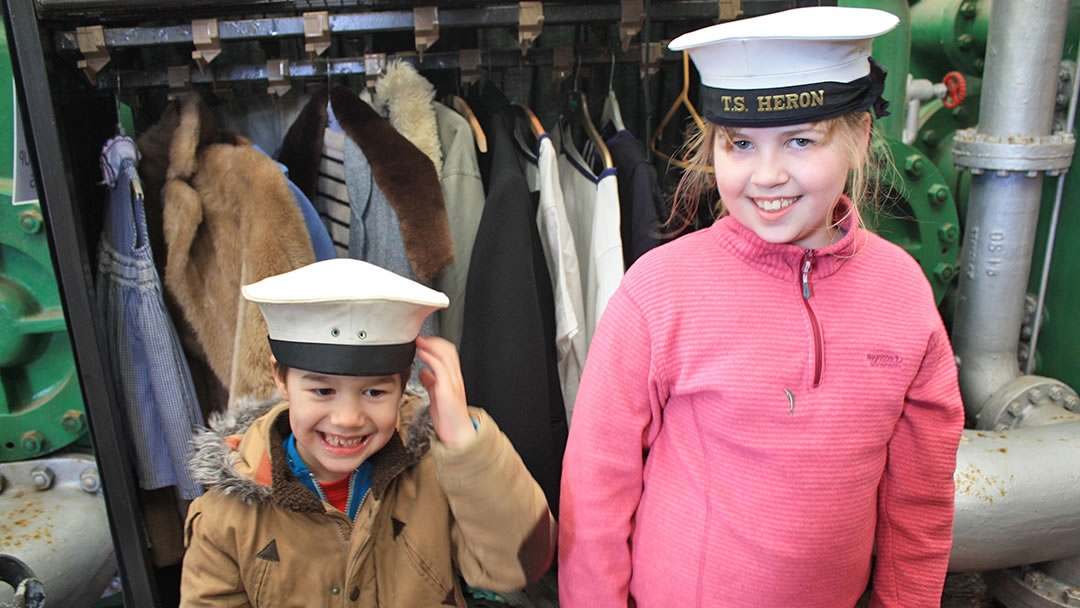 Take a trip into Stromness Museum or to the Scapa Flow Museum on Hoy and you'll find torpedoes and artefacts from the sunken German Fleet as well as dress-up boxes which will bring history alive!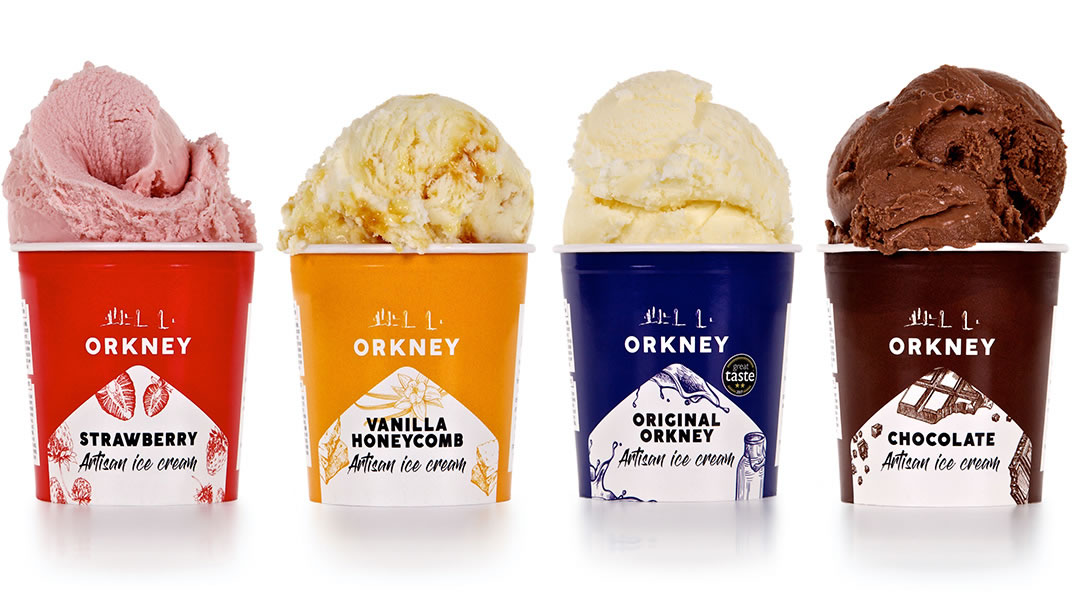 Delicious food and drink
Most parents will agree that it's sometimes hard to get children to eat the food that's best for them. However, in Orkney, the food producers specialise in delicious fresh food that your children will love too!
Cows in Orkney eat from the freshest unpolluted grass near the sea and their milk tastes delicious as a result. Orkney Cheese is creamy and tangy and children will love a slice in their sandwich or on an oatcake.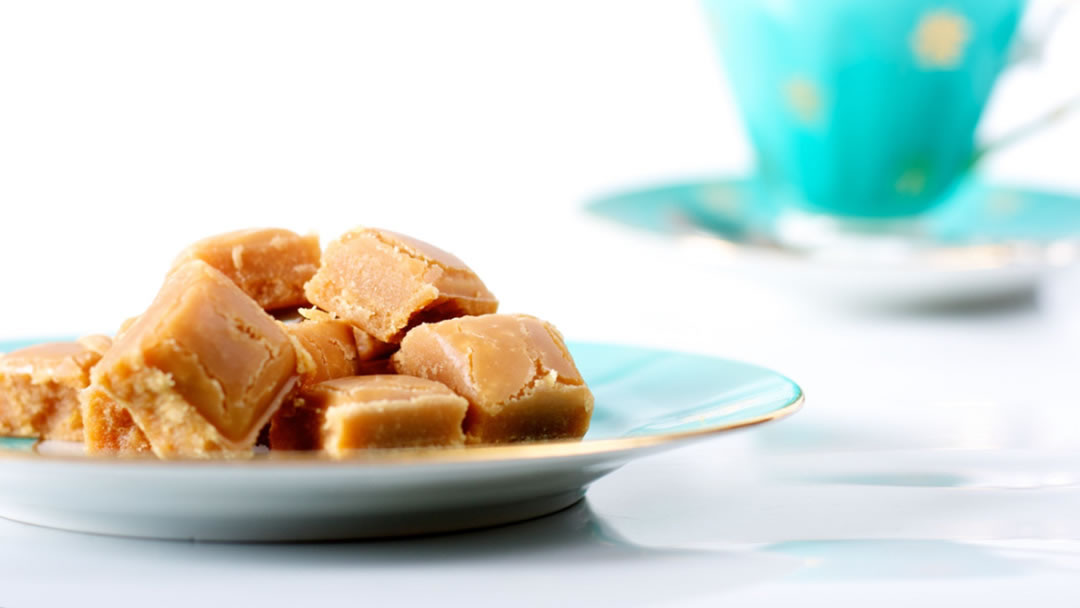 Orkney Beef is also well known to be some of the finest meat in the country – try a sausage or a steak and taste the difference. If fish and chips sound like a great treat for the family, you'll enjoy some of the freshest fish you could have in Orkney! All this, and we haven't mentioned amazing Orkney Ice Cream or Orkney Fudge yet!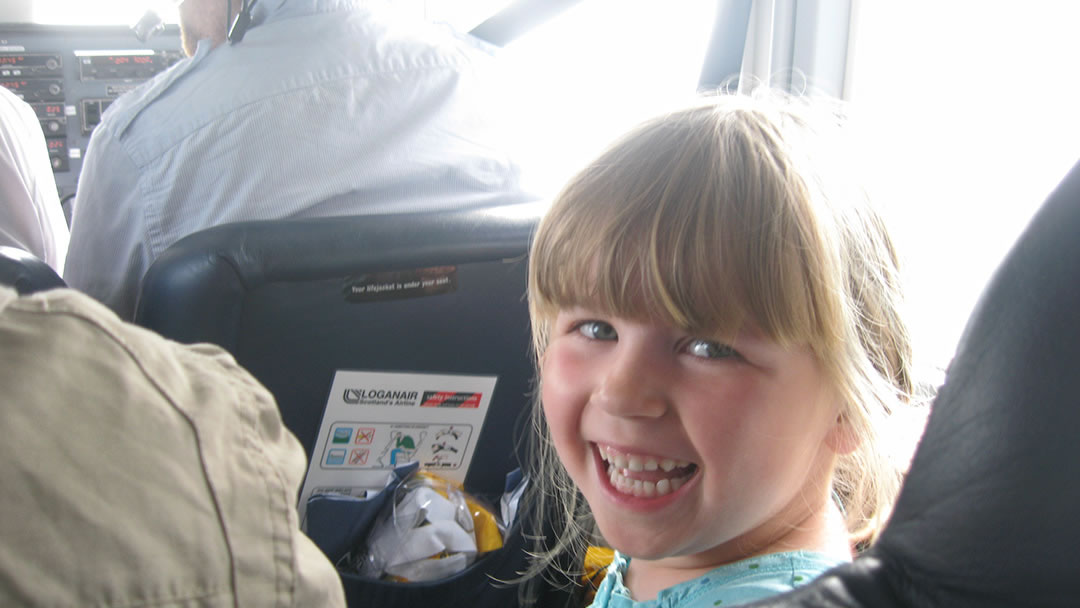 Explore an Island
For a different taste of Orkney, why not go on an island adventure? A day trip to an island will go down a treat with your children! A particular highlight may be taking a small 8 seater Islander aeroplane to your island destination!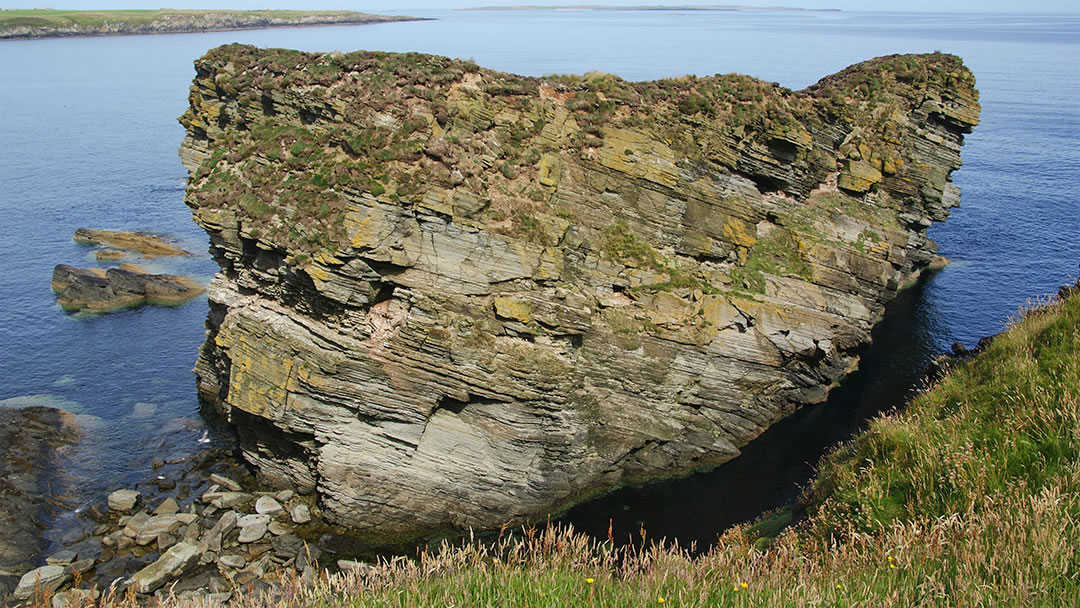 Why not visit the Island of Westray and explore two castles – one of the medieval variety – Noltland Castle – where imaginations can run riot around the ramparts – and one a seastack – the Castle of Burrian (pictured above) – which is noted as being the best place in Orkney to see puffins! Please be careful next to cliffs though, even low ones like those found here.
Alternatively you could visit Rousay, known as 'Egypt of the North' because of the many small tombs to explore. The 14-mile long circular road runs around the coast of the island, making Rousay a great island for older children to cycle around in a day.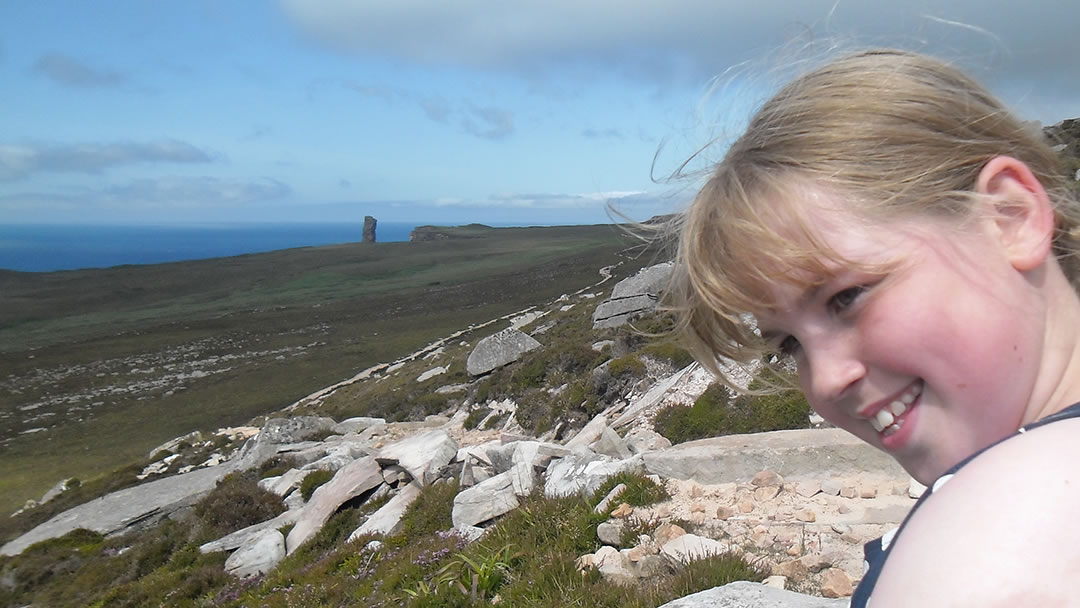 Hoy is also a brilliant island to take your bike, via the foot passenger ferry at Moaness. There are sometimes sea eagles nesting in the hilltops of Hoy, and Rackwick beach is a brilliant picnic stop. Older children will enjoy a walk to the Old Man of Hoy (pictured above), which featured briefly in 2016's The BFG directed by Steven Spielberg.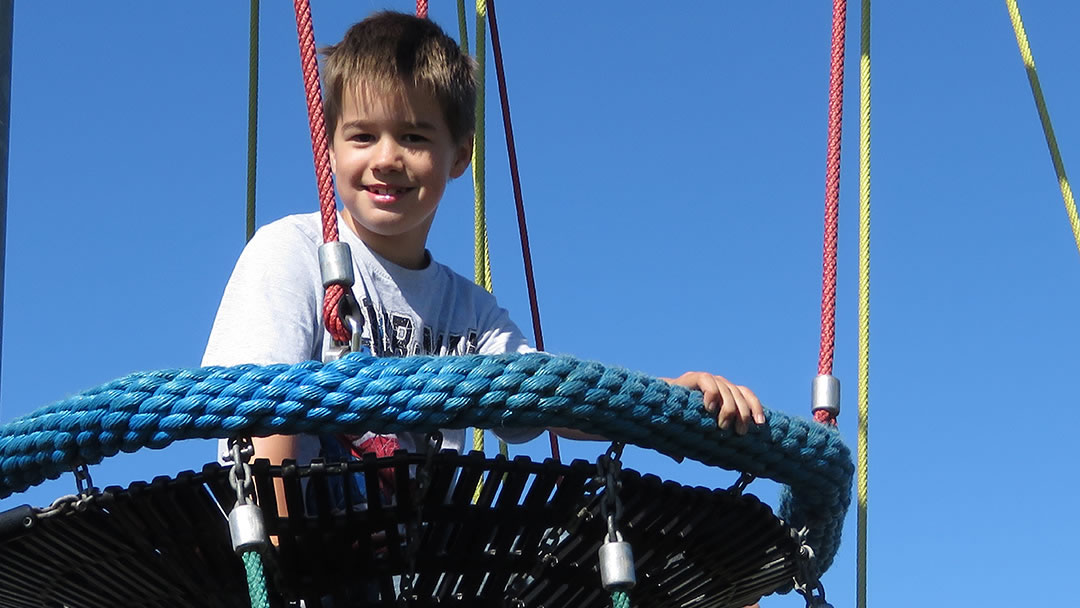 Come face to face with wild creatures!
There are some simply fantastic places to take children in Orkney if they love animals.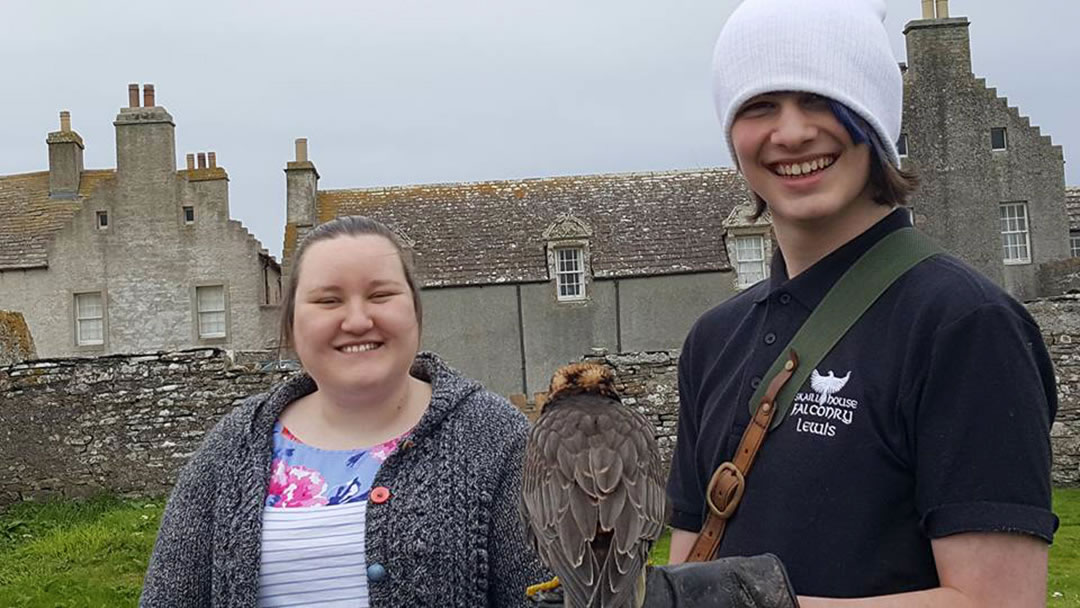 Skaill House Falconry offers a personal falconry experience run by Keith and Andrea Austen and their son Lewis in the grounds of Skaill House next to Skara Brae. Adults and children alike will be delighted by the flying display and will also get a chance to hold birds including lanner falcons, harris hawks and owls.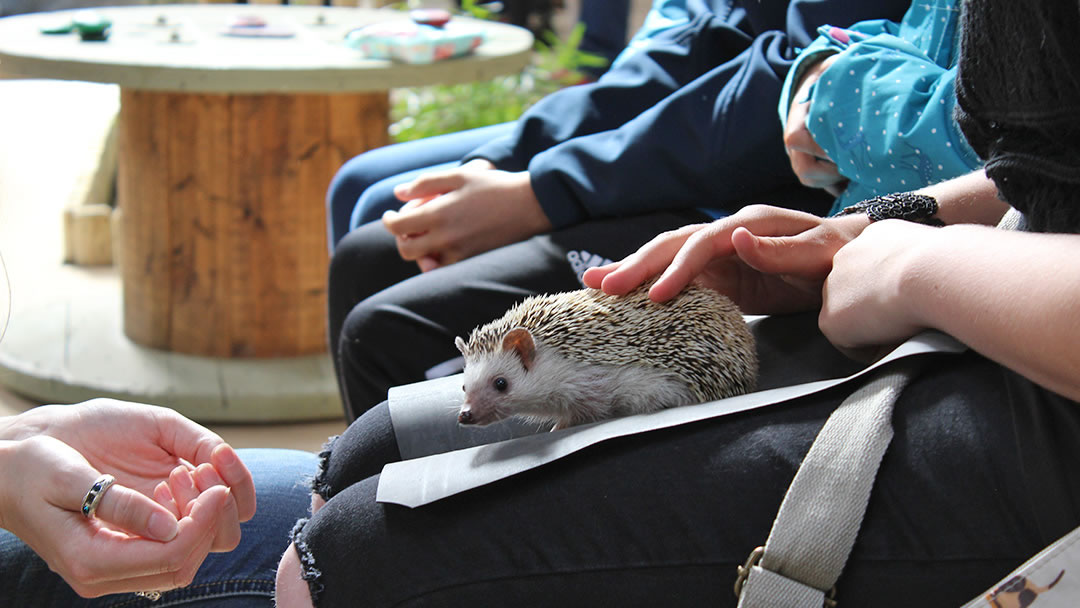 The Fern Valley Wildlife Centre in Rendall offers a loving home for exotic rescue animals. You can see amazing creatures such as African Pygmy Hedgehogs, Meerkats and Raccoon dogs up close, and Fern Valley also holds regular handling sessions. Make sure you don't leave without trying a mouth-watering treat in their tearoom, which has a vegetarian, organic menu!
There's much more to see with children in Orkney
If the weather's poor there's still plenty to see and do in Orkney with children. There are some great swimming pools to visit. As well as smaller pools in the isles, there are two big pools on the Mainland of Orkney – the Stromness Swimming Pool and the Pickaquoy Centre Pool in Kirkwall. Both have fun sessions for kids, and both are particularly good for entertaining young children. The Pickaquoy Centre also has a soft play area which younger children will love!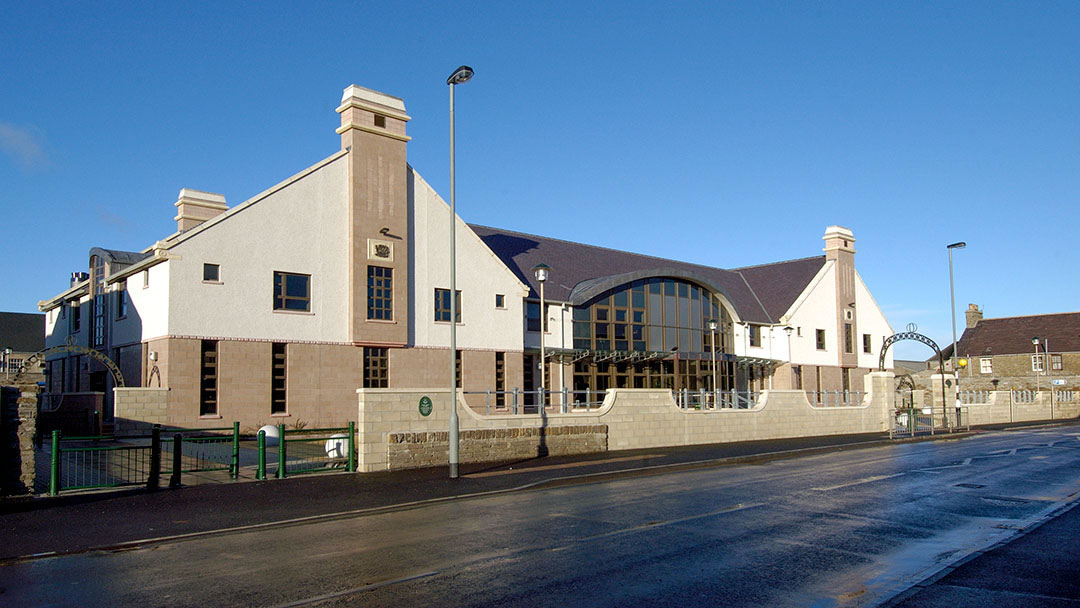 Stromness and Kirkwall both have super libraries, with well-stocked children's sections. Creative children can paint and decorate their own pottery at Aal Fired Up in Kirkwall, and at the Shorelines gallery in Finstown, visitors can use stamps and fabric paint to print onto their own canvas bags and more.
There are many fine playparks around Orkney, many of them located beside community schools, which you are welcome to use outwith school opening hours. We'd also highly recommend the St Margaret's Hope playpark, the Summerdale playpark in Kirkwall and the Southend playpark in Stromness.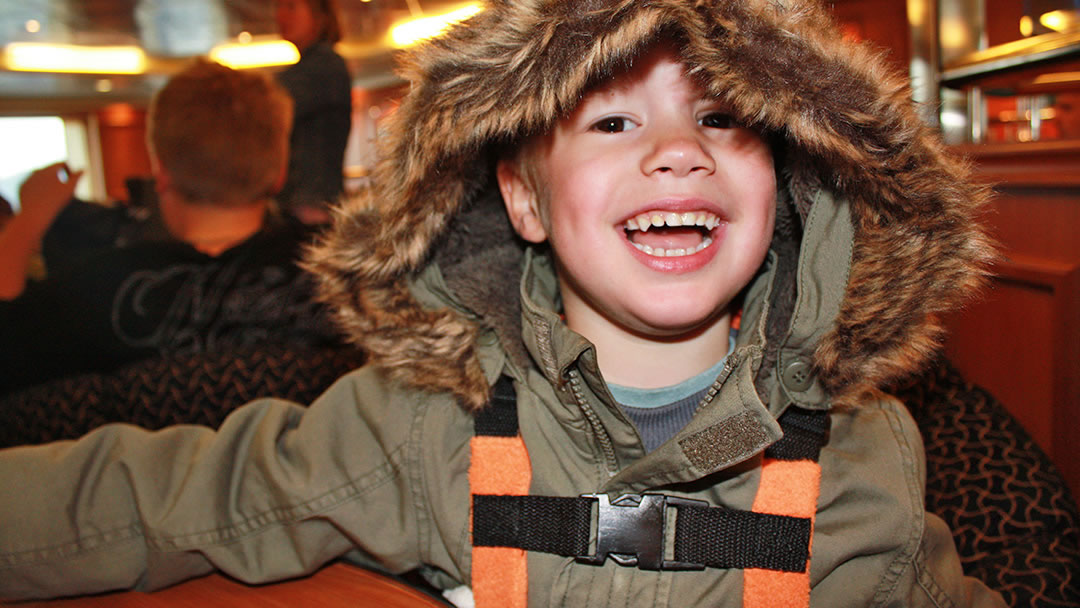 Your children will love an Orkney holiday, one that is unique, safe and full of lasting memories and one that begins and ends with an adventure in itself – a trip on a ferry! We look forward to welcoming you and your family onboard soon!

By
Magnus Dixon
Orkney and Shetland enthusiast, family man, loves walks, likes animals, terrible at sports, dire taste in music, adores audiobooks and films, eats a little too much for his own good.
Pin it!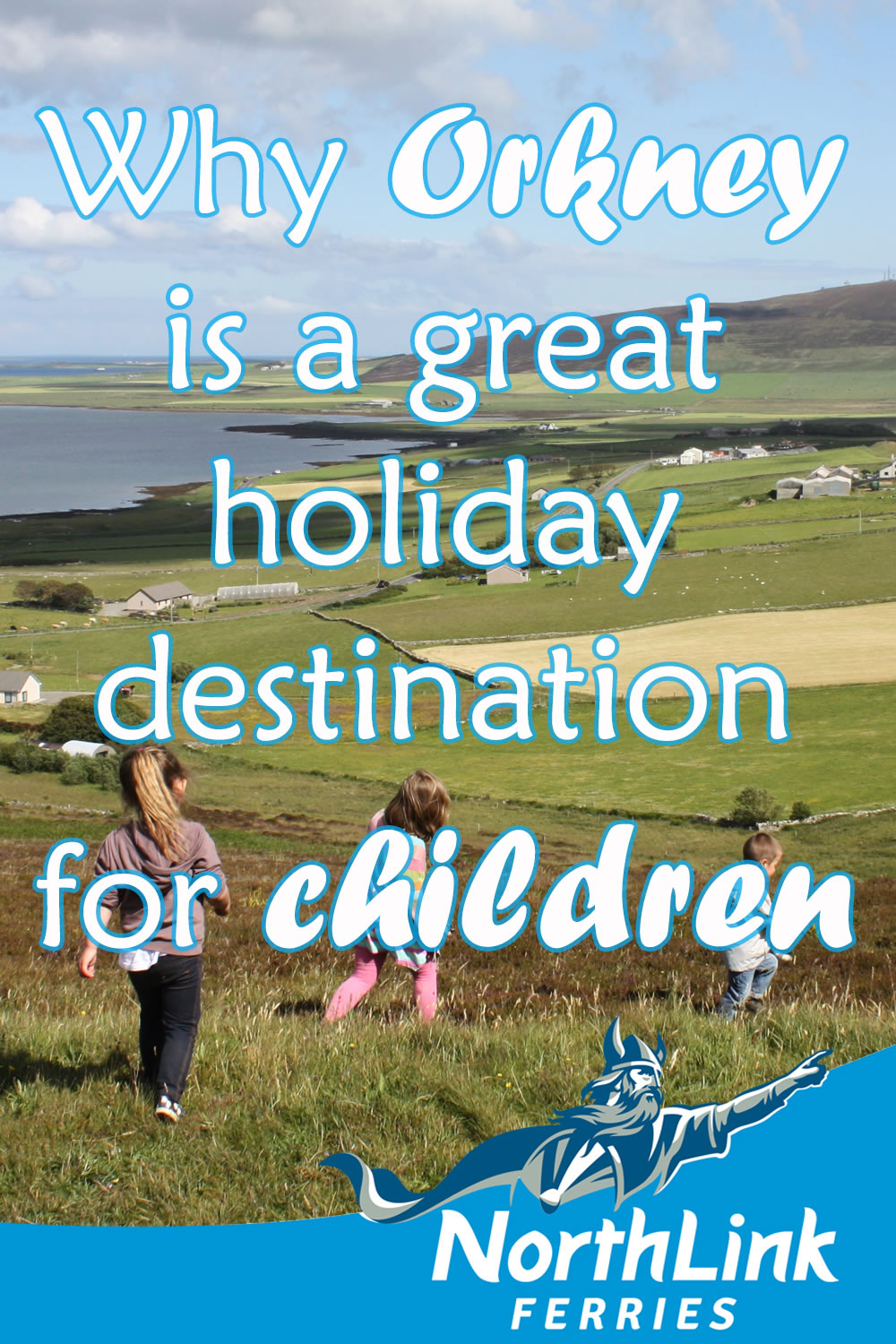 Header image: Children on the Dwarfie Stane photo © Copyright Victoria Dixon