Robin McKelvie in Shetland: Losing your heart to Yell
"Is that the boggy one?" asked one of my London-based travel writing colleagues. I conceded that the majority of Yell, Shetland's second largest island, one of the 'North Isles', is indeed largely made up of quite glorious bog. But also pointed out that this remarkable island teems with wildlife as the 'Otter Capital of Britain', boasts the kind of sweeping white sand beach you lose your heart to and swims in layers of history. He went. And I'll tell you what he thought at the end of this blog.
I recommend West Sandwick, a lovely wedge of clean sand, backed by sand dunes that peers out across the water to rugged hills across on the Shetland Mainland. Once when I was here an otter popped up making his way from the water towards the quiet road behind me.
I love Yell: bogs and all. Indeed those bogs are spectacular, giving Yell a striking landscape of bog, big blue sky and sweeping blue sea that merges into a binary collage. Driving, cycling or walking around the 83 square miles of Yell is hypnotic: like exploring a sodden dessert that plays tricks on your eyes as it stretches off into the middle distance. And beyond.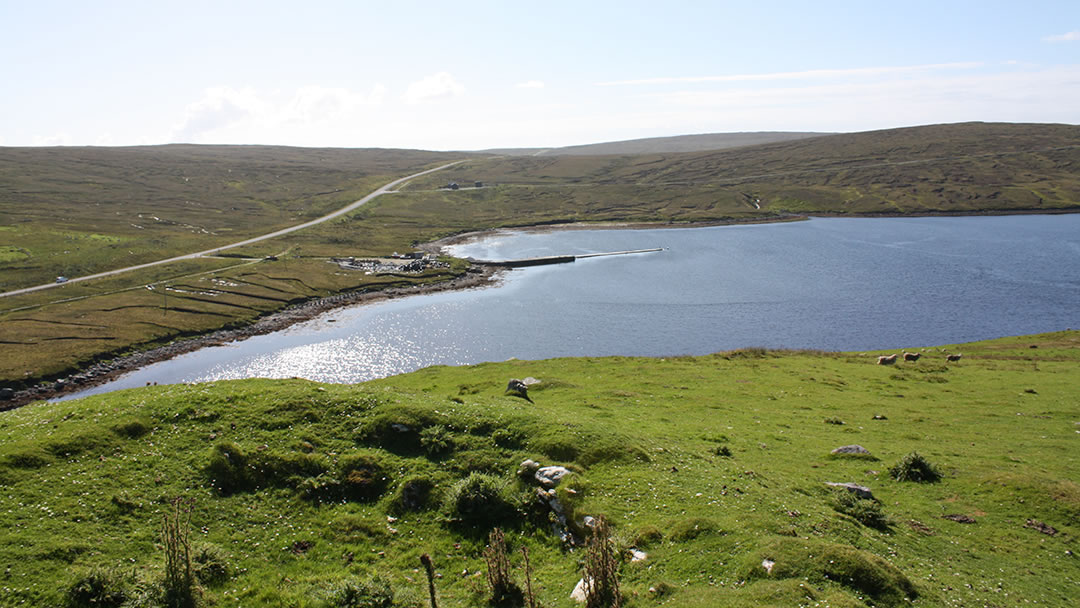 You have, of course, to be very vigilant on Yell – you don't want to miss anything. On my most recent visit I nearly fell out of my seat on the ferry when my seabird spotting was interrupted by an orca working his way through Yell Sound. You don't see many people around Yell, but there is wildlife aplenty. I love that you can find both the Great Skua – known locally as the bonxie – and also the sleeker Arctic Skua here.
I once came to Yell on a birding cruise around Scotland. Here we quickly switched from our furry friends to our even furrier friends. My guide has been a great friend of the legendary Shetland naturalist, musician, author and larger than life bon vivant Bobby Tulloch. He was the RSPB representative on Yell and a huge fan and expert when it came to otters.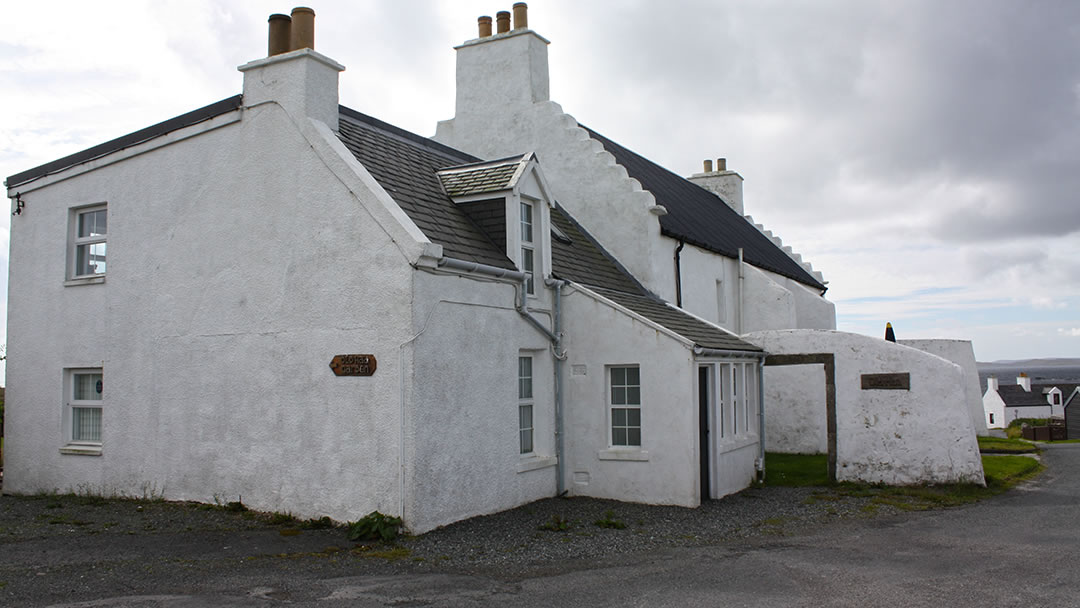 Bobby's tireless and pioneering work is celebrated at the Old Haa of Burravoe, including his sighting, research and photography of the rare Fetlar Snowy Owl. The Old Haa is a heritage centre that is fittingly located in Yell's oldest building (a merchant's house dating back to 1692) in Burravoe. It takes a deep dive into the island's story through, photographs, documents and exhibits, shedding light on natural history and the many ships (and the tragic Catalina plane that crashed on Yell) that have got into trouble here, plus the whaling years. I like spending proper time here and chatting to the staff in the tearoom.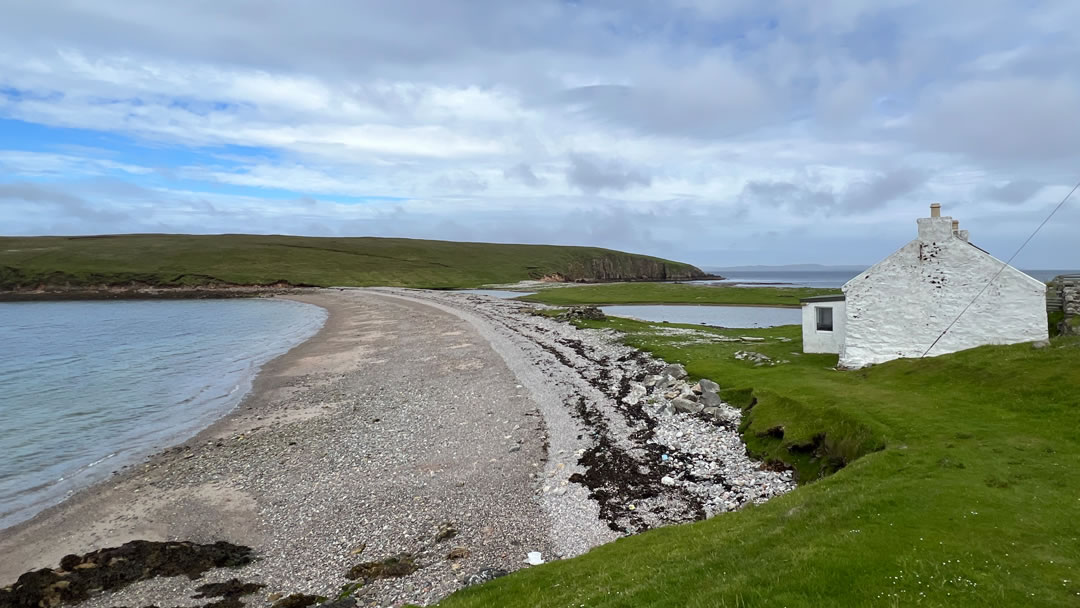 Mother Nature dominates on Yell, but mankind has made its imprint too. This is an island that has been inhabited since Neolithic times and there are a dozen broch sites. The Vikings were frequent visitors too, eventually settling where they had previously just raided. Moving through the centuries, Burravoe emerged as an important Hanseatic trading outpost. Ships would bustle in from Norway, the Baltics and the Low Countries.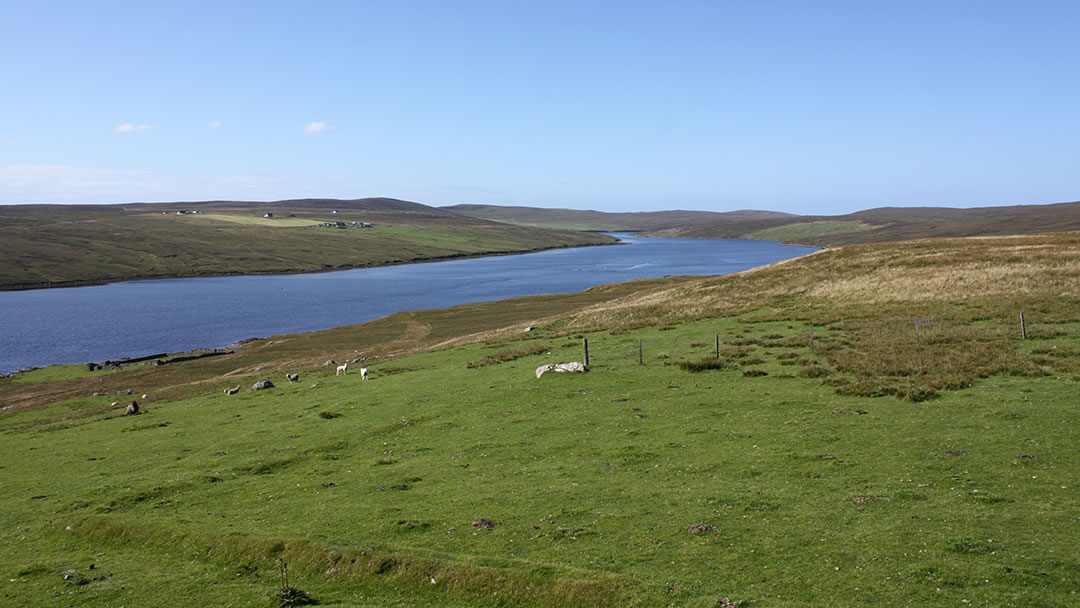 In the twentieth century fishing become an economic driver, though its influence has receded today. There has been talk of German U-Boat captains steering their vessels into isolated Yell coves to shelter from rough weather. It isn't as farfetched as it sounds as in recent years there have been reports from Germany than U-Boats did indeed not only use Whale Firth, but pilfered sheep to eat too. In 2014 Yell made headlines for pioneering the world's first community-owned tidal power generator right here in Bluemull Sound in Yell's north.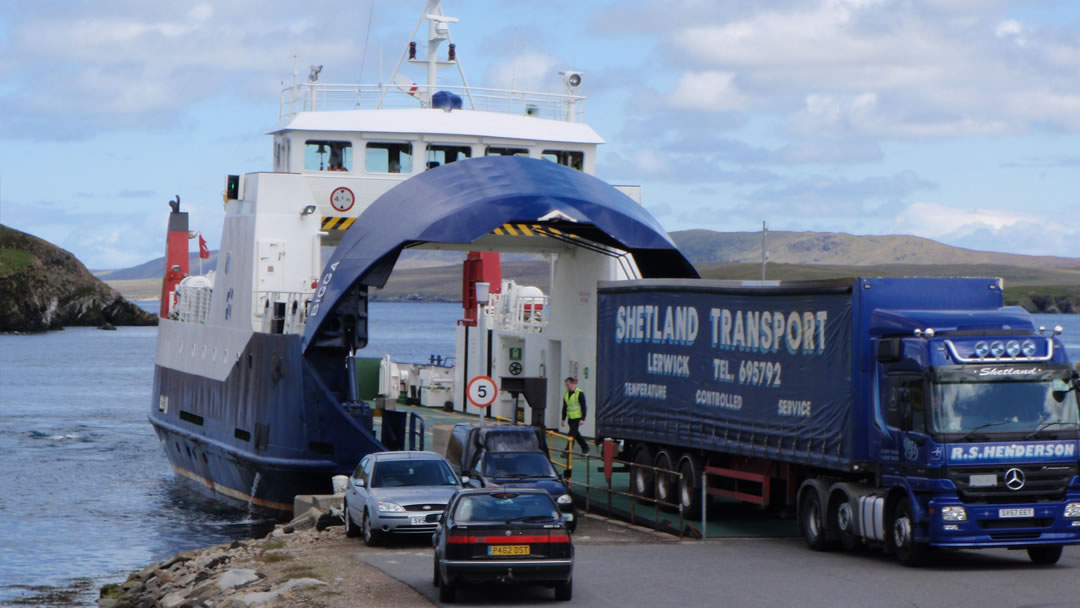 Today Yell is really easy to get to. On my most recent visit I rolled off the Northlink Ferries' ship in Lerwick after a lovely breakfast and was soon on another ferry, a quick hop from the Shetland mainland across to Ulsta on Yell. The island is also a handy base for exploring the neighbouring islands. Indeed if you want to get to Unst or Feltar – both brilliant islands in their own right – you have to pass through Yell. So I would recommend Yell as a great base.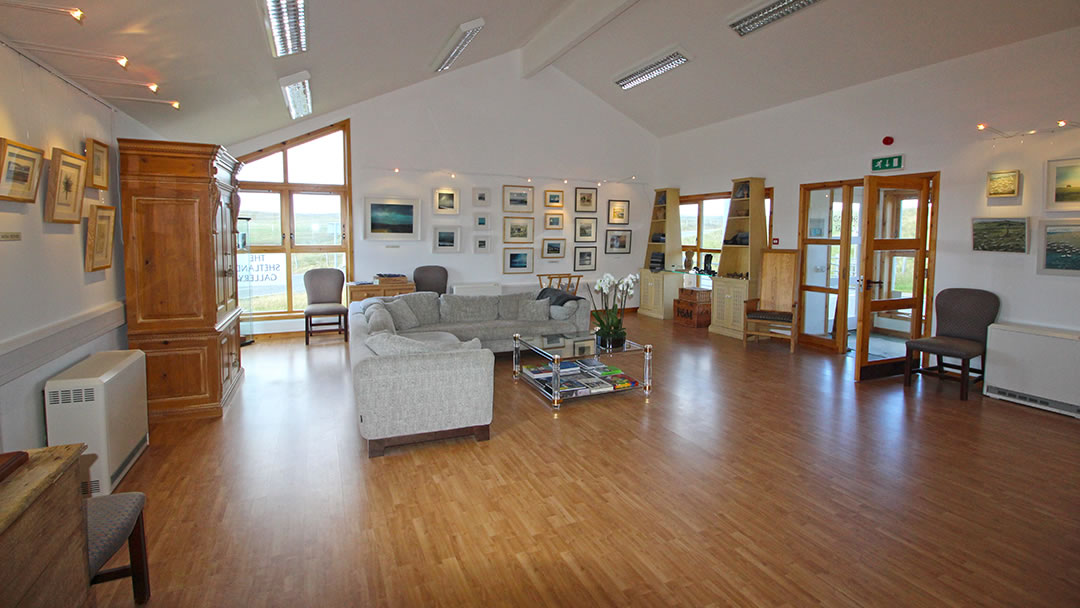 One place I always visit, even if I am just passing through en route to Unst or Feltar, is The Shetland Gallery at Sellafirth. The UK's most northerly gallery features the works of myriad artistic talents from right across Shetland. I love that there seems to be different artists exhibiting every time I pop in, but also that there is always work from my childhood friend – and quite brilliant landscape artist – Ruth Brownlee. You can read the blog I wrote for NorthLink Ferries about Ruth Brownlee and her remarkable work here.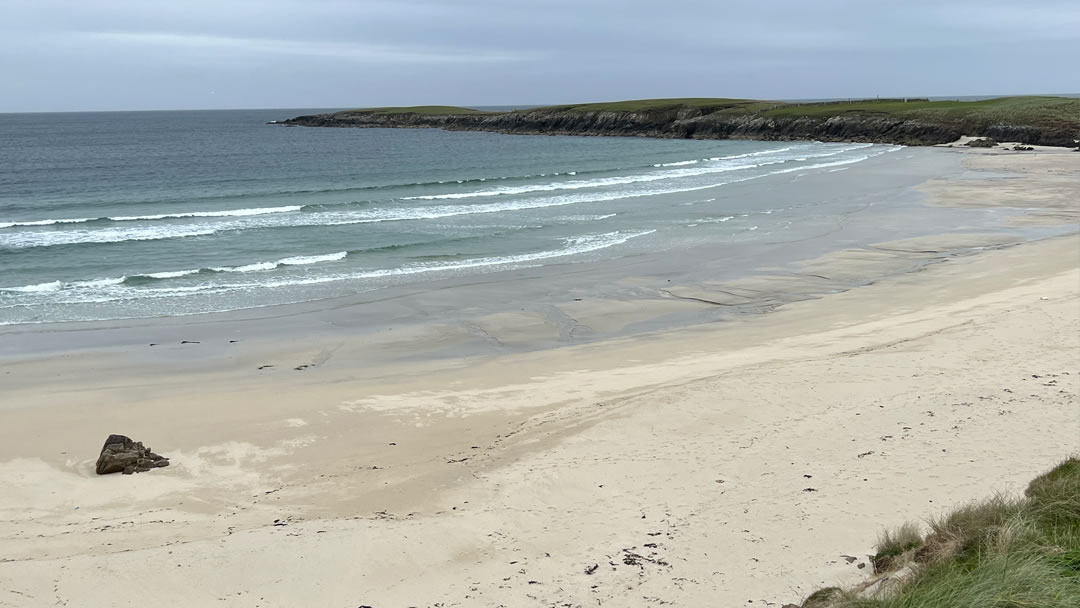 I have a whole sweep of favourite spots on Yell. I am always struck by the spectacular tombolos and wide beaches. I recommend West Sandwick, a lovely wedge of clean sand, backed by sand dunes that peers out across the water to rugged hills across on the Shetland Mainland.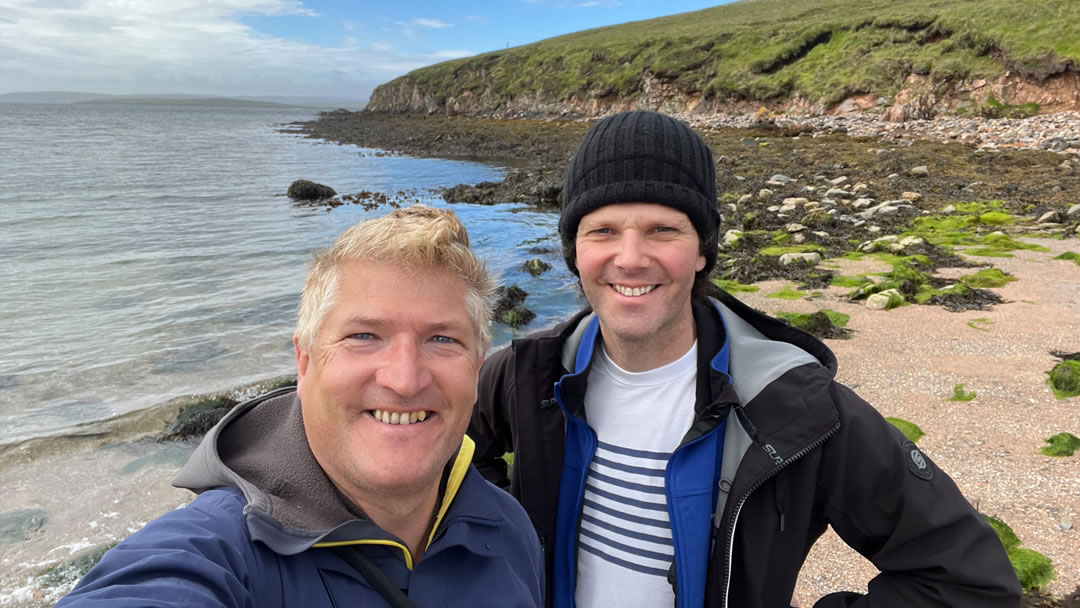 Once when I was here an otter popped up making his way from the water towards the quiet road behind me. I hadn't realised they have to seek fresh water to rebalance their natural waterproof attributes.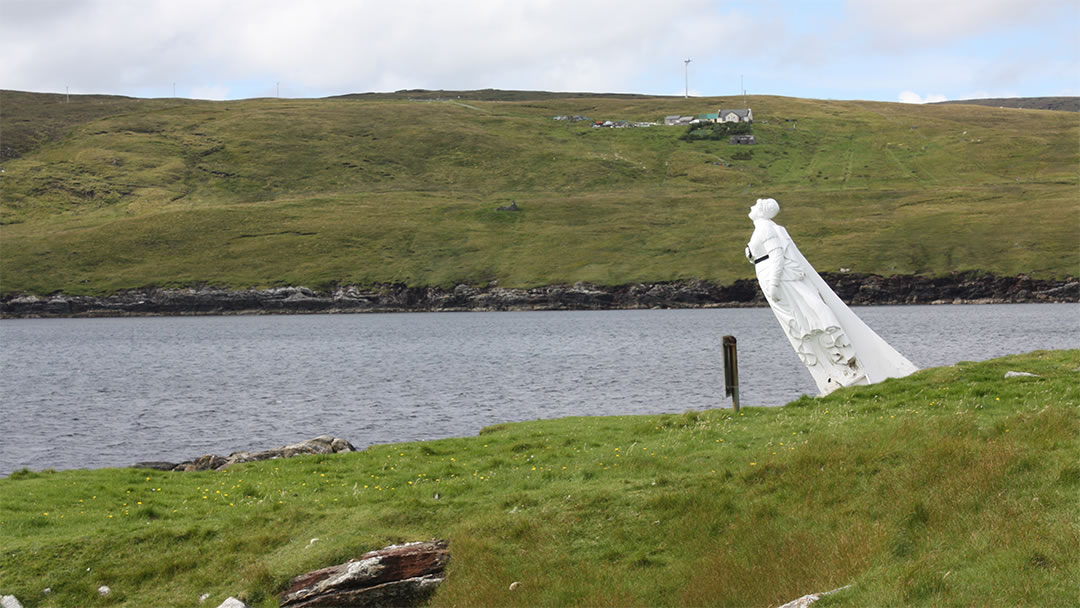 Each time I visit I stumble across something new. There is the White Wife of Queydon in Otterswick. The story behind this striking ship's figurehead is a sad one as the German cadet ship she came from sank in local waters in 1924 with the loss of three men. It now serves as their memorial. Another tragedy is remembered with a memorial at the fishing pier at Gloup Voe – it is to the 58 men who perished during a violent storm in 1881.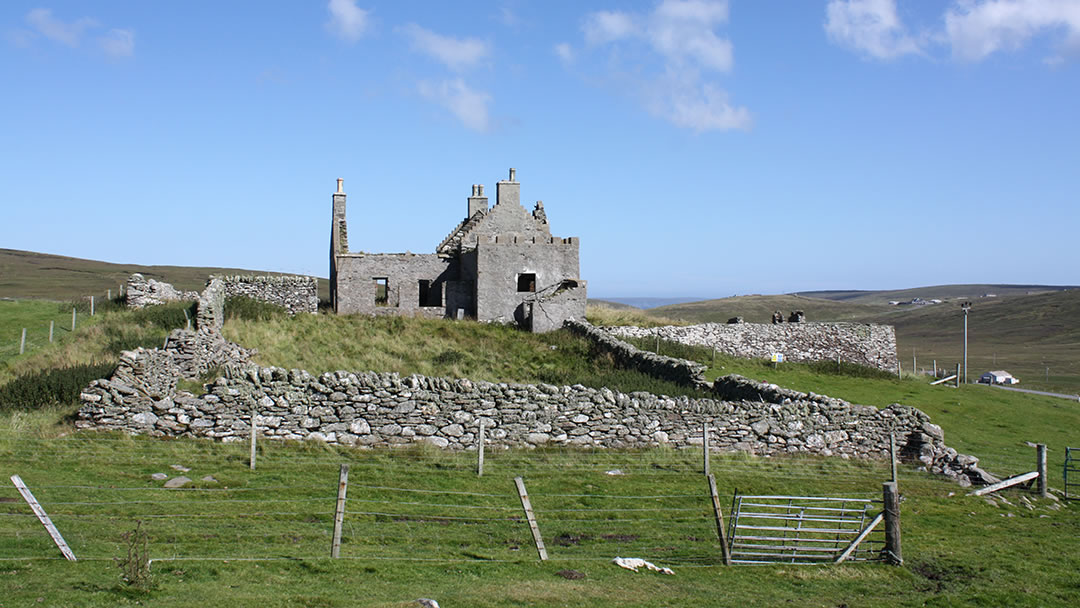 Then there is Windhoose, a ruin that locals have told me is the 'most haunted house in Shetland'. I've never seen the spirit of the butler, nor the ghostly hound, but the fact skeletons have been found in Windhoose was enough to chill my bones when I ventured here.
And what about my London-based travel writing colleague? He called me after his own first visit to Yell and enthusiastically declared: "Not only did I love Yell, but I've got a new appreciation for bogs, moors and all the things that live in and around them. And that's not even mentioning the beaches and the dolphins we saw on the ferry." Yell had worked its magic on yet another lucky soul. I thoroughly recommend you let this magical island work its magic on you too.
How do you get to Yell?
After reaching Shetland from the Scottish Mainland with NorthLink Ferries, to get to Yell you'll need to take another ferry from the Shetland Mainland.

The ferry sails from Toft , north of Mossbank on the Shetland Mainland, a 45 minute drive from Lerwick. It carries foot passengers and cars, and should be booked in advance, particularly during busy summer months. The ferry arrives in Ulsta on the island of Yell.

The ferry to Yell is operated by Shetland Islands Council and for more information, please visit the Shetland Inter-Island Ferry Timetables webpage.

By
Robin McKelvie
Robin McKelvie is an award-winning travel writer and broadcaster who has been published in over 200 magazines and newspapers worldwide.
Pin it!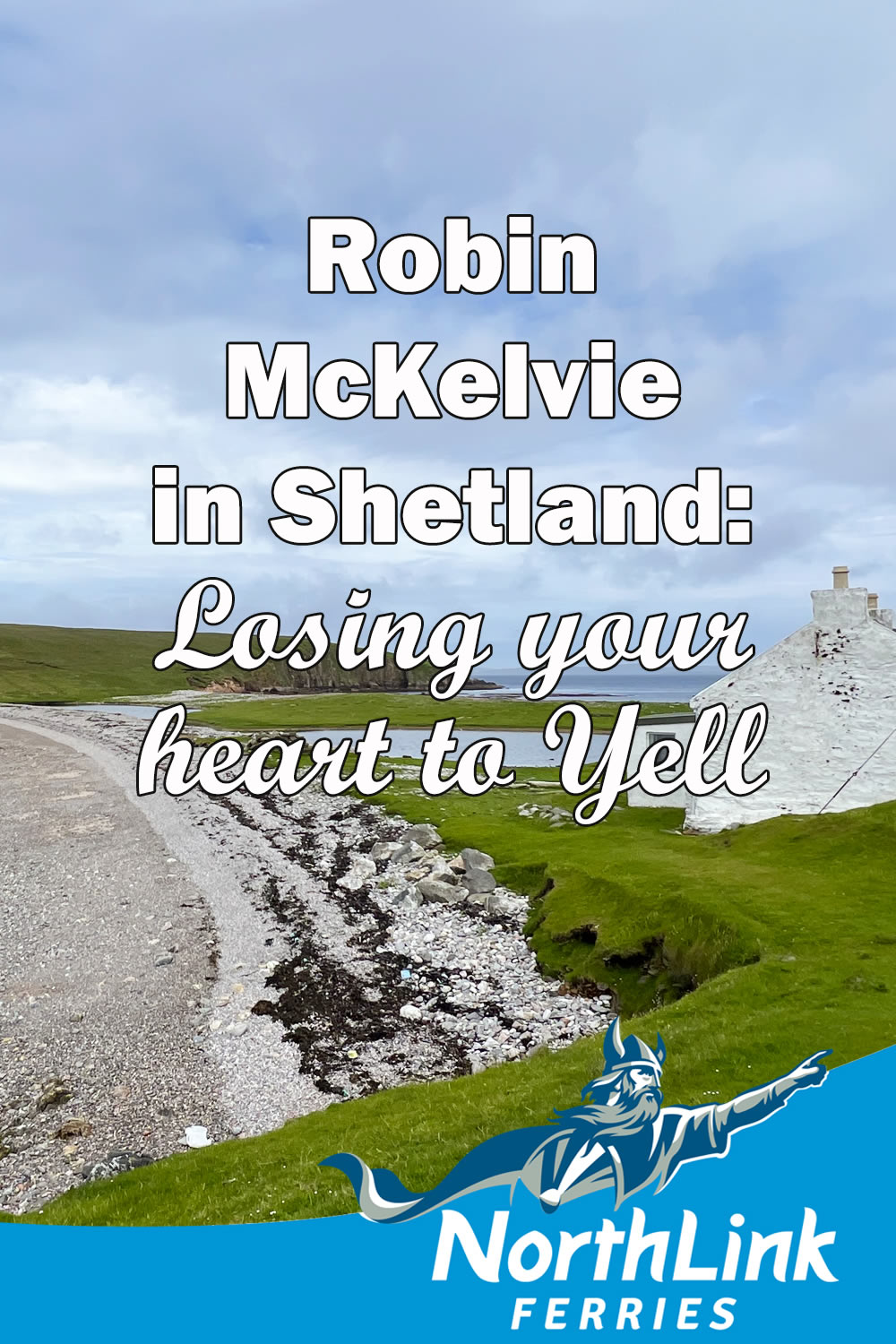 Header image: Ness of Sound in Yell in the Shetland islands photo © Copyright Robin McKelvie