Robin McKelvie in Orkney: A rich family holiday destination
I enjoy taking my kids to the Spanish Costas or on a European city break, but there is truly nothing quite like setting sail together to Orkney. Nothing like pushing off on a NorthLink Ferries ship into the horizon on a trip that takes us all hurtling back through time, learning and experiencing history in an archipelago that could scarcely be more enjoyable for a family break.
Exploring history in Orkney has a real fairy-tale appeal that is ideal for children, but what could be more intriguing than venturing down a dark tunnel with a torch-wielding guide into a mysterious 5,000-year-old chamber?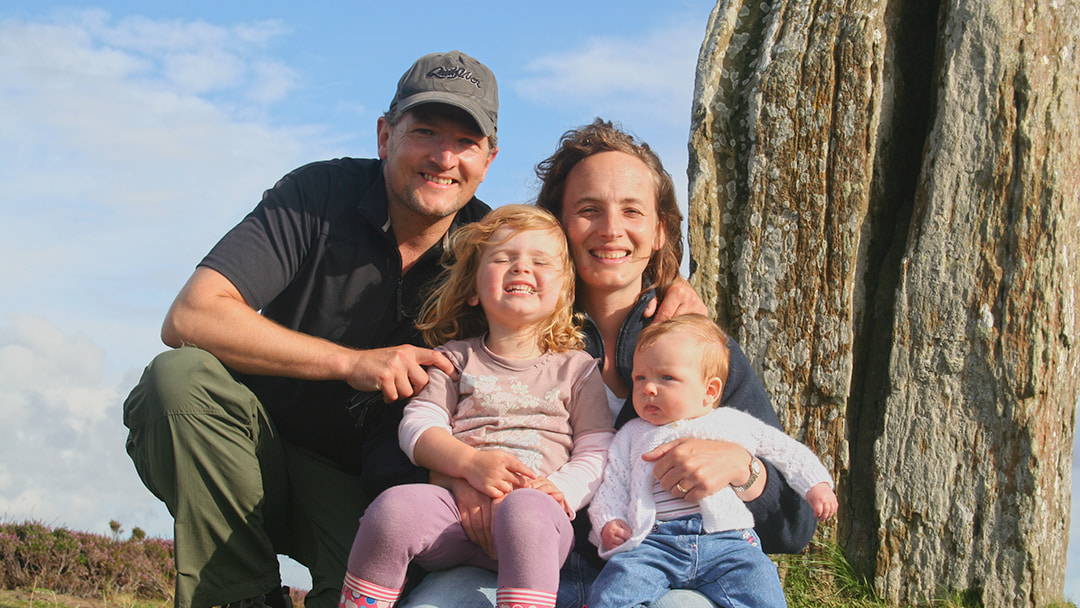 I've taken my two kids to Orkney three times now and I'd go back with them in a heartbeat. And they would be absolutely delighted. I remember the first time I ventured north with them when Tara was three-years-old and Emma was just a baby. We swept joyously around my favourite Orcadian sights. And any fears that Orkney wouldn't be great for kids were instantly assuaged. Even the hotel we stayed in the first night had left teddy bears for them to their sheer delight – Orcadians love kids.
Orkney is really well set up for families too. We've stayed in hotels and hostels and found they worked really well. We have also camped and spent a whole week in a campervan. The latter was brilliant, using it as a mobile base to discover Orkney, being considerate of course to local traffic and to landowners as we went. There has not been a day of our time on Orkney that has not been filled with joy, no matter the weather.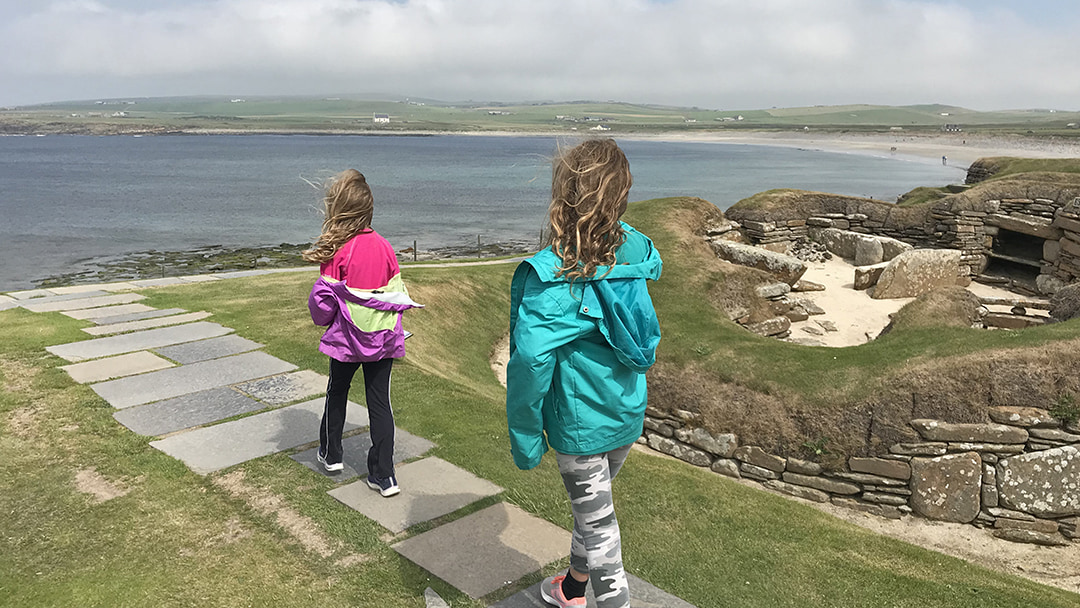 I remember a friend doubting whether Orkney's Neolithic attractions would be any fun for kids. And then partly on my advice he took his own boys and was instantly a convert. So were we. Even on that first trip three-year-old Tara loved scooting around Skara Brae seeing how people used to live. And she made me think too. "It's just like our house daddy," she said. I was confused and then she added, "It's got beds, a fire and a cupboard." It did and it was like our house. We stood there feeling a direct linage to our ancestors. Priceless and an experience no history lesson at school could replicate.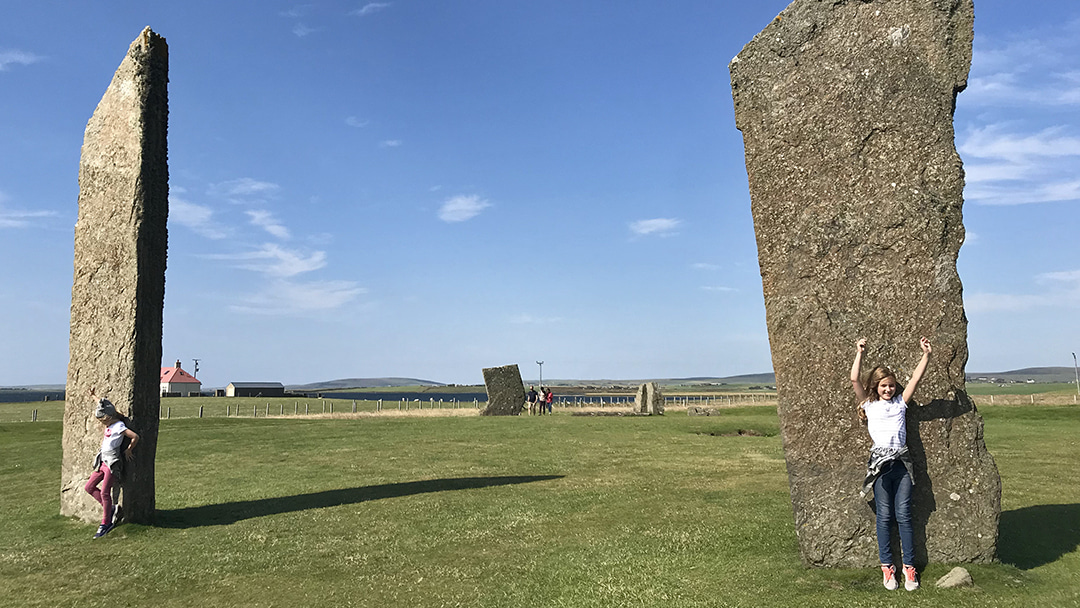 Tara bundled around Orkney in her Viking helmet with her foam sword charming passers-by and bringing life and light to all the sites. Even as a baby Emma was very taken with the Ring of Brodgar and then even more enchanted by the Stones of Stenness. It has been lovely returning with older kids – last time we were back my tall girls could vault their arms up at the stones rather than just stare at them from far below.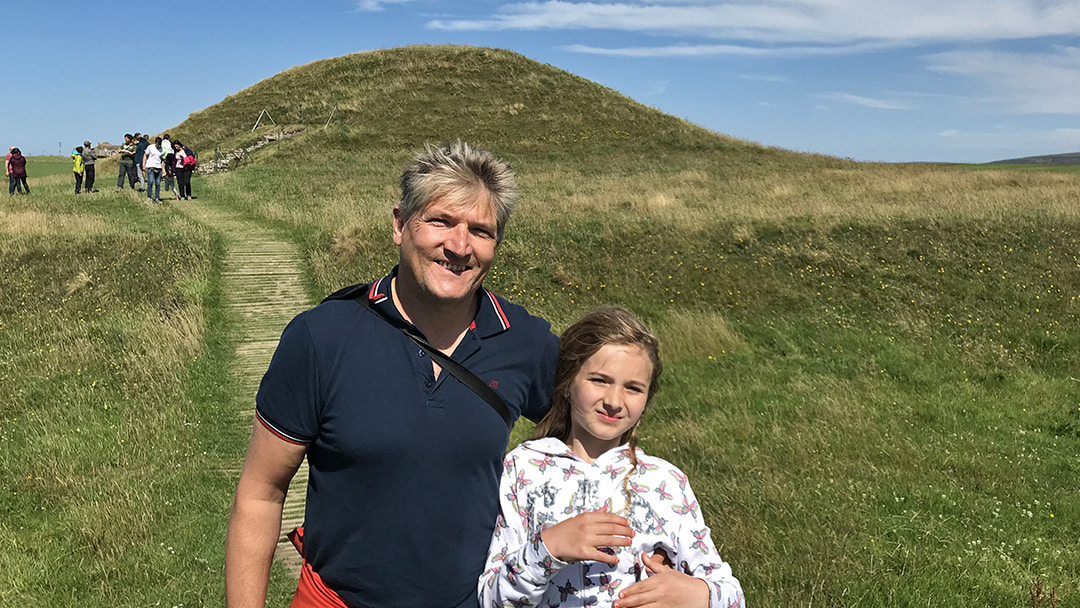 Exploring history in Orkney has a real fairy-tale appeal that is ideal for children. What could be more intriguing than venturing down a dark tunnel with a torch-wielding guide into a mysterious chamber 5,000-years old? That is exactly what Maeshowe offers. My girls loved the guide telling us about the naughty Viking 'graffiti' on the walls. They also enjoyed checking out the Neolithic and Megalithic digs at the Ness of Brodgar. Get there soon if you want to savour these summer-only digs, as in a few short years they are going to be covered up.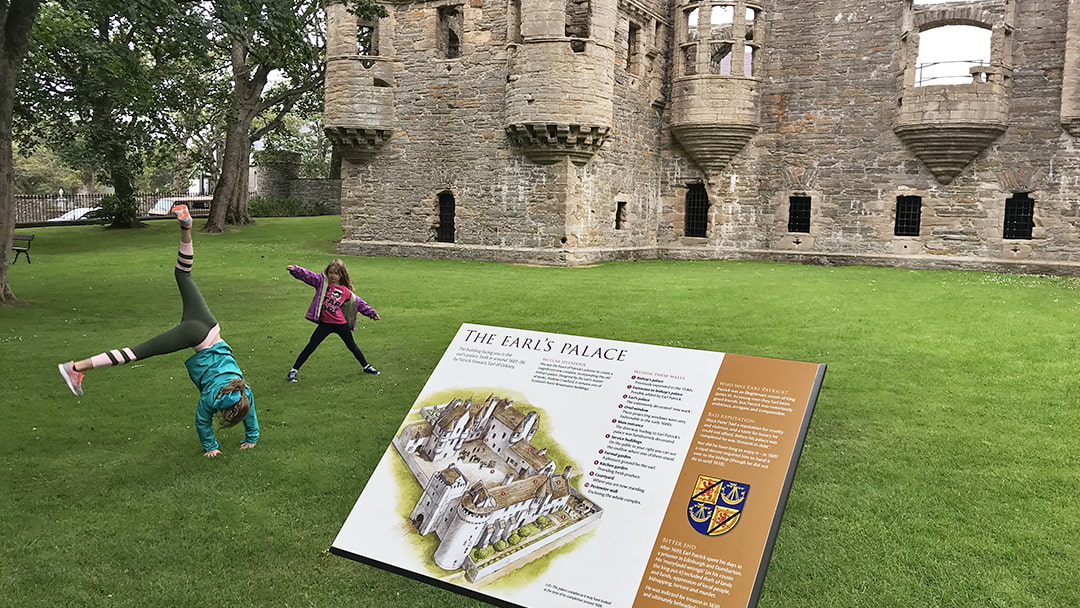 Even the more 'modern' historic sties appeal. We savour rambling around the Earl's Palace in Birsay and the Bishop's and Earl's Palaces in Kirkwall. And then there is the waterfront broch at Gurness. We were all charmed by the Italian Chapel too, built with passion and love by Italian Prisoners of War. Tara was so intrigued she took photos to take back and show her teacher.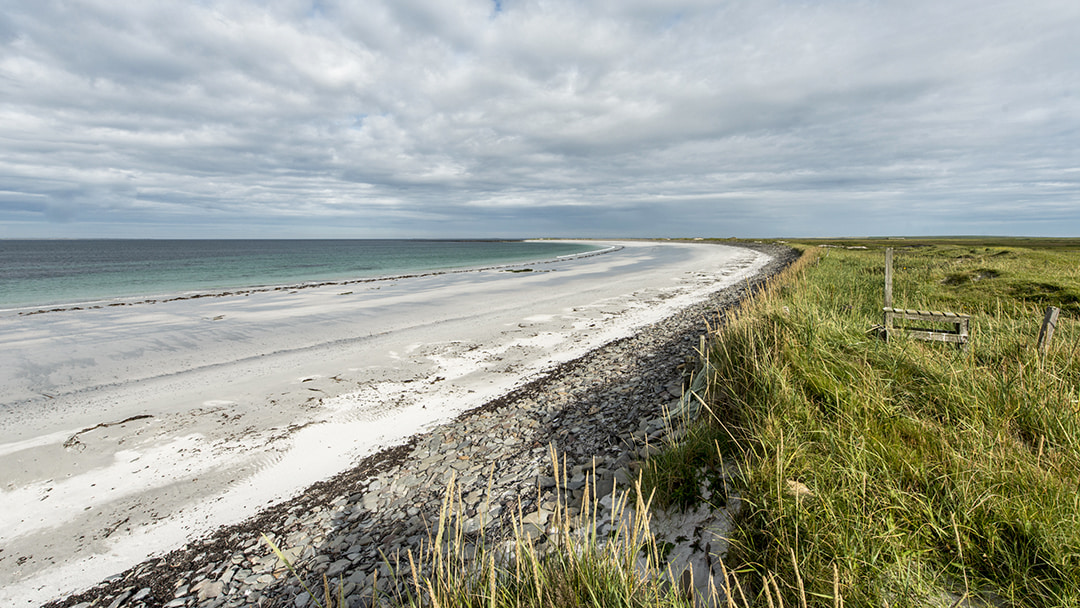 I would happily spend days just wrapped in history, but of course family holidays demand more. And Orkney delivers. In spades. Literal ones on its gorgeous, empty white sand beaches. These come alive in summer with the added bonus of swathes of seabirds, including those kid-pleasing puffins!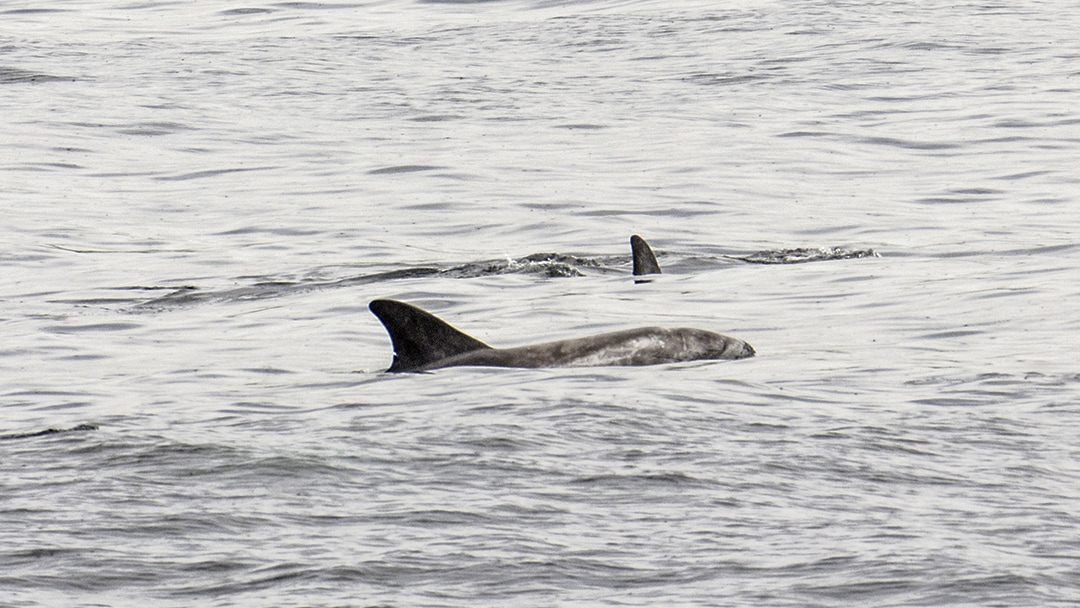 And it is not just birdlife as Orkney is alive too with marine wildlife. We have seen porpoises and dolphins from the shores of Orkney's mainland and minke whales on the ferry over. Seeing cetaceans in the wild knocks the interred dolphins at theme parks in Spain out of the water.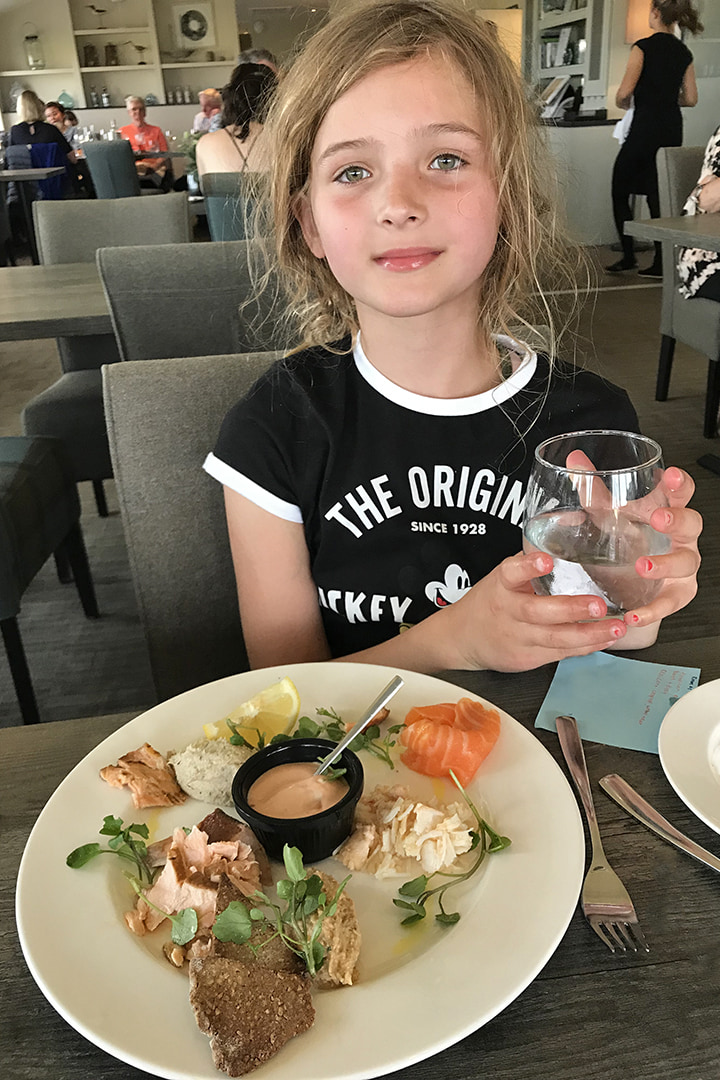 Orkney also delivers on the plate for families. There is, of course, that gorgeous, famous creamy local ice cream, crafted using the ideal local milk. It is also an archipelago alive with local produce so you can both enjoy fresh, healthy meals, but also teach your wee ones about sound provenance as you go. We've savoured the famous local beef and the wonderful seafood bounty too.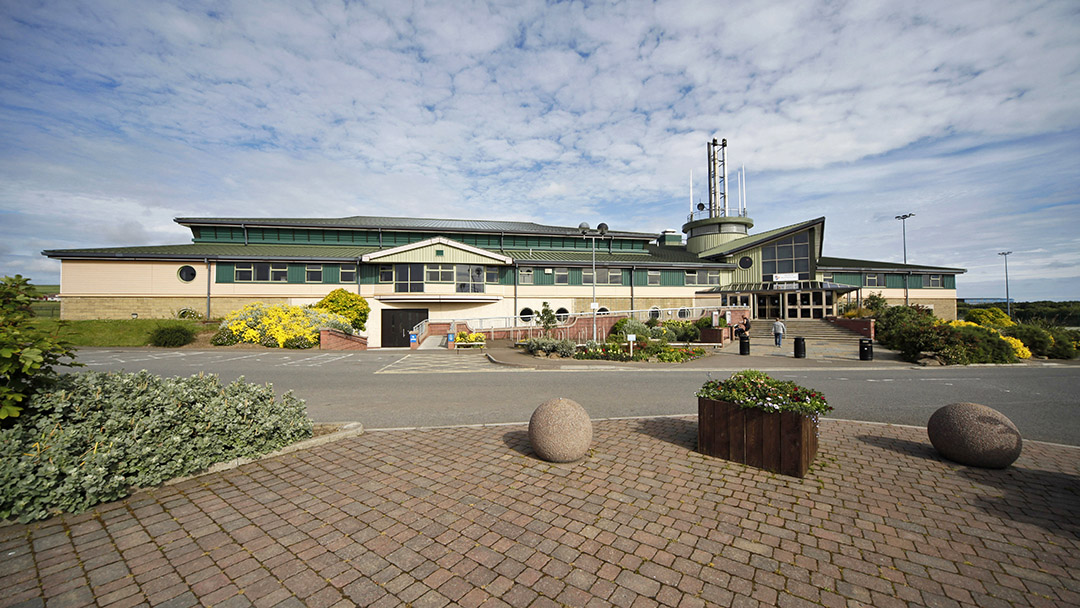 Poor weather on a family trip can be a bane of course. Again Orkney has it covered with lots of wet weather options. Chief amongst them is the island capital of Kirkwall. This well-equipped hub has loads of shops that my girls are delighted by, much to the detriment of my bank balance. We are also fans of the Pickaquoy Centre leisure oasis, where you can go for a swim and use the myriad sports facilities. My girls always meet local kids there too.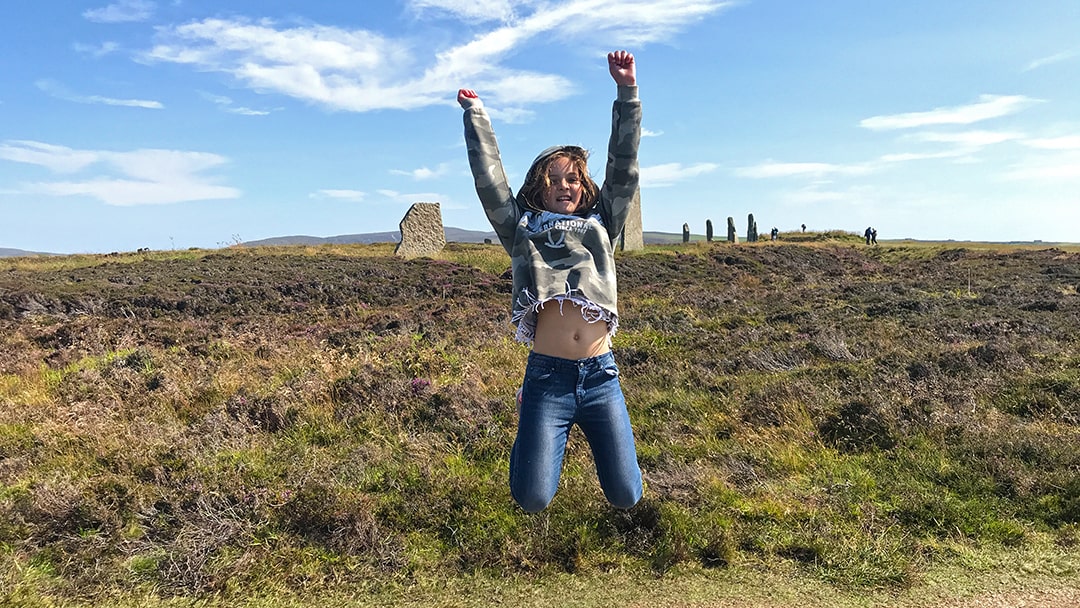 This morning going back over the photos for this piece I was talking to my girls about future travel plans and Orkney inevitably came back up. I casually said we should visit more of the islands in the archipelago. The girls looked at each other quizzically and then stared at me. They didn't realise that there are myriad more islands to explore than the causeway-connected ones we've been to.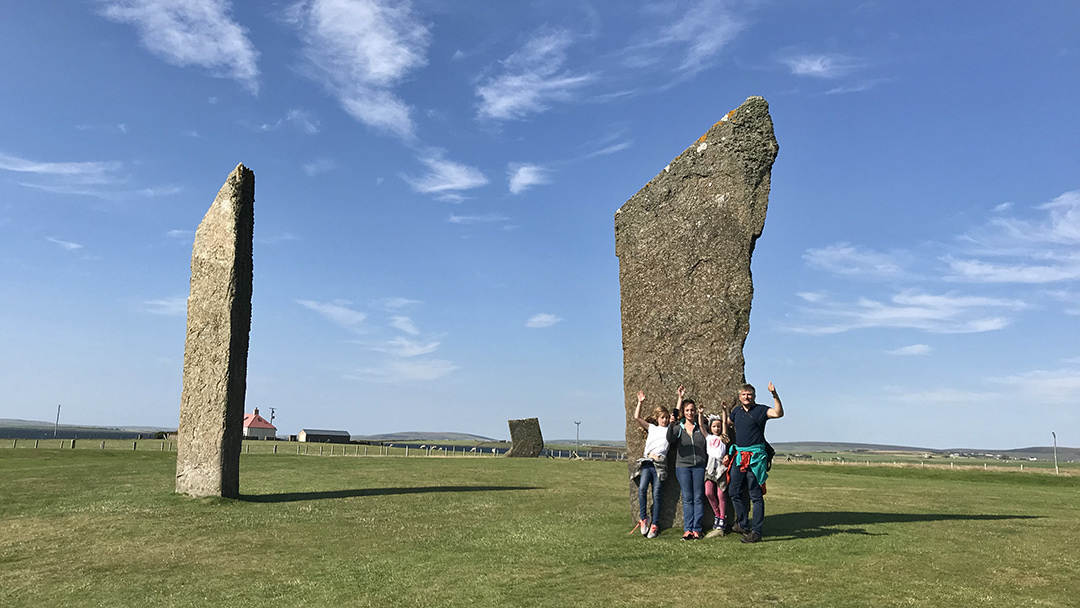 As I type this my heart and soul are now swooning through images of taking the girls on a ferry to the glorious beaches of Sanday or flying them on the world's shortest flight to the wonderful island of Papa Westray. Orkney is no throwaway family holiday destination, but a rich archipelago all of you can keep dipping back into once you've been bitten by the Orcadian bug. And as a family experiencing its wonders together, you can share the same lifelong love of Orkney.

By
Robin McKelvie
Robin McKelvie is an award-winning travel writer and broadcaster who has been published in over 200 magazines and newspapers worldwide.
Pin it!
Header image: The McKelvies at Skara Brae in Orkney photo © Copyright Robin McKelvie