Only have one or two days in Orkney?
One of the questions we are very often asked is, what are the essential sites to visit in Orkney? What if you have only one or two days in Orkney? Of course we'd always recommend staying at least a week or two to explore Orkney and to visit one of the out-lying isles and get a real flavour of the islands.
Just 1 mile from Skara Brae, the Orkney Brewery is a great place for tours and to stop and have a bite to eat at lunchtime.
However, sometimes one or two days is you have to play with. If you're on a whistle-stop tour, on business, or on a visiting cruise ship and only have one or two days in Orkney, here's what we'd recommend you do with your time! We're assuming you have a car or have rented one!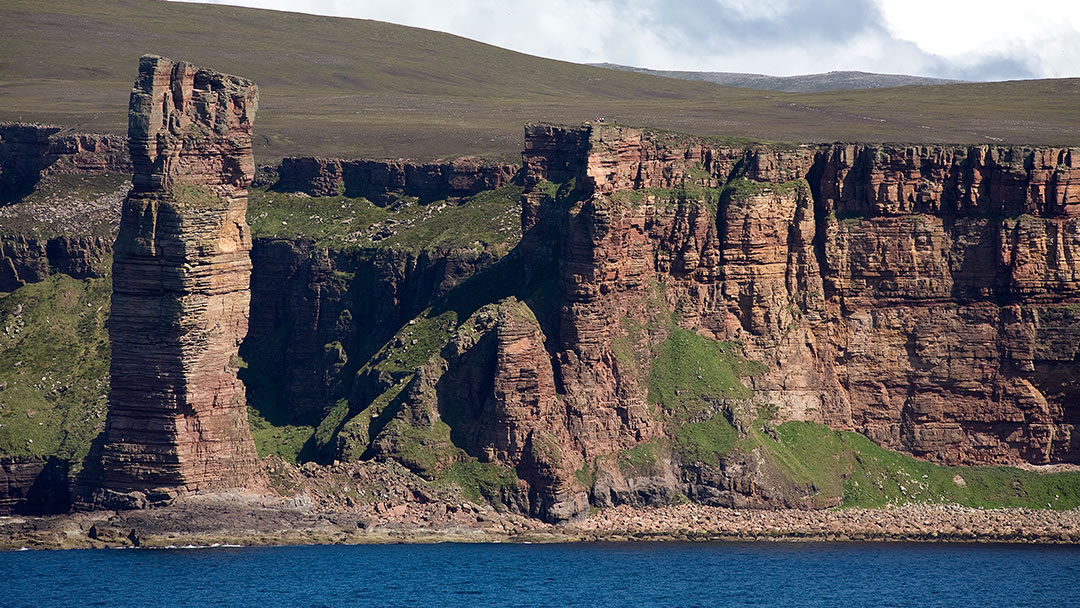 See the Old Man of Hoy from the ferry
One of Orkney's most famous, and impressive landmarks is the Old Man of Hoy, and one of the best ways to see it is by ferry. NorthLink's Hamnavoe service from Stromness to Scrabster sails close to the west-facing red sandstone cliffs of Hoy, and the Old Man, a 137m seastack which sits on a lava shelf, stands along this coast.
We're hoping that you'll see the Old Man of Hoy on your trip in or out of Orkney, and we'd recommend aiming to pass it in the later afternoon / evening, when the setting sun sets the red cliffs ablaze!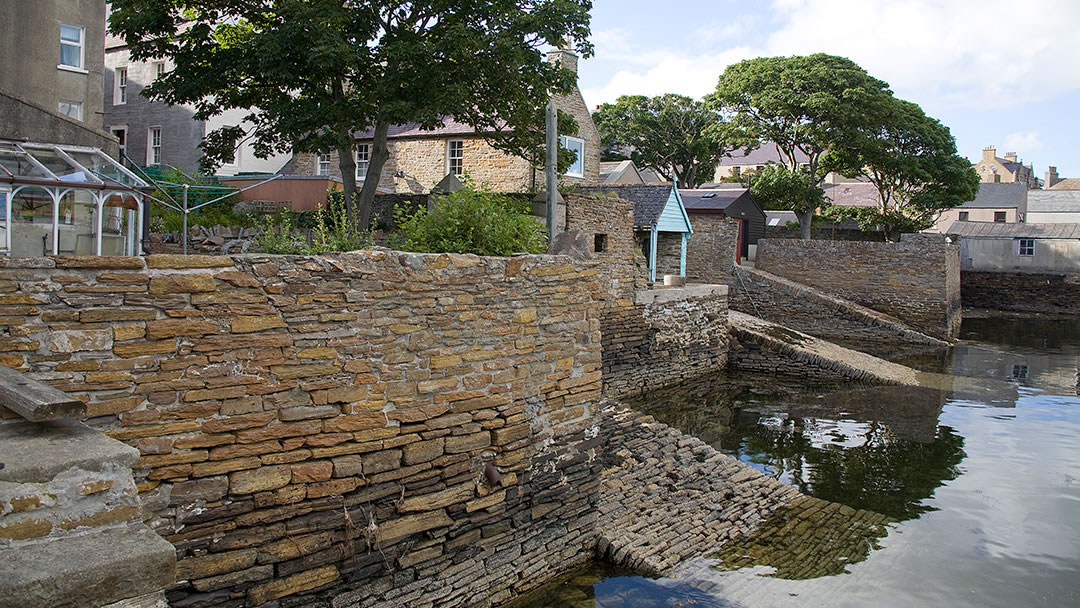 Take a stroll through Stromness
Once in Orkney we'd recommend a walk through the island's most distinctive town, Stromness. A jostle of houses, piers and jetties, Stromness is hemmed in by the sea on one side and the granite hill of Brinkie's Brae (from the old Norn meaning 'fire hill') on the other.
Stromness has a meandering narrow flagstone main street which the poet (and resident of the town) George Mackay Brown described as 'uncoiled like a sailors rope from North to South'. Along the main street you'll find special little shops to venture into. You'll also find labyrinthine closes to explore, climbing up the hill or down to the waterfront.
As well as being extremely picturesque, Stromness also has a colourful history of fishing, pirates, whalers and explorers – we'd heartily recommend a visit to the Stromness Museum – also – see if you can find the khyber pass!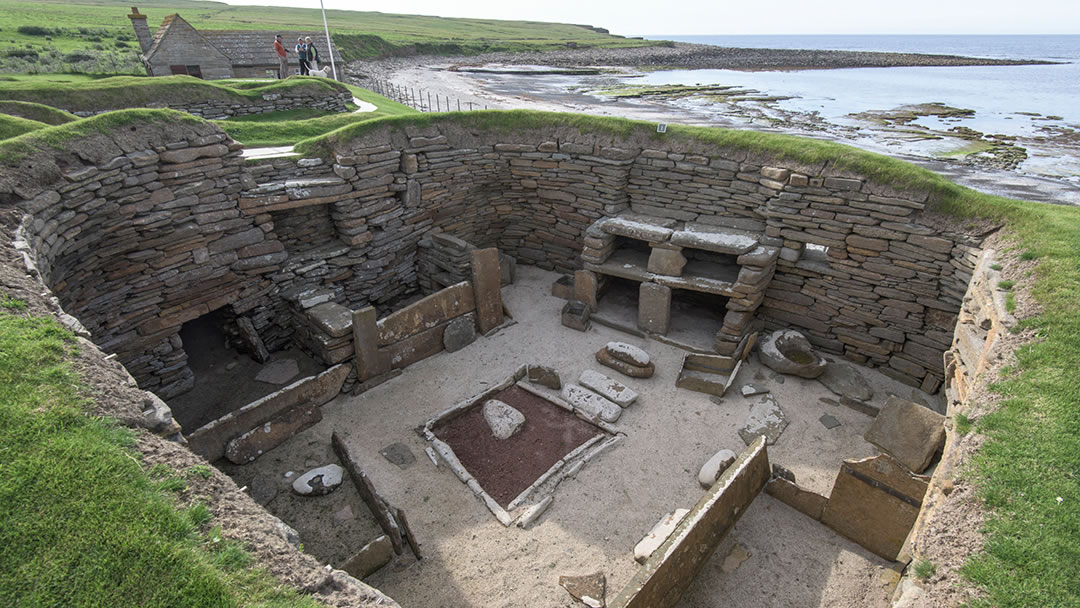 Step back in time at Skara Brae
7 miles from Stromness, on the west coast of the Orkney Mainland, is the bay of Skaill, and above it sits the Neolithic Village of Skara Brae. Discovered buried under a sand dune in the winter of 1850, the village, when uncovered, offered a perfect snapshot of everyday life 5000 years ago. The most impressive sights you'll see are the stone cupboards, dressers, seats, and storage boxes. In the centre of each house (there are ten in total) there's a fireplace.
Skara Brae was occupied for six hundred years until the farmers and fishermen who lived here mysteriously abandoned the village. When visiting, make sure you take a look at the spiky carved stone balls – what were these used for?
Wonder at the Ring of Brodgar
Another neolithic mystery, the Ring of Brodgar is a ring of 27 standing stones located on a small isthmus between the Lochs of Stenness and Harray. You'll find it by turning off the main Stromness to Kirkwall road, just after Stenness village. There were once 80 stones here, and they vary in height from 2.1m to 4.7m.
The stones are thought to have been erected between 2500 BC and 2000 BC, but their purpose is unknown. It is supposed that, just as churches today are used for various events – weddings, burials, worship, meeting places, entertainment – it is likely that the stone circles also served a number of roles. When visiting, look out for the stone that was shattered by lightning!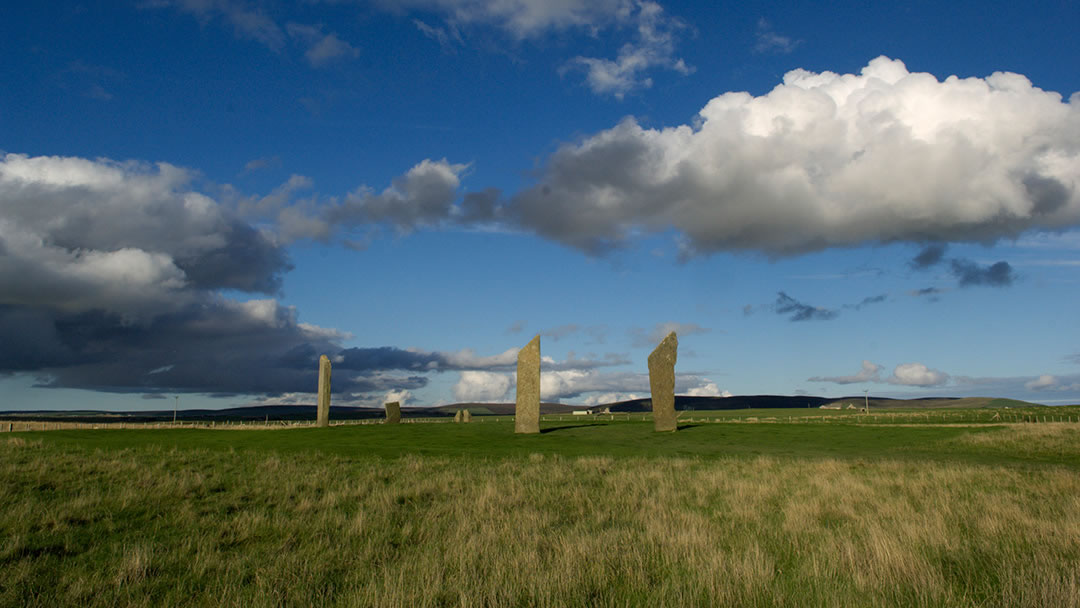 Stand beneath the massive Standing Stones of Stenness
3/4 mile away from the Ring of Brodgar you'll find The Standing Stones of Stenness. Thought to have come from a time before the Ring of Brodgar, these were once part of a 12-stone circle. Now only 4 remain, but the impression they leave is not diminished, because these stones are massive! It's hard to describe in words or in photos, but these stones are 30cm thick and 5m high – they tower above visitors to the site. You'll leave the Standing Stones of Stenness wondering just how neolithic man managed to erect such huge structures without modern machinery!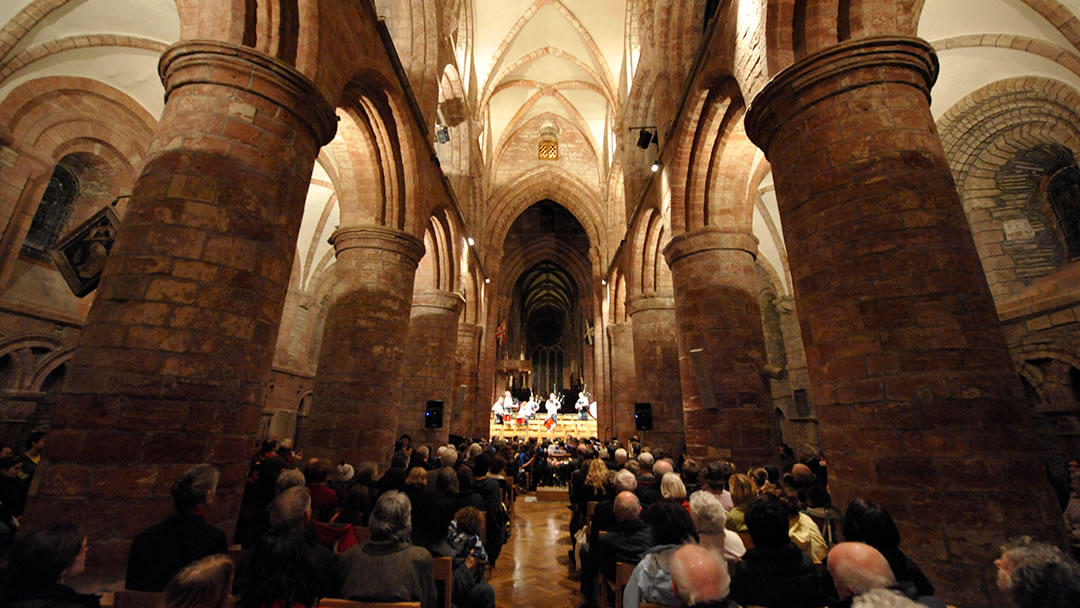 Visit a Viking Cathedral in Kirkwall
In the centre of Kirkwall stands the red sandstone St Magnus Cathedral, which was dedicated to the Orkney Earl Magnus. It was built by the Viking Earl Rognvald in honour of his murdered uncle between 1137 and 1158. Rognvald promised to build 'the finest church the north had ever seen'.
This beautiful building is still well used and celebrates many facets of Orcadian history – there are memorials to the islands most famous sons, such as the explorer John Rae, and the bell from the WWII battleship HMS Royal Oak commemorates the 835 lives lost when she sunk. When visiting, can you find the pillar in which St Magnus' bones were discovered?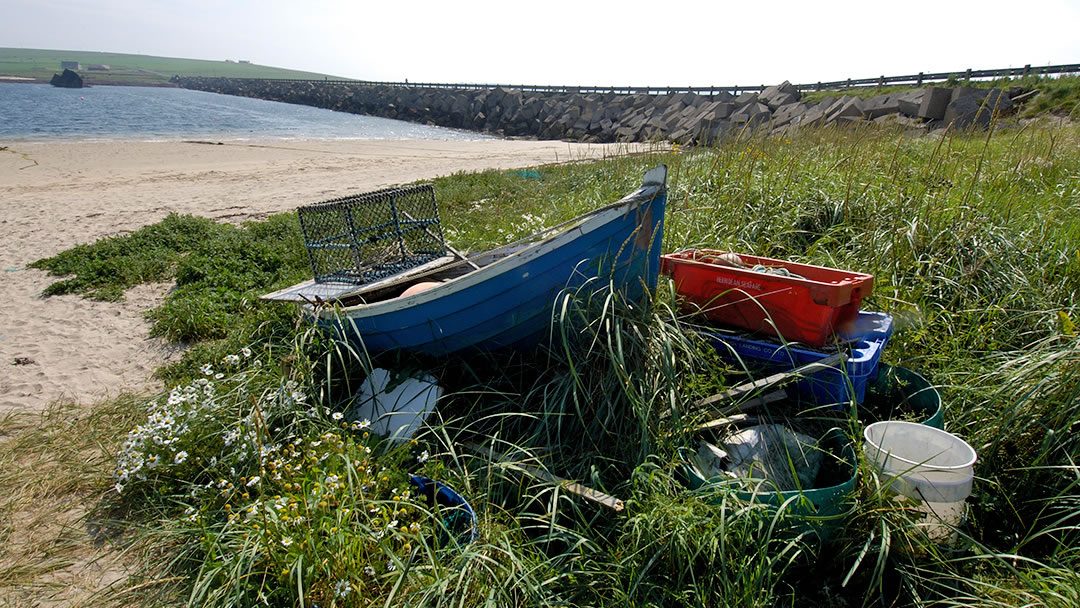 Cross the Churchill Barriers
It's impossible to visit Orkney without reflecting on the wartime history of the islands. The mainland of Orkney and the south islands enclose to form a large natural harbour, called Scapa Flow, and was chosen as the British naval base in both wars, primarily because of its great distance from German airfields. However in 1939, a U-boat entered Scapa Flow and sunk HMS Royal Oak, and it was decided that a defensive blockade would be built.
The Churchill Barriers were created using 66,000 concrete blocks in five-tonne and ten-tonne sizes. They were finished in 1945 and now link the south islands together with a road across the top. Some beautiful beaches have formed around the barriers, making the South Isles a great place to visit on a sunny day!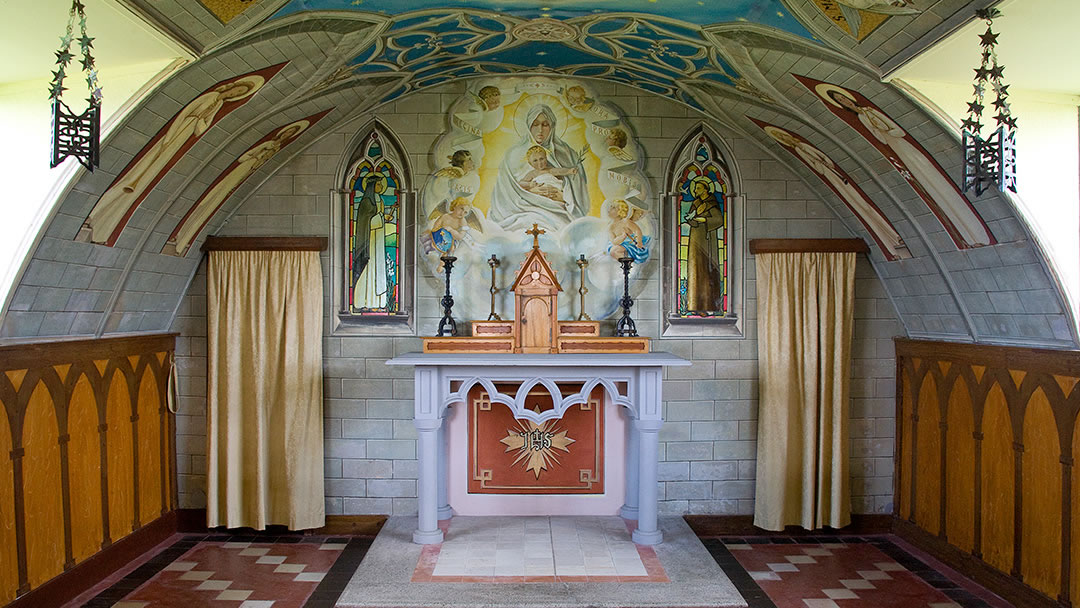 Make a pilgrimage to the beautiful Italian Chapel
Across the Churchill Barriers on Lamb Holm stands the Italian Chapel, a little chapel built by the Italian Prisoners of War who assisted with building the Barriers during WW2. Domenico Chiocchetti led the prisoners, making an altar and holy water stoop out of concrete, a tabernacle from shipwrecked wood, light holders out of corned beef tins, and an alter rail from scrap metal. Chiocchetti painted the interior of the chapel by hand, including his masterpiece of the Madonna and Child. The Italian Chapel is a beautiful monument to faith and peace. Can you spot the wrought-iron heart in the floor, made by an Italian POW who fell in love with a local lass?
We'll be very impressed if you have time after seeing these essential sites of Orkney. However, if you do, we'd also highly recommend visiting:
The dramatic cliffs of Yesnaby in Sandwick
Maeshowe – a neolithic burial chamber in Stenness which was raided by Vikings. They carved the walls with the most impressive collection of runes in Western Europe.
Just 1 mile from Skara Brae, the Orkney Brewery is a great place for tours and to stop and have a bite to eat at lunchtime.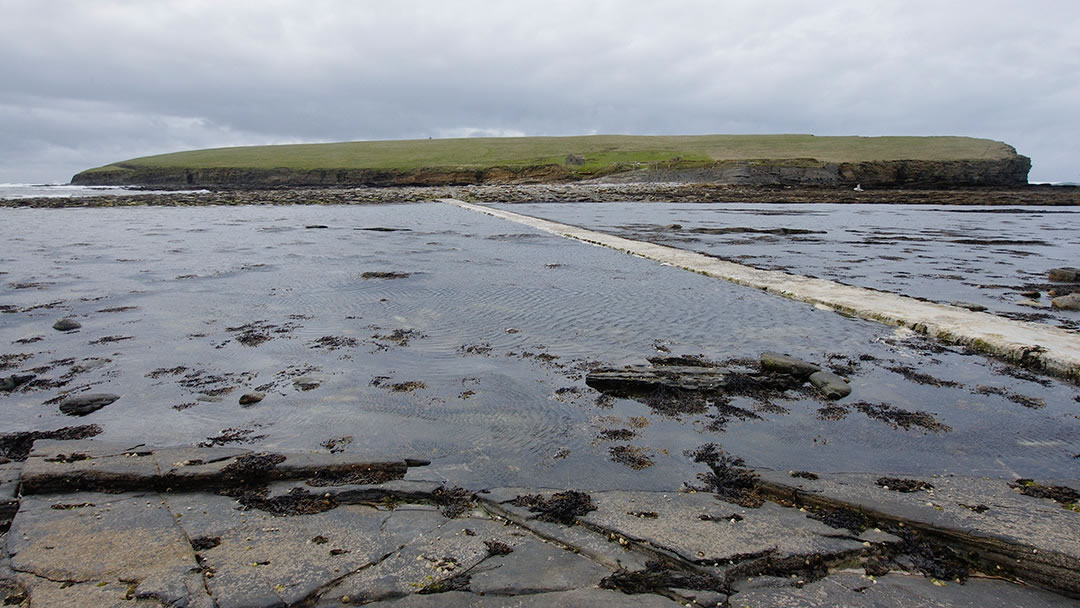 The Brough of Birsay (pictured above) is a tidal island in the North-West corner of the Orkney Mainland. You can reach the island on foot (when the tide is low) via a concrete causeway. From May to July the cliffs by the Brough of Birsay lighthouse are one of the best places in Orkney to spot puffins.
One mile from the Brough of Birsay is the Yellowbird Gallery – where you'll see beautiful carved birds and colourful paintings. Orkney has a brilliant craft trail we'd recommend following!
The Broch of Gurness is a circular Iron Age defensive building next to Aikerness Beach (mishearing this name gave Gurness its title) in Evie. The broch is surrounded by dwellings whose occupants would have fled inside the broch when they were attacked.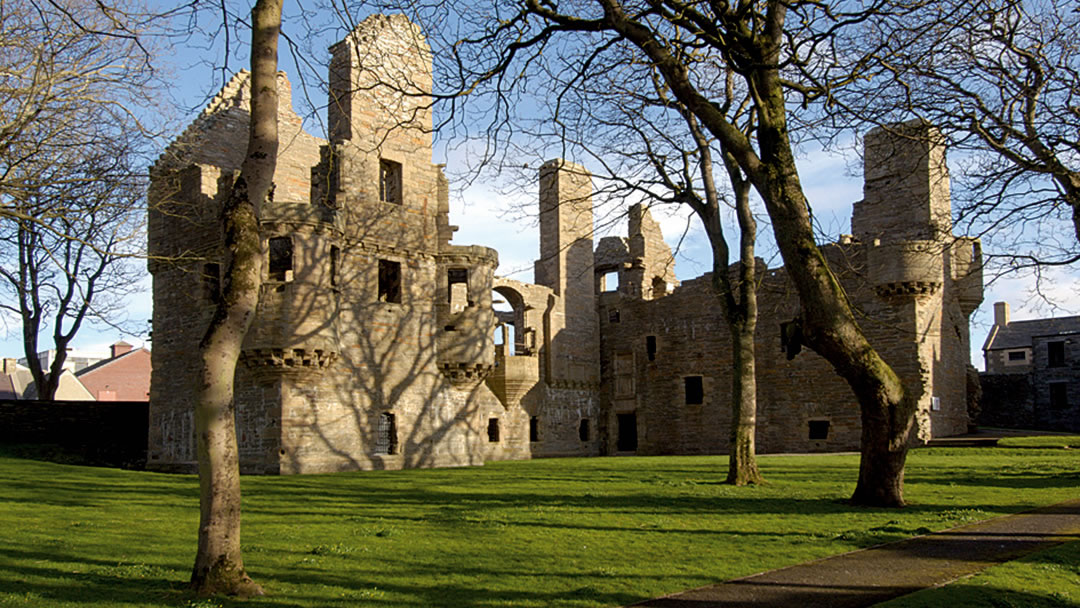 The Earls Palace in Kirkwall (pictured above) is a magnificent building which was built by a rogue Scottish Earl.
We'd recommend a tour of the Highland Park Distillery in Kirkwall – the highlight of which is a nip of beautiful whisky at the end!
Why not take a trip to the Sheila Fleet Jewellery Workshop in Tankerness where you can have a glimpse of how these unique and beautiful enameled pieces are made?

By
Magnus Dixon
Orkney and Shetland enthusiast, family man, loves walks, likes animals, terrible at sports, dire taste in music, adores audiobooks and films, eats a little too much for his own good.
Pin it!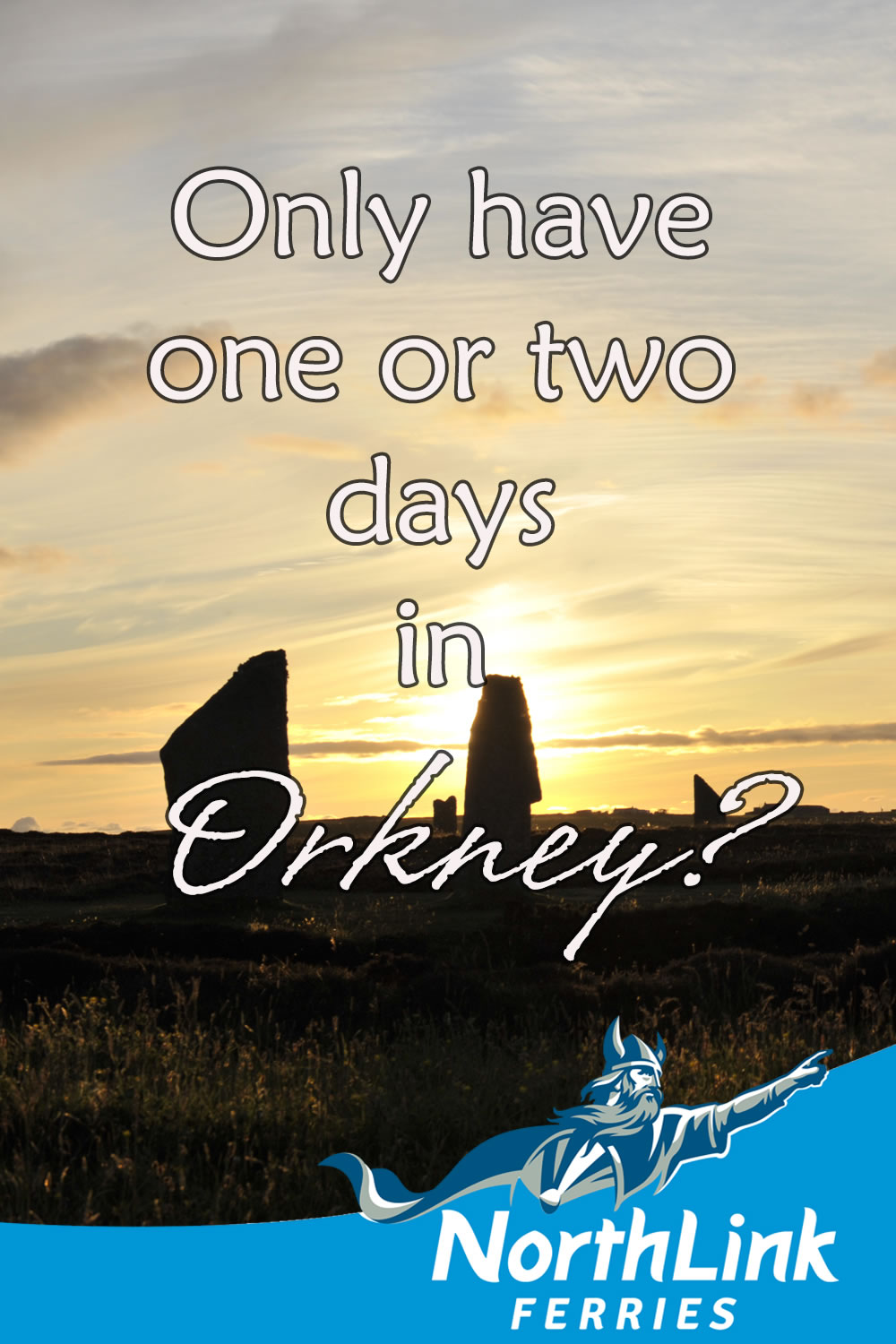 Header image: The Ring of Brodgar in Orkney at sunset photo © Copyright Charles Tait