An extra ten hidden gems of Orkney
Each year we've compiled a list of some of the best places to visit in Orkney that are less well known. We hope that, once you've seen Skara Brae, the Italian Chapel and the Ring of Brodgar, you'll consider visiting one of these ten hidden gems!
You crawl to get inside Cuween Cairn in Finstown, but can stand once inside – and you'll see four smaller chambers on each wall. Cuween is thought to date from 3,000BC and the skulls of eight people (and uniquely – the skulls of 24 dogs) were found inside.
See also:
Ten hidden gems of Orkney
Ten more hidden gems of Orkney
Ten further hidden gems of Orkney
Ten additional hidden gems of Orkney
Another ten hidden gems of Orkney
Ten New Hidden Gems of Orkney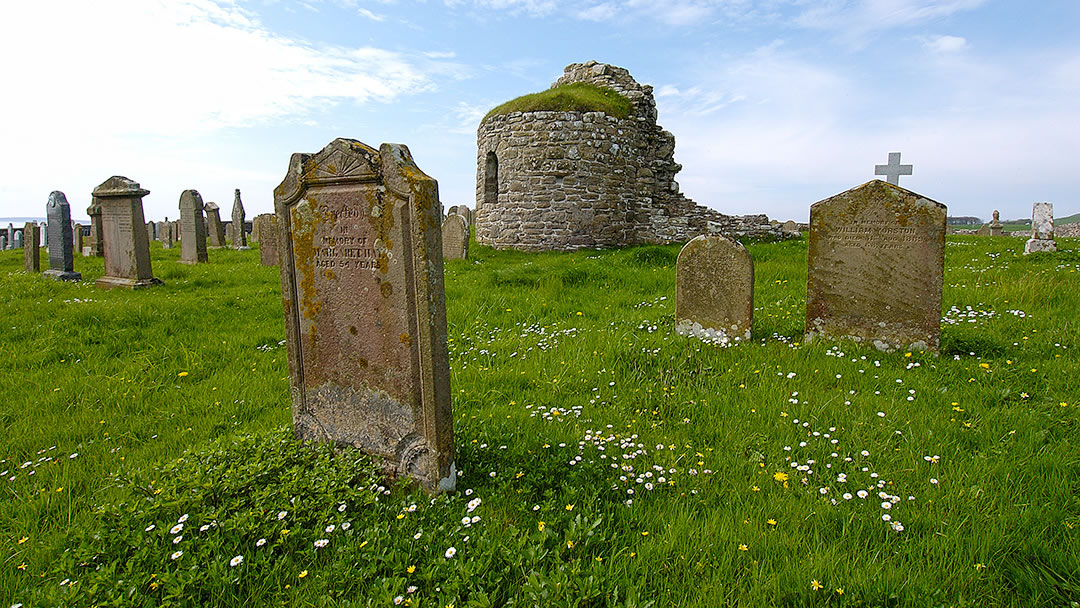 1) The Round Kirk, Ophir
Situated next to a quiet shore in Orphir, not much remains of Scotland's only surviving circular medieval church. Stones were removed for it for a newer church, which is now entirely gone. The apse of the Round Kirk remains today, along with a small section of the nave's eastern section – and it is a lovely building in a lovely part of the world.
Next to the Round Kirk are the vaguest remains of the great Viking drinking hall (The Earl's Bu) which was mentioned in the Orkneyinga Saga.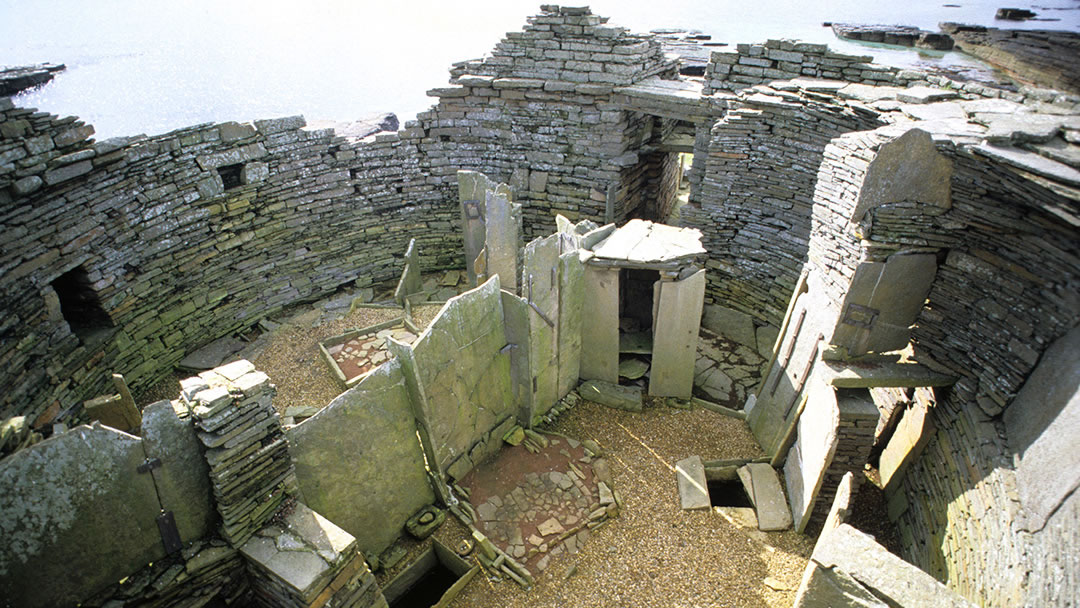 2) Midhowe, Rousay
Situated on the island of Rousay, down a steep hillside, is Midhowe Chambered Cairn. At 100ft long and 40ft wide it is the largest tomb to have been excavated in Orkney so far. Midhowe contained the remains of 25 people, found in crouched positions. The tomb is enclosed within a protective modern building (entry is free) and walkways suspended above the tomb allow great views.
Right next to Midhowe Chambered Cairn is Midhowe broch (pictured), which is one of the best-preserved brochs in Orkney. It was occupied during the Iron Age from around 200BC to 200AD and was a fortified residence for the people living along this once-dangerous coast!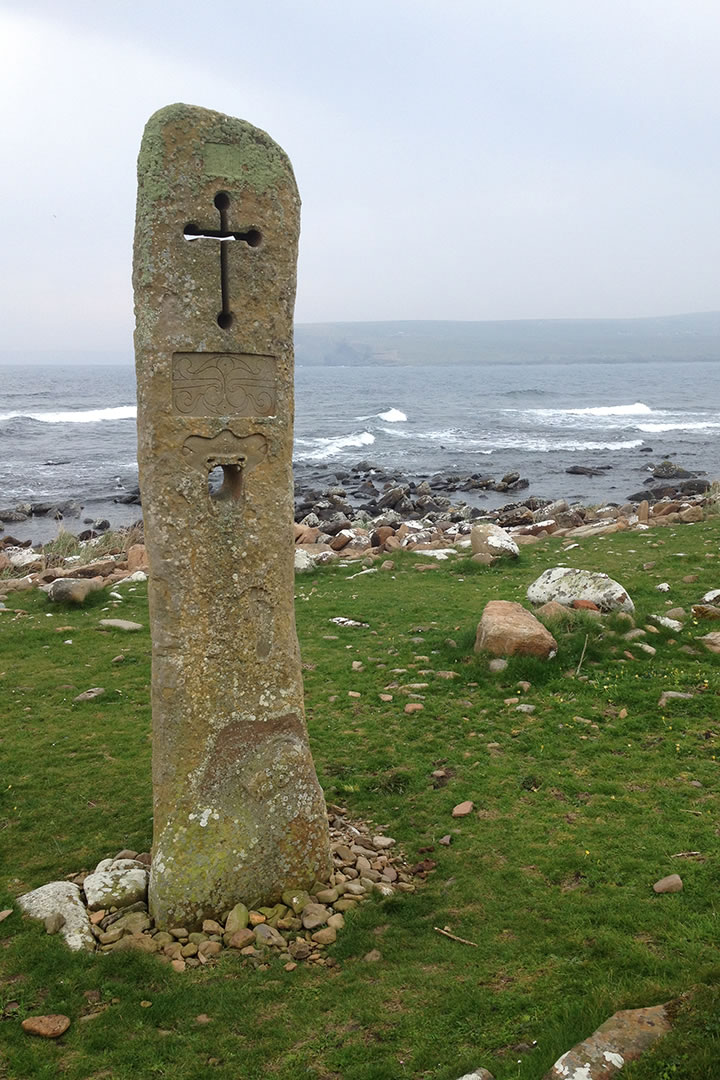 3) Millennium Stone, South Ronaldsay
Located on the east side of South Ronaldsay down by St Peter's Kirk, the Millennium Stone stands above a picturesque shore. It was created to celebrate the new millennium by Willie Budge – a local man. The stone features Pictish symbols, a Viking longship, a dragon head, and a central hole similar to the one found in the Odin Stone (which was used for binding promises, business deals and lover's oaths!)
Further up the hill from the kirk stands one of Orkney's tallest standing stones, the Sorquoy Stone, at over 4m high.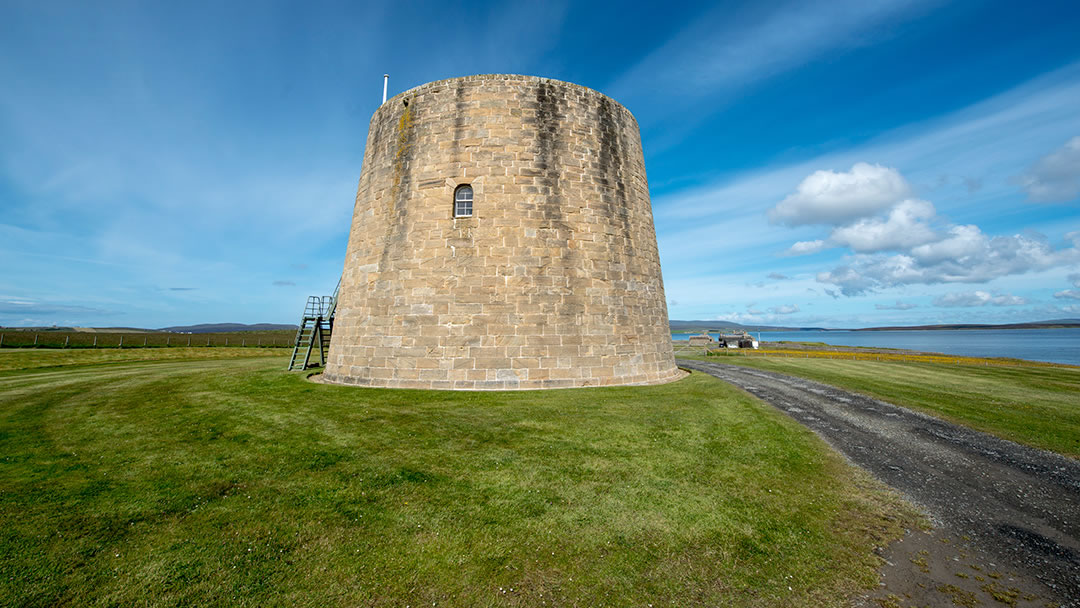 4) Martello Towers, Longhope, Hoy
There are two Martello Towers, one at either side of Longhope Sound. These were built during the Napoleonic Wars when the Northern route was under threat. At Hackness, the Martello Tower, Battery and Barracks is now a visitor attraction which offers great insights into life two centuries ago.
At the top of the round tower is one of the huge guns used at the time – these were mounted on a circular iron track to make moving the guns into position much easier. Each gun could fire a 68 pound shot over a mile, enough to seriously damage any ship of the day!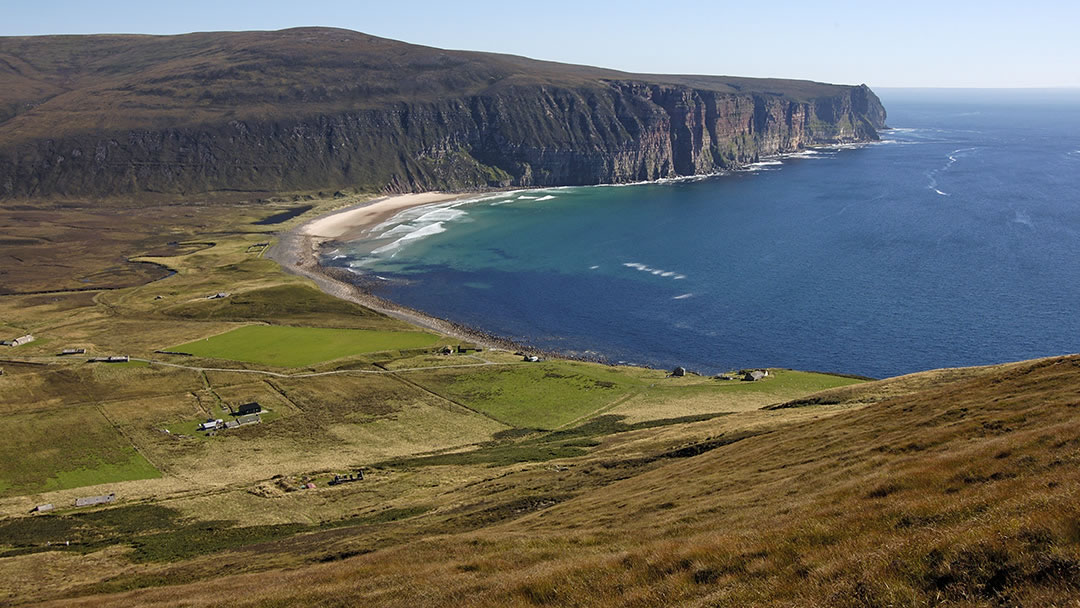 5) Rackwick, Hoy
One of the Orcadian poet George Mackay Brown's favorite places, Rackwick valley is enclosed by dramatic heather-covered hills and a beautiful curving bay. The beach at Rackwick is one of the finest in Orkney – sandy and dotted with large beautiful sea-rounded pebbles and hit by powerful waves.
Many of the houses here are renovated croft houses and there's a campers bothy and hostel too – staying here really is the definition of getting away from it all. You can walk to the Old Man of Hoy from Rackwick, and the valley is six miles from Moaness Pier and the foot passenger ferry from Stromness.
6) North Gaulton Castle
If you love cross-country walking then we'd highly recommend the ten mile walk from Yesnaby to Stromness, following the cliffs and the coast. You'll see many amazing sights along the cliff edge, including North Gaulton Castle, which is a sea stack with a sliver thin base.
A car advert was filmed here in the nineties – the vehicle was lowered by helicopter onto the sea stack!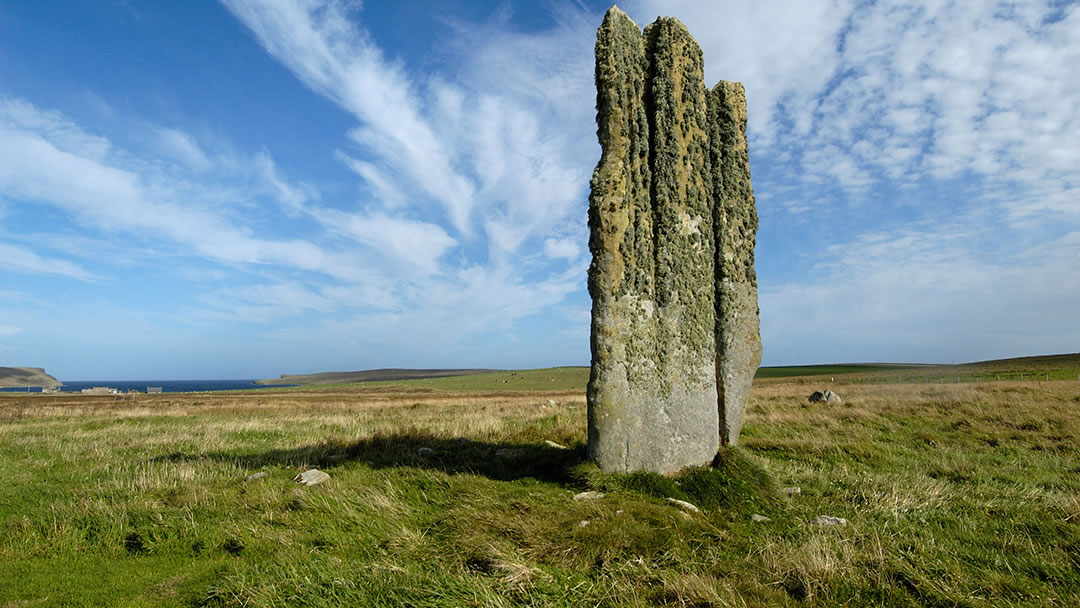 7) The Stone of Setter, Eday
On the lovely island of Eday (which is a great island for walking), about 5 miles from the ferry is one of Orkney's most dramatic standing stones. The massive Stone of Setter looms over you at over 15 feet high with a seven foot wide base. It has been eroded over the years and now resembles a hairy giant's hand.
Just across the road, Mill Loch is the home to a large population of red-throated divers!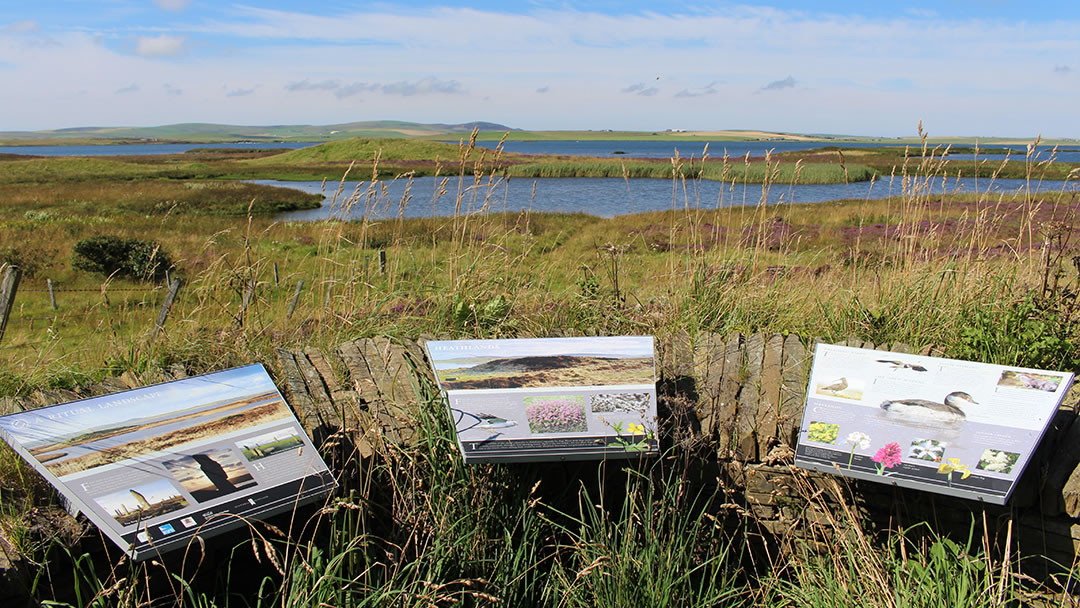 8) The Lochside Viewpoint, Harray
One for photographers; the lochside viewpoint is on the east side of Harray loch. You can reach it by turning left just after Maeshowe (on the Stromness to Kirkwall road). This spot offers a spectacular view of the Harray and Stenness lochs, the Ring of Brodgar and the Hills of Hoy.
We'd highly recommend visiting at sunset or on a still icy day! It's a great place to see wintering wildfowl and even otters if you're quiet!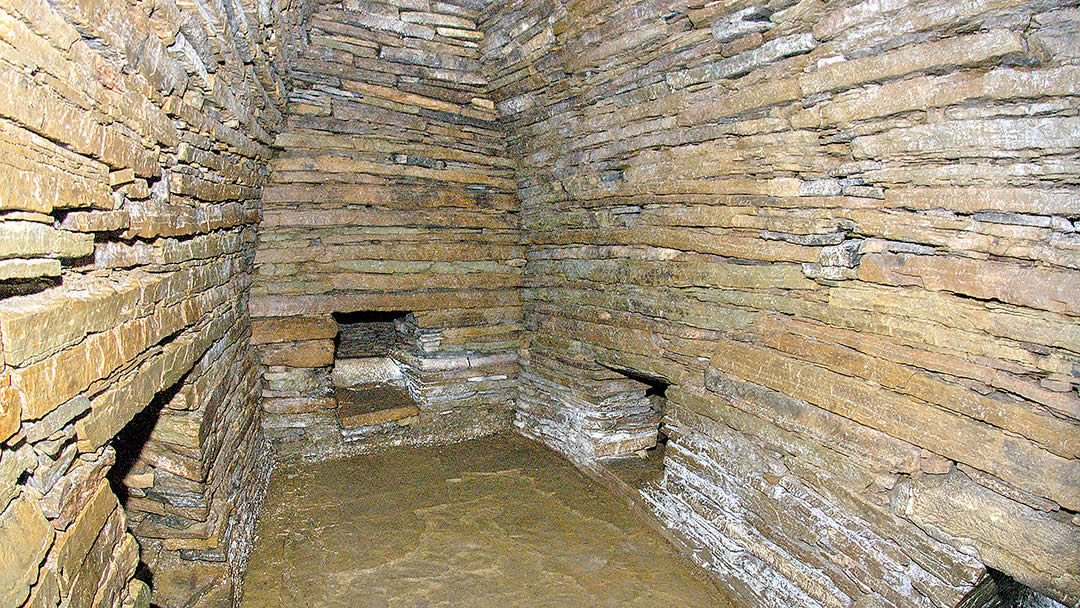 9) Cuween Cairn, Finstown
To reach Cuween Cairn take the Old Finstown Road out of Finstown until you see a signpost. There's a car pack here and a short walk up an eastern facing hillside. The tomb itself is grass covered and small. It's also dark inside so we'd recommend taking a torch! You crawl to get inside, but can stand once inside – and you'll see four smaller chambers on each wall.
Cuween is thought to date from 3,000BC and the skulls of eight people (and uniquely – the skulls of 24 dogs) were found inside. It is thought to have been the burial place for the Stonehall settlement found in the valley directly below and we'd highly recommend this hidden gem for the view of the surrounding landscape (pictured at the top of the page)!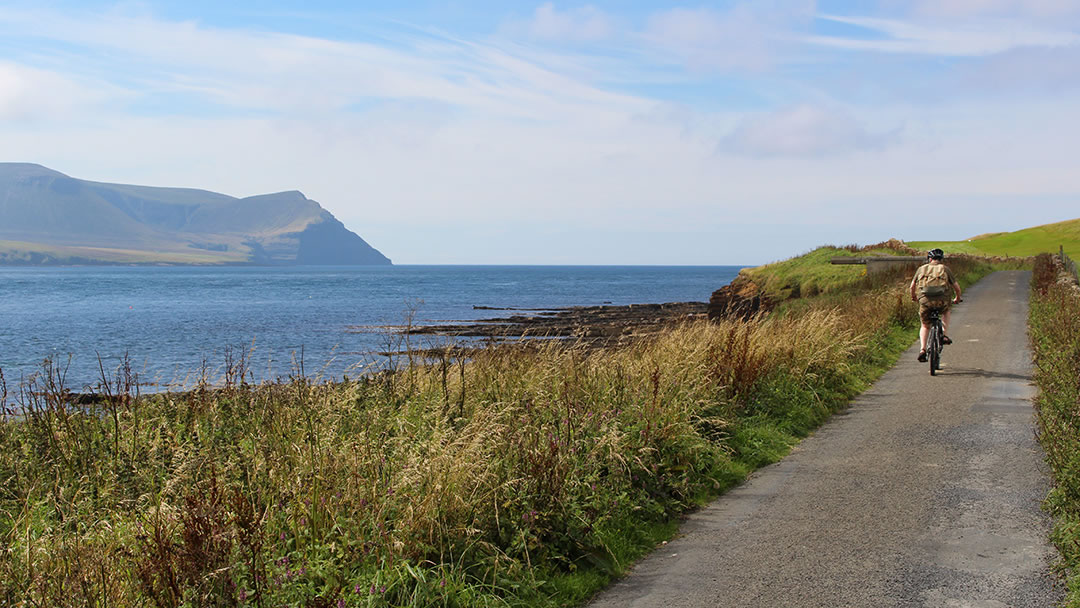 10) The West Shore, Stromness
A familiar sight as you sail into Stromness on MV Hamnavoe; the West Shore is easy to find; just travel past the golf course and you'll find a coastal road. You can either take the tarmac road which runs parallel to and above a rocky beach, or climb down to the shore below.
This walk will take you past wartime searchlights and gun batteries and you'll get a spectacular view of Scapa Flow and Hoy Sound. If you keep going you'll reach Stromness cemetery and then the lovely sandy beach of Warebeth ideal for children, dogs and walkers! You can either take the same route back or take the Innertown or Citadel road back into town.

By
Magnus Dixon
Orkney and Shetland enthusiast, family man, loves walks, likes animals, terrible at sports, dire taste in music, adores audiobooks and films, eats a little too much for his own good.
Pin it!
Header image: Cuween Cairn looking over Firth in Orkney photo © Copyright Victoria Dixon