Ten more hidden gems of Shetland
Previously we have written about some of the great places to visit in Shetland that don't make the front cover of the tourist brochure! Here are ten more brilliant places to visit, hidden gems of Shetland that are a bit more unusual and less well known than St Ninian's Isle, Scalloway Castle and Jarlshof!
Unst is thought to be the first foot-fall of Vikings in the North Atlantic and over 50 settlement sites have been discovered here! At Haroldswick there is a replica of the Gokstad ship (which was found in a Viking burial mound in Norway in 1880), named the Skidbladner.
See also:
Ten hidden gems of Shetland
An extra ten hidden gems of Shetland
Ten further hidden gems of Shetland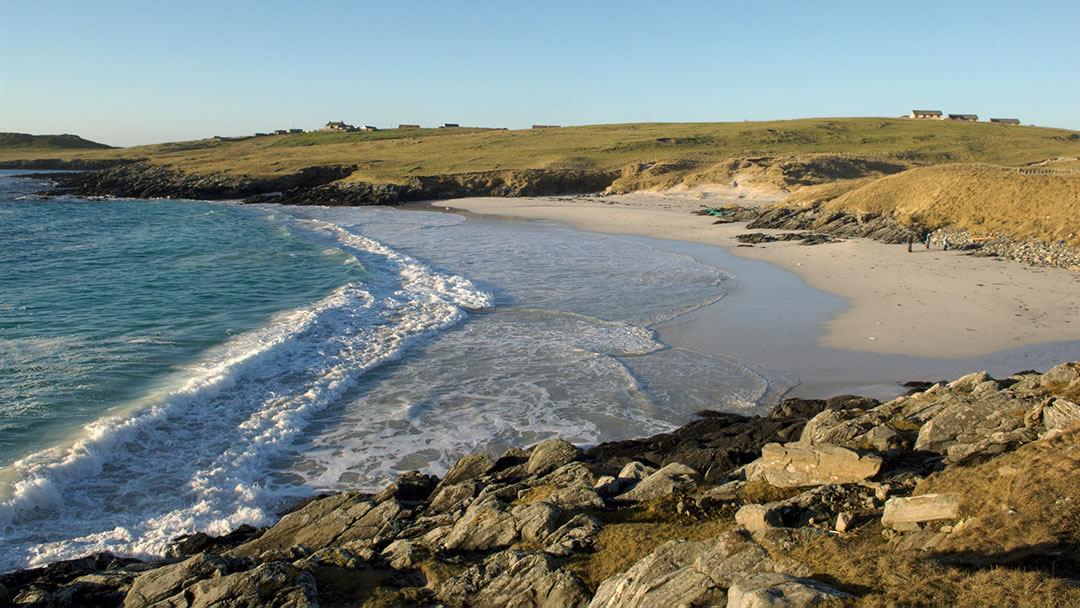 1) Meal beach, West Burra
Over on the island of West Burra is one of Shetland's best secrets – lovely Meal beach. Shetlanders flock to this south-facing beach on a sunny day. It's a short journey – West Burra (and East Burra and Trondra) are linked to the Shetland mainland by road bridges near Scalloway and there's a car park above the beach, with a short trip along a boardwalk and a series of rough steps down a hillside to the beach. The reason for its popularity is that Meal Beach resembles a desert island beach, with soft white sand and the sea a beautiful turquoise colour!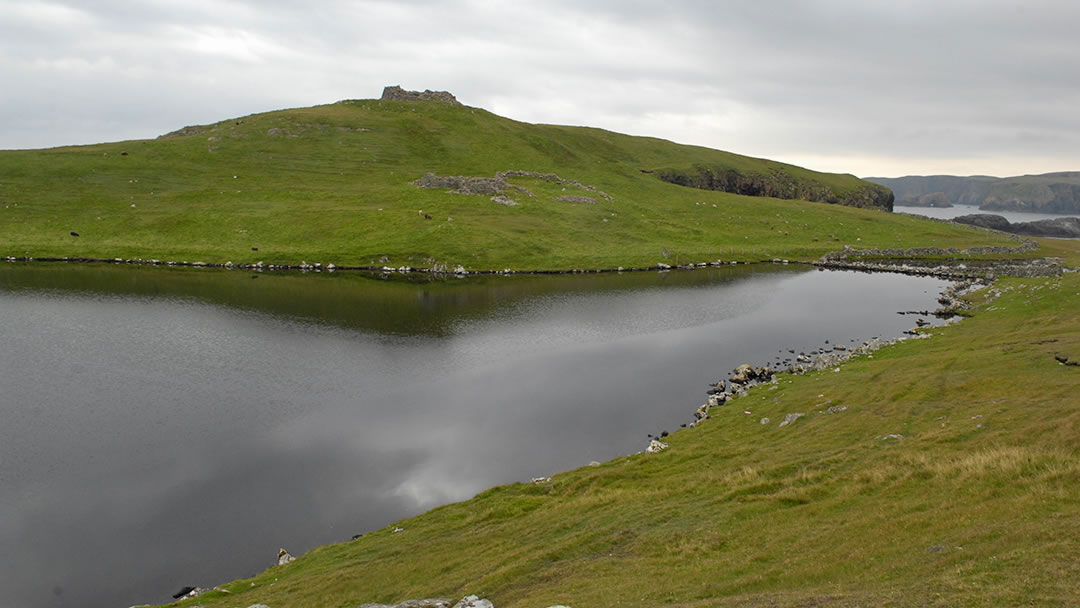 2) Culswick Broch, West Mainland
Culswick broch is a superb iron age building in a remote location – the journey to get there is part of the reason we've picked it as a hidden gem! It is located in the West Mainland, 26 miles away from Lerwick and must be reached by parking at the Culswick Methodist Chapel, walking along a rough track for 2km, crossing a causeway on a loch and climbing a short hillside. Much of Culswick Broch has collapsed but internal chamber structures are still visible. A unique massive triangular lintel stone lies over the entrance. From Culswick Broch, there are stunning views all around.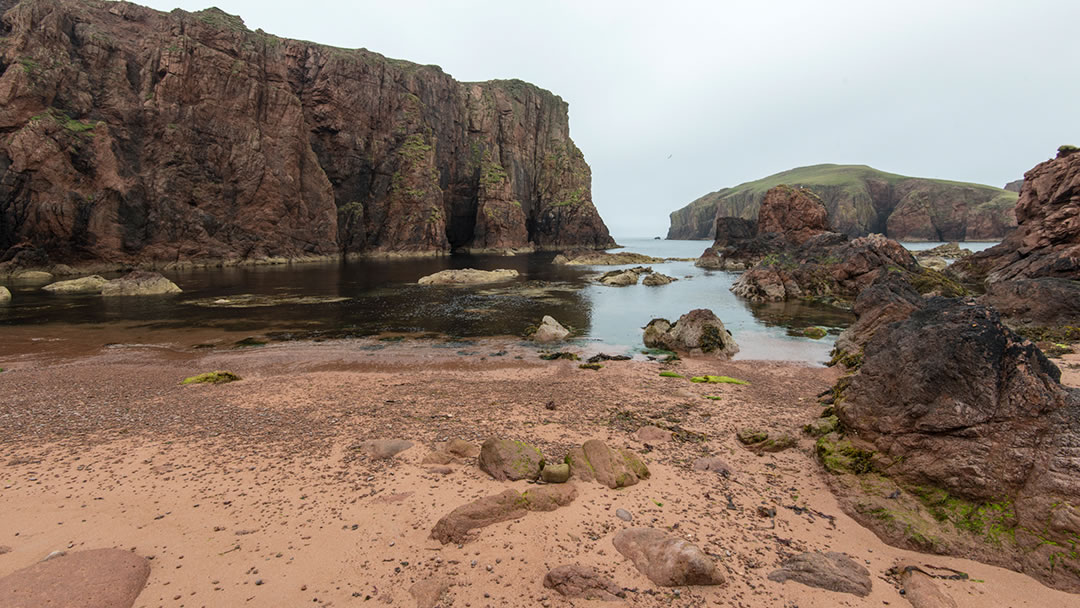 3) Muckle Roe, North Mainland
Muckle Roe is an island in St. Magnus Bay which is 3 miles in diameter and joined by a bridge, built in 1905, to the Shetland Mainland. The island is actually an ancient extinct volcano, which gives the island its name – Old Norse for "Big Red Island". On Muckle Roe you'll find crofts, lochan-studded moorland, striking red cliffs and a stunning variety of caves stacks, skerries and natural arches. There are also the lovely beaches of Muckle Ayre and South Ham – though you may find that you don't get these all to yourself – there are often seals hauled up here!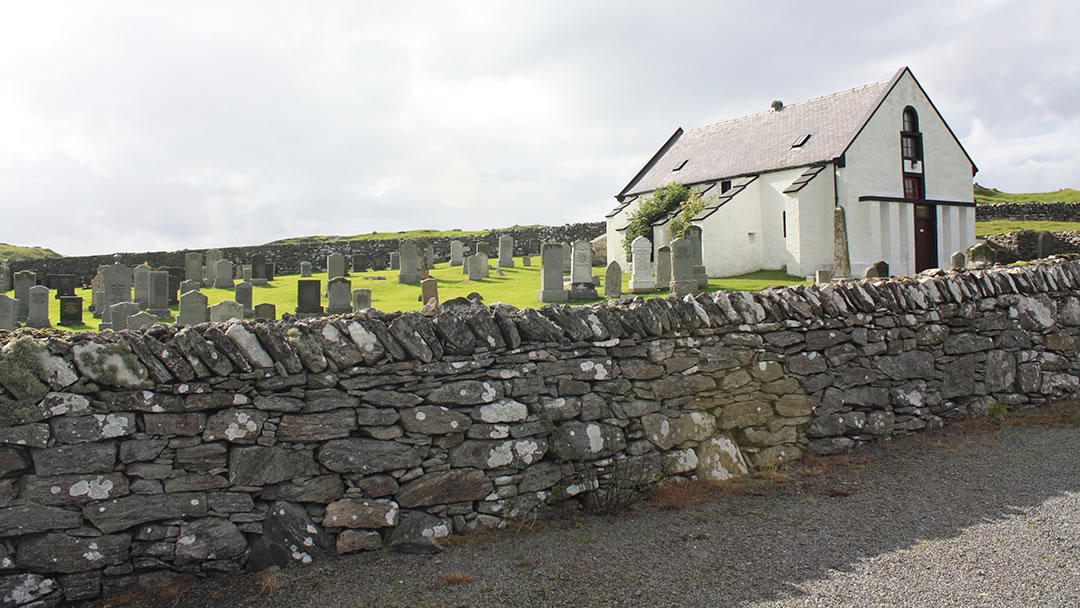 4) Lunna Kirk, Lunna Ness
We love Lunna Ness – this secluded part of Shetland is a peninsula in the north east mainland and the coastal scenery here is quite simply breathtaking. We'd recommend visiting the shoreside Lunna Kirk, which was built in 1100, and is the oldest building in use for Christian worship in Shetland. The building has a hole in the wall, so that in olden days, lepers could hear and see the sermon without coming into contact with the congregation. Unusually, the gallery is accessed by a stair on the exterior of the building!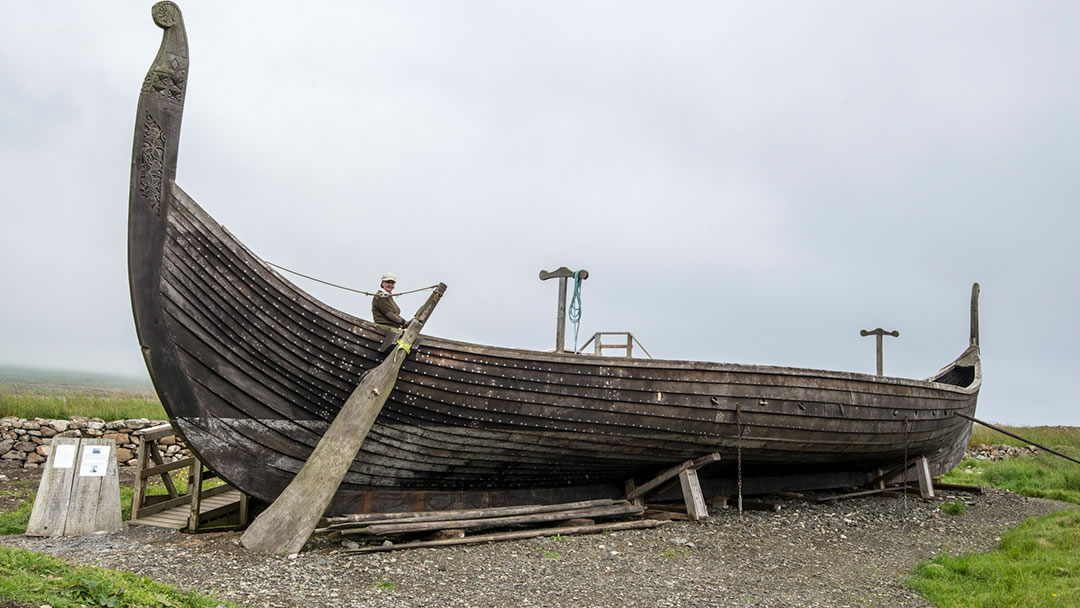 5) Haroldswick, Unst
Haroldswick in Unst is a great place to go in order to gain an understanding of Shetland's Viking past. Unst is thought to be the first foot-fall of Vikings in the North Atlantic and over 50 settlement sites have been discovered here! At Haroldswick there is a replica of the Gokstad ship (which was found in a Viking burial mound in Norway in 1880), named the Skidbladner. There is also a replica longhouse, built using traditional Viking building techniques, it design is based on excavation results at Hamar and elsewhere.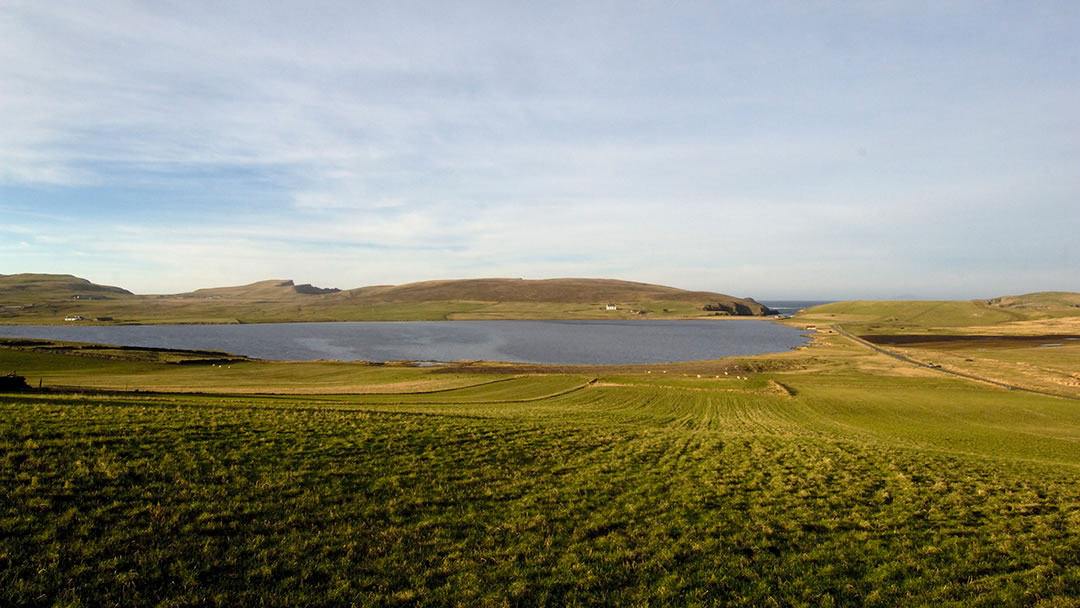 6) Loch of Spiggie, South Mainland
The Loch of Spiggie, which is west of Boddam on the South Mainland of Shetland, is a great place to visit if you love wildlife. This shallow loch attracts large numbers of wildfowl including whooper swans, wigeon and teal. Seals are around the coast of Shetland all year, and grey seals have their pups on the more secluded beaches in October / November. If you're prepared for a walk, you might be lucky and see some white coated pups at Spiggie Beach!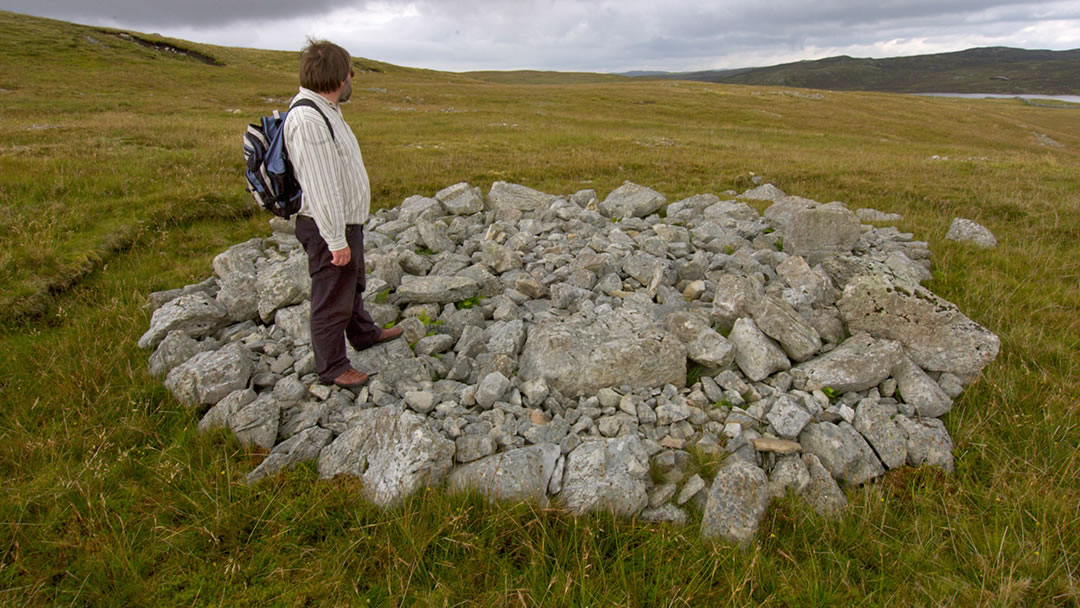 7) The Scord of Brouster, West Mainland
The Scord of Brouster is one of the earliest Neolithic farm sites in Shetland and it can be found north-west of the village of Walls – you'll see a sign for it along the A971. The three houses at the Scord of Brouster are oval-shaped – two are 11 metres long and one is 13 metres long. Traces of the field walls can also still be seen, but the earlier buildings, made of wood, are gone. The farm was in use between 3000 and 1500BC but was abandoned when the climate became wetter and peat began to form around the farm. Eventually the farmers chose to move to more fertile land nearer the shore.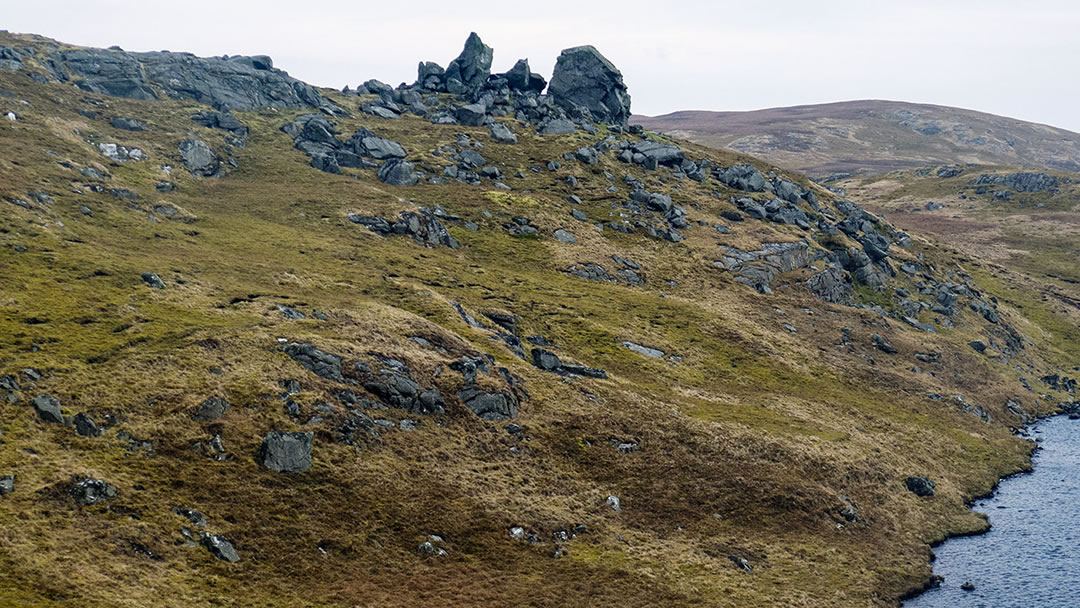 8) The Stones of Stofast, Lunna Ness
If you're feeling fit, we'd highly recommend a walk to see the Stones of Stofast (photo © Dr Julian Paren). Take the B9071 to Lunna and drive to almost the end of the peninsula. You'll see signposts to the Stones of Stofast, so you'll need to park (the road is on the other side of the coast to the Stones), climb to the top of the hill, and walk for 20 minutes, to the other coast where the stones are. After this journey you'll see why we've nicknamed these the Stones of Slimfast! Once there, the stones are impressive – massive house-sized boulders that were transported and dumped by glacial ice!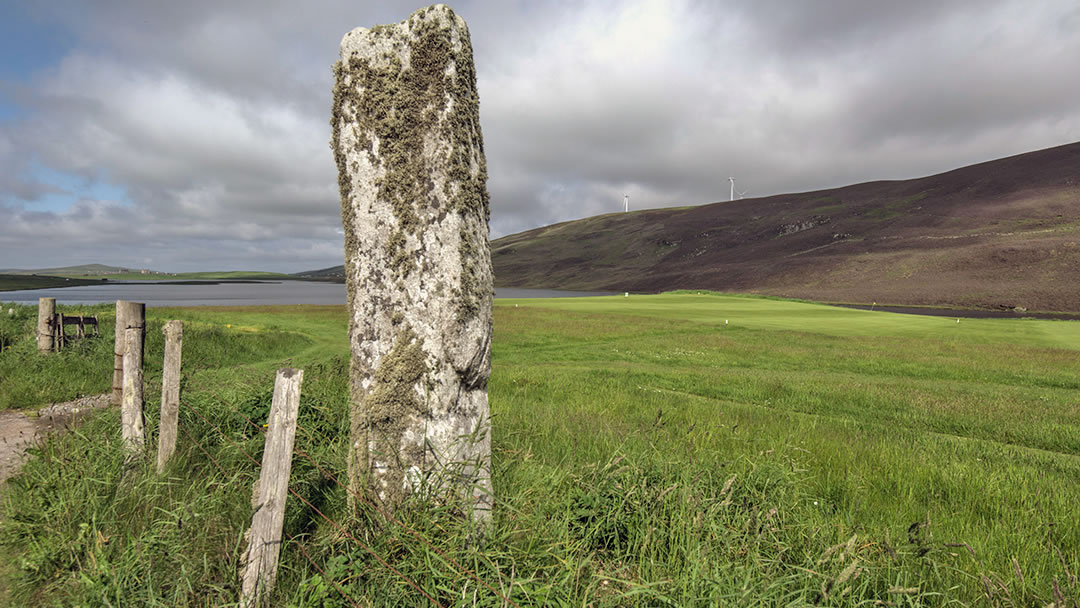 9) The Murder Stone, Tingwall
The Murder Stone is a 2m high standing stone on the eastern roadside next to Tingwall loch and is connected to the rich history of the area. On the loch of Tingwall there is a small islet (once reached by a stone causeway) called Tingaholm. This where officials gathered and sat round a stone table – Shetland's earliest parliament. It is said that a battle took place between Malise Sperra, Lord of Skaldale and his cousin Henry Sinclair, the 1st Earl of Orkney following an argument at parliament about who would control Shetland. The Murder Stone was erected to commemorate the death of Malise Sperra and seven of his supporters who fell with him during this battle.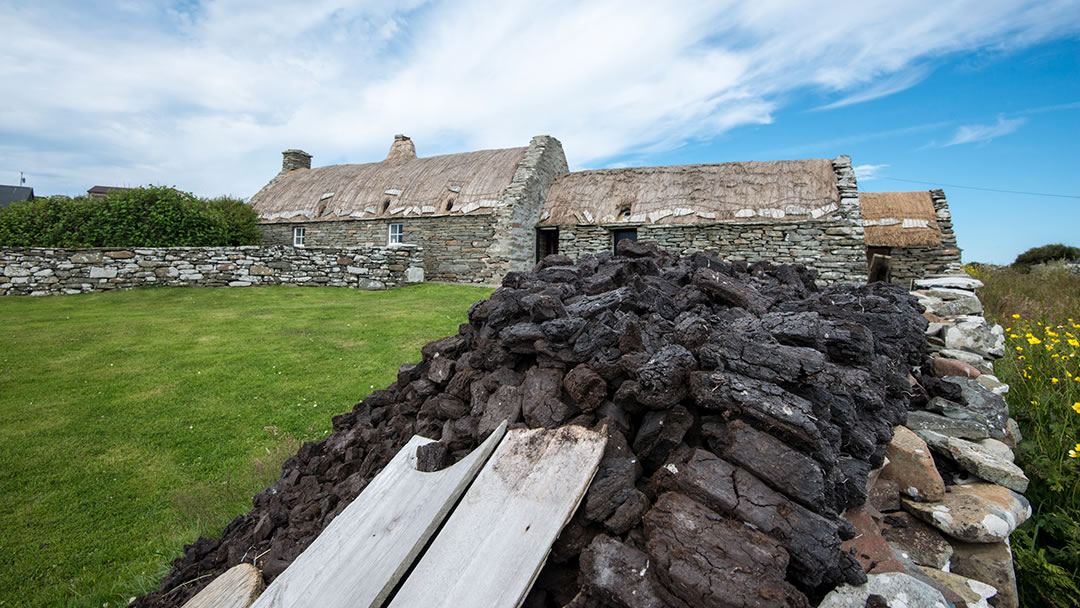 10) Shetland Croft House Museum, South Mainland
The Shetland Croft House Museum (in the South Mainland at Boddam, Dunrossness) offers a glimpse into how Shetlanders lived in the 1800s. In Shetland the typical crofter was a fisherman or whaler, whose wife and family worked the land while he was at sea. The Crofthouse has a thatched roof, peat fires (over which fish were hung to smoke) and a box bed (to keep out draughts). The house and attached byre are all under one roof so a crofter wouldn't have go outside during the winter. There's also a working Norse horizontal watermill, a storage shed with a roof made from an old rowboat, a lovely garden and a traditional Shetland mouse trap to see!

By
Magnus Dixon
Orkney and Shetland enthusiast, family man, loves walks, likes animals, terrible at sports, dire taste in music, adores audiobooks and films, eats a little too much for his own good.
Pin it!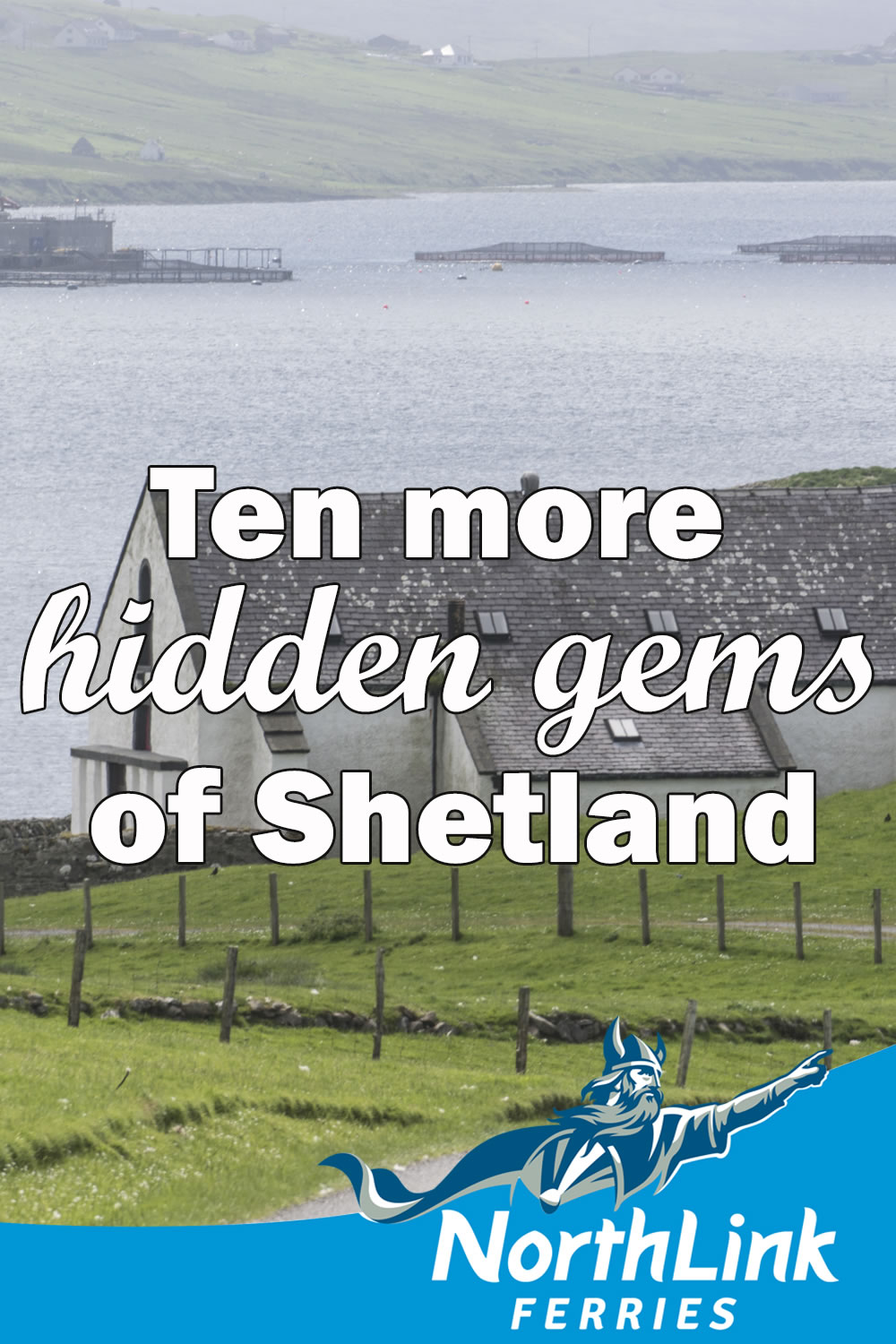 Header image: Culswick Broch in the West Mainland of Shetland photo © Copyright Charles Tait