Ten hidden gems of Shetland
When people come to visit Shetland they usually visit St Ninian's Isle, Jarlshof and Scalloway Castle. We have ten hidden gems of Shetland for you to visit – places that don't make the front cover of the tourist brochure!
It was previously thought that Brochs were built around the time of the birth of Christ, but the Broch at Old Scatness was built three centuries earlier.
See also:
Ten more hidden gems of Shetland
An extra ten hidden gems of Shetland
Ten further hidden gems of Shetland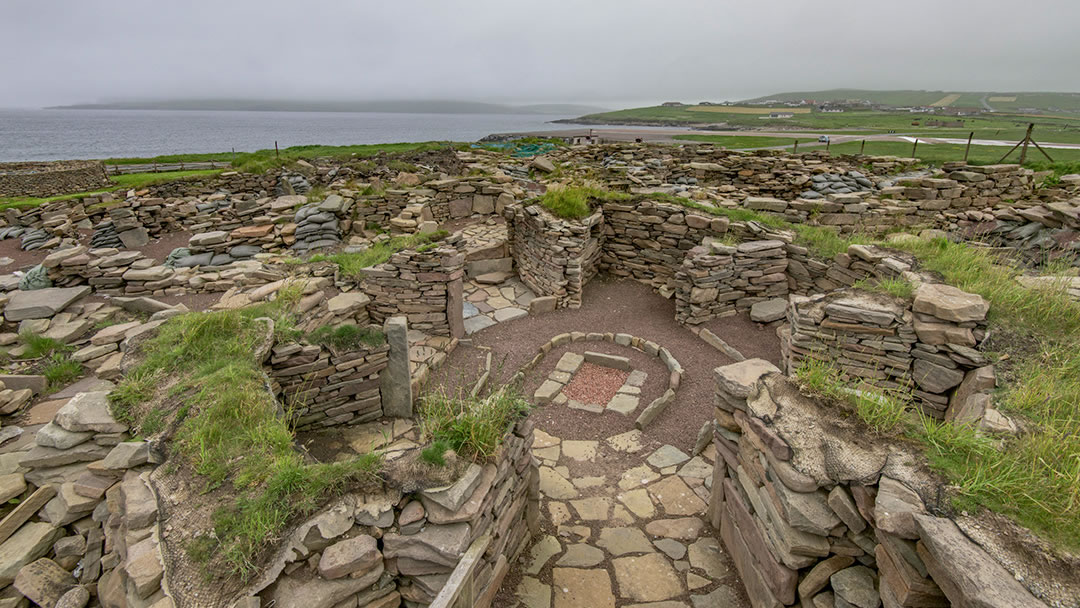 1) Old Scatness, South Mainland
Old Scatness is a remarkably well-preserved ancient settlement one mile from Sumburgh. At its heart is an Iron Age broch which has radically altered what archaeologists know about the Iron Age. It was previously thought that Brochs were built around the time of the birth of Christ, but the Broch at Old Scatness was built three centuries earlier.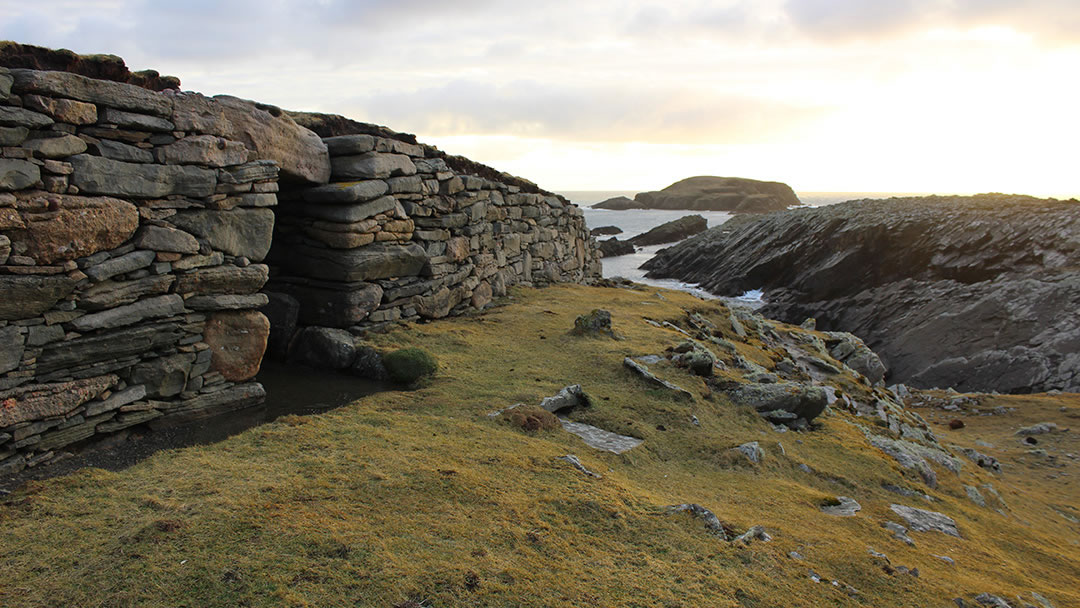 2) Ness of Burgi, South Mainland
The Ness of Burgi is an Iron Age blockhouse in a spectacular location. It currently stands at 2m high, but originally it was twice as high and roofed. It is at the southern tip of the south Shetland Mainland and the track leading to it is for the most adventurous explorer! Parts of the path are very narrow and so a handrail has been provided to enable a safe crossing.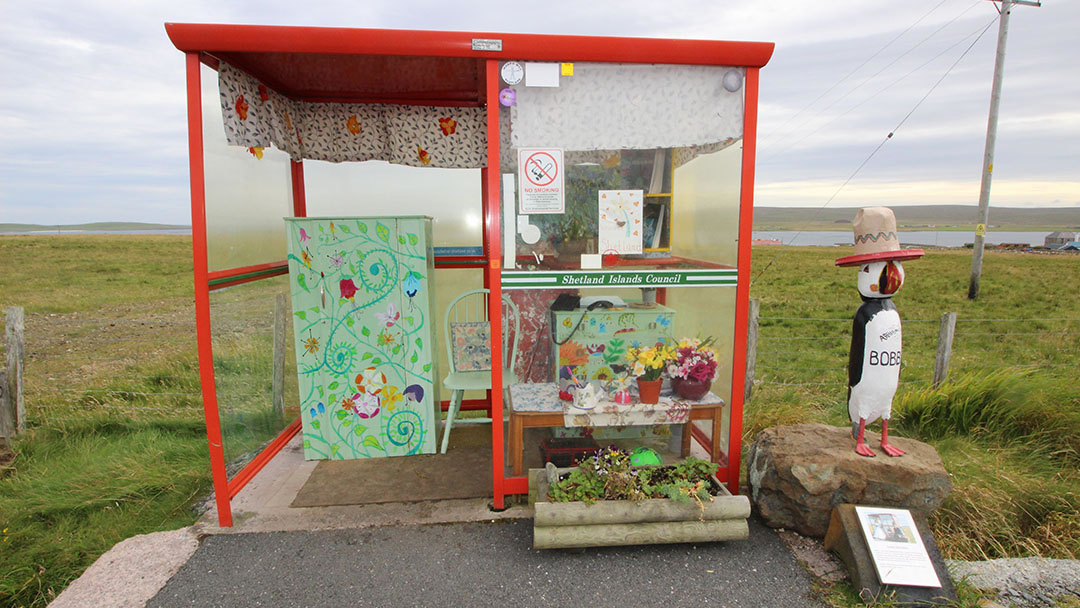 3) Bobby's Bus Shelter, Unst
A Bus Shelter which sits on the corner of the main road through Unst, and the Little Hamar Road. In 1996 it replaced an older Bus Shelter following an appeal by a school pupil named Bobby. Since its construction it has been decorated with comfortable seats, a TV, a two bar heater, hamsters and more!
4) Uyea, Northmavine
Uyea is an uninhabited island in Northmavine. The walk there will take some time, but the beautiful landscape here has to be seen! This picture shows the island on the left, which is joined to the mainland (right) by a sand spit, like St Ninian's Isle.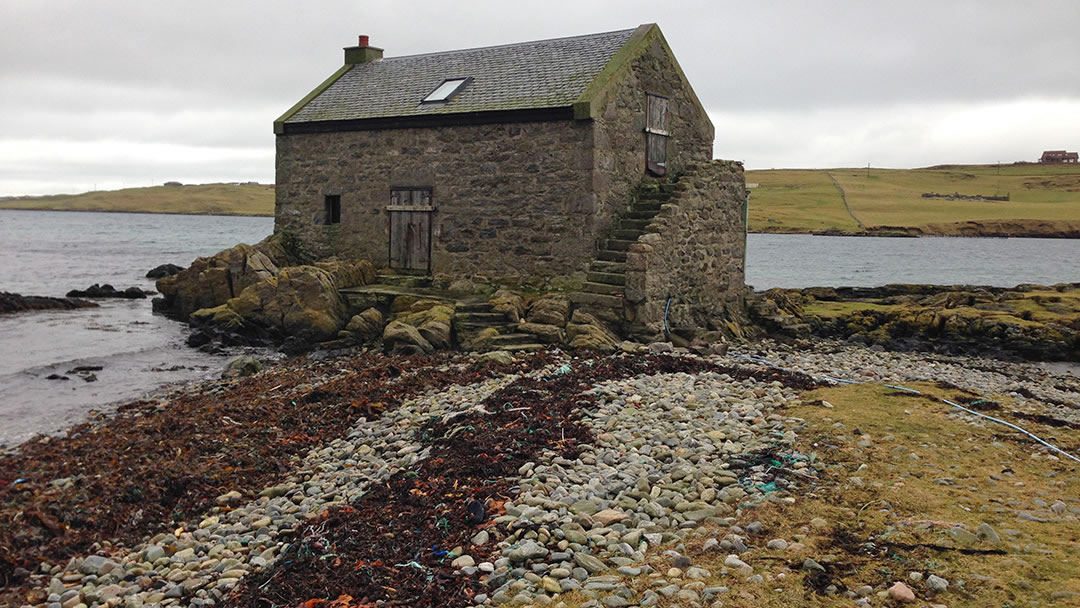 5) Böd of Nesbister, Whiteness
The view of Whiteness Voe is one of the best in Shetland, and the Böd of Nesbister sits right in the centre of it! This basic camping böd (the public can stay in it for a small fee) was originally a fishing warehouse where salt was stored. It has a stunning view as far as Trondra to the south and is surrounded on three sides by the Voe of Nesbister.
6) Banna Minn, West Burra
Banna Minn is a small bay on the island of West Burra. There is a thin sliver of a beach called Minn beach which joins West Burra to Kettla Ness. The landscape surrounding it is beautiful and Banna Minn is a great place to take photographs. The beach is usually quiet.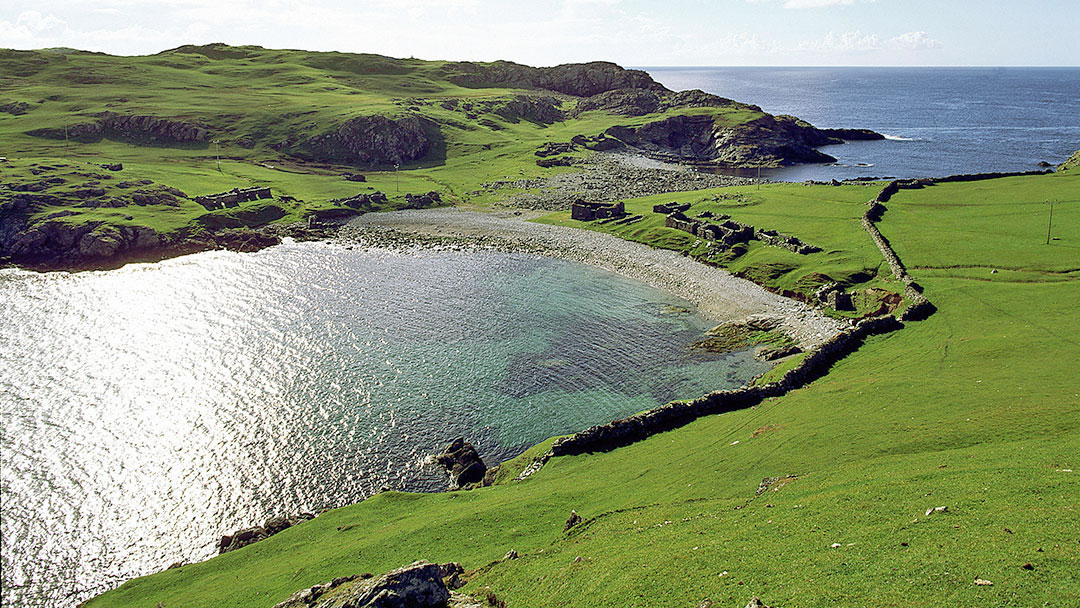 7) Fethaland, Northmavine
At the farthest north point of the mainland, Fethaland is a bit of a hike to reach. However the walk is well worth undertaking. Here you will find two rocky beaches and the remains of what was once Shetland's largest and busiest Haaf fishing station. You can find more info about Haaf fishing and Fethaland here.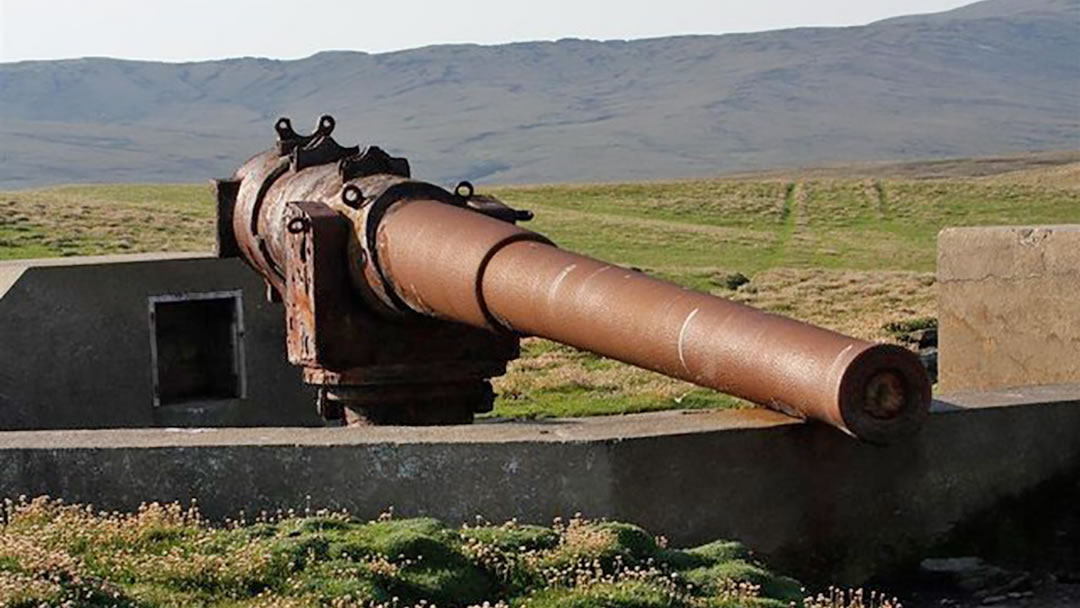 8) Six inch Naval Gun, Bressay
To protect the south entrance to Lerwick Harbour in 1918, a Mk VII six-inch calibre breech-loading naval gun was installed at the Bard Head on the Bard of Bressay. You can also find a hoisting gallow for supplies, and an underground magazine for storing ammunition here. There's a similar gun on the northern end of the island also. Both are well worth a visit!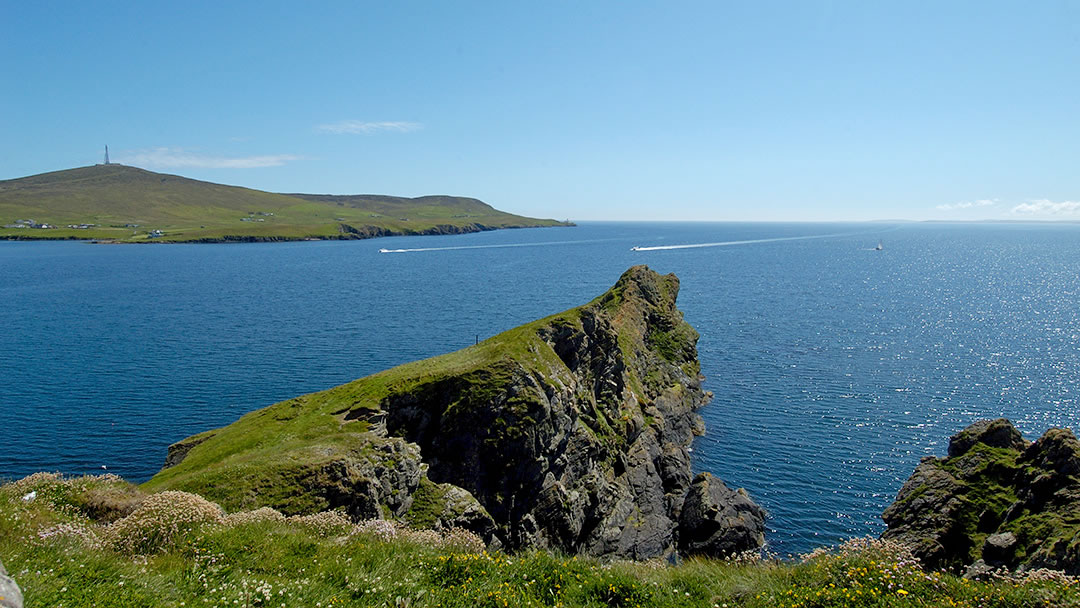 9) The Knab, Lerwick
The Knab is a south pointing ness in Lerwick, next to the town's cemetary. When visiting the Knab, you'll get a fabulous view of Bressay and the shipping coming in and out of Lerwick harbour. Below the Knab is a Torpedo tube platform which formed part of Lerwick harbour's WW2 defences.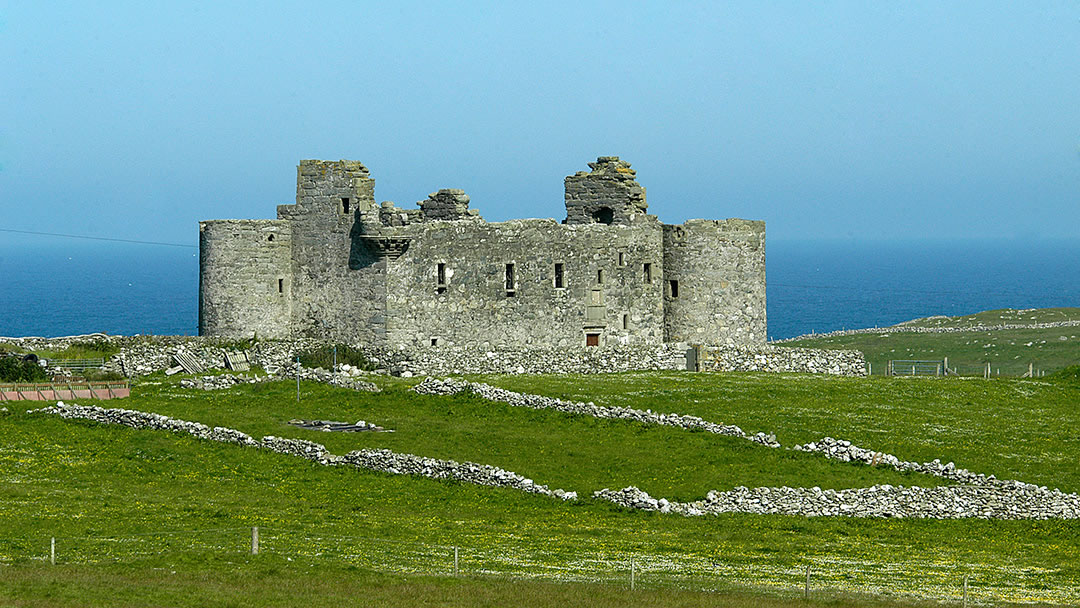 10) Muness Castle, Unst
Muness Castle is the most northerly castle in the UK. It was built for Laurence Bruce by Andrew Crawford, who built Scalloway Castle. Located on the island of Unst, it is a stunning building though it was attacked and burned by a band of privateers in 1627. It is free to visit and torches are provided to help with exploring the dark passageways and rooms.

By
Magnus Dixon
Orkney and Shetland enthusiast, family man, loves walks, likes animals, terrible at sports, dire taste in music, adores audiobooks and films, eats a little too much for his own good.
Pin it!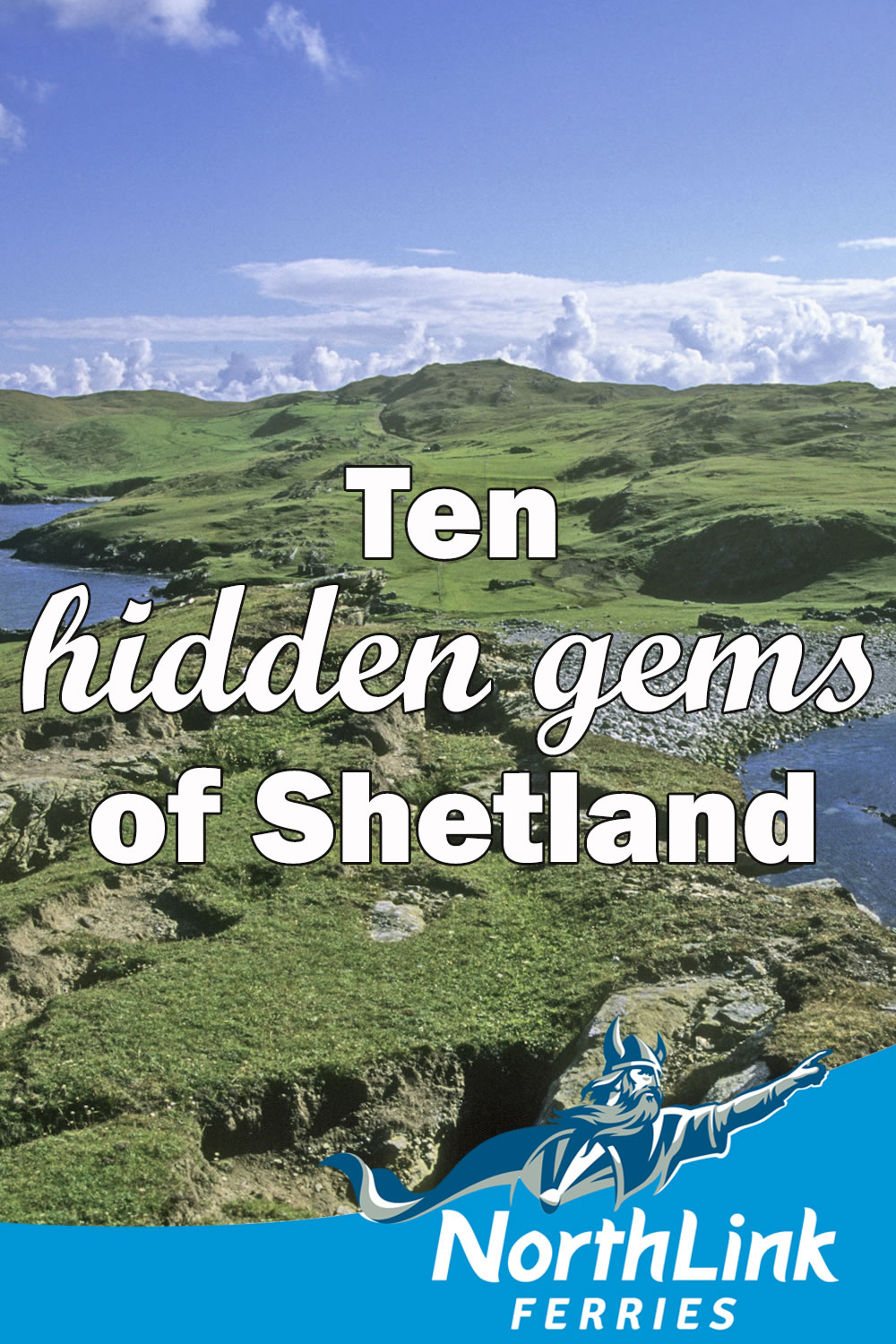 Header image: Uyea in Shetland photo © Copyright Billy Fox