What makes Shetland so special
If we were asked to tell someone planning to visit for the first time what makes Shetland so special it would be hard to name just one thing!
As Shetland is so far north, in midsummer it never really gets dark. This time is known as Simmer Dim, and it's a lovely time of year, with beautiful skies and bird calls echoing late into the evening.
We've compiled a list of ten reasons why Shetland is a great place to visit!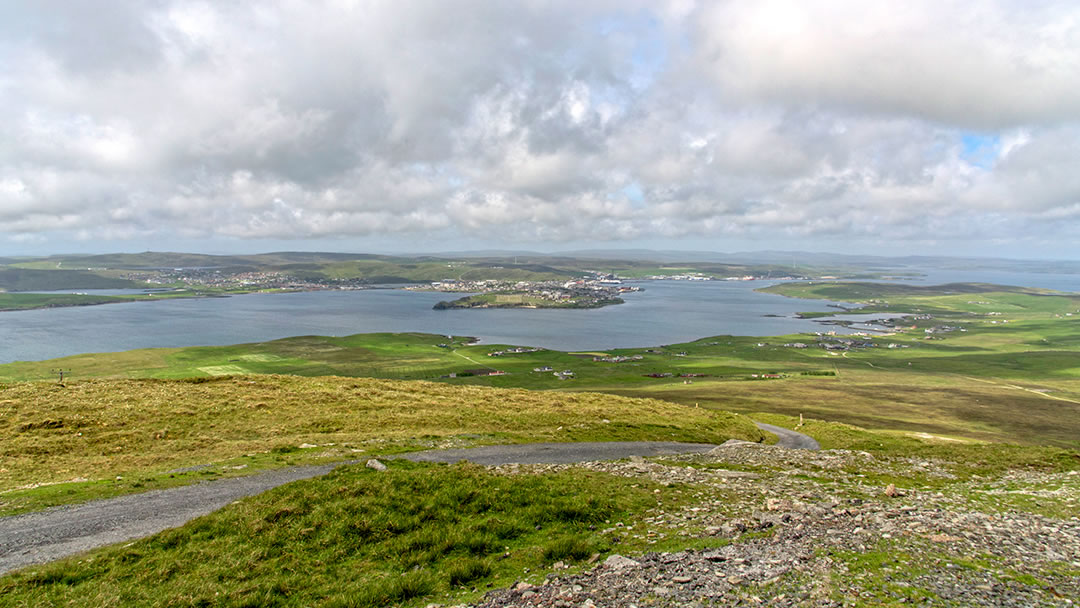 1. Wild landscape
Shetland is closer to Norway than Edinburgh, and is as far north as St Petersburg, Russia, or Anchorage, Alaska, though it is milder thanks to warm ocean currents. However, the dramatic landscape has clearly been forged by by the waves of the North Atlantic and the winter winds! The coastal scenery is amazing – shards of rock jut from the sea, and voes and inlets cut sharply into the islands. Much of the land is rough and hilly where not much grows except heather and sheep, but much is also rich and green and covered with wildflowers. Shetland's wild landscape is a photographer's paradise – amazing scenery is around every bend!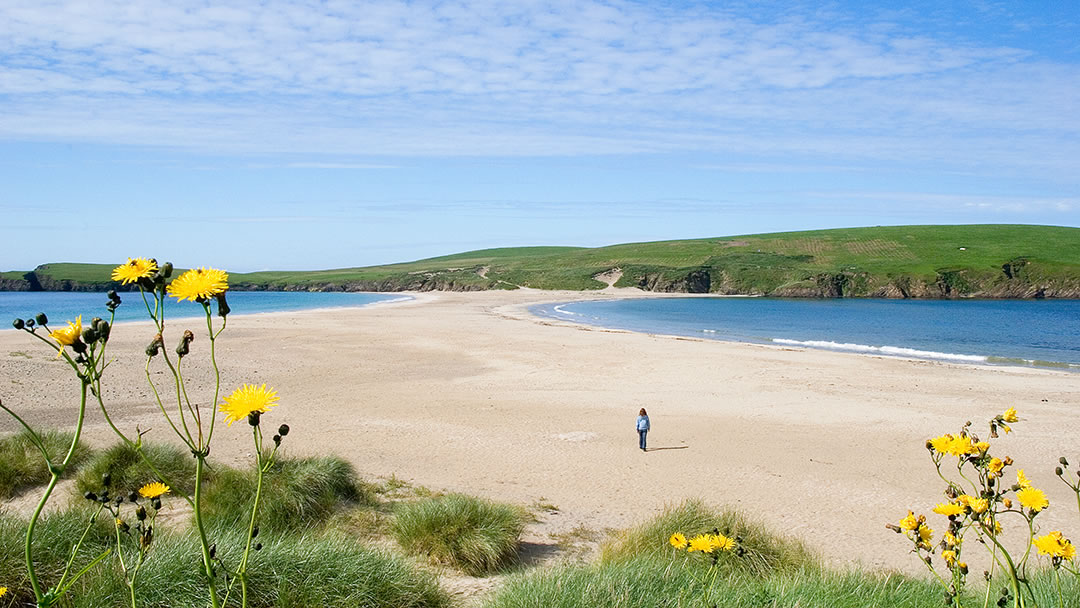 2. Amazing sights
There are some truly amazing sights in Shetland. Eshaness is a windswept area of volcanic rock cliffs which get a battering from the Atlantic ocean on a day of westerly winds. Muckle Flugga is an amazing lighthouse in the far north of Shetland which balances upon a precarious shard of rock. St Ninian's Isle (pictured) is the largest sand tombolo in the UK – here the island is attached to the mainland by a thin strip of sand. Walking across to the island is a strange experience – waves lap against the shore at either side of you!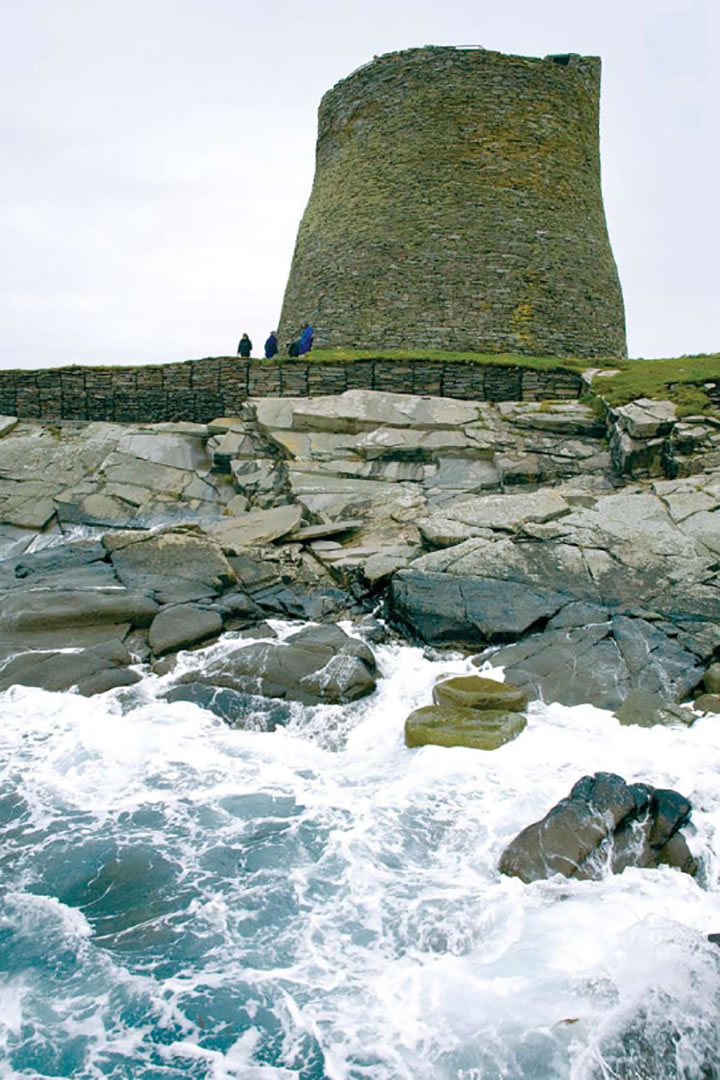 3. History
Shetland's history is written on it's sleeve. These islands were once part of Norway, and a walk through Lerwick will inform you that this is still very much part of Shetland's identity. You'll see place names such as King Harald Street, and hear teenagers refer to each other as Magnus, Thorfinn or Sigurd. In January, Viking history comes alive with Up Helly Aa, when a Viking Galley is dragged through the town and set ablaze by over 1000 men throwing torches into it! There are more fascinating historical sights in Shetland. Jarlshof was occupied for 4000 years, Old Scatness is a fascinating Iron Age dig, Scalloway Castle was once the most beautiful castle in Scotland, and a trip to see the nearly complete Iron Age building, Mousa Broch (pictured), is highly recommended!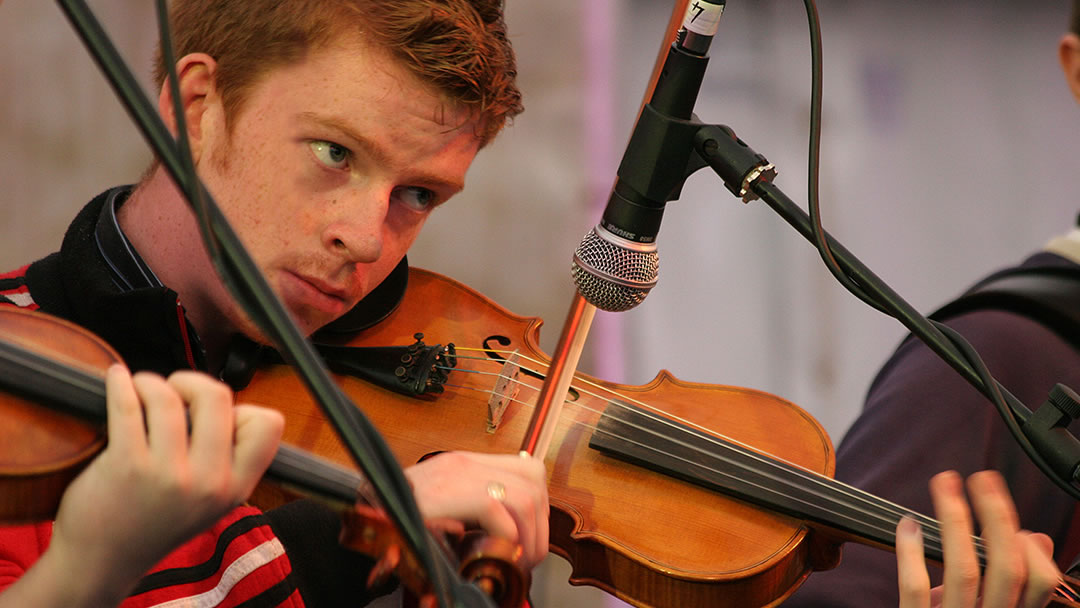 4. Music
It's hard to think of Shetland without thinking of music. There is a healthy interest in traditional music and a real passion to keep it alive. Children are taught to play the fiddle at a young age, and the title 'Young Musician of the Year' is fiercely fought over. Shetland has produced some musical stars over the years – and we'd highly recommend sitting in on a foot-stomping folk session in a pub!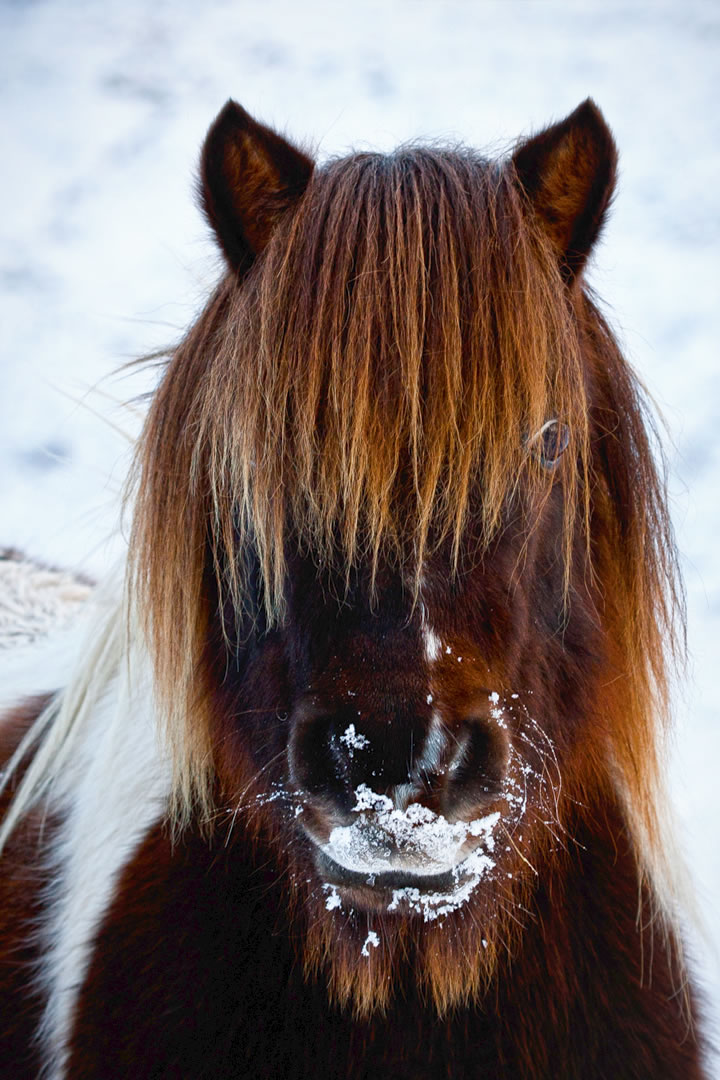 5. Shetland Ponies
There's no escaping it – people unfamiliar with the islands think first of these small stocky animals when they hear the word Shetland! Shetland Ponies are built to be hardy and live long lives. Unlike most other ponies and horses, they can remain outdoors during the winter months. Shetland Ponies can be seen throughout the islands; they roam along roadsides and can be seen in breeder's fields. Though generally friendly, these charismatic creatures can sometimes give a nip!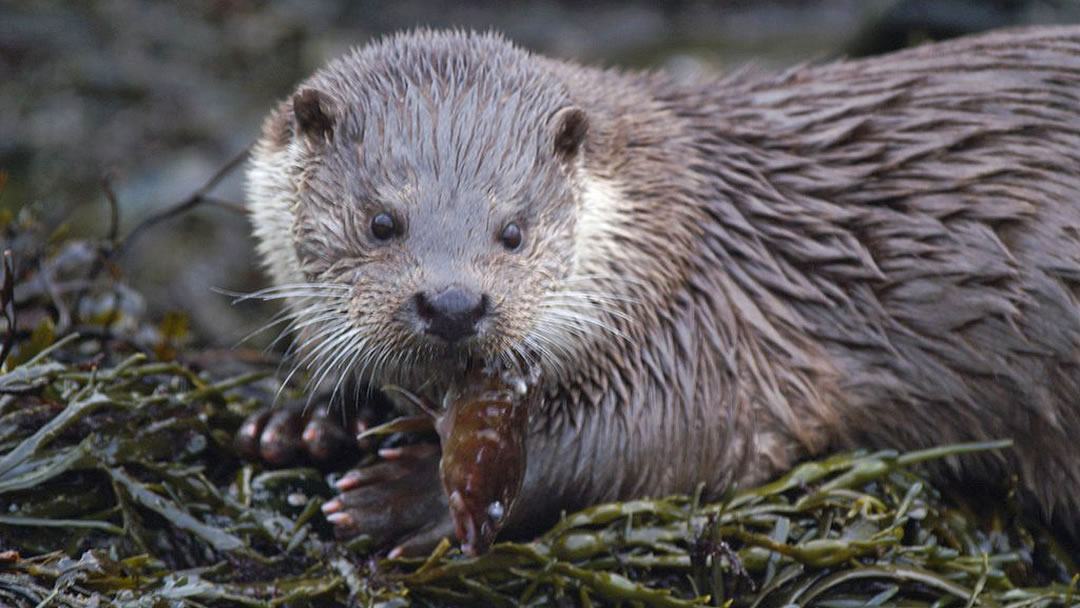 6. Nature
The clean air and wild landscape of Shetland makes it a place to see amazing nature. The moorlands, lochs and seacliffs attract many different birds, and in April and September you'll see rare visitors stopping for a break when migrating! Shetland has a rich marine eco-system which attracts orcas, dolphins and porpoises. Shetland also has a healthy population of otters (pictured) that enjoy the seafood on offer also!
7. Simmer Dim
As Shetland is so far north, in midsummer it never really gets dark. This time is known as Simmer Dim, and it's a lovely time of year, with beautiful skies and bird calls echoing late into the evening. It's also a time of celebration – and many events are scheduled to make the most of it, such as the popular Simmer Dim Motorcycle Rally. Why not consider visiting Shetland for Simmer Dim?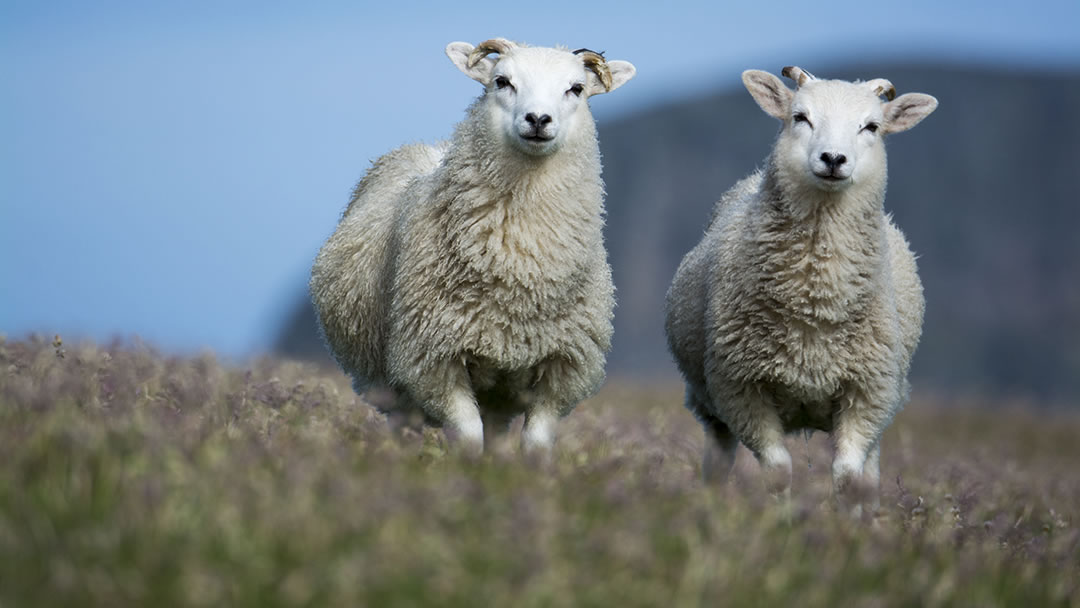 8. Crafts
There's a great craft scene in Shetland, where you can buy special and unique gifts you won't find anywhere else. A special craft trail has been tailored around it – visit http://shetlandartsandcrafts.co.uk/craft-trail/ for a map – we think you'll really enjoy a day visiting studios and meeting talented people! Not surprisingly, since the Shetland landscape encourages sheep farming – there's a thriving knitwear industry – and traditional fair isle patterns are popular. There's even a festival at the end of September – Shetland Wool Week – dedicated to the industry! Shetland also has great food and drink on offer – seafood is a specialty – we highly recommend stopping for a bite to eat along the way!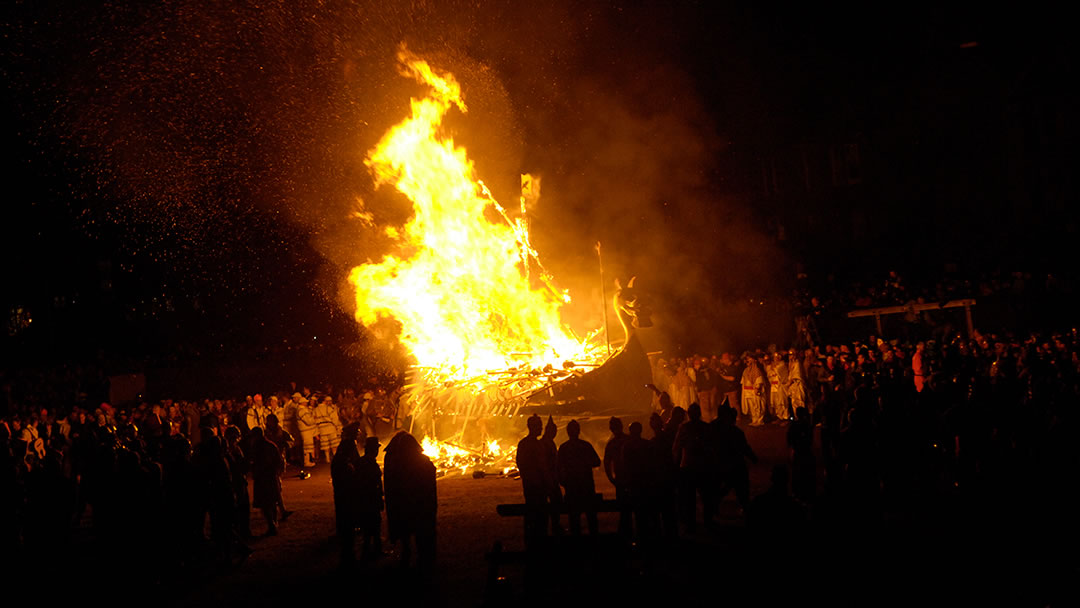 9. Festivals
We've mentioned a few already – but there are some lively festivals throughout the year which showcase the many interests of Shetland today. There's Up Helly Aa (pictured), but if you miss the Lerwick event, there are smaller but impressive fire festivals throughout the islands during winter. Various music tastes are catered for – the Shetland Folk Festival, the Accordion and Fiddle Festival, the Guitar Festival. Heavy metal even gets a look-in; the Heavy Metal Buffet takes place in Shetland in August! Later in the year, Shetland plays host to celebrities who visit for Wordplay (a book festival) and Screenplay (a film festival curated by film critic Mark Kermode).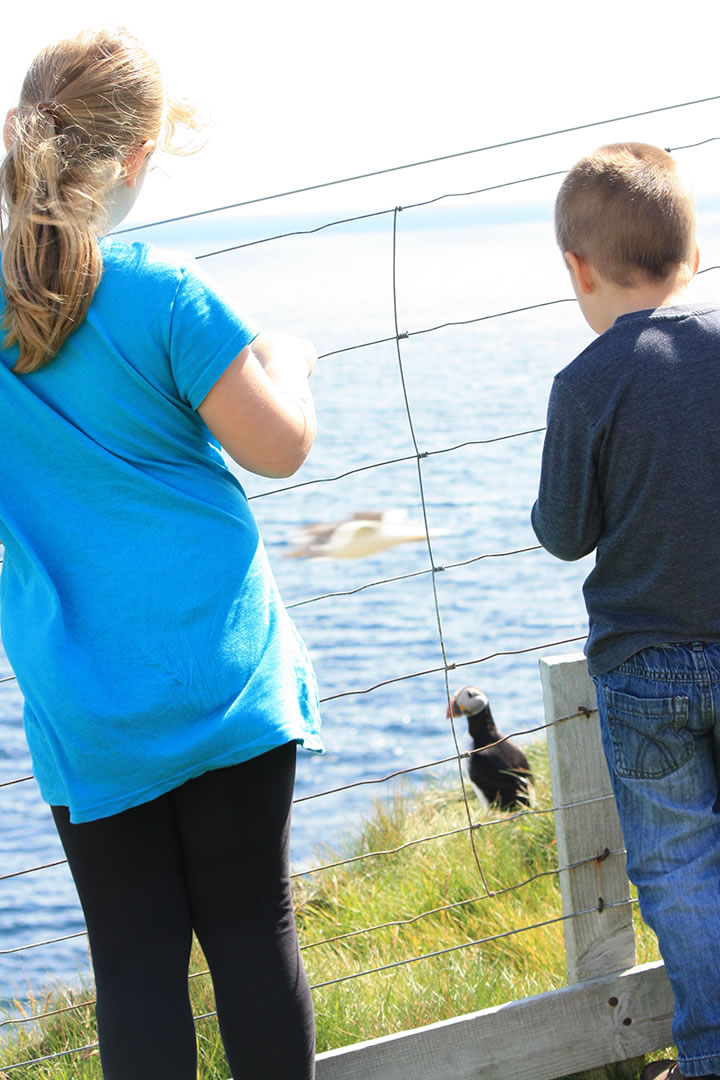 10. Great for kids
Shetland is a great place to take children. It has beautiful and empty beaches for sandcastle making, restaurants with child-friendly options, well-maintained playparks, fascinating museums with areas for children, lots of swimming pools, ponies, otters and birds. Even the seabird cliff at Sumburgh Head (pictured),  normally the last place you'd take children, is fenced off and safe for the youngest members of your family to get face to face with a puffin!

By
Magnus Dixon
Orkney and Shetland enthusiast, family man, loves walks, likes animals, terrible at sports, dire taste in music, adores audiobooks and films, eats a little too much for his own good.
Pin it!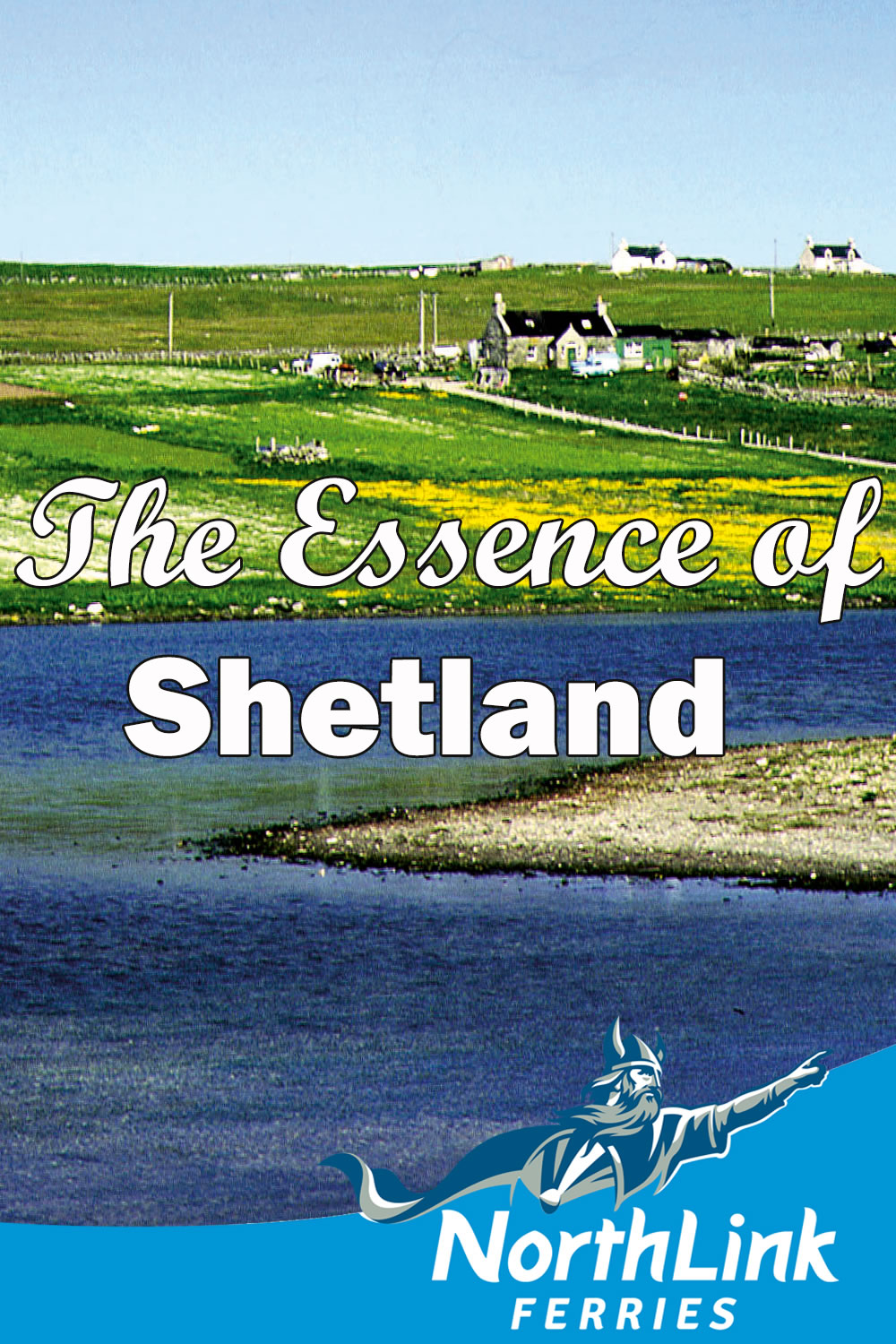 Header image: Weisdale in Shetland photo © Copyright Charles Tait