Sometimes, when visiting a place like Shetland, which is creaking at the seams with history, it's hard to put all of the sites you see into order in your mind. So, this timeline has been created to help, with a rough overview of human history in the Shetland islands.
This timeline has been created to help you understand the history of the Shetland Islands, so that you can put each site you visit into chronological order!
It also notes key places of interest to visit throughout the islands!
| | |
| --- | --- |
| 10,000 BC | The end of the last ice age. The glaciers retreat, leaving behind a dramatic landscape. |
| 5,000 BC | The first settlers arrive in Shetland. The islands are covered in woodland. Though no traces are left of these nomadic hunter gatherers, pollen studies show a change in vegetation possibly caused by man. |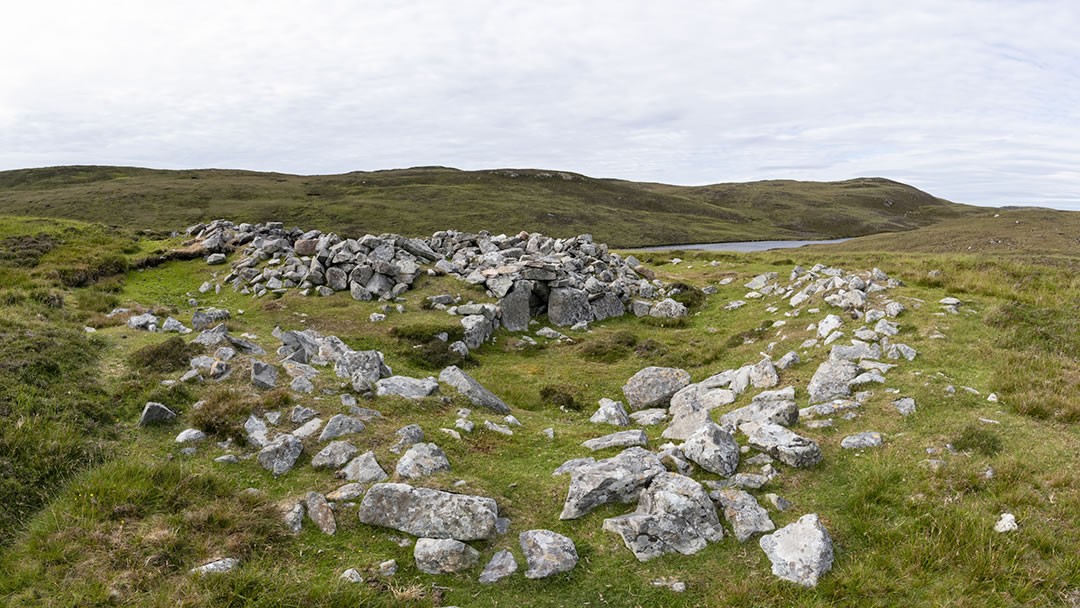 The Neolithic – 6,000 years ago
Houses are built and farming begins. Fish are caught from the sea, cattle and sheep are kept, and fields are ploughed. The dead are buried in communal tombs.
| | |
| --- | --- |
| 3,250 BC | The Scord of Brouster near the Bridge of Walls are the ruins of the earliest stone-built houses in Shetland. These dwellings are built on top of earlier, wooden ones. |
| 3,000 BC | Chambered cairns can be found at Islesburgh near Mavis Grind, at Mangaster in Northmavine, and at March Cairn at Eshaness. In Shetland, these ancient tombs tend to be ruined and the contents lost. |
| 2,500 BC | Stanydale temple is the most impressive of the many Neolithic houses found in Da Westside. Neolithic houses are oval, with a hearth in the middle. |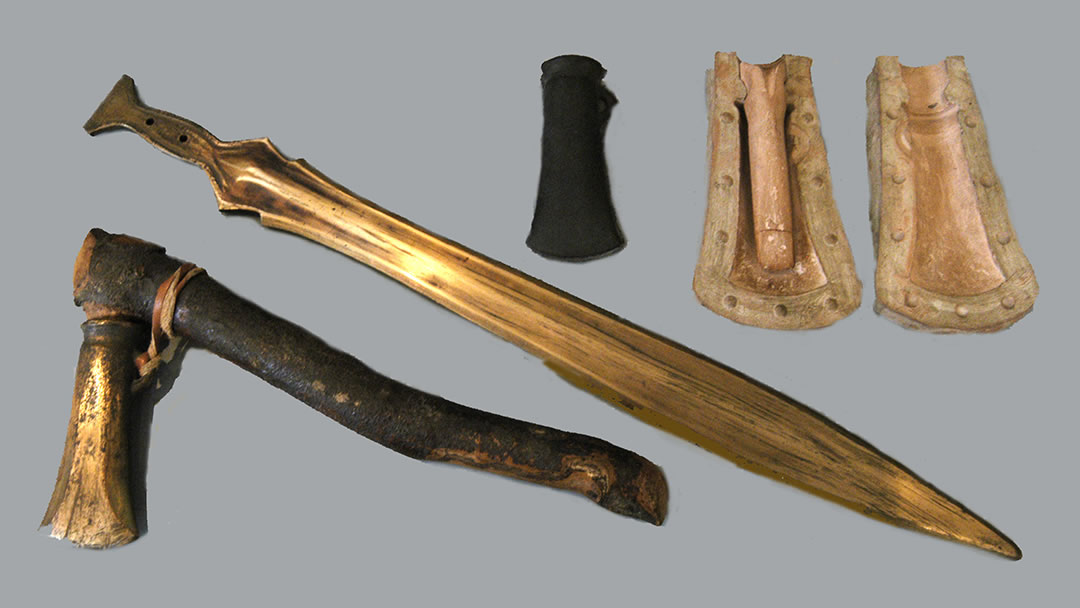 The Bronze Age – 4,000 years ago
The Bronze Age is marked by the creation of metal, but it began later in Shetland, perhaps due to the difficulty of obtaining copper and tin. Bronze Age people buried their dead in individual graves rather than communal tombs.
| | |
| --- | --- |
| 1,500 BC | Volcanic eruptions in Iceland affect the climate, and peat begins to encroach onto good agricultural land. |
| 1,200 BC | Shetland has over 300 Bronze Age burnt mounds. One can be found at the Bressay Heritage Centre. Burnt mounds contain a hearth, water trough, and piles of scorched stones. Was the water boiled for cooking, dyeing cloth, or bathing? |
| 800 BC | At Jarlshof, a Bronze Age Smithy makes axe heads, swords, and pins. Late Bronze Age houses can be found there also. |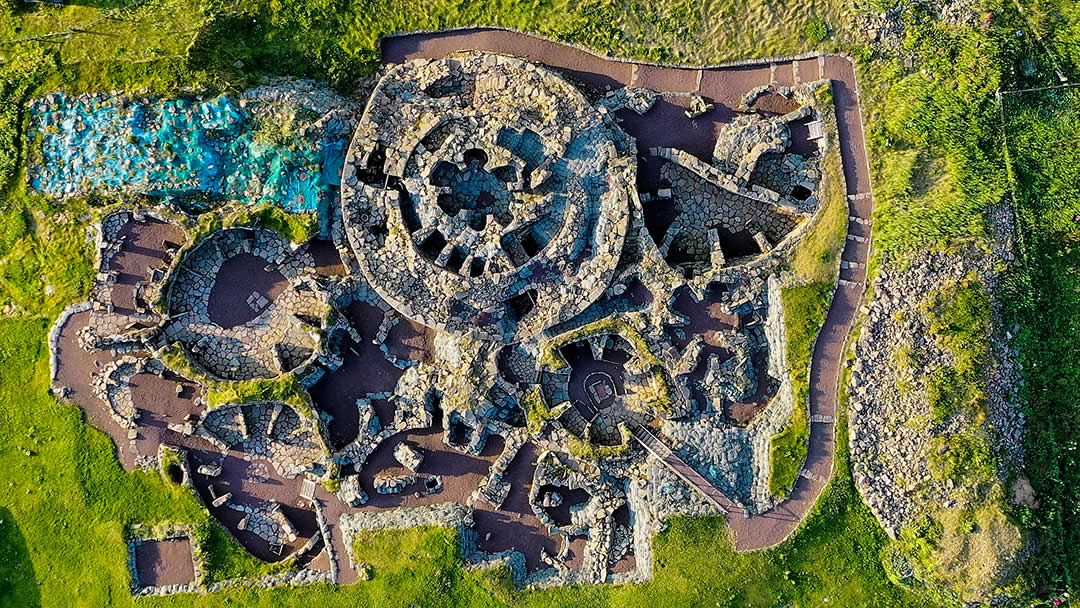 The Iron Age – 2,500 years ago
In the Iron Age, distinctive dry-stone buildings appear, such as wheelhouses, blockhouses, and brochs. Brochs are large, circular buildings with hollow walls containing stairs to the upper levels; impressive status symbols in spectacular locations.
| | |
| --- | --- |
| 700 BC | Iron Age round houses begin to appear. These are followed in the late Iron Age by brochs, blockhouses, such as the Ness of Burgi in the South Mainland, and promontory forts such as the Ness of Garth in Sandness. |
| 400 BC | Mousa Broch is built. This massive structure is still stunningly well-preserved. It was abandoned by 400 AD but featured later in the Norse Sagas as a place of refuge. The Iron Age broch and village at Old Scatness in the South Mainland is also built around this time. |
| 200 AD | Clickimin Broch on the outskirts of Lerwick is constructed, on the site of an Iron Age fort. It was abandoned in 800 AD. |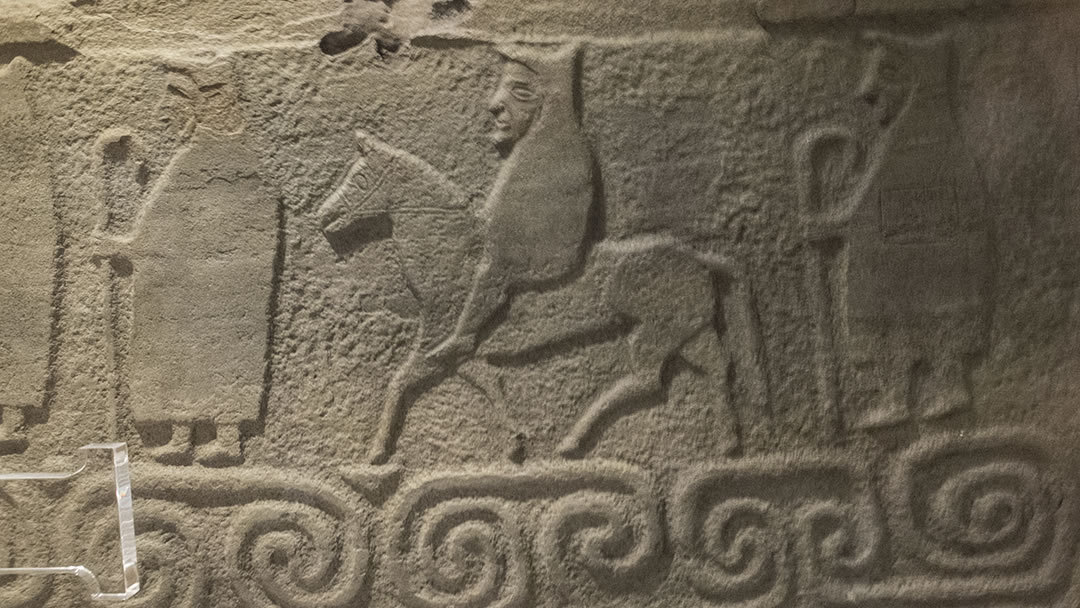 The Picts – 2,000 years ago
Unlike the Iron Age people, the Picts did not leave any impressive buildings behind. Was Shetland's population small at the time, or did the Picts live in wooden houses that no longer survive today? Instead, exquisitely decorated stones and cross slabs from the Picts have been found.
| | |
| --- | --- |
| 700 AD | The Papil Stone is carved. This beautiful Pictish symbol stone can be found in a kirkyard in West Burra. |
| 780 AD | The St Ninian's hoard is a stash of 28 Pictish silver items, which were found on St Ninian's Isle, buried in a chapel. Replicas can be found in the Shetland Museum and Archives. |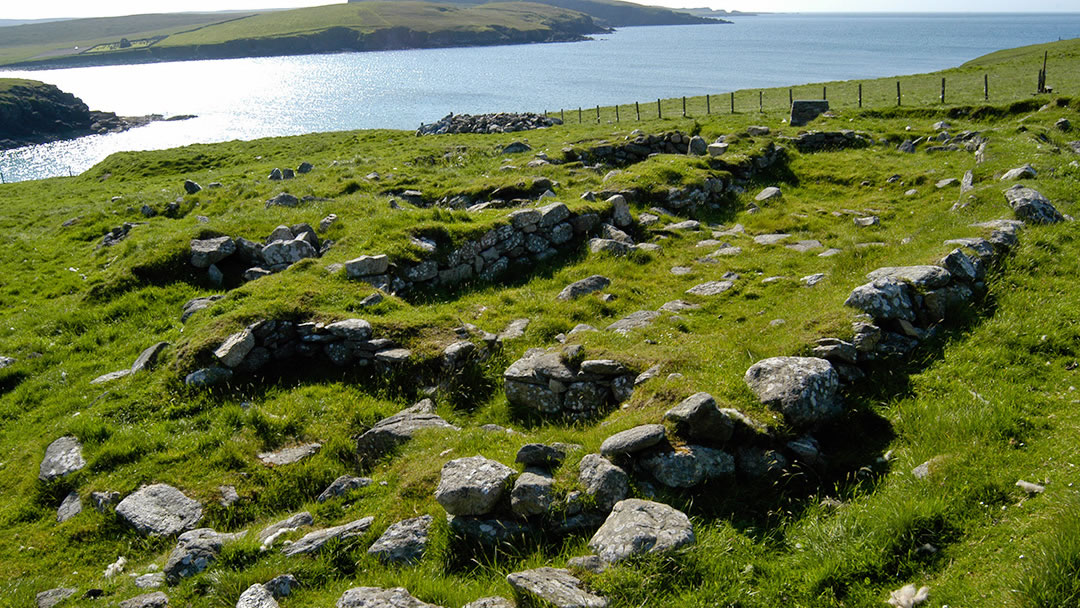 The Norse Earls – 1,000 years ago
The Norse arrive by sea in around 800 AD, bringing their language, law, culture, and architecture to Shetland. Long rectangular Norse houses are built at Jarlshof and Underhoull in Unst.
| | |
| --- | --- |
| 875 AD | Shetland and Orkney become part of Scandinavia and Norse Earls begin to rule. History is recorded in the Sagas. |
| 900 AD | Soapstone is quarried at Catpund mine near Cunningsburgh to create bowls and fishing weights. |
| 1000 AD | Ting sites, such as the one at Tingwall loch are meeting places to discuss law and order. |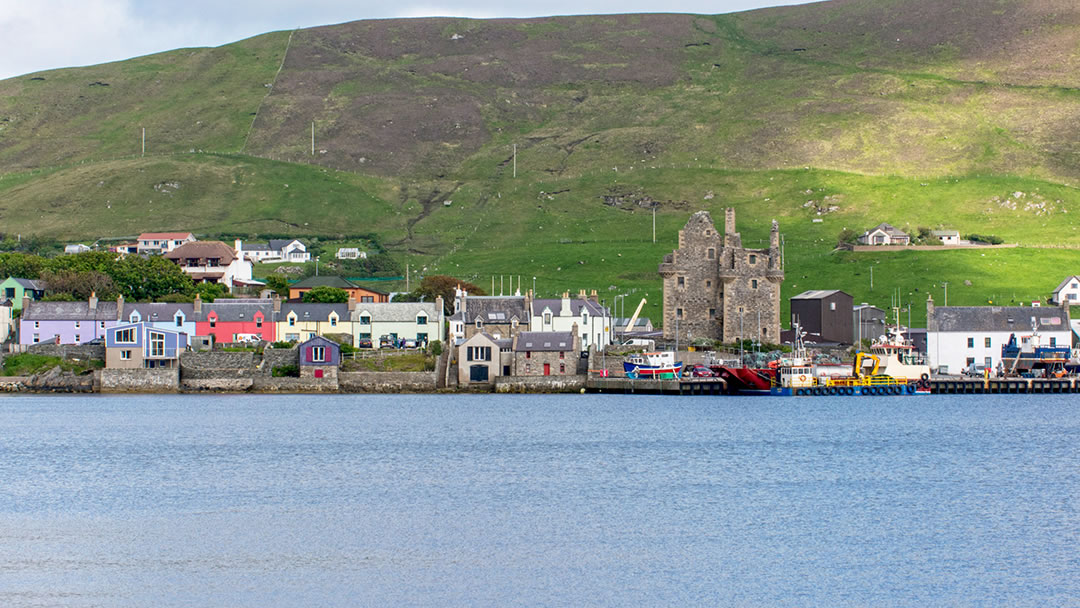 The Scottish Earls – 500 years ago
After Shetland and Orkney move from Norse rule to Scottish rule, there is tension between the new Scottish Earls and the Shetland landowners. However, the Norse influence continues long after Shetland becomes part of Scotland.
| | |
| --- | --- |
| 1469 AD | After the daughter of the King of Denmark marries the son of James II, Scotland demands Orkney and Shetland as part of the dowry. |
| 1565 AD | The notorious Robert Stewart begins to rule over Shetland and Orkney, followed by his son Patrick Stewart. |
| 1599 AD | Scalloway Castle is built for Patrick Stewart, who drives up taxes and uses the islanders as slave labour. |
| 1615 AD | Earl Patrick Stewart is executed for treason. |
| 1665 AD | Fort Charlotte is built to defend Lerwick, as the Dutch, who had been fishing in Shetland waters since the 12th century, suddenly become a threat during the Dutch Wars. |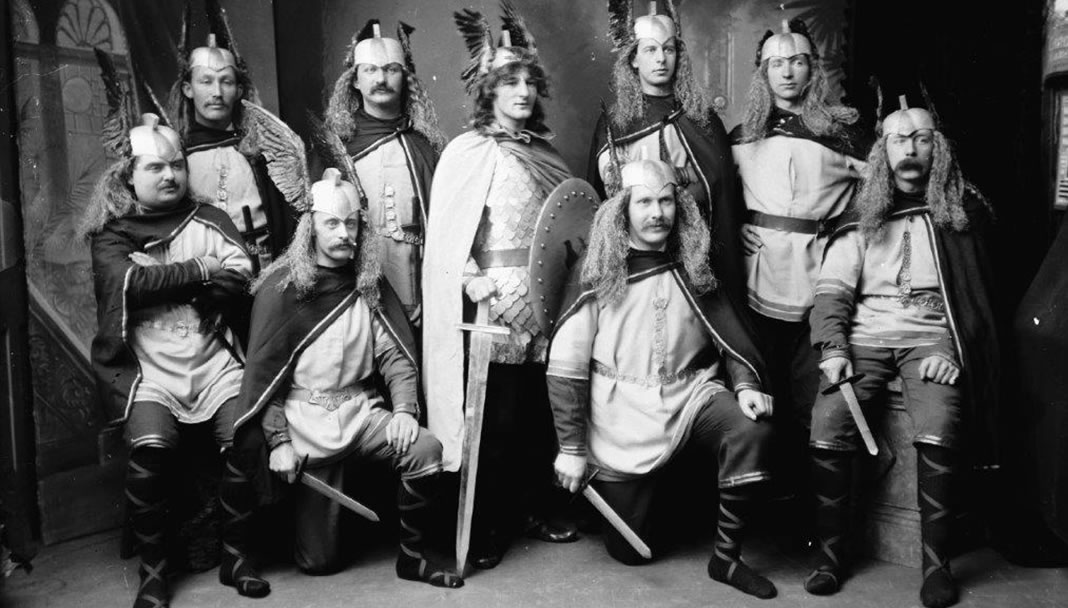 The Modern Era – 200 years ago
| | |
| --- | --- |
| 1730 AD | Haaf fishing - the practise of fishing 40 miles away from Shetland begins. However, in 1881, the Gloup disaster killed 58 Shetland fishermen when their boats were caught in an unexpected storm. In 1900, 22 fishermen were lost to the Delting disaster. |
| 1838 AD | Lerwick overtakes Scalloway as the main economic centre and becomes the capital of Shetland. |
| 1881 AD | Up Helly Aa begins. |
| 1939 AD | Wartime, and the first German bomb to land on British soil hits Sullom Voe in Shetland. |
| 1941 AD | The Shetland Bus begins clandestine wartime operations between Shetland and Nazi-occupied Norway. |
| 1981 AD | North Sea oil comes to Shetland and the Sullom Voe Terminal is constructed. In the 1990s, Sullom Voe handled over a quarter of the UK's petroleum production. |
| 2021 AD | Plans are put into place for the construction of a spaceport at SaxaVord on the island of Unst. |

By
Magnus Dixon
Orkney and Shetland enthusiast, family man, loves walks, likes animals, terrible at sports, dire taste in music, adores audiobooks and films, eats a little too much for his own good.
Pin it!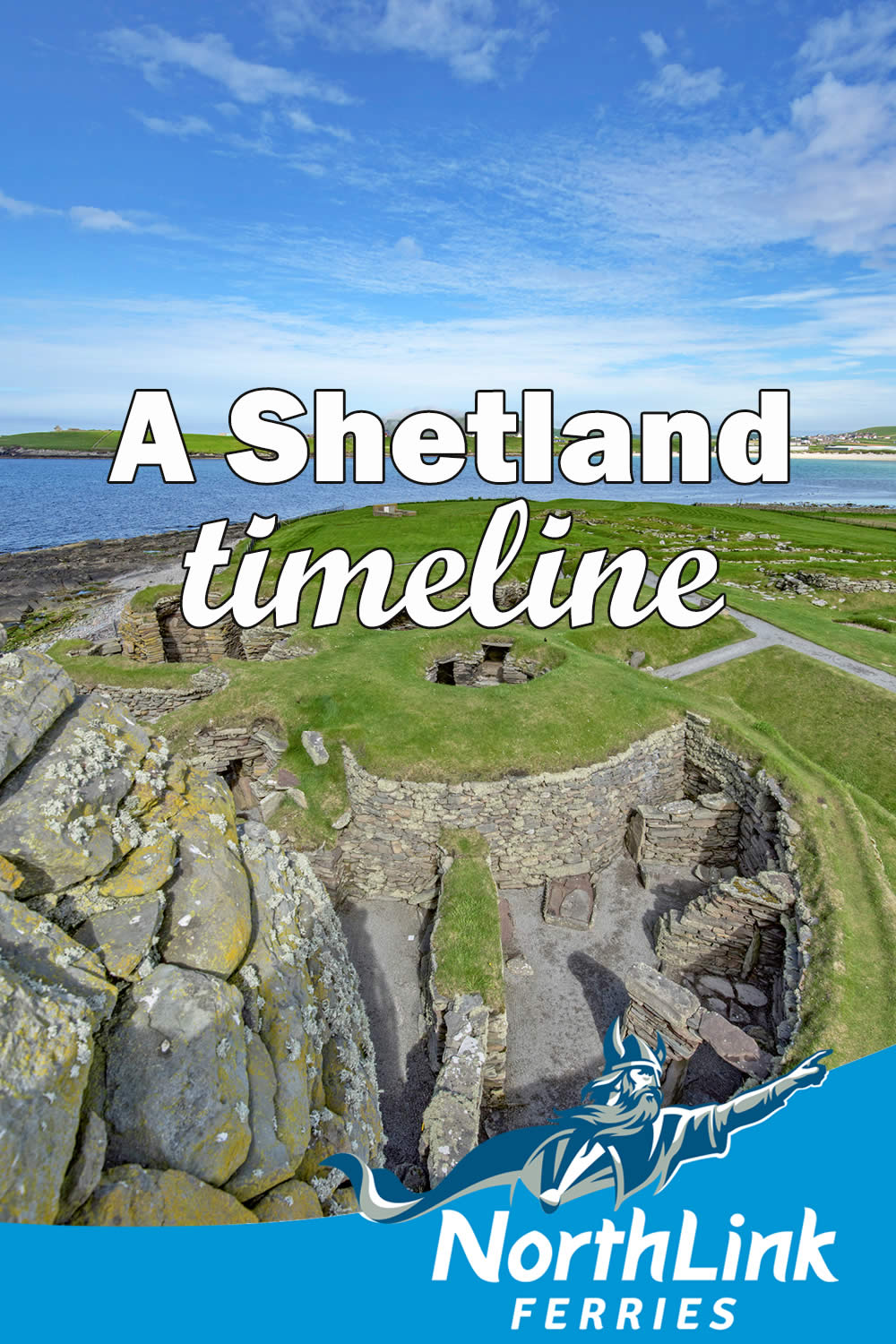 Header image: Mousa Broch – a beautifully preserved remnant of the Iron Age in Shetland photo © Copyright Steve Birrell